My Story: Cancer, Twins, Loss, and Love
I was seven months pregnant when Justin, my husband was admitted to the hospital because of cancer complications. Things were not looking good and we weren't sure he would make it to the twins birth. We never stopped fighting and never gave up hope! Miraculously he made it to their birth and was able to spend a couple months with the them before he sadly passed away. Those last 5 years had extreme highs and lows. Here is my story.
Our Love Story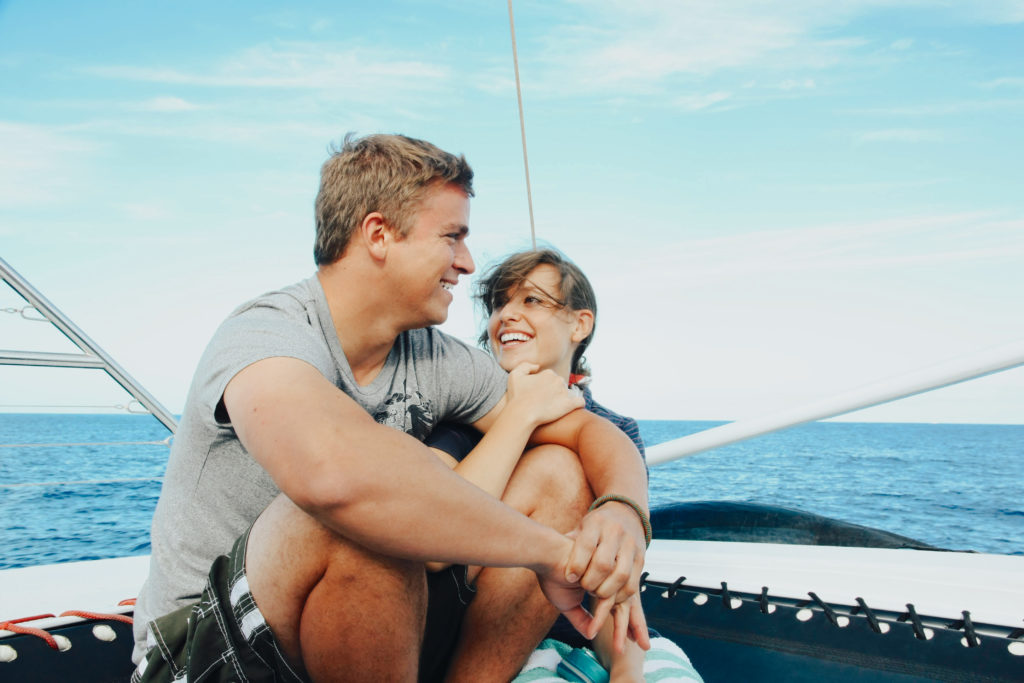 Justin and I grew up together. We were friends in high school and even closer friends in college. He always had a crush on me, but I wanted to be just friends. Justin moved to Germany for two years to serve a church mission. Towards the end of his mission we wrote each other more frequently and I started to like him more than just a friend. He got home and we went on a couple dates, but for some reason the timing still felt off. Seven months later I decided to serve a church mission. I moved to upstate New York and lived there for the next 18 months.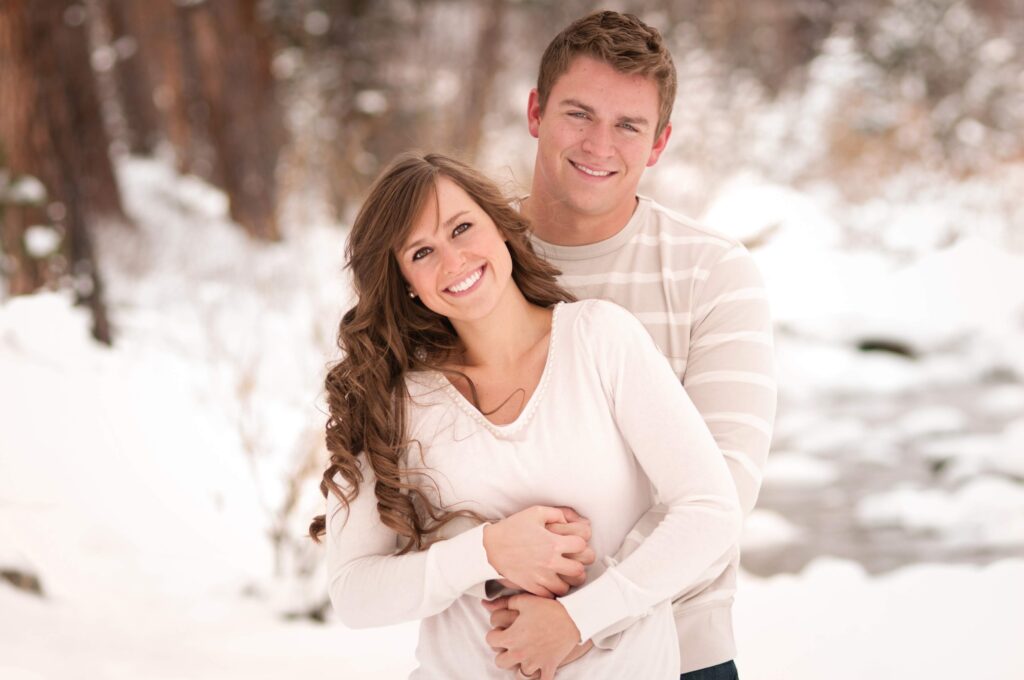 After I got home we slowly started to talk again. Finally our timing aligned, and we started to date. We were married in May 2013, and I couldn't have been happier with the way my life had turned out. It was easy marrying my best friend. It felt so right, and we were so happy.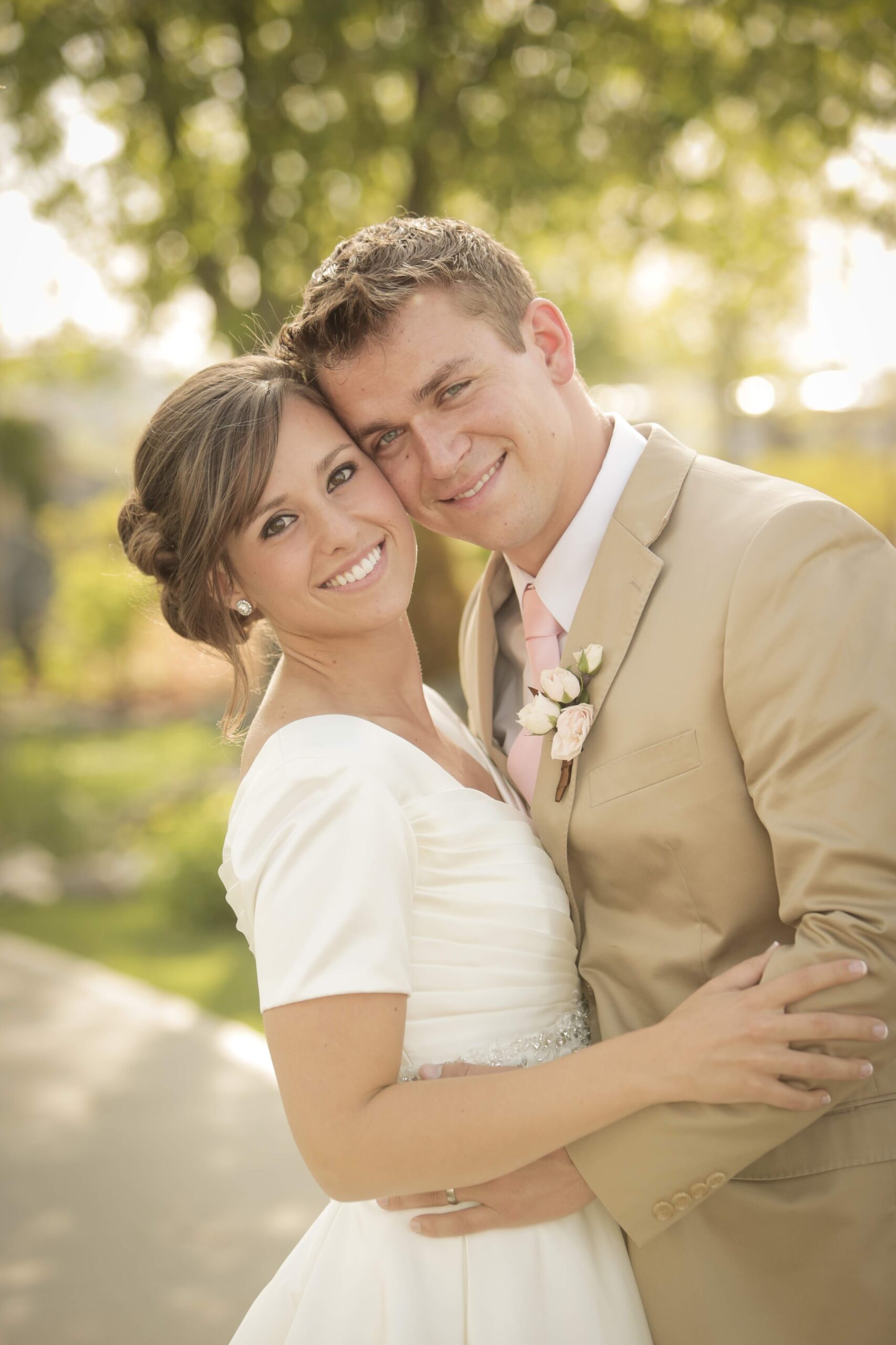 Cancer
We had only been married two months when Justin started complaining about bad chest pain. It kept getting worse so he decided to get it checked out. It felt like the room was moving in slow motion when I heard the word cancer come out of the doctors mouth. How could this be happening? We were just about to start our lives together.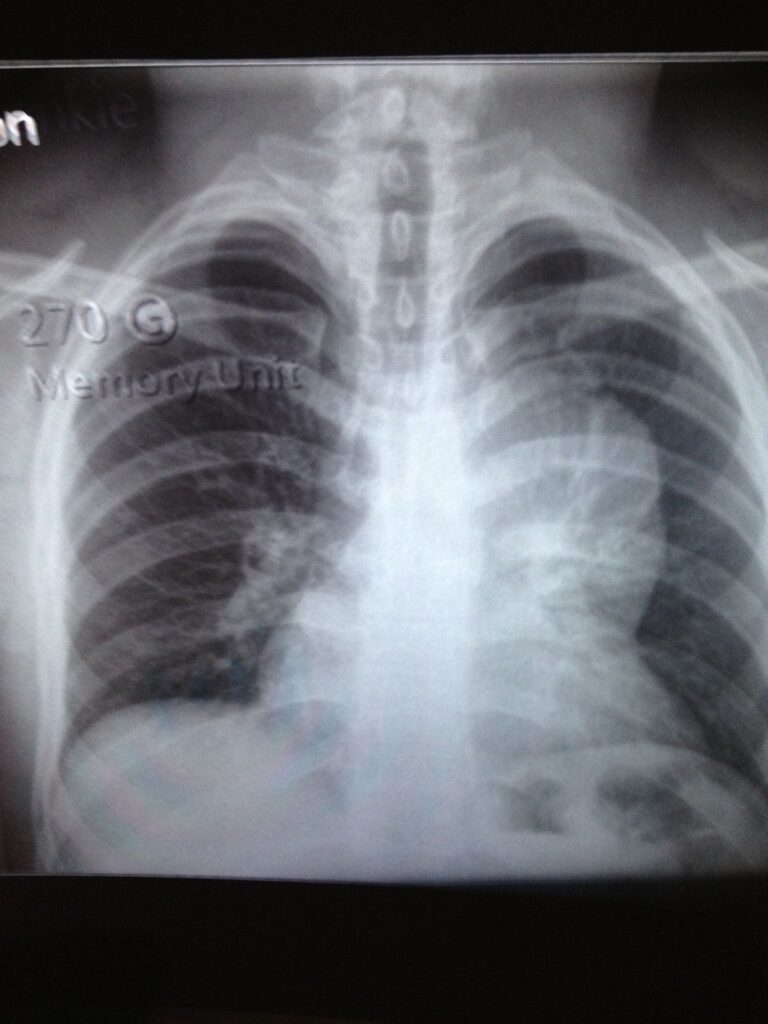 No one is ever prepared for something like cancer and I always thought it happened to other people, but not me. My anxiety quickly took control and my mind went to worst case scenario.
A couple days after we were given the news we decided it would be best to move back to Colorado to be closer to family. My parents lived 15 minutes from the hospital and we thought that it would be best to do treatment there. This was not how I had imagined my first year of marriage to be. Our lives were turned completely upside down.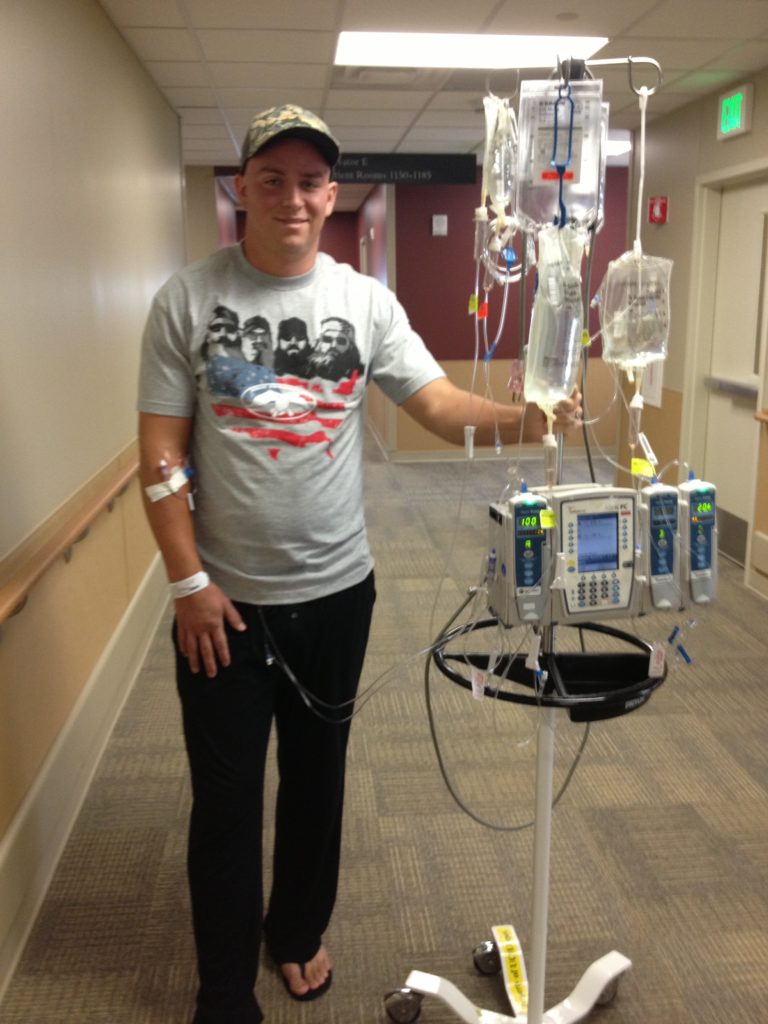 Justin had a form of testicular cancer with a tumor the size of a rugby ball in his chest. They did full body scans and blood work right away. We were thrilled to find out that the cancer had not spread to the rest of his body. The plan now was to do chemotherapy to kill off the cancer cells and end with a big surgery to remove the tumor. We were told he had a very good chance of survival, so that kept our hopes up.
He endured four months of intense inpatient chemotherapy to stop the cancer from growing. The first week went okay, but as he got further into treatments the harder it got and the more depressed he became. Those were some of the hardest days of my life having to watch him go through something so difficult.
We were thrilled the chemotherapy was working! His numbers got better each week and that helped us stay hopeful. When chemo was over he had a major surgery to remove the tumor. As of that day he was cancer free!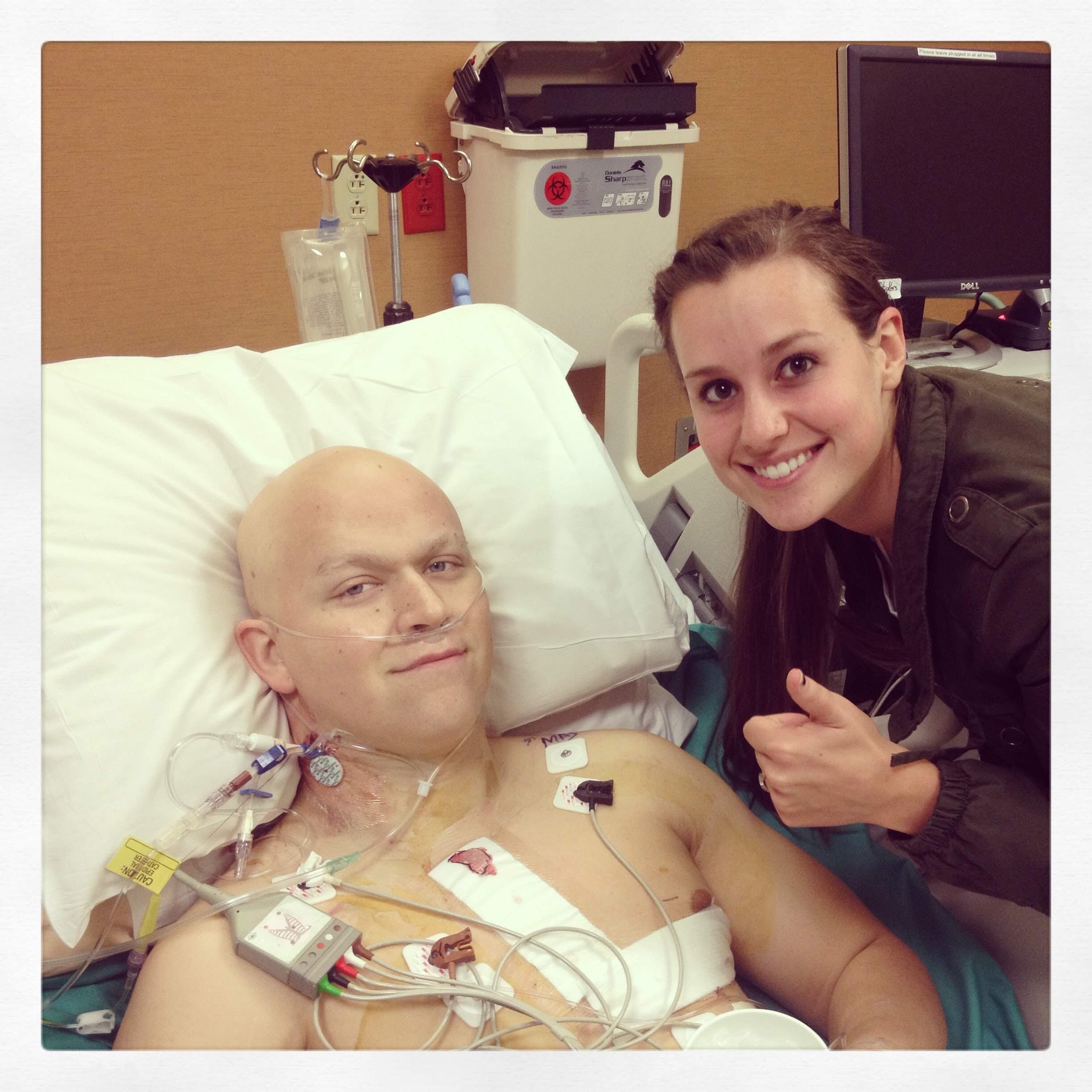 The dark cloud of despair and gloom dissipated. Justin had his life back, and we were ready to live it to the fullest. We moved back to Utah and started our lives together without cancer! Life was great!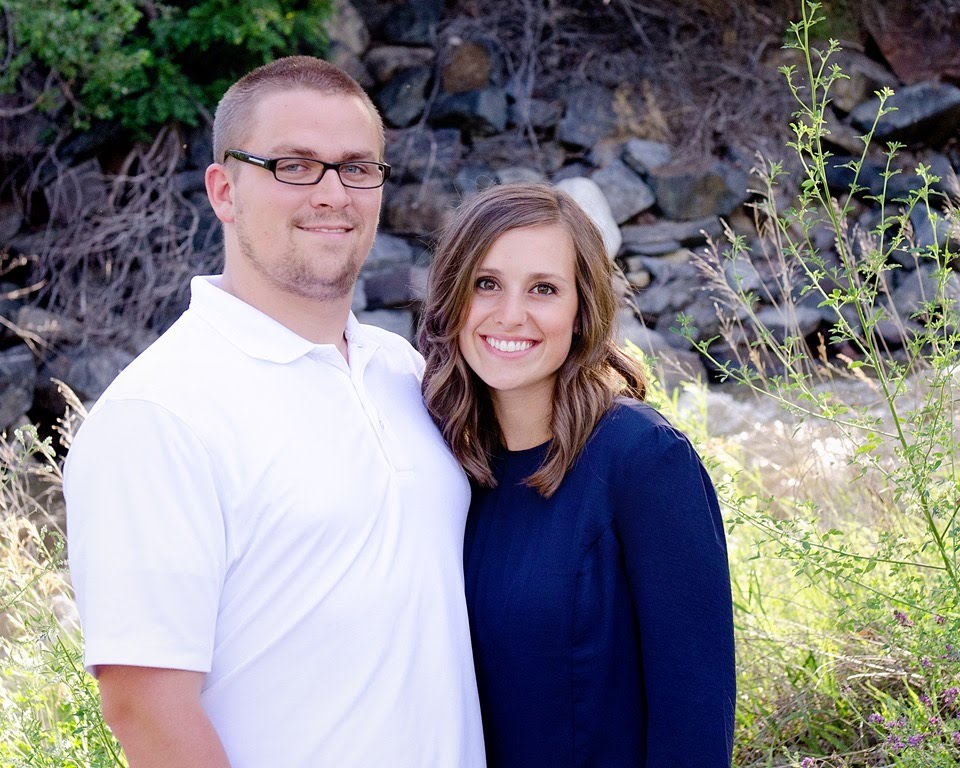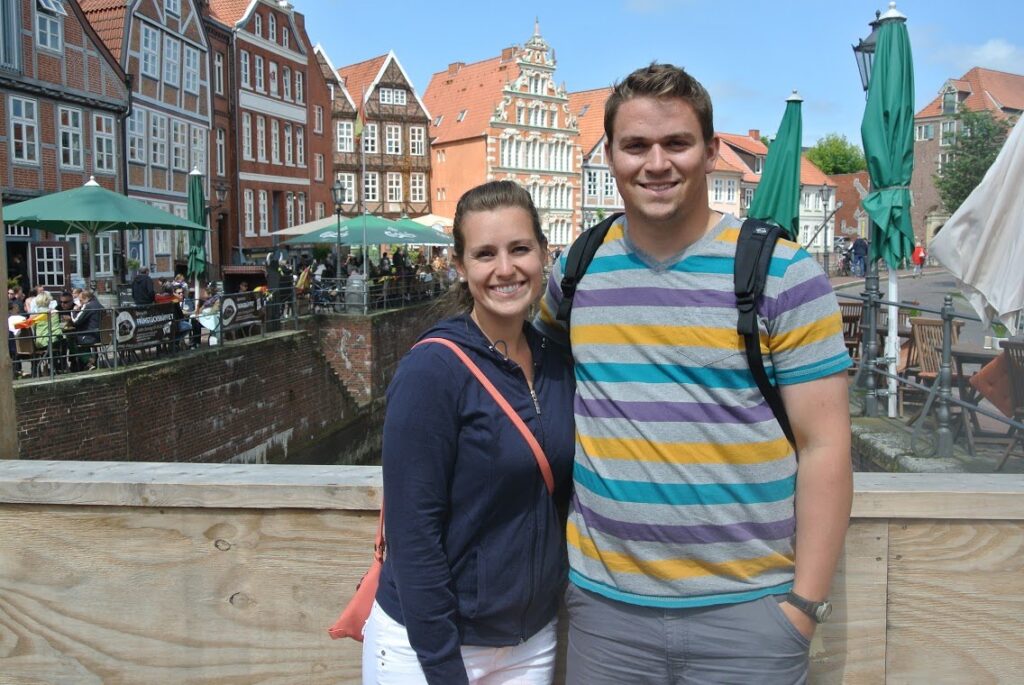 It hadn't even been one full year before they found a new tumor on a routine scan. Justin would go in every three months, but I knew by the look on his face, that this time was different.
My chest started to hurt and I found myself not being able to breathe. I remember later that evening just sobbing uncontrollably and screaming at the top of my lungs. I was consumed with so much anger and sadness, I lost all hope.
After taking some time to process what had just happened, I started to think about the first time Justin went through cancer. It was hope that got us through and helped us to keep going. I knew hope would help us to get through it again!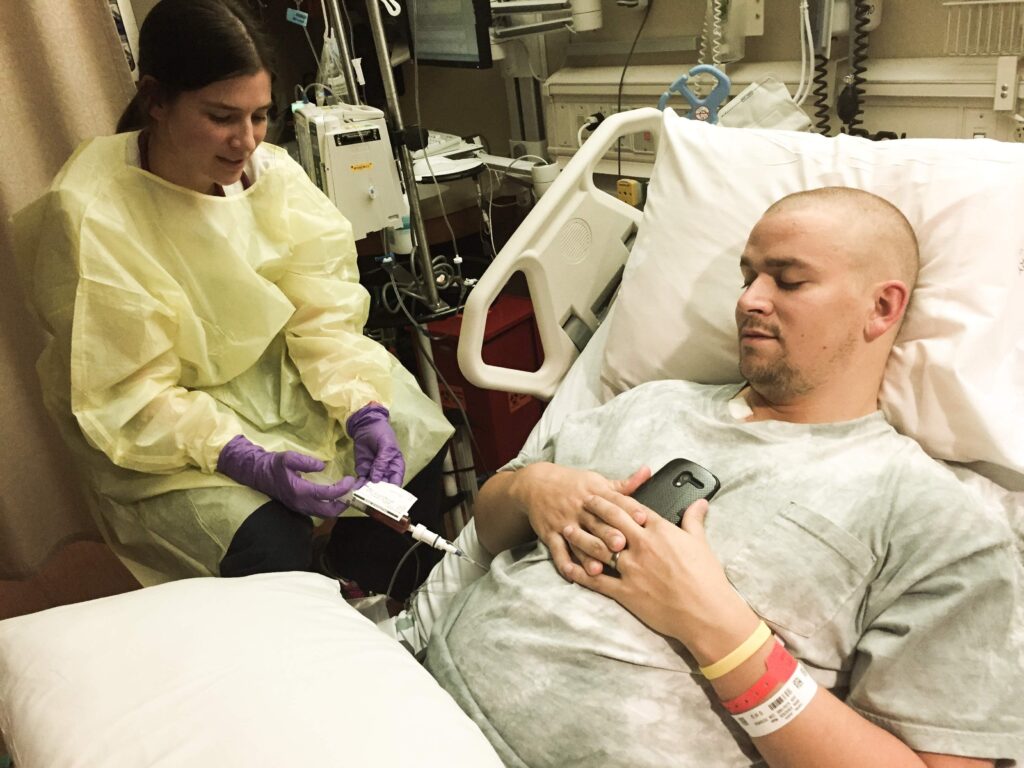 It was hard to accept that we were back in the world of cancer. The world of high anxiety, stress, and worry of the future. This new cancer was completely different from the first one. It was so rare they didn't even have a name for it and there was one doctor in the country who had heard of it before. Things were looking very hopeless.
Justin became a lab rat as we tried to figure out what would beat this cancer. He started chemo right away, but this time it was different. He had already done chemo before so he knew what to expect and he was terrified. He got really depressed during that time and dreaded going to the hospital. Inpatient chemo really takes a toll on you mentally and physically.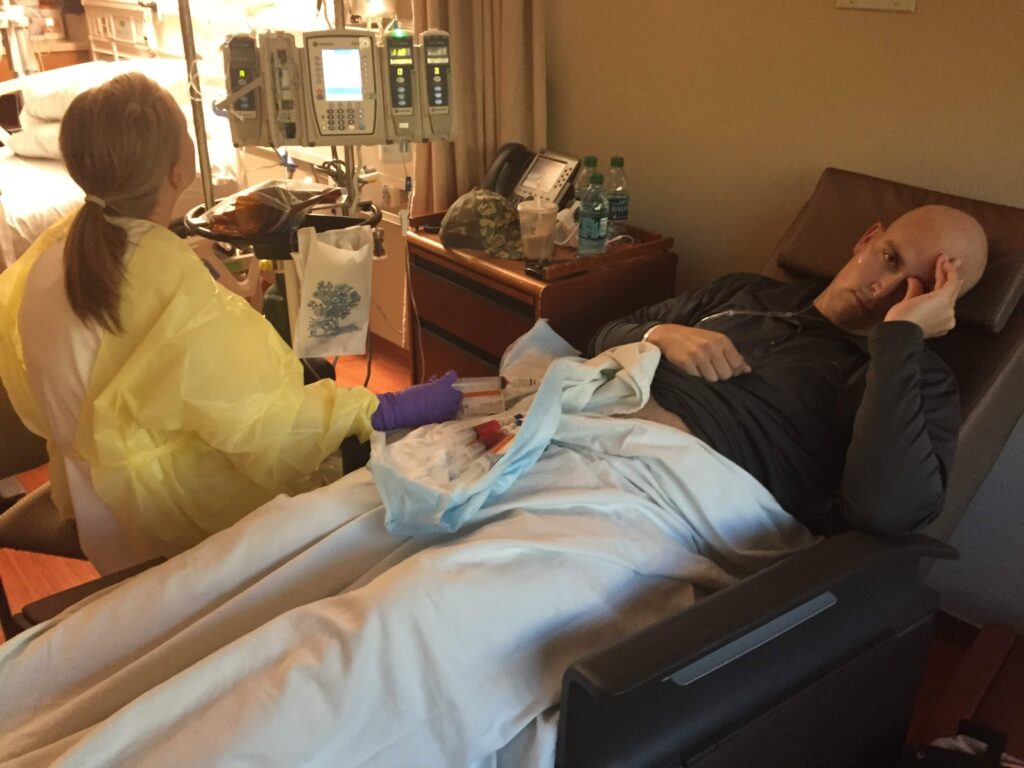 I was balancing teaching full time and trying to take care of him. I would sleep at the hospital and then drive to work everyday. Life was extremely hard during this time.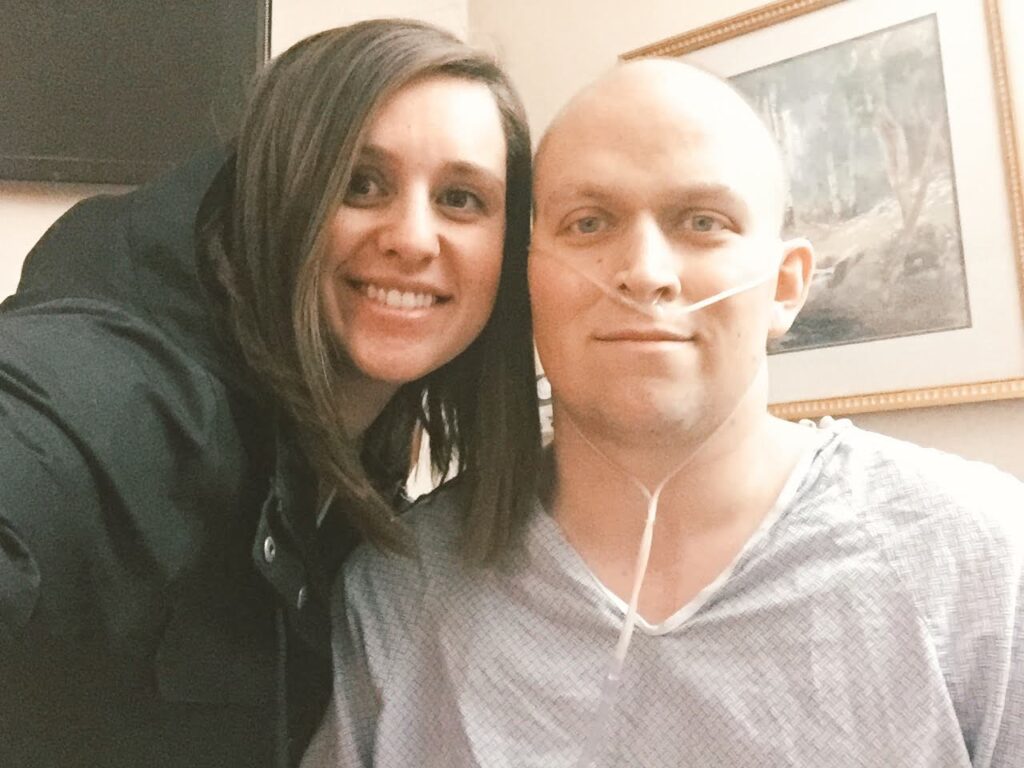 After some time they were able to find an outpatient chemotherapy that, while it didn't shrink the tumor, prevented it from growing. We were happy Justin didn't have to spend the night in the hospital anymore to receive chemo. We were even happier they were able to find something to keep the cancer at bay. It was a tender mercy and Justin was happier when he wasn't at the hospital.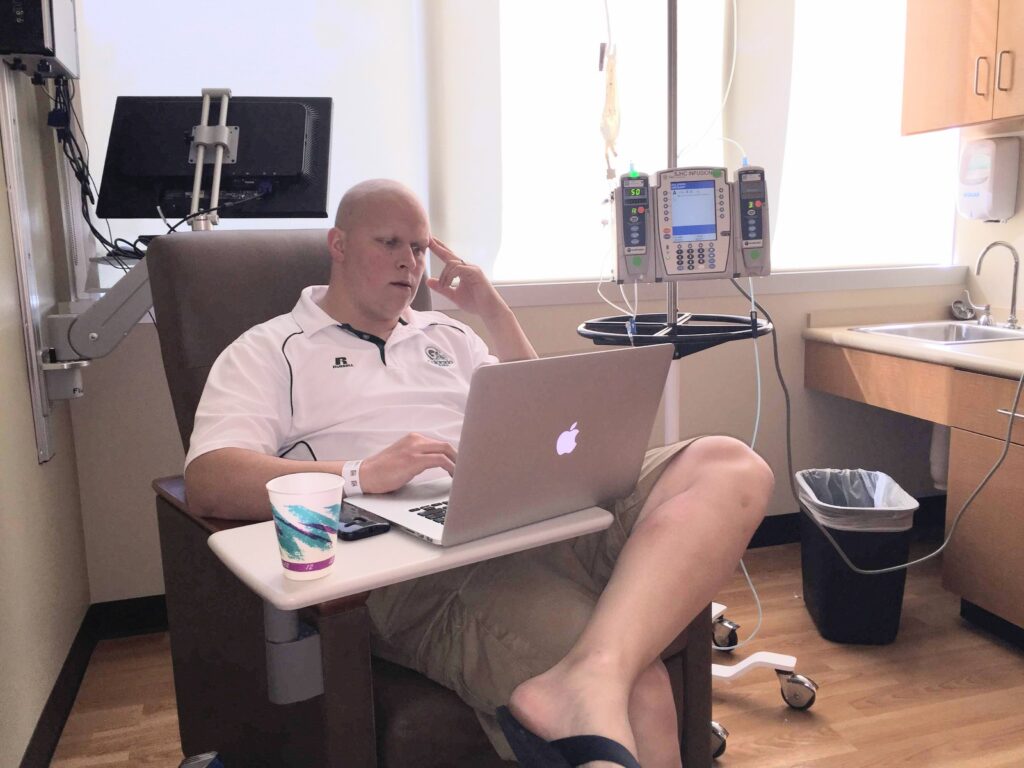 Life started to move on, and we were able to live a semi-normal life again. Justin started working and going to school part-time. There were even times when we would forget he had cancer. We even went on some trips in-between chemo treatments. It wasn't until his monthly scan, that we were pulled back to reality. For the most part we were happy and hope kept us going.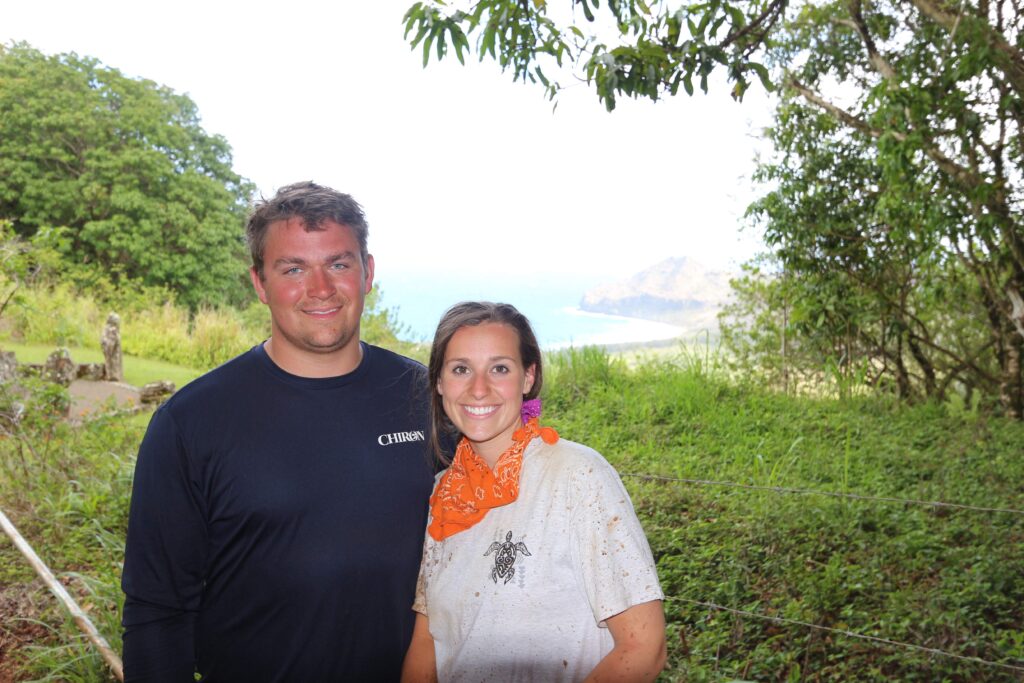 Life started to calm down and it gave us time to really start thinking about starting a family. Cancer had already taken so much away from us. Instead of living in our newlywed home, we were living at hospitals. Instead of spending our free time hiking and climbing, Justin was hooked to IVs. But there was one thing we weren't going to let cancer take from us, the chance to start a family.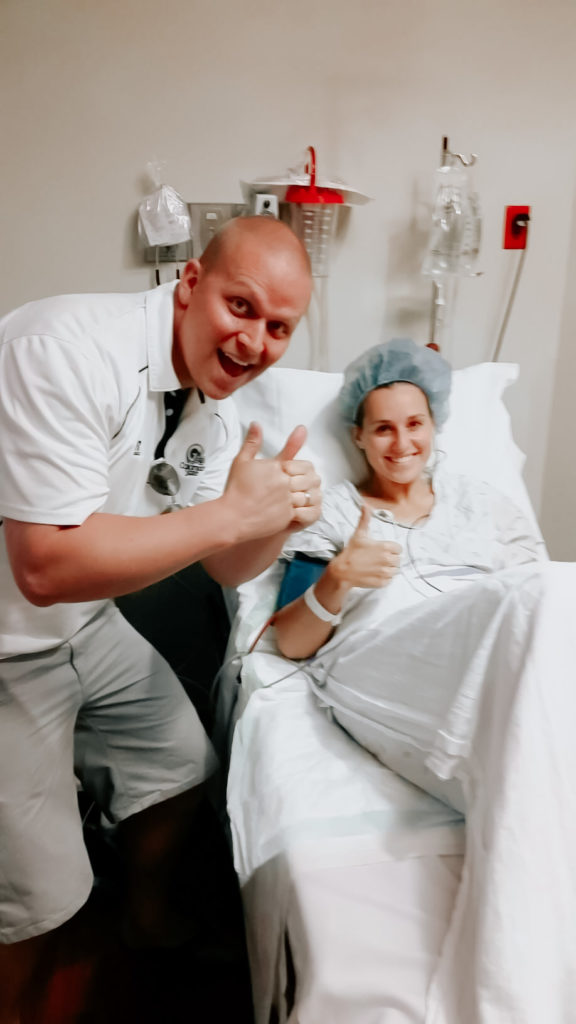 We started our in-vitro fertilization journey. It was not easy, but we knew it was our only chance to have kids. We decided to implant one embryo and we were thrilled when my blood test came back positive! Our dream of being parents was becoming reality.
When I was six weeks pregnant I went in for my first ultrasound. We were shocked when we found out that our one embryo had split into two. We were going to be parents of not only one little baby, but two. We were beyond excited!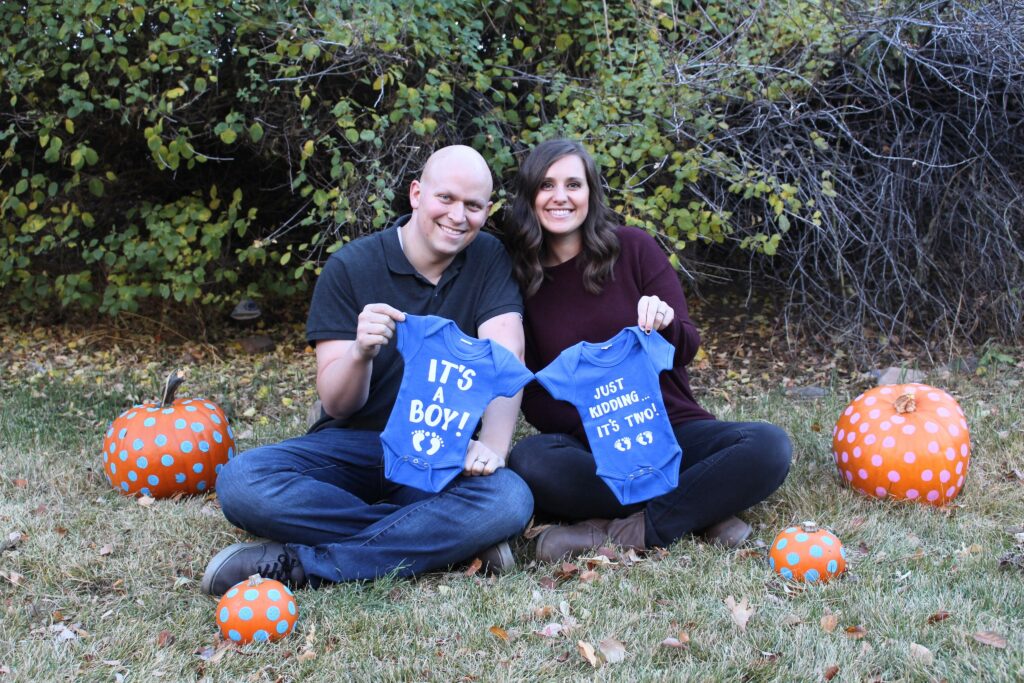 We were so excited to start preparing for our two new baby boys. Justin was still doing Chemotherapy every couple of weeks. He had his moments when he felt really sick, but he managed to still help me a little during my pregnancy. He would wake up early to give me my shots and leave me some food before going to work. He was amazing!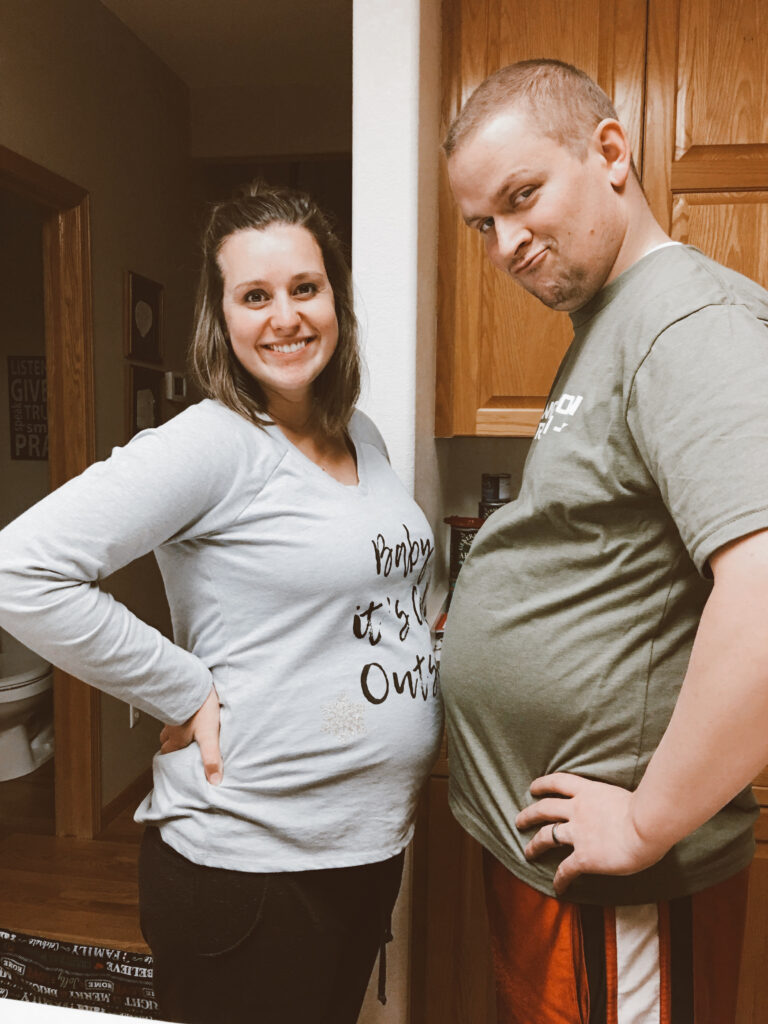 I had almost three months left in my pregnancy when Justin was admitted to the hospital. We thought he had a cold, but it kept getting worse and worse. The doctors weren't sure what was causing it, but assumed it was the tumor.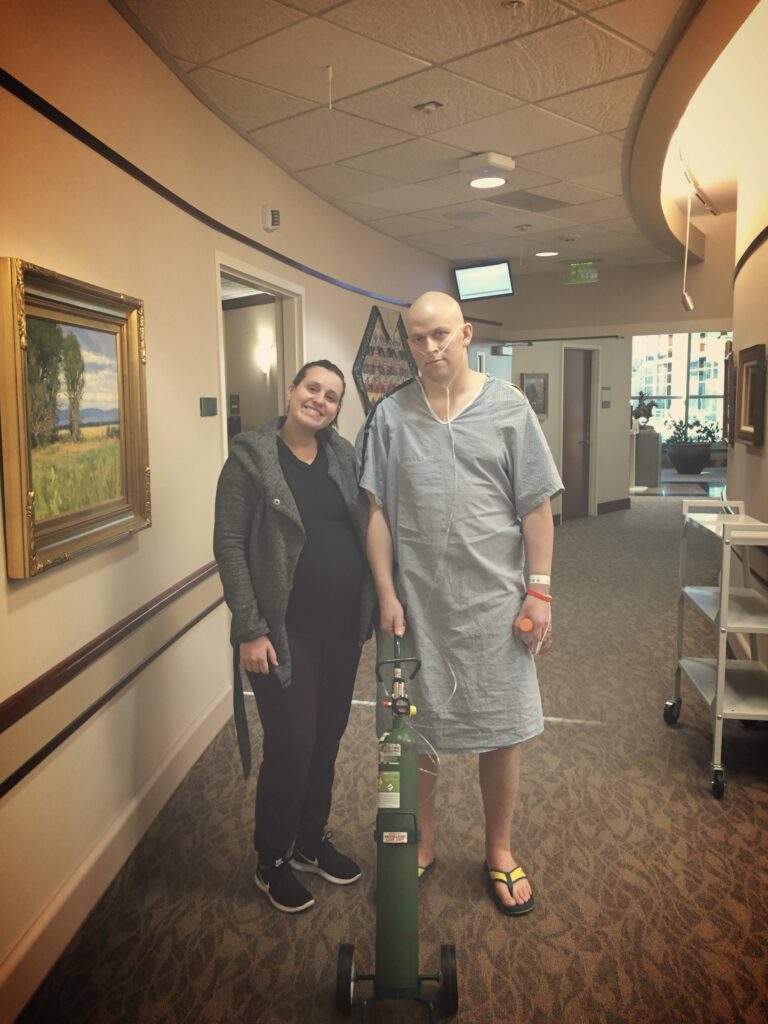 There were days we almost lost him and I was in a really dark place during that time. The thought of losing him before the babies came was unbearable. When he was first admitted I prayed we would find a cure, but after a month in the hospital my prayers turned into hoping he could at least make it to their brith. I didn't know if I would be strong enough to do it without him.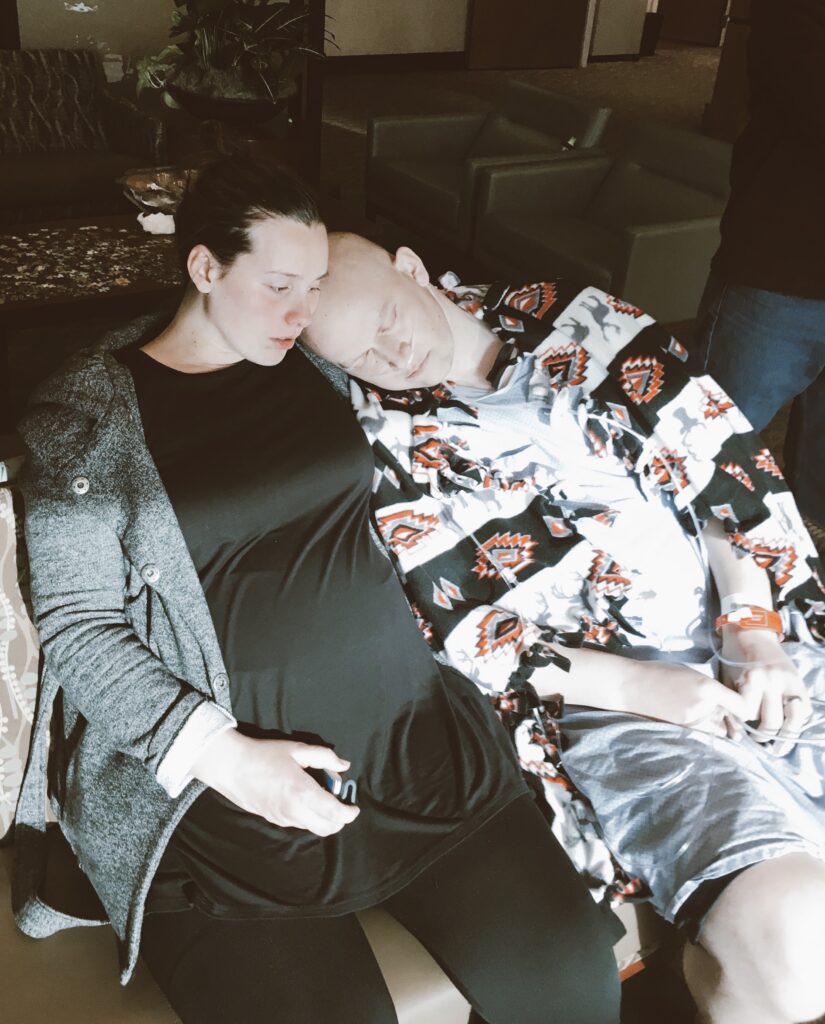 The doctors were able to find an antibiotic to fight the infection related to the tumor. He was able to come home a month before the babies were born. But the month-long visit in the hospital had weakened him tremendously. He came home with oxygen and needed assistance to do the simplest task. Our goal for that final month was to help him walk longer distances and get his strength up so that he could be at the birth.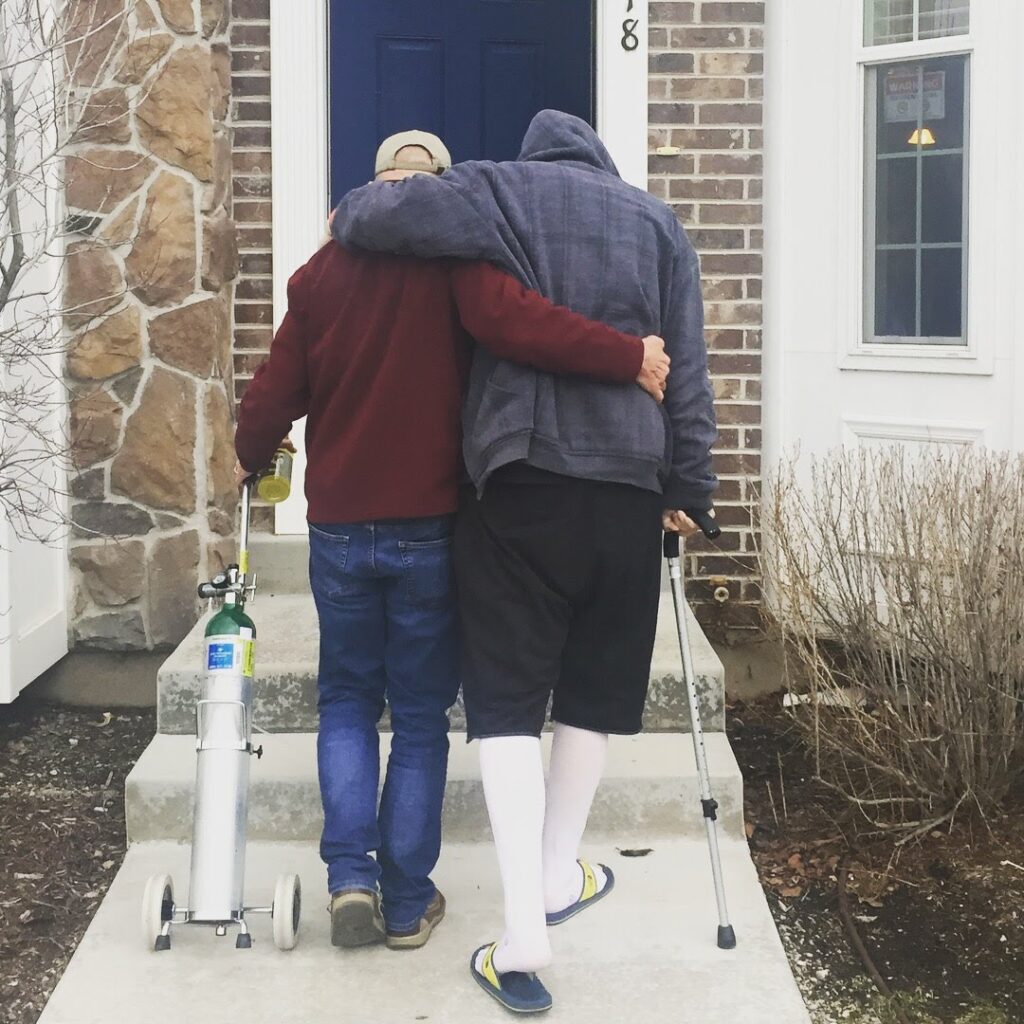 Twins Birth
A week before my due date, I was diagnosed with preeclampsia and had to be induced. Miraculously, Justin's strength had improved enough to be at the birth. He had to come in a wheelchair and with oxygen, but he was there. My delivery was hard, but hearing Justin's faint voice saying, "Come on, Jenn, you can do this!" gave me all the strength I needed to keep going. I was filled with joy and excitement to see our babies.
You can read my full birth story HERE.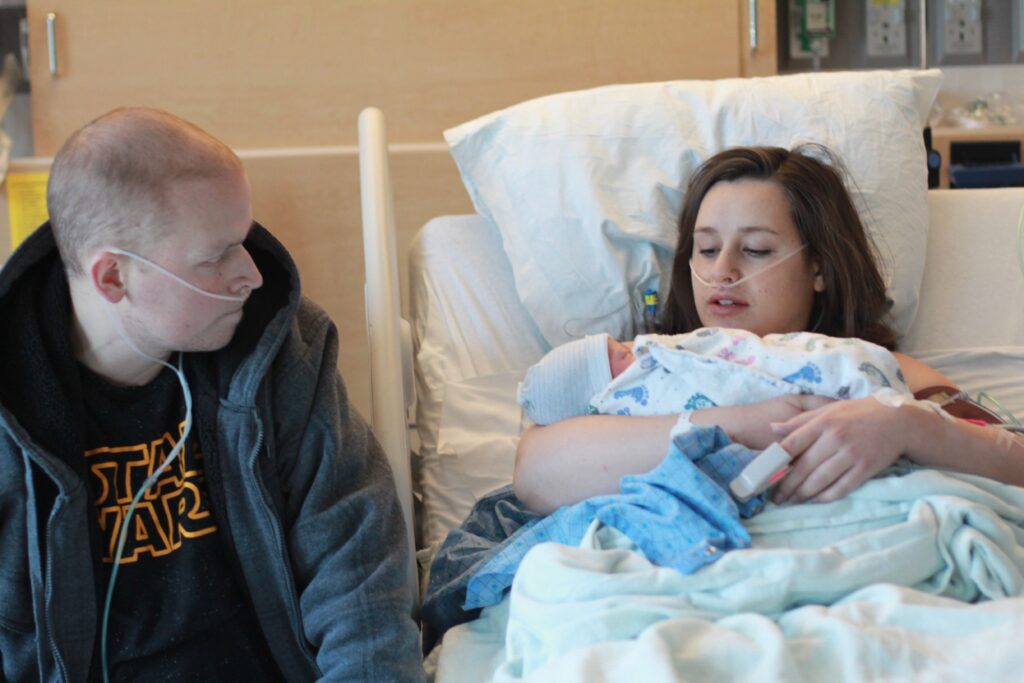 We brought the babies home five days later. We were so blessed to be able to be together as a family for a couple months. Justin was able to help feed the boys and read to them. I am so grateful for that time and I know the boys will be happy to see the pictures they have with him.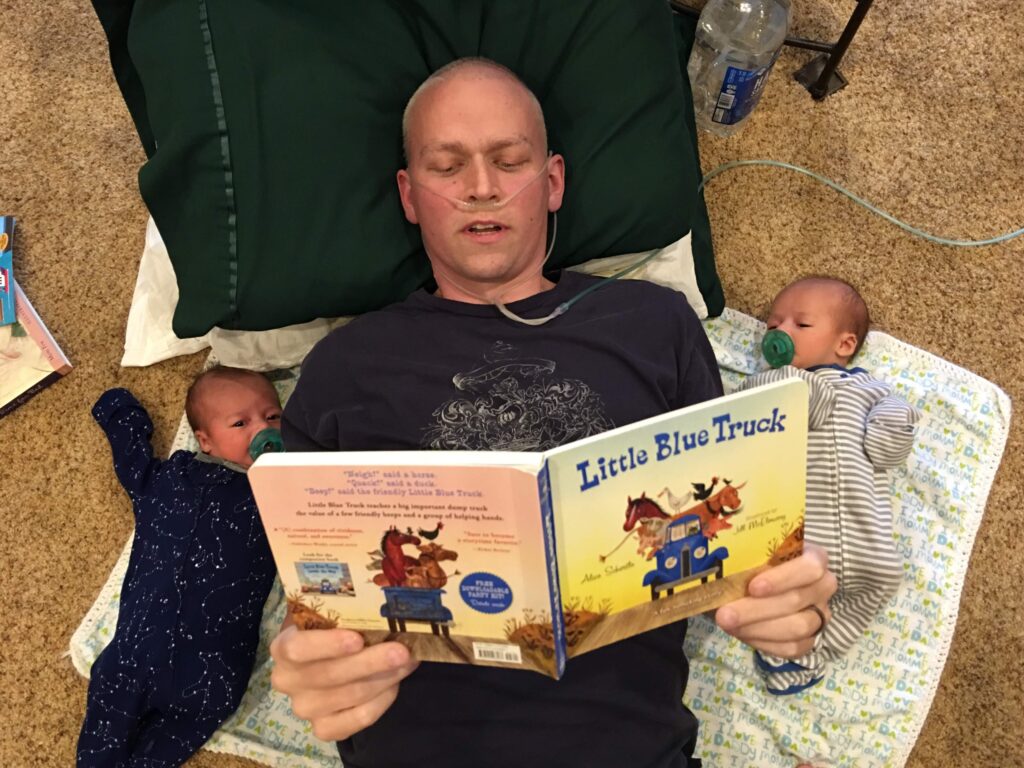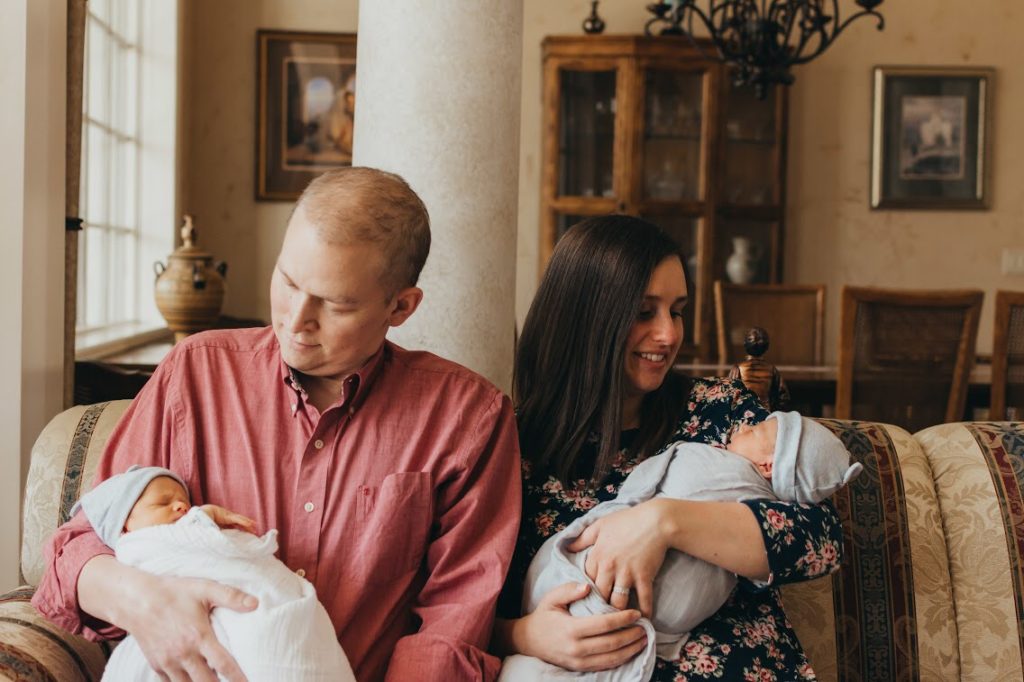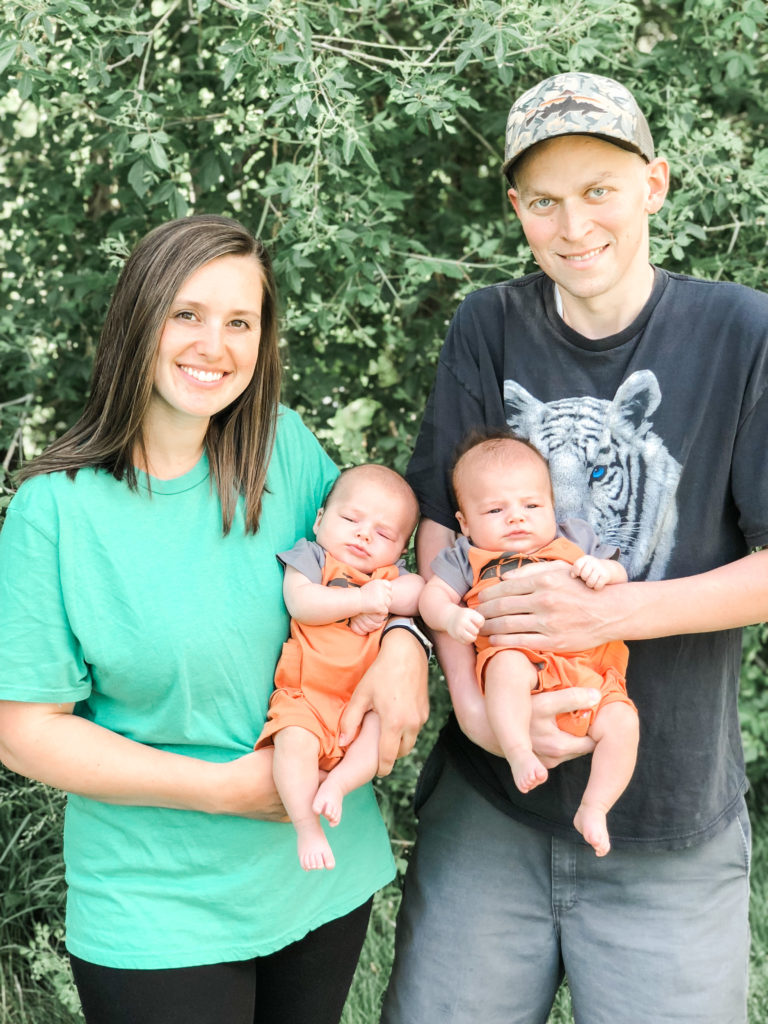 Sadly Justin passed away a couple months after the twins were born. Learning to navigate life without him has been extremely hard and I miss him so much! I do feel blessed for the time we did have with him. I didn't think he would make it to see the boys so being able to see him with them meant so much to me.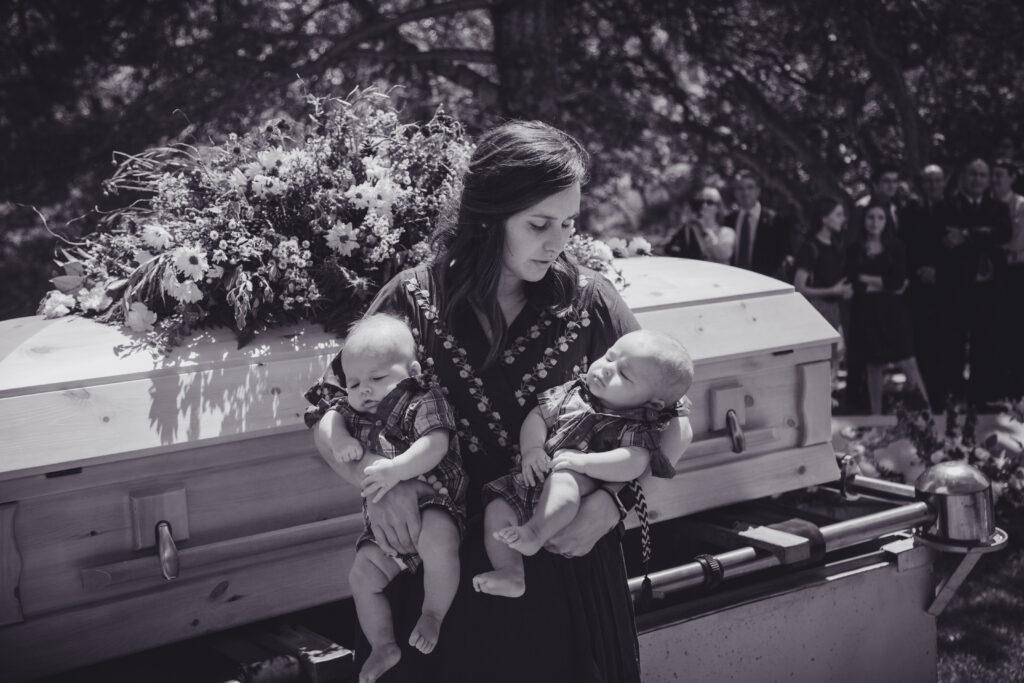 I started this blog in hopes of helping others. I have written some of my thoughts and feeling since he has passed and you can read that HERE. I hope that by sharing my story it will help someone who is also struggling or feeling alone. I want you to know you are never alone! There is someone out there who knows what you are going through!
I also started a community where people have shared their stories of trials and hardship. You can read their stories HERE. I hope they will also help you in some way.
Subscribe to my blog below by entering your email. This way you can get updates on my life and read some of the Caravan Community stories!
Similar Post