Two Years Ago (original post written July 7, 2018)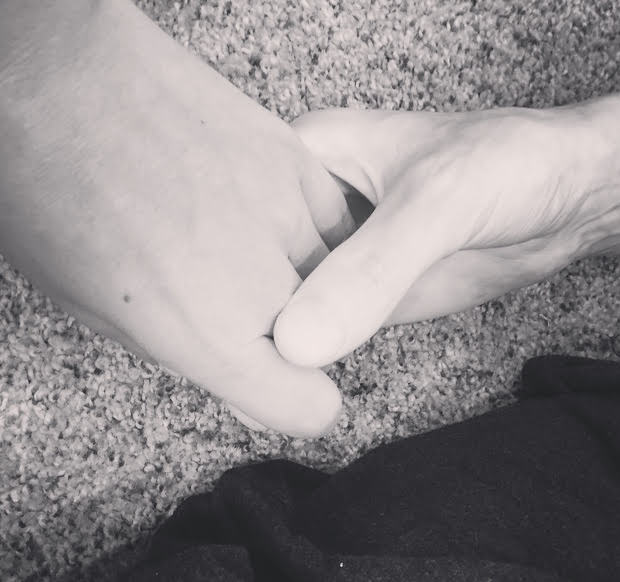 I'm writing a post I thought I would never have to write. I believed and hoped so badly I wouldn't have to. Justin had been in a lot of pain the last couple of days. This morning when we went to check on him he wasn't breathing. We got him comfortable enough last night to fall asleep. Justin and I read a scripture together before going to bed and that was the last time I saw him. He was home around the people he loved.

I did get a sweet moment with him yesterday where he and I were able to talk. He was so weak and could barely say anything, but we shared some thoughts with each other. He told me he was so tired and was trying so hard to hold on for me and the boys, but he didn't know how much strength he had left in him. He said we had done everything we were suppose to and it was in Gods hands. I think he knew it was time and was ready to let go. He has suffered for so long and he is free now.

I kept thinking this morning that I wish he wrote letters to the boys or did things to prepare for this, but we had so much hope, it was hard to have those conversations. We lived each day talking about things like when he would take the boys fishing. When he would go back to work. Even last night he was saying how when this was over he wanted to go to the Tetons again.
We believed he would get better and lived each day to that belief.
For a moment I was angry at that hope. We could have planned better and had letters for the boys. But then I thought how that hope was the reason he lived so long. That hope was how he sat next to me while I gave birth. That hope was how he saw his boys. That hope was how we had a couple of months as a family. We never lived a day thinking he would die and I think that was the best way to live.

I feel an ache and pain I have never felt before in my life. I'm scared to wake up tomorrow and the next day. He was my person who treated me like a queen, even when he was so sick. He knew exactly how to make me feel better and make me laugh.

I don't know how I'll keep going, but I'm grateful for these two beautiful boys to keep me living. I'm so grateful for the knowledge that I will see him again. I keep having to remind myself that this life is just a moment. I will be with him for eternity. It's easy to say that, but the ache of each day without him will be unbearable. I'm hoping it will get easier.

Last night we watched Remember the Titans. He was too weak to watch, but listened to the whole movie. He would smile at his favorite parts and wished he could sing some of the songs. It was meant to be because it reminded me of his Facebook post when he was in the hospital. He said "Coach I'm hurt, I ain't dead" He truly had that attitude up until his last breath. He was the strongest person I know! He fought so hard to be here for me and the boys. He was a beautiful soul!

I held his hand one last time this morning. Whenever we held hands we would give each other hand squeezes meaning "I love you." We did it yesterday when he was to weak to speak. He squeezed my hand twice. I squeezed his hand this morning for the last time. I love him more than anything!
Thank you for all you're prayers and love!
My Thoughts Today (July 7, 2020)
Has the pain and ache gone away since I wrote this post two years ago? No! It will never leave just lesson a little over time. I do still struggle with some things leading up to that day he passed away two years ago. One being that we never talked things if he did pass away. I often still have dreams where we are together and I'm desperately trying to ask him what he would have told the boys. What he wanted for their future and what he would want to say before he died. It honestly haunts me and I'm sure it always will.
This was hard for me so I had the idea to ask friends and family who were close to him and knew him to write letters to the boys. The letters started to pour in and I was overcome with emotion as I read through each one. I can't wait for the boys to read them someday. I thought it would be fun to share one letter on the blog each year on the anniversary of his death.
Its never to late to send me a letter if you haven't yet. I was hoping if you knew Justin well and was close to him, that you could write that letter for him. Tell them about how great he was. What they would have done together. What he would have taught them. A story you had with him that touched your life in some way. Something that will help these boys turn into the man Justin was. Thank you!
Send them to my email: [email protected]
Write in subject line: Memories of Justin
Letter To Marshal and Everett
Dear Marshal and Everett,
You two are awesome! Right now I am on my mission in Ohio, you two were born after I have left and I have yet to meet you, I have seen lots and lots of adorable pictures and I already love you two!

As you probably know by now your father is an incredible man. I remember the first time I met him at a young age, we were in Estes Park at your grandparents cabin!! Your mother brought him to meet us and at this point I'm pretty sure your lovely mother didn't realize she'd fall that in love with him. He made me feel awesome because he would go out and fly fish with me whenever I wanted.
After that my respect and love grew so much for him that every time we were around each other I felt like I had another brother! I remember the consecutive years he joined us for priesthood session of general conference and afterwards going out to eat. Even when he was sick he would always eat the biggest thing on the menu at Los Hermonos, I watched in amazement as he pounded a huge plate of nachos! It was amazing!
Out of all the times I want to share my favorite memory I have with your father, a memory that I will never forget. We always talked about going fly fishing up provo canyon together but for a long time we never set up a time and went. As I got my mission call and was able to go fishing a lot more, we finally set up a time to go a week or two fly fishing before I left on my mission.
We met up and I jumped in your parents sweet jeep and we headed up to one of my favorite spots!! It was such a beautiful day and we had a really good talk about serving a mission. We talked about the importance of it and how it has changed your father's life!
Now being on a mission for about a year, I have been able to see what he was talking about. After fishing for a while we headed back and my favorite part of the whole trip was the drive home! Your father was the sweetest man. We blasted, I believe it was Taylor Swift, and sang at the top of our lungs. We recorded a video and sent it to you Mom because he said, "Oh, Jen is gonna love this! We gotta record this!" So we did!
If there's one thing I know your father would teach you it's to, first off have fun, but more importantly, LOVE your family. To him, family was everything. Your family is amazing, your mom and your dad are by far the cousins I look up to most. Every time I was around your dad, he was always thinking of your mother. Talking about her, and thinking about how he could serve her.
I'll never forget that example. He loves you and he does the same for you! He wants you to know that he is and always will be there for you. Stay strong in the gospel because that is why your father is the man that he is, why your mother is the way she is. I love you both so much! I know you are going to be amazing men because that's just who you are, it's in your names! Can't wait to meet you!