Twin Surprise Reaction and Story
I think a twin surprise will go down as the best surprise of my entire life. As many of you know I went through in-vitro fertilization to get pregnant because of Justin's cancer. With in-vitro you have a lot more control on how you get pregnant and I knew twins wasn't an option because we only put in one embryo. Little did we know God had a different plan for us.
Why we had to do Invitro Fertilization
Twin Surprise Story
I had to do in-vitro fertilization to get pregnant because of Justins cancer. Justin was able to bank sperm before he started chemotherapy which gave us a chance to have our own kids later on. Justin had been cancer free for almost a year when we stared the IVF process. After we got the sad news his cancer had come back we paused the process for awhile.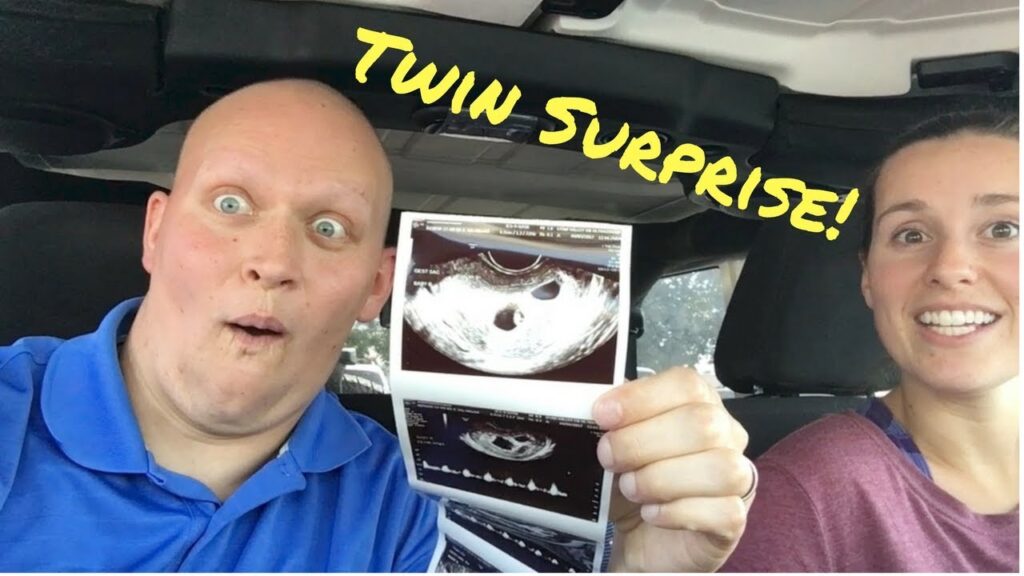 A couple years went by and Justin was still doing chemotherapy. He was able to find one that kept the tumor from growing and let him still live a normal life. We both really started to feel that longing of wanting to start a family. We decided cancer had already taken enough from us and we did not want it to take away the chance for us to be parents.
So we decided to start the in-vitro fertilization process again. In august of 2017 we put one embryo in and prayed it would stick! Two weeks later I went in to get my blood test and got the news I was pregnant! We were so excited!
We put in one embryo, but I had this sad feeling that I was suppose to have twins and maybe on our next pregnancy we would try for twins. Its so weird that I had this impression because I never wanted twins because I knew how hard it would be. I had this thought for just a split second and didn't remember it until later on in my pregnancy. So crazy how my motherly instincts knew before it was confirmed by the ultrasound later.
I went in on week six to get my very first ultrasound. I remember thinking how badly I just wanted to hear the heart beat and then I could finally relax, but after the news I was about to get I was for sure not going to be relaxed. The women doing my ultrasound started the process and she turned to me and said "how many embryo's did you put in?" My heart started to race and I thought to myself "why is she asking me that?"

She replies and says "it looks like there are two babies." I think my heart dropped and I froze in time. I was only six weeks along so it was hard to tell so she decided to do a transvaginal ultrasound to confirm it. As she went into the other room to prep for it Justin started googling twin baby ultrasounds to compare our picture. He was laughing and smiling as he totally confirmed that the google images looked identical to the ones we had just taken.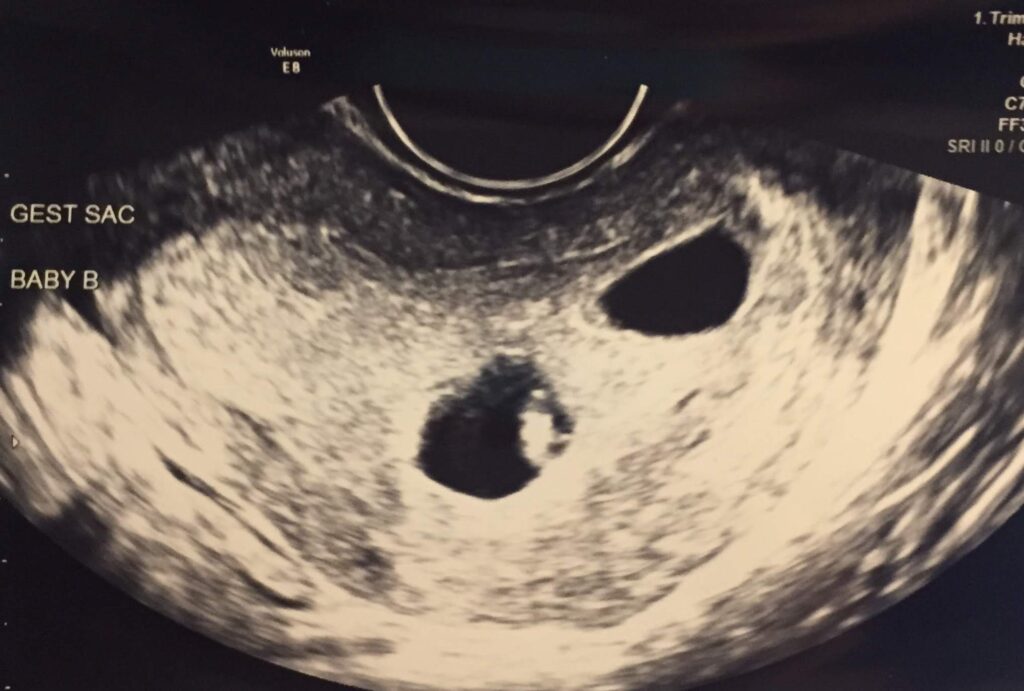 The ultrasound tech came back in and did the new ultrasound and totally confirmed that I did indeed have two babies. I was totally freaking out inside and Justin was on cloud 9. (see our reaction video below)
Who did we tell first?
There was no way we could keep our twin surprise a secret from our parents for long. We told our parents we wanted to tell them the gender of our baby and if we could call them that evening. Even though Justin's cancer is not hereditary we wanted to do genetic testing on our embryo's just in case. When you do genetic testing you get to know the gender of your embryos. We told our doctor we didn't want to know until after we had a confirmed pregnancy. So we were actually able to find out the gender right after we found out we were having twins.
It's a boy! Just kidding its two! As you can imagine our parents freaked out and they were so excited. It helped me feel less stressed about having twins after I told them. We did film ourselves right after our ultrasound and also filmed ourselves telling our family. You can watch that video below. I'm so glad we documented that!
Telling Justin the gender of the twins
After our twin surprise ultrasound Justin had to go to work. I went straight home and called my IVF doctors to find out the gender of our twins. I really wanted boys so I was beyond thrilled to find out they were boys. I couldn't wait for Justin to get home so I could tell him. You can see his reaction in the video below.
Pregnancy reveal video
I waited until I was 20 weeks before we told our friends and family on social media about our twin surprise pregnancy. We made this really cute video sharing the news!
Related Blog Post
Hope you had fun reading about our twin surprise story! I linked some related blog post below that you might be interested in reading as well.