The best mountain themed boy bedroom
I put together a mountain themed boy bedroom for my twins. I added a mountain themed mural and an adorable bookshelf. You can see how I put this bedroom together below!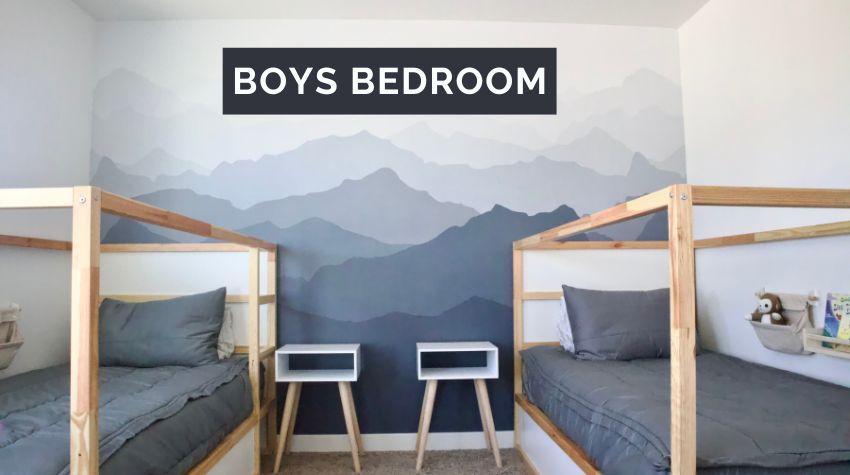 I recently moved into a new home and its the first time I'm living on my own since my husband passed away. I was living with my parents for the last four years so it was fun to be able to decorate and make my space my own. This mountain themed boy bedroom was so fun to do. I share where I got everything and how I put it all together!
Mountain themed boy bedroom
My late husband loved the outdoors more than anything. (read my story here) I thought it would be fun for my twins to give them a mountain themed bedroom in honor of their dads love for the outdoors. It turned out better than I imagined. Continue reading to see how I put it all together.
Beds
Their beds are the Ikea Kura beds. I just got the Ikea Kura bed for my twin boys and I am so excited. One reason I decided to get this bed is because there are so many different ways you can arrange the bed and it can grow with your toddler. I wrote a blog post sharing all the different ways you can arrange this bed. See the link below!
My boys share a room and keep each other up in the evening and morning. I love that I can hang a blanket over the bed and they each of their own privacy. It helps them from waking each other up. It's like a big kid crib.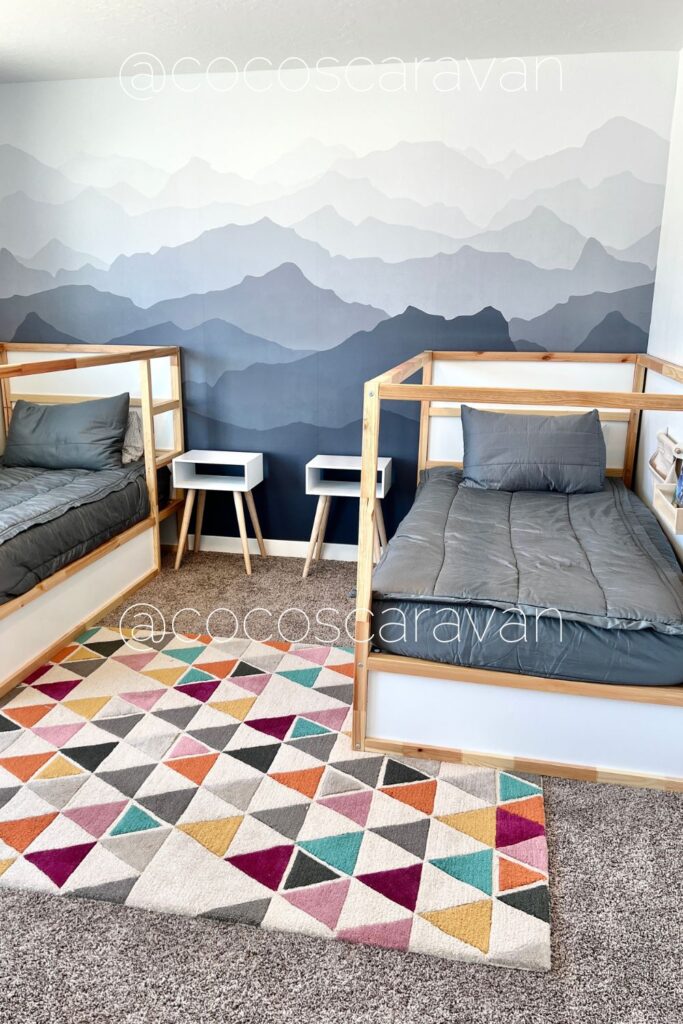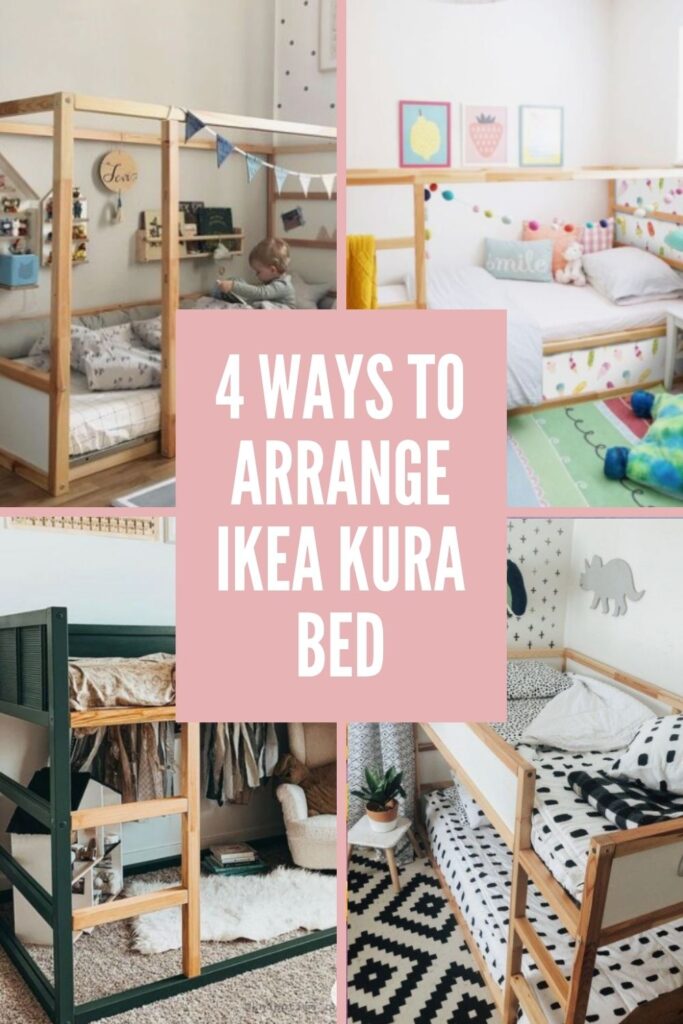 Bedding
The boys bedding is from Beddy's and its so perfect for kids. I love that it zips up and makes bed making so easy for little kids. We love them! Use my code "Cocoscaravan" to get 15% OFF. You can see more of my favorite products with discount codes my promo codes blog post Click the link below to learn more about Beddy's and if its worth the money.
Mattresses I used
The mattress I used for their beds are from Five little monkeys. I did a collaboration with this company and I absolute love their mattress and love that they focus on kids mattresses. The size of their twin mattress is 39" × 75" × 8". The height of the mattress is 8 inches which makes it high for the bunk bed. I just used my bumper pads to insure they wouldn't fall off.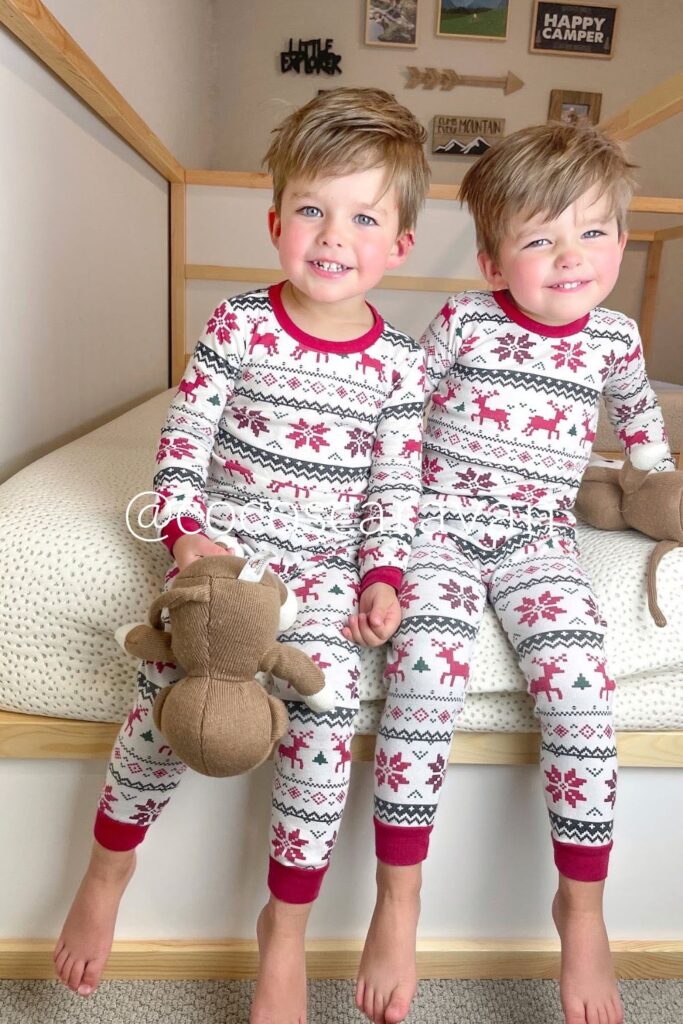 Ikea Mattresses
You can also just buy a mattress from Ikea that goes with the bed. These all work great and you can find links to the mattresses below the picture.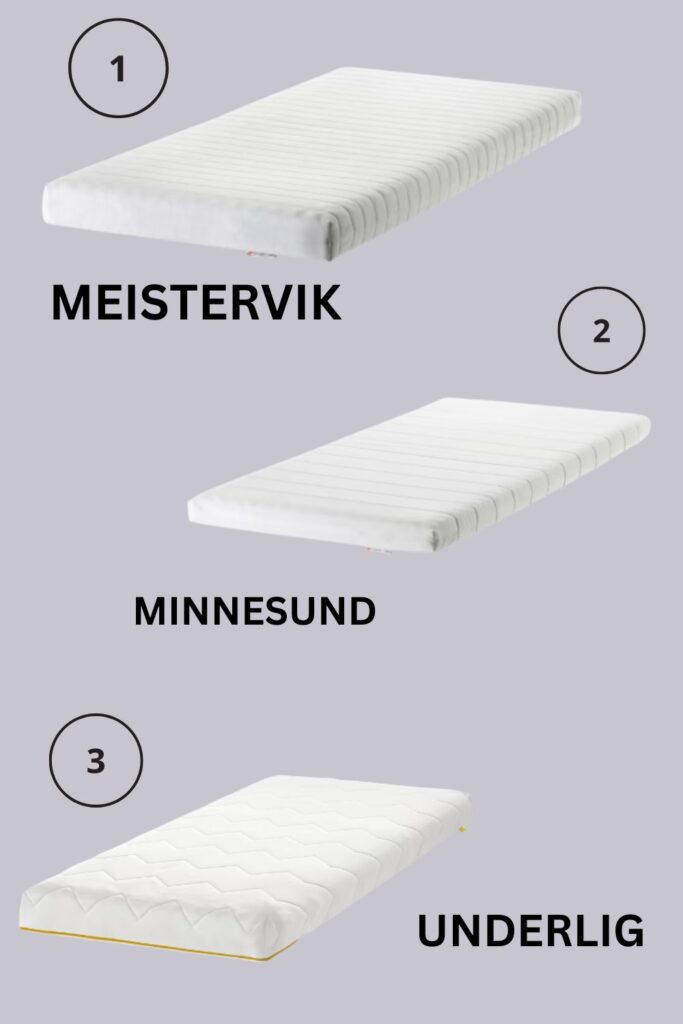 Other mattresses you could use:
The Ikea mattresses are not very comfortable and I would suggest looking for another one. I used these Zinus 6 inch memory foam mattress for my guest bed and they are actually really comfortable. These would be perfect for the Ikea kura bed.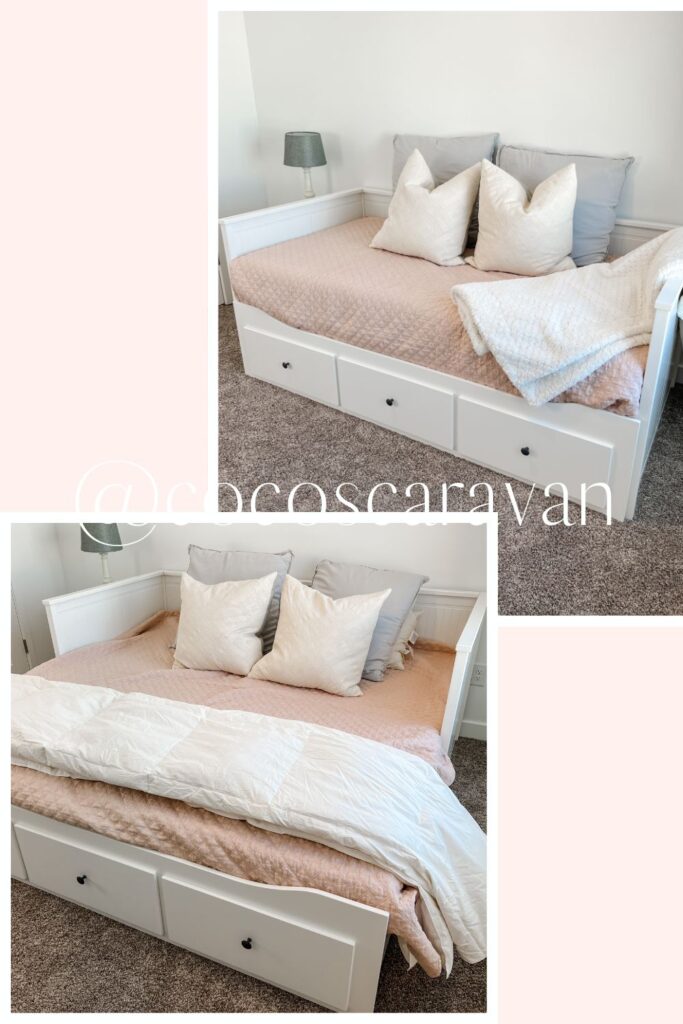 Nightstand
I got their nightstands at Home Goods. I tried to find a similar one on Amazon. The links are below the picture.
Wallpaper
The mountain mural is from Simple Shapes. It is the peel and stick which is a lot easier to apply on the wall rather than the traditional way of getting wallpaper up. I got the grayish/navy mountain mural. They make it super easy by selling their wallpaper in sections. They label the sections so you know how to apply it in what order. The quality is absolutely amazing and it looks even better in person!
They have so many fun options for a boy bedroom or any room in your house. You can see more on their website here. If you don't want to take the risk with wallpaper you can paint a wall and use their cute wall stickers to make it look like wallpaper.
Rug
I love this rug for this mountain themed boy bedroom. The rug is from Crate and Kids . It was my moms, but she said I could have it and I was so happy to take it. I love it for a kids bedroom or a playroom. I linked the rug below.
Bookshelf
This is probably my favorite part of the boy bedroom. I love a cute bookshelf for any playroom or kids room. I had this random wall in the room and thought it would be perfect for a bookshelf wall. It fit perfectly.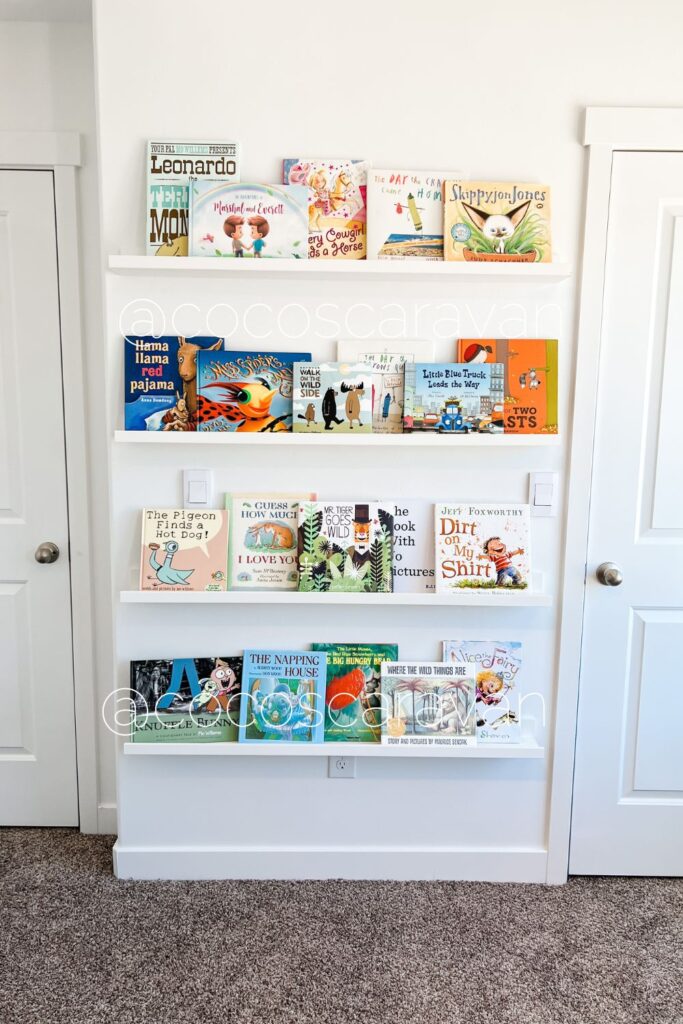 The shelves are from Ikea called the Mosslanda shelfs.
Storage next to bed
My boys like to bring a couple of books and toys to bed with them. We have a rule that they are not allowed to get out of bed in the morning until their hatch light turns green. I needed some sanity because the 6am wake up calls were killing me. If they wake up early they have a spot for books and toys and play in their bed until they can come out of their room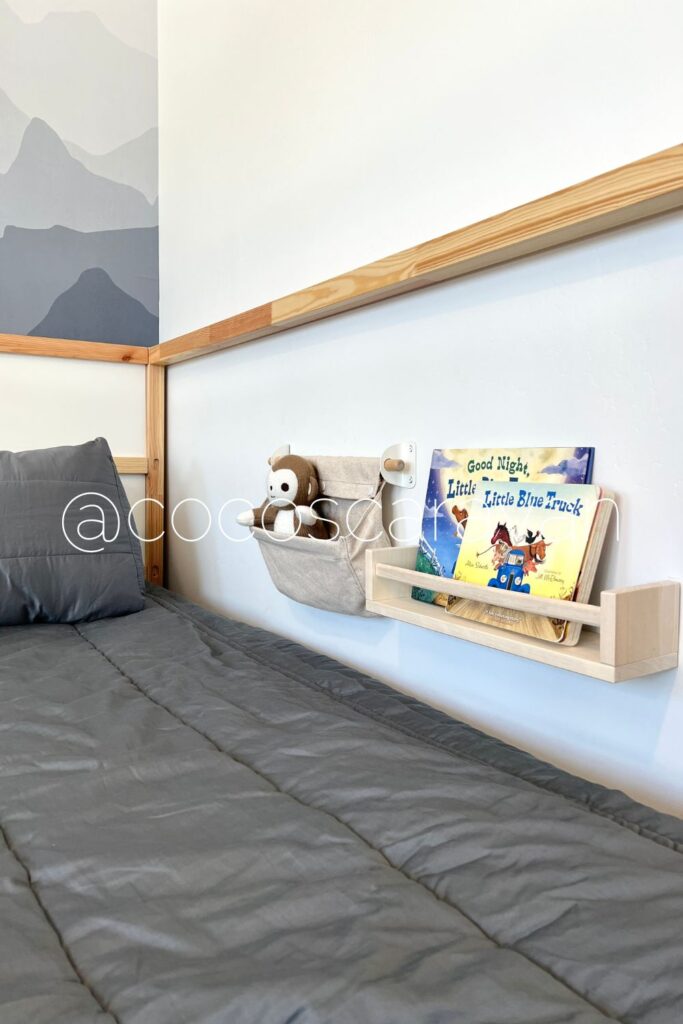 I was walking around Ikea trying to think of a fun idea to store toys along the wall and went into the kitchen section and found these. It was perfect!
The bookshelf is actually a spice rack from Ikea called the Bekvam. This was only $6.99 and super easy to install on the wall. The tan bag is also from Ikea called the Nereby. This was perfect for all their little toy cars or stuffed animals. This way they don't have to sleep on their toys at night.
DON'T FORGET TO PIN THIS TO YOUR FAVORITE PINTEREST BOARD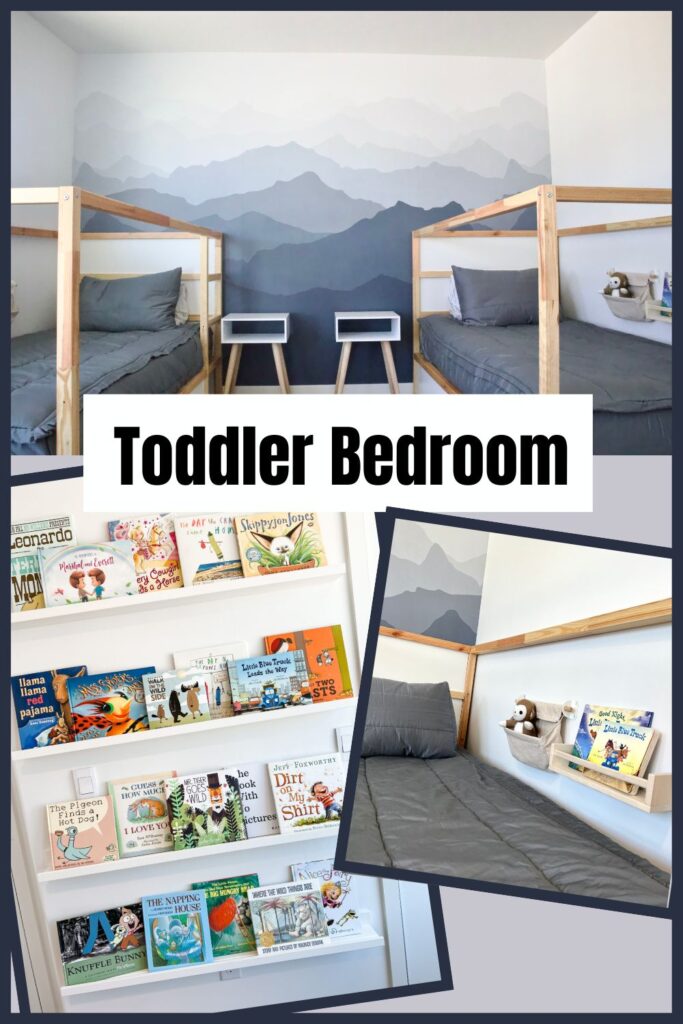 You might also be interested in: