The best screen free audio player // Yoto Player Review
Sharing my Yoto player review on the blog today. I was on the hunt for a screen free audio player for my boys. I came across Yoto player and now I'm obsessed. I will talk more about what it is, how it works, and my overall review. Hope this helps!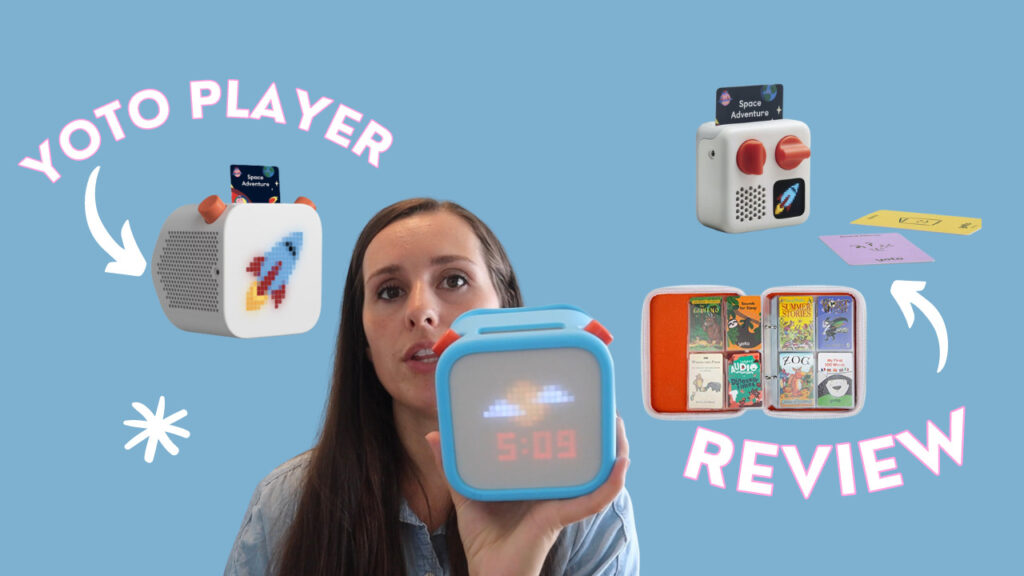 I only review my top favorite products. I also did a full review on Lovevery toys and you can find a link to that HERE.
Yoto player review
This is my Yoto player review. I love this product so much I wanted to help give more information about it so you can love it as much as I do. I'll talk about what exactly Yoto player is, how to use, the card store, and the yoto club. Continue reading for my full Yoto player review.
Yoto player is a screen free audio speaker for children. You can use the cards to insert into the Yoto player to play audio content or listen to music.
My boys love music and they were always asking me to play music on my phone. I could let them use their iPads to listen to music, but I knew they would end up playing games or watching a show. I debated going to a thrift store to buy an old cd player. I wanted a screen free option.
I asked my followers what they suggested and if they knew if there was anything out there. My followers suggested Yoto player and the Tonies box. You can skip below HERE to see my review of how they are different and why I went with Yoto Player.
I'm so glad we went with the Yoto player. This is probably one of my top favorite purchases I've made for my kids. I love that Yoto player is screen free, cards are easy to use, and I can upload my own music. I can't get enough! Continue reading below for my full Yoto player review.
How does it work?
One reason I love the Yoto player is how easy it is to use. You put the card in the slot at the top for it to start. If you want the music or audiobook to stop playing you just pull the card out. The right orange button is to change the track of the song and the left orange button is to adjust volume. So easy for kids to use!
You will need the app and wifi to set it up, but it does not require wifi to use the card. They have a daily podcast for kids that is super cute. You do need wifi for that.
They have two options of sizes when getting your Yoto player. The Yoto mini is perfect for traveling. It is also good if you have multiple kids at different ages and they each want their own. I have the Yoto player and my boys just share. I would love to get the Yoto mini as they get older so they can listen to audiobooks and music when we travel.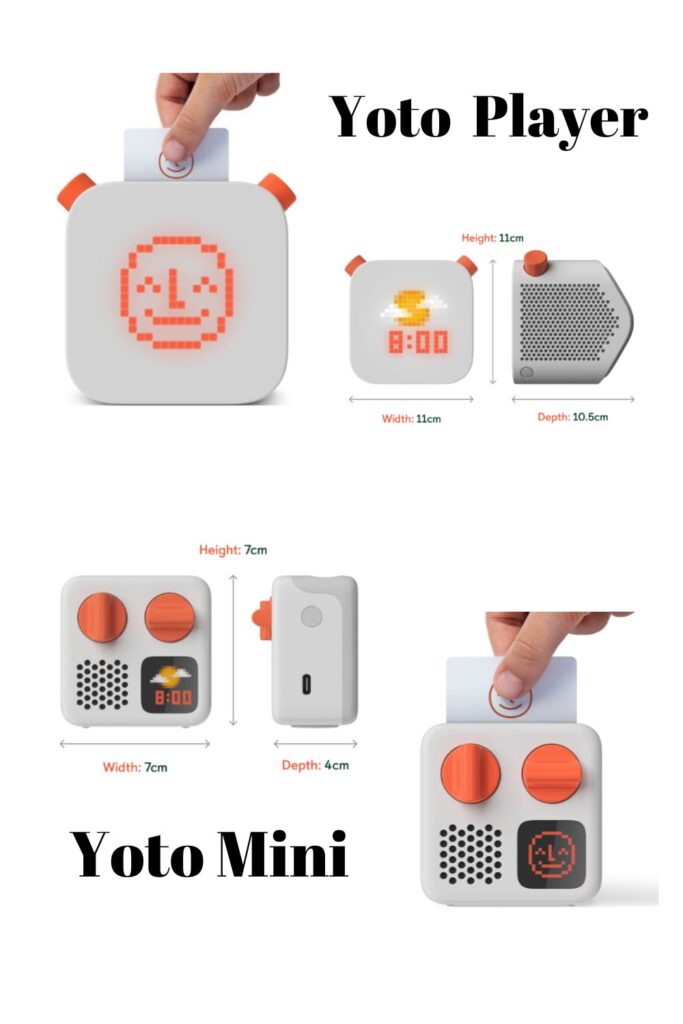 The Yoto player 3rd Generation is the newest and improved Yoto player. As a parent constantly seeking screen-free and educational options for my children, the Yoto Player has been an absolute game-changer. It offers a perfect blend of captivating content, imaginative exploration, and user-friendly design that's truly commendable.
I was so excited to hear about the 3rd generation coming out. See some of the main differences below between the 3rd generation and the 2nd generation Yoto player.
How is Yoto Player 3rd Generation different from the current Yoto player?
The new Yoto player 3rd generation has new and improved battery life that will last up to 24 hours from a single charge. The 2nd Gen Yoto player has up to 10 hours of battery life.
The new 3rd Generation has the capability of using bluetooth headphones with your Yoto player.
The Yoto player 3rd generation has up to 32GB of capacity and the 2nd generation has 16GB.
The new 3rd Generation Yoto player has a wireless charging dock (sold separatley)
They are both the same size
Yoto Player App
The yoto player app is important because it allows you to control settings. I also upload all my purchased cards to the app so I know which ones we have. This is great because it means we don't need our yoto player to listen to our purchased cards. We love listening to our audiobook in the car and the yoto player app allows us to do that. I feel like we get more use out of the cards because of this.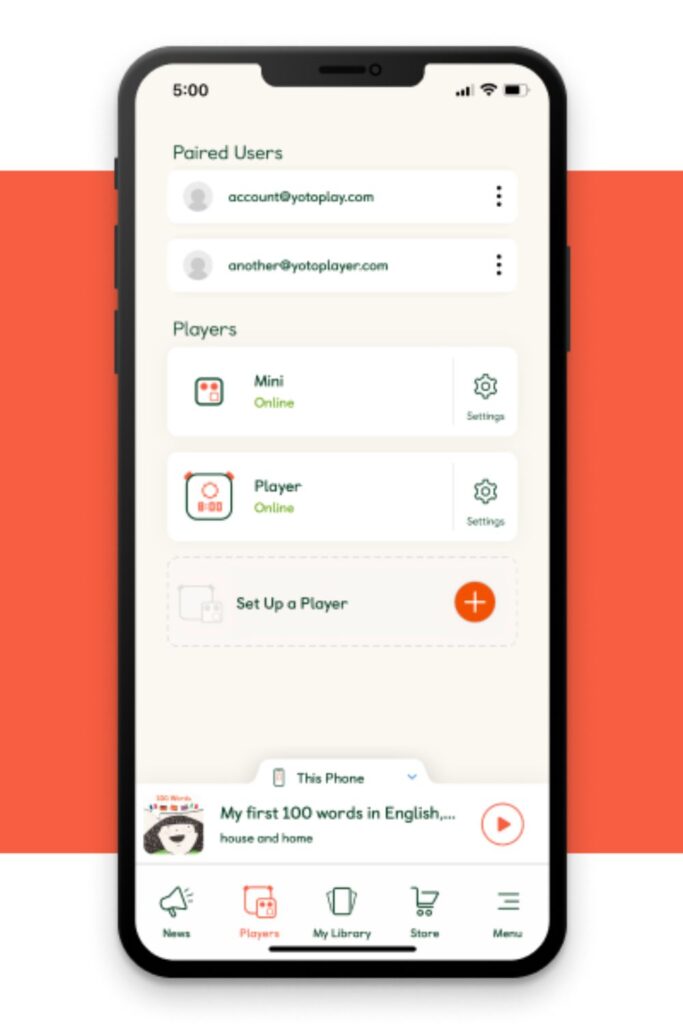 Cards
You can purchase cards on their website. They have audiobooks, music, and learning languages. Their age range of cards goes from 0-12+. The cards ship fast and easy. They also have weekly deals where a selection of cards are on sale. If you are part of the yoto club you get free shipping and credit for two cards a month. Learn more about the Yoto club below.
Make your own cards
They also allow you to make your own cards which is the main reason I decided to go with Yoto player. I loved that I could my own music and audiobooks. I recently made a card with all their favorite songs from their favorite shows. They were so excited to listen to the Bluey theme song and the spider man song.
You can learn how to make your own cards with their instructions on their website HERE.
When you join the Yoto club you get two new cards every month. They have a huge selection of club cards you can choose from. You can pay $9.99 a month or $99 for the year. You also get free shipping on all your card purchases as well as 10% off your order.
I am part of the Yoto club and the boys love picking out new cards each month. I love that I get free shipping and a discount if there is a card i want. We use our Yoto player a lot so it was worth it for me! I just think of it as buying a book a month.
When I asked for a discount code for my followers they responded saying the Yoto club replaced giving out discount codes. I still get a percentage of your purchase if you buy using this link HERE. So if you do decide to get one using that link helps! Thank you!
Yoto player Accessories
I couldn't forget the fun accessories they offer in my Yoto player review. The number one is the jacket case to be able to hold it and carry it around. The other one I suggest getting is the card case to hold all your cards. You see more of their accessories on their website HERE.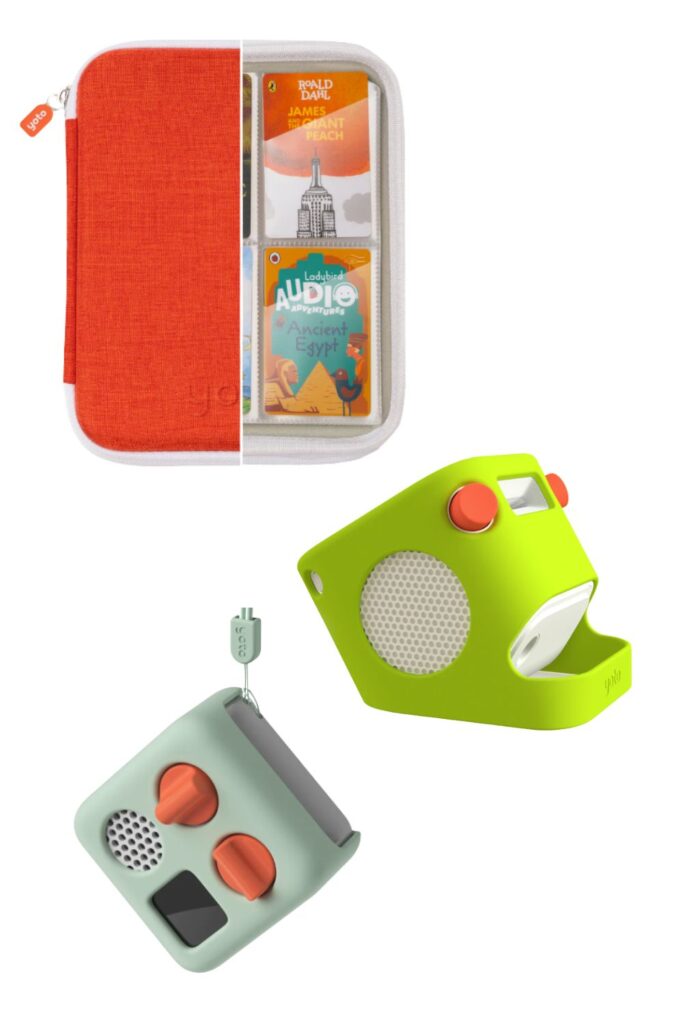 Yoto Vs. Tonies
When I was searching for a screen free option for an audio player I was trying to decide between Yoto and Tonies. Watch below to see the difference and why I went with Yoto.
My review is it worth it?
If you are looking for a way to get your kids away from screens and read more, I highly suggest the Yoto player. My top three reasons to buy it. It's screen free, super easy to use, you can create your own cards. I think it's the best audio player out there and with how often they come out with new cards you will always have something new to listen to. Your kids will grow with it for years and you will continue to get new cards as they grow. I think it's worth it!
You might also be interested in: