Fun playroom in a hidden crawl space
I decided it would be super fun to turn our crawl space into a fun hidden playroom. It connects right to the main family room which I love because I can still keep an eye on them. See how I put everything together.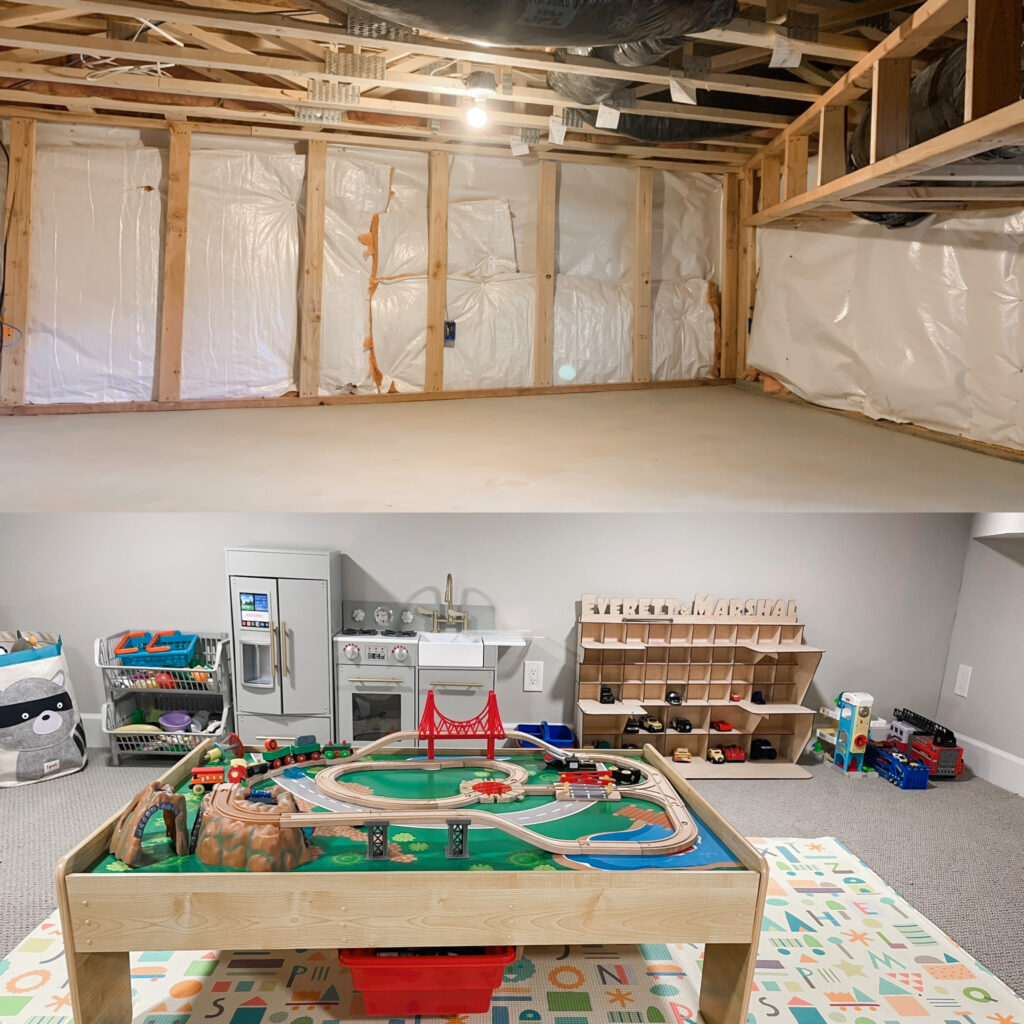 My parents decided to convert their basement into an apartment so the boys and I could live there. You can see more before pictures of the whole basement HERE.
Crawl space before
After my husband passed away we moved in with my parents. You can read more of my story HERE. They finished their basement so the boys and I could live with them. There was a small crawl space under the stairs and I brought up the idea to finish it and turn it into a playroom. My parents thought it was a great idea so we asked the contractor to turn it into a secret room!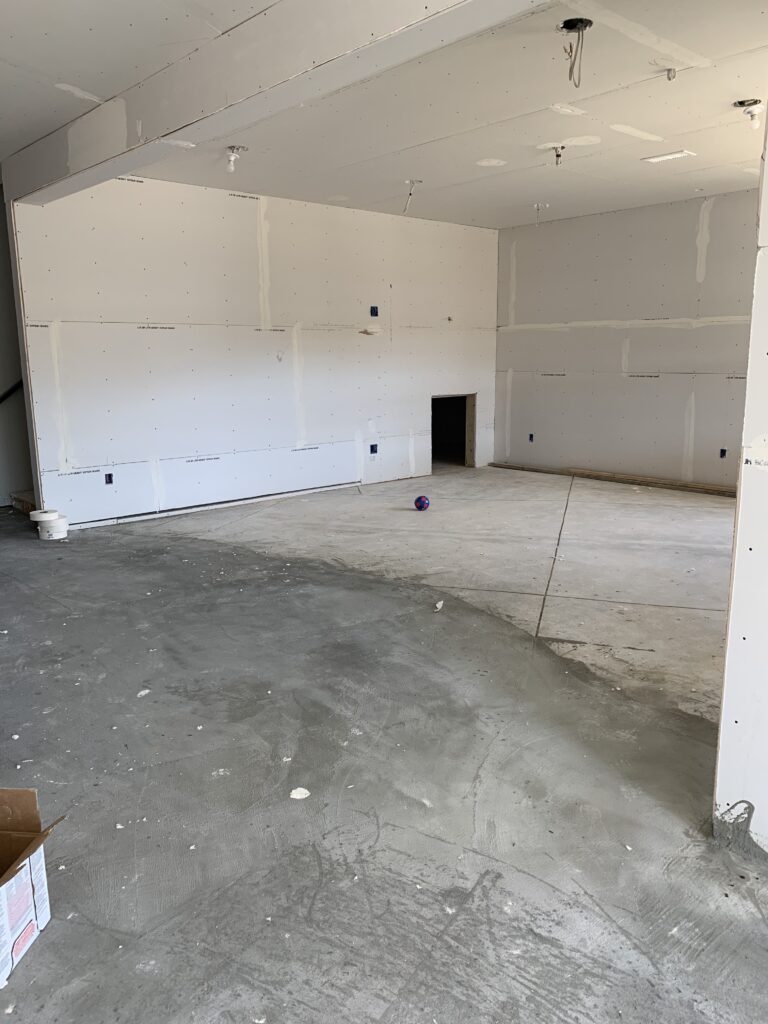 The crawl space is off the main family room. They were able to cut a hole from the family room into the crawl space. It's perfect because I can be sitting on the couch in the family room and see into the room. It's so great because it added an extra space for the boys to play.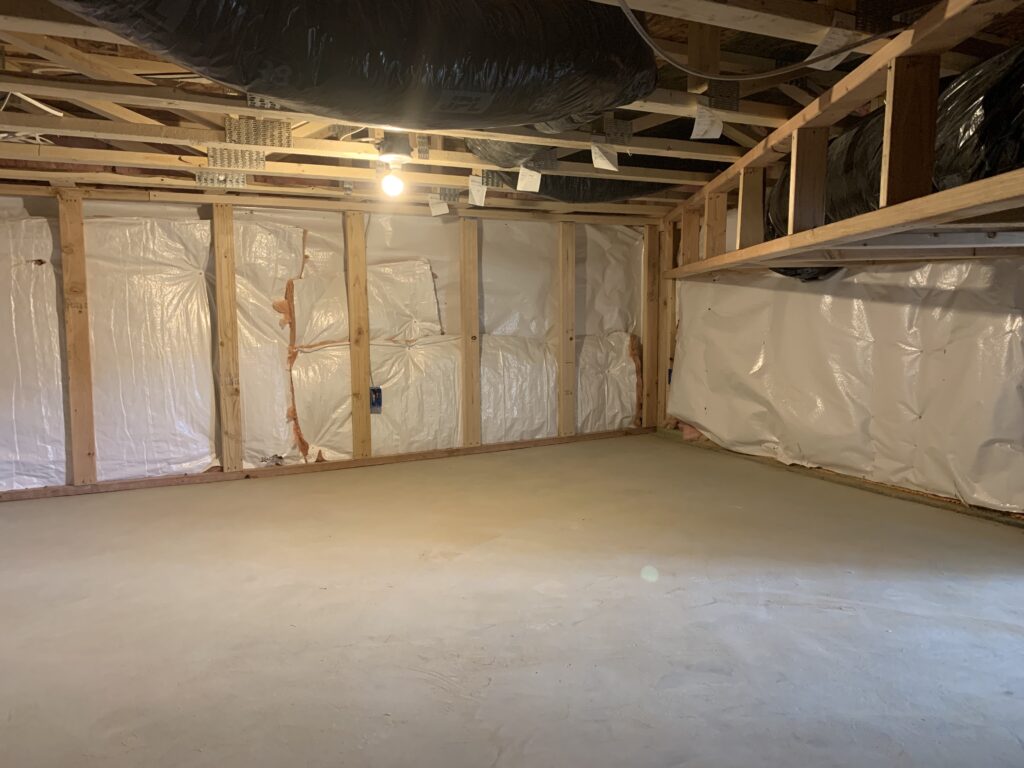 The boys are able to stand up in the crawl space. Part of the ceiling is lower because of the air duct. I can sit up without my head hitting the ceiling, I just can't stand. The boys love it and call it the secret room! Later down the road we are thinking of hiding the door and making it more secret. As of now I like that I can see into the room.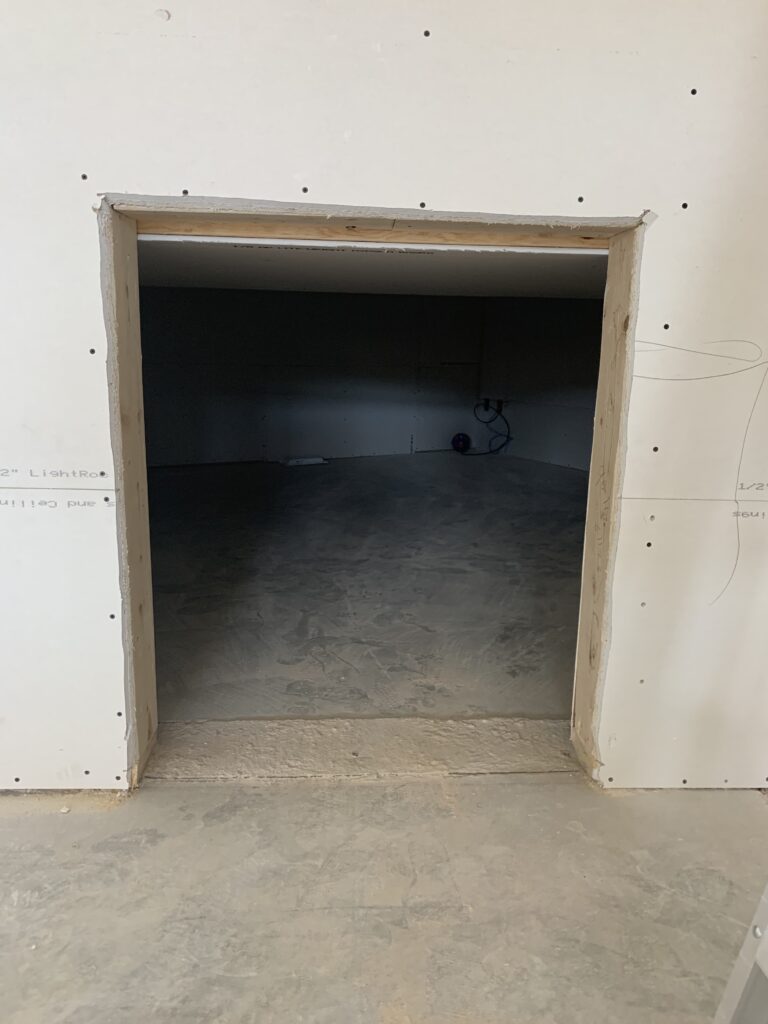 Crawl space after
Seeing everything finished with the toys in the crawl space I'm so happy I decided to make it a playroom! I can keep all the toys and mess in one room. The boys think it's so fun to go in a secret room to play. As the boys get older I can change it into a reading room or gaming room. What would you change it to as they get older?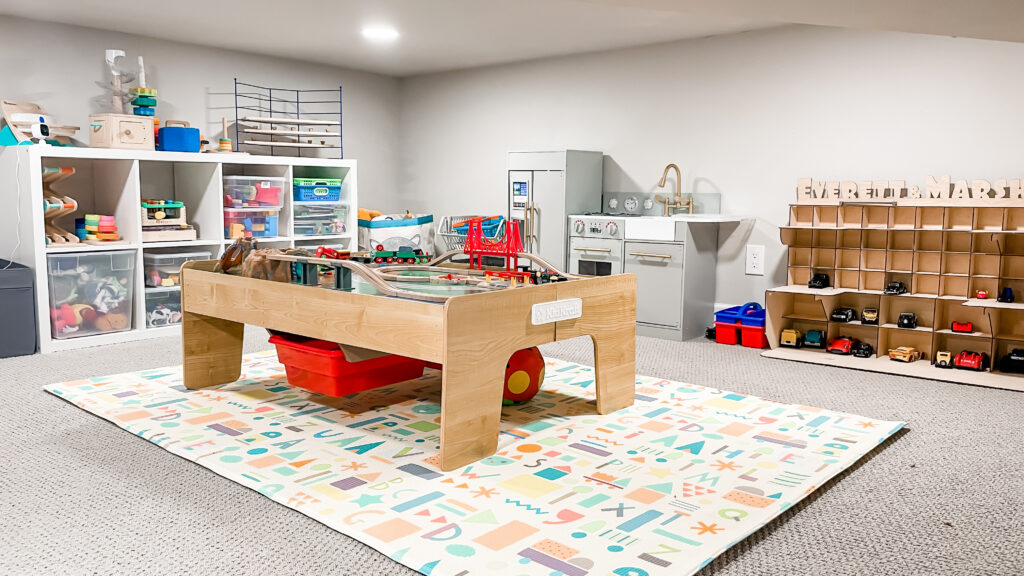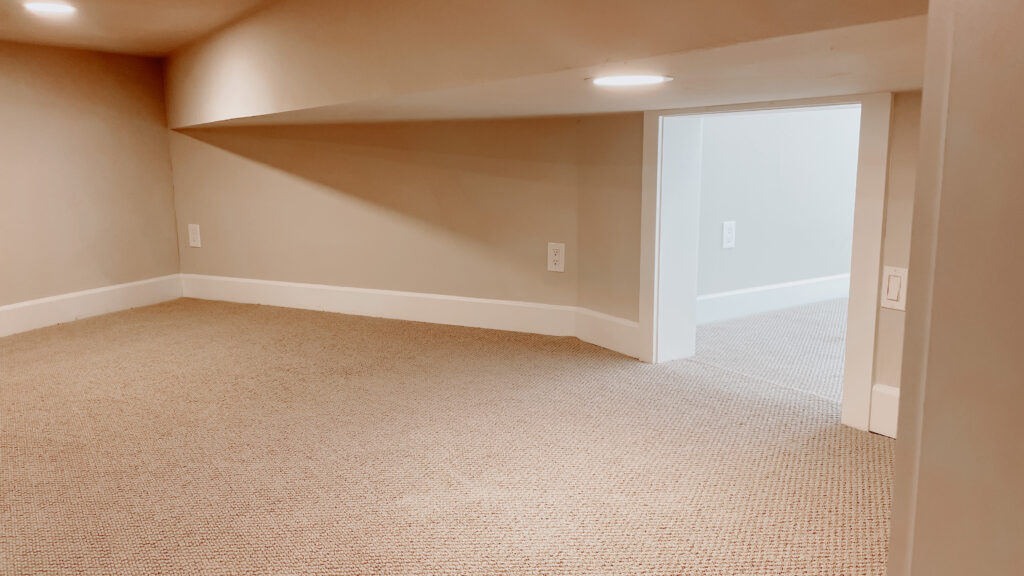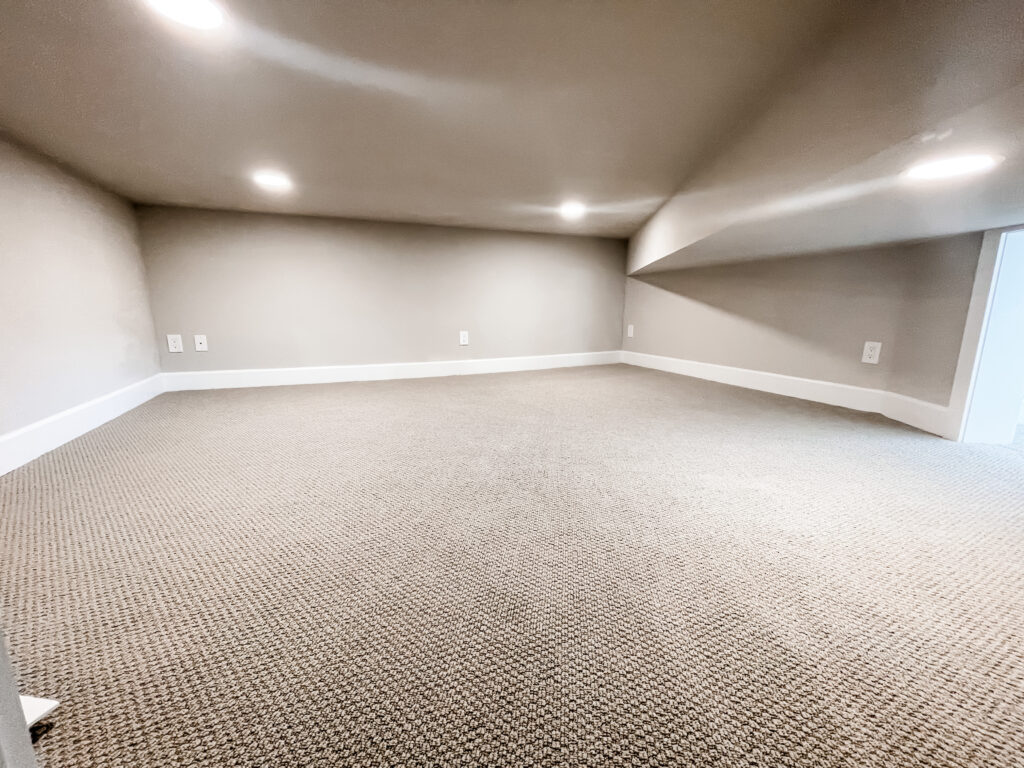 Toy Organization
The shelving unit is from Ikea and it was super easy to put together. I like how the shelving unit can give you multiple options on how to organize toys. You can have open shelving by placing the toys on the shelves or use bins.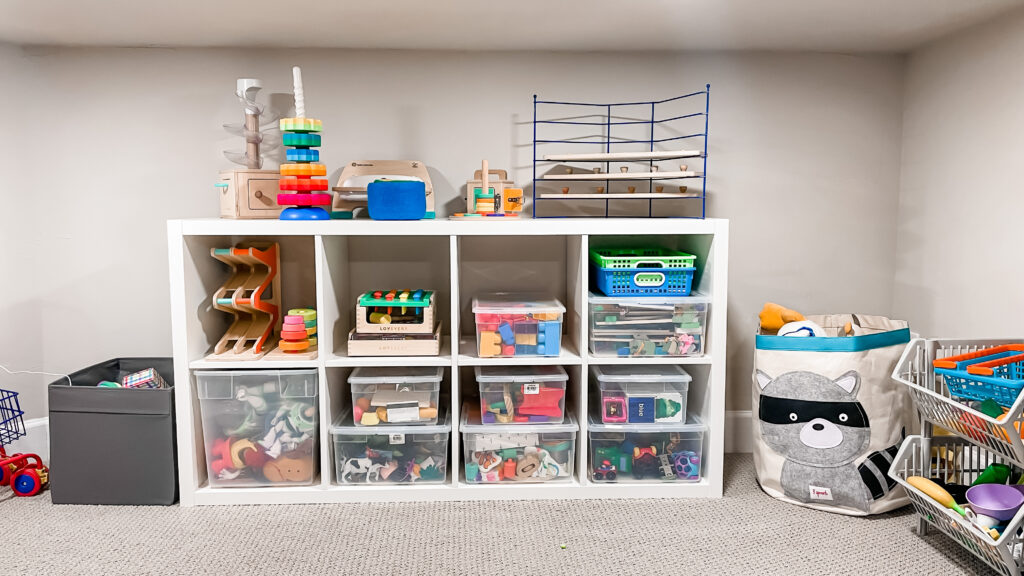 These bins are from the container store and they are my favorite! I love having clear bins so you can see what is inside. The deep bin is called the deep sweater box and the other ones are just the normal sweater box. They fit perfectly in the shelving unit which was super exciting.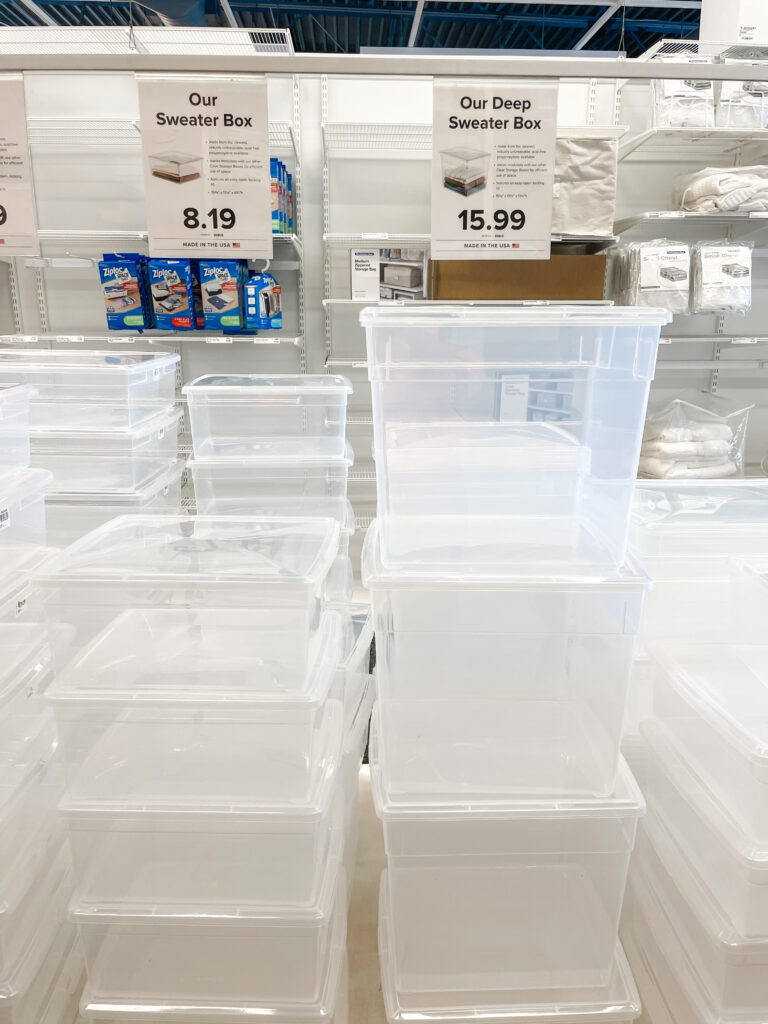 I love these bins for toy storage. They are perfect for balls or stuffed animals. I think they are so fun and cute to have in a playroom!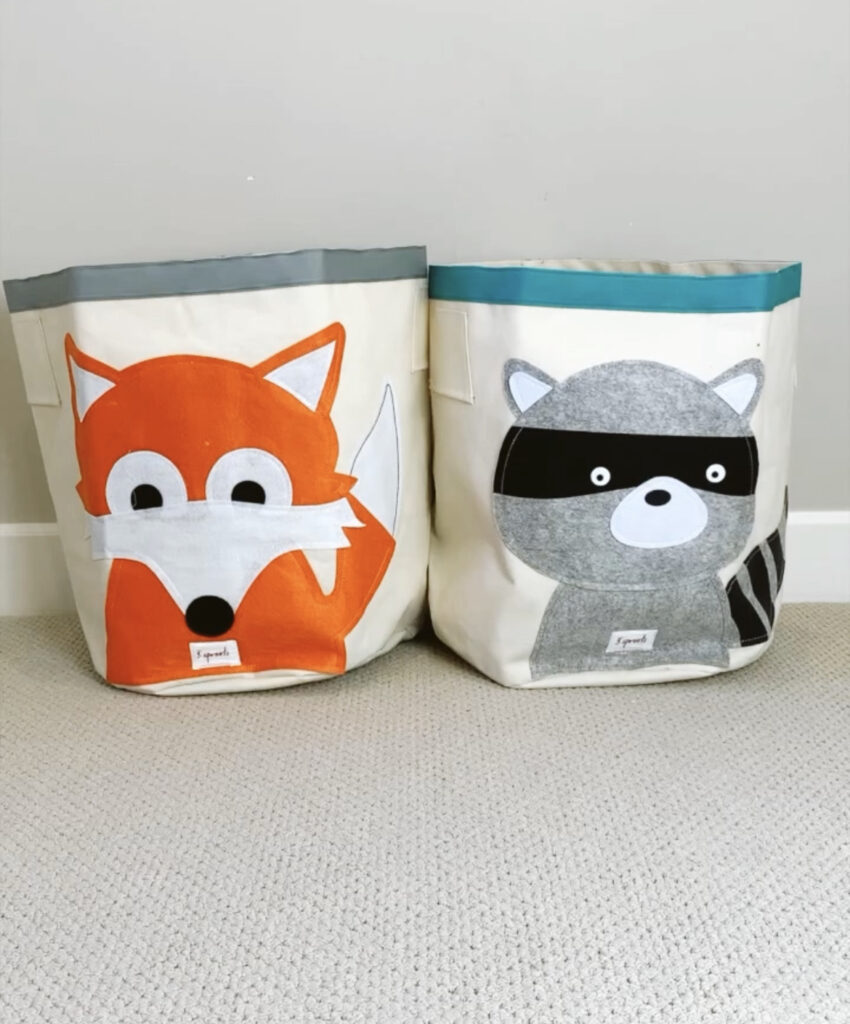 Links to items in the room
The play kitchen fit perfectly inside the crawl space and it has been so fun for the boys. You can find a link to the play kitchen HERE.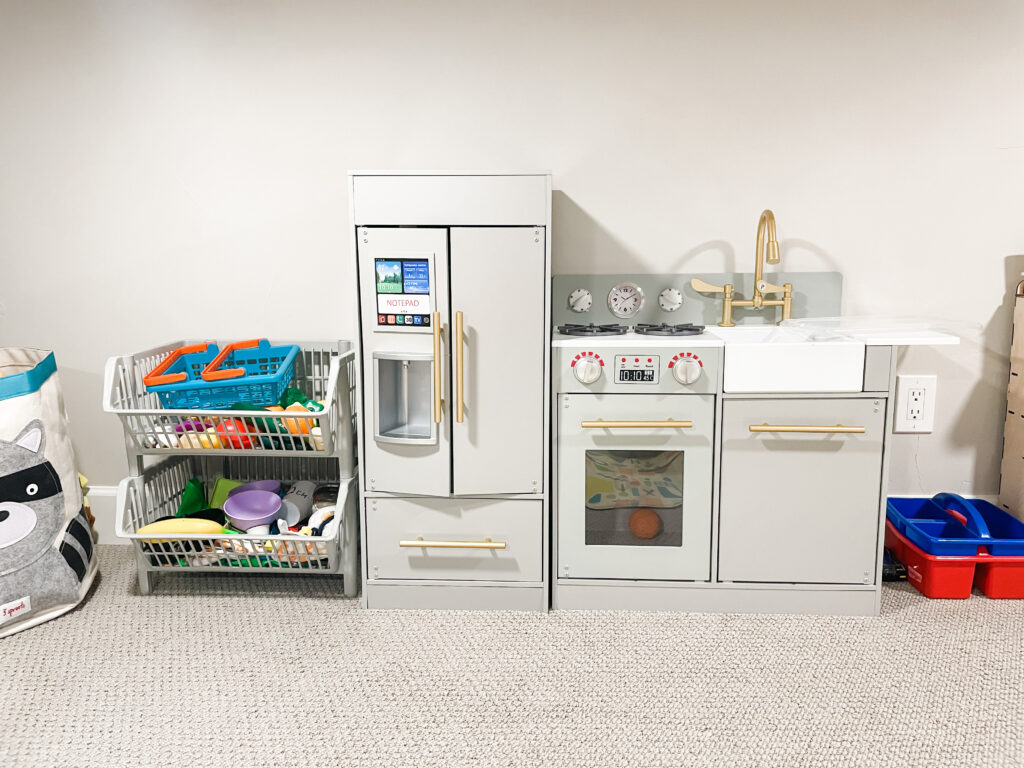 I found these stackable baskets at the container store which was perfect to put all the play food in. These are perfect for pretty much anything in a playroom for organizing. You could use them for toy cars or balls.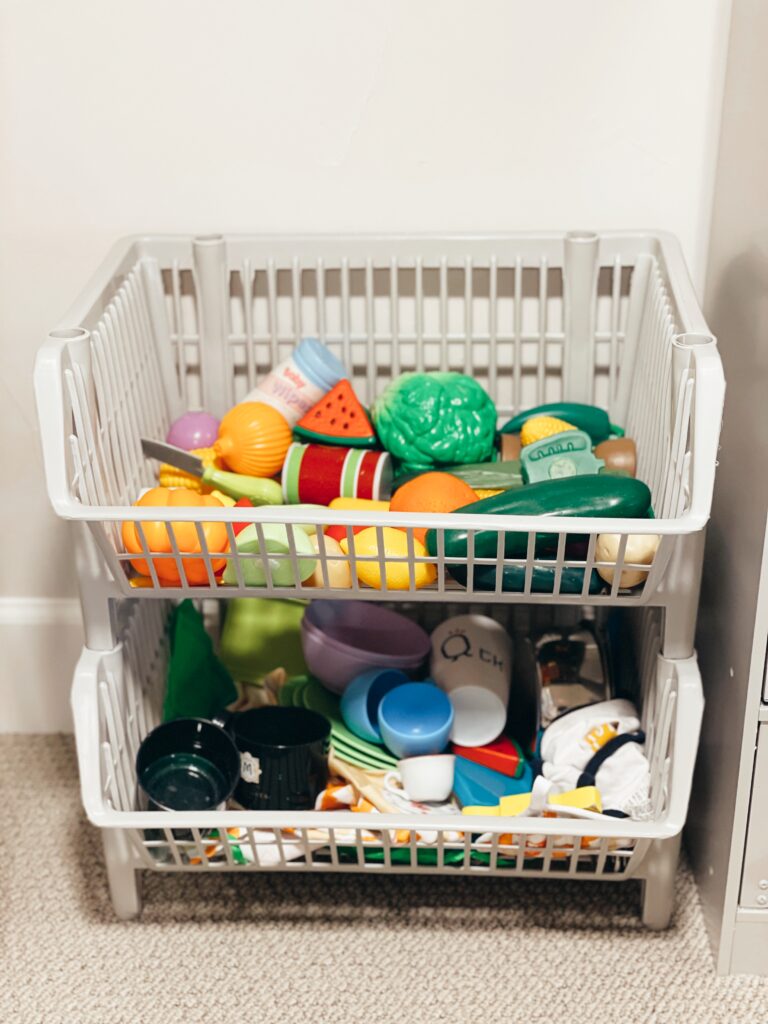 If you don't like the plastic look they also have these adorable wooden open baskets you could do as well.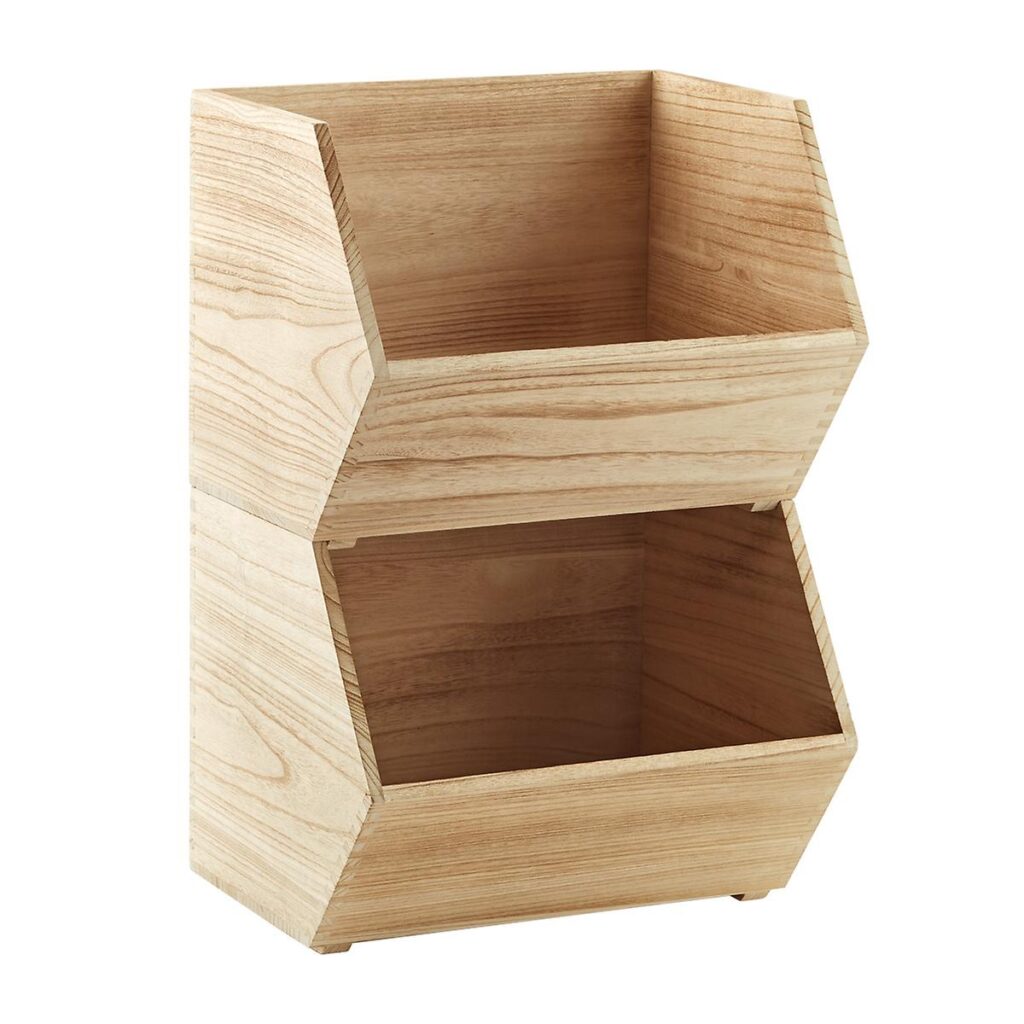 Play Mat
I love this play mat for my boys playroom. It has this sponge type feel to it and it's so soft. You can flip it over and it has a different cute design.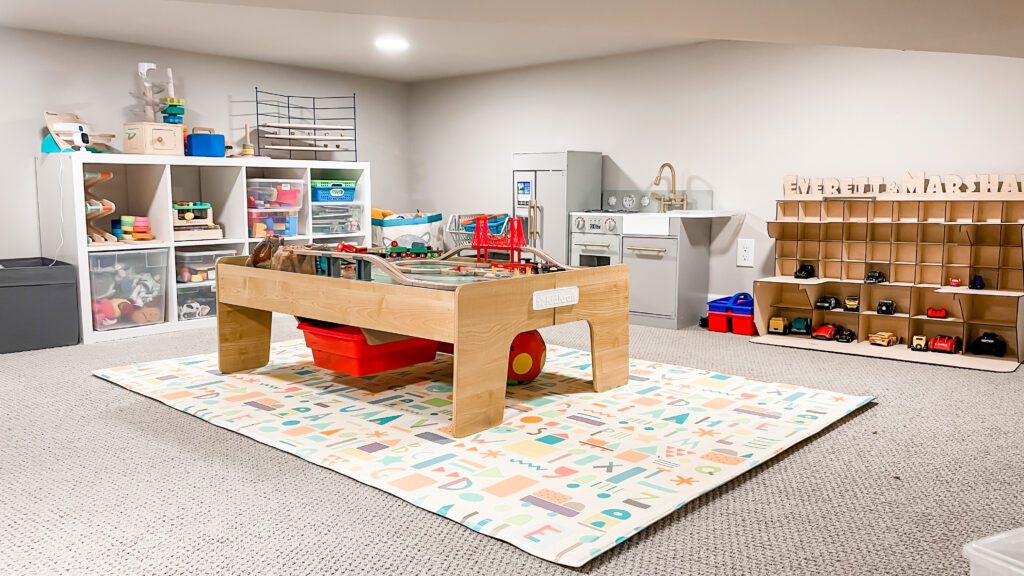 This train table is from kidkraft and one of the reason I liked it was because it could fold in half and fit through the small door to the crawl space. It came with the train track and I love the storage underneath to keep everything in one place.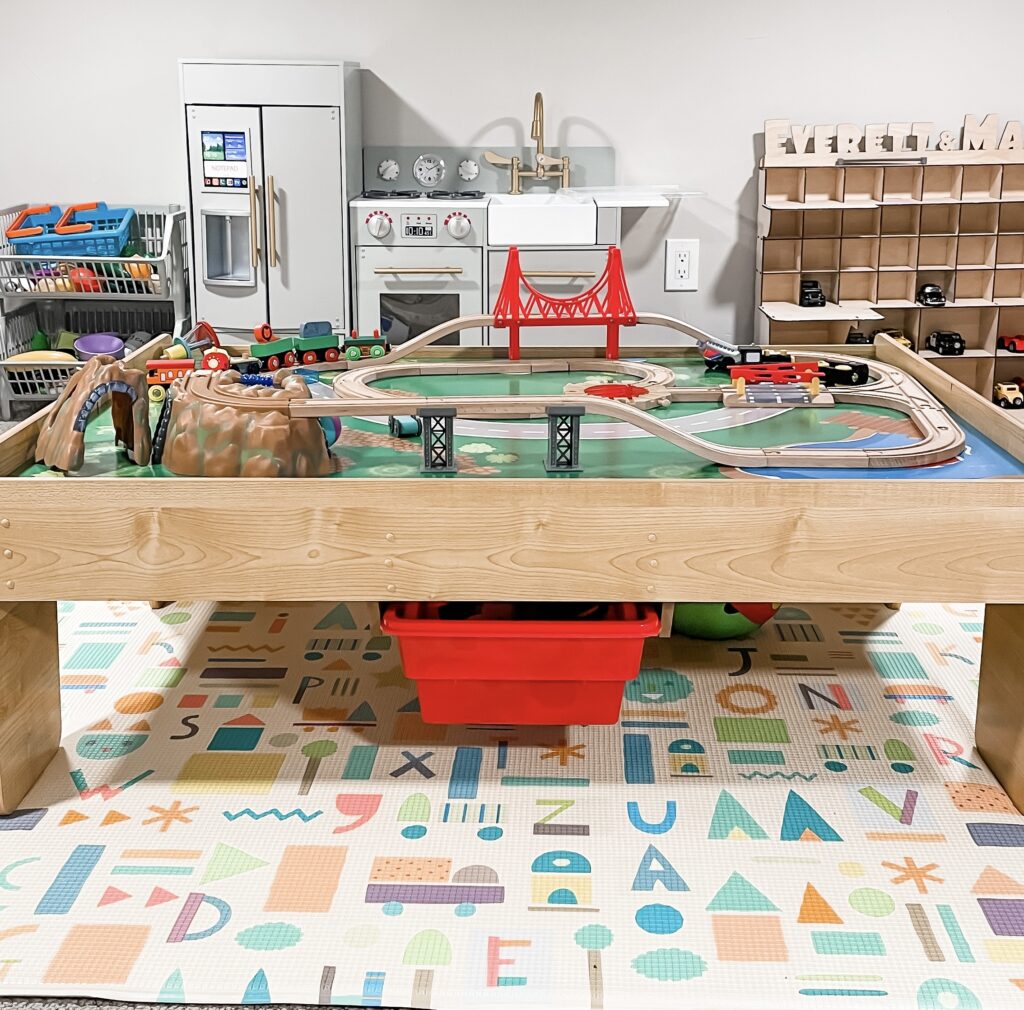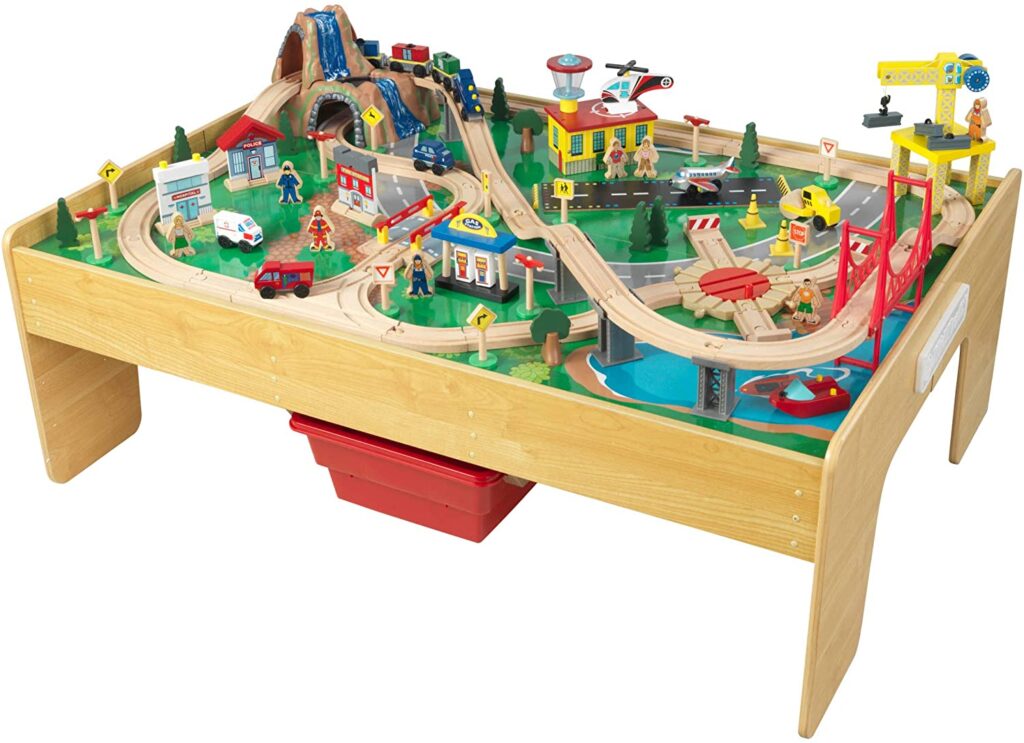 Car Port
This carport box is one of my favorite items I own for the boys. They love putting all their cars in the individual slots. It's so cute how they make it extra special by putting your child's name. We love this!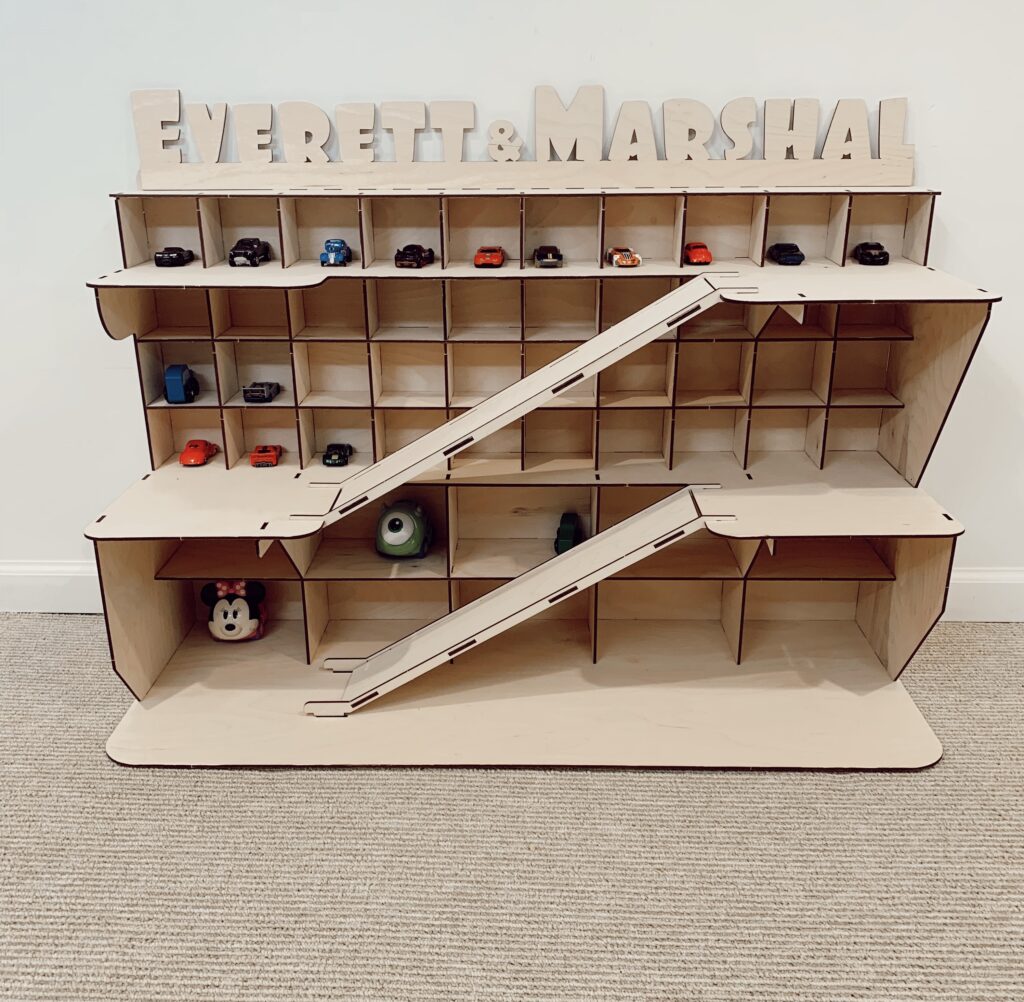 Let me know what you think about our fun new playroom below. If I missed something you wanted a link to just comment below.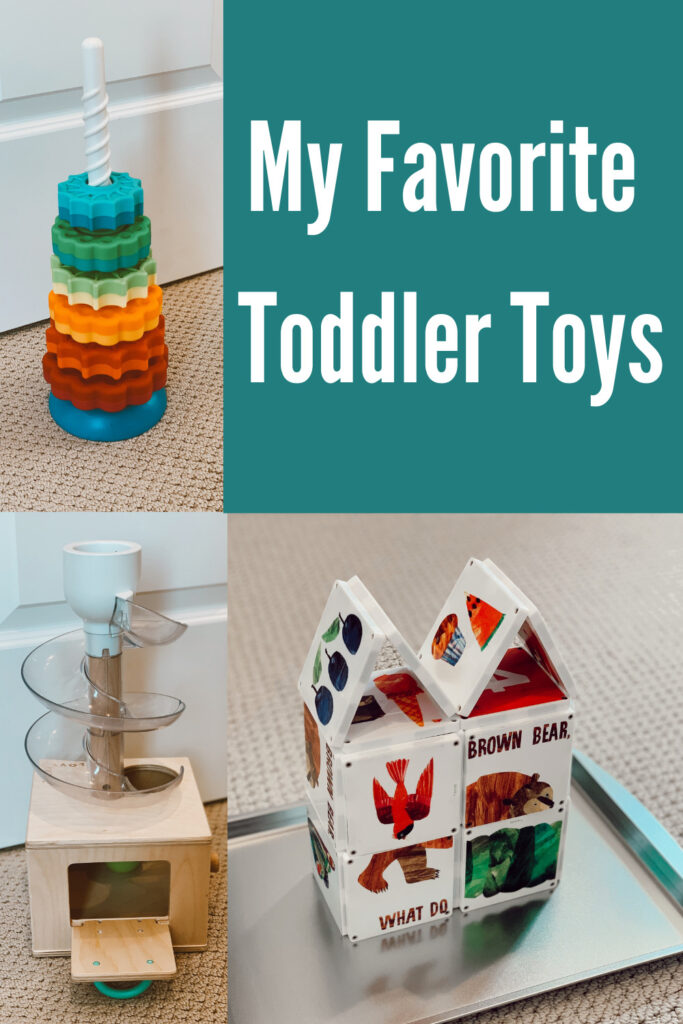 This post may contain affiliate links. See my Full Disclosure for further details.