The best daybed for a guest room
If you are looking for a daybed for a guest room that works in smaller spaces I have the best option for you. The daybed I found actually converts into a king size bed which gives you so many options for guest. I'll link the bed and the mattress I used below.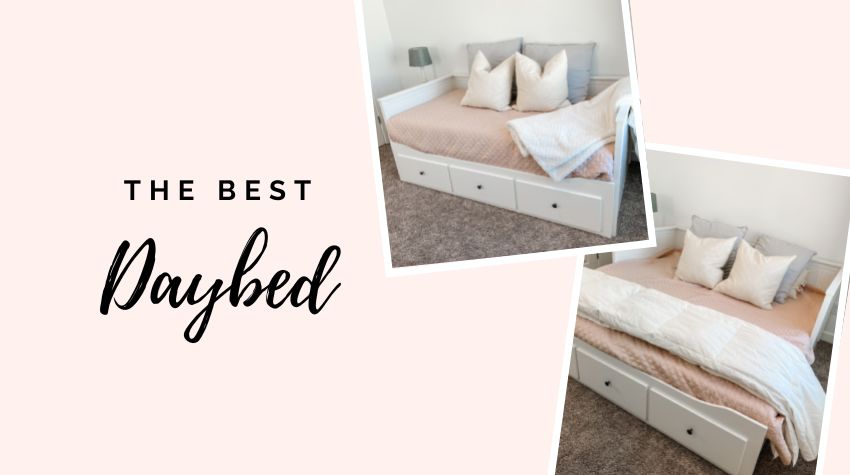 You can see my full house tour here.
The best daybed
This bed is called the Hemnes daybed from Ikea. I needed a guest bed that could fit in my office, but also be used when I have guest over. The main reason I loved this daybed was that it could convert to a king size bed. Continue reading to see what mattress I used and how to convert it to a king size bed.
They offer two options. You can buy the bed with their mattress or option 2 buy the bed with no mattress. Option one with no mattress is $399 and option 2 that comes with two mattresses is $657. I went with option one because Ikea mattresses are not that comfortable. See what mattresses I ended up getting below.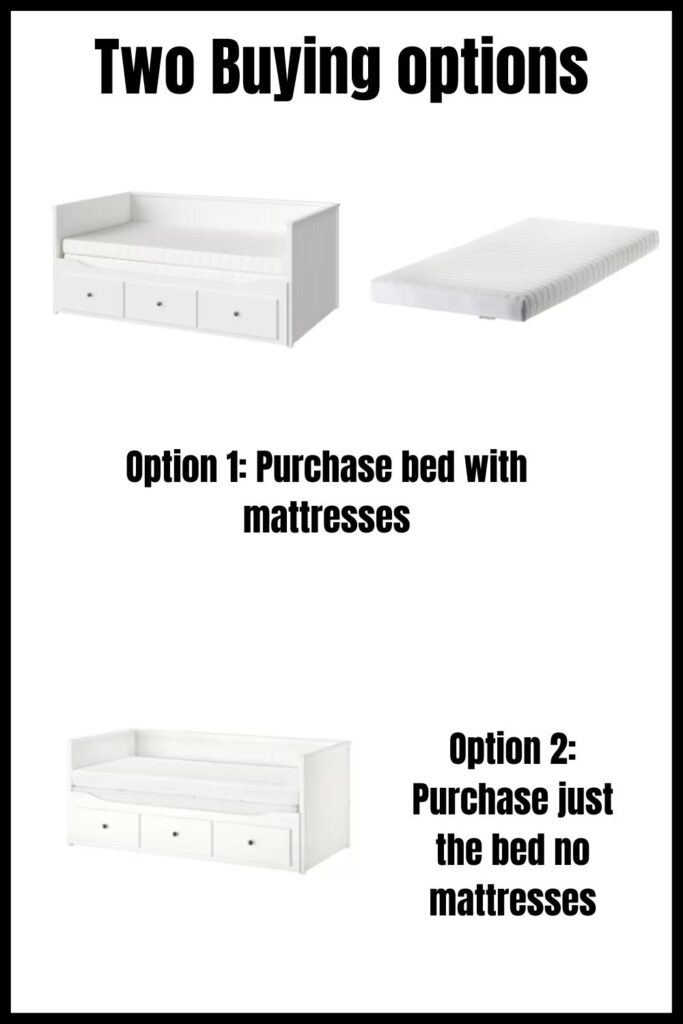 This post may contain affiliate links. See my Full Disclosure for further details.
Converts to King
The main reason I decided to go with this daybed was because it converted into a king size bed. It was perfect for when my parents came to visit and they had a spacious place to sleep. I love that if I'm just having one person visit I can leave it as the daybed, but if someone is staying longer or a couple comes to visit I can change it to the king size bed.
The room I have it in is small and I'm able to fit my desk and the king size bed. You can see a picture of the guest room here on my house tour blog post.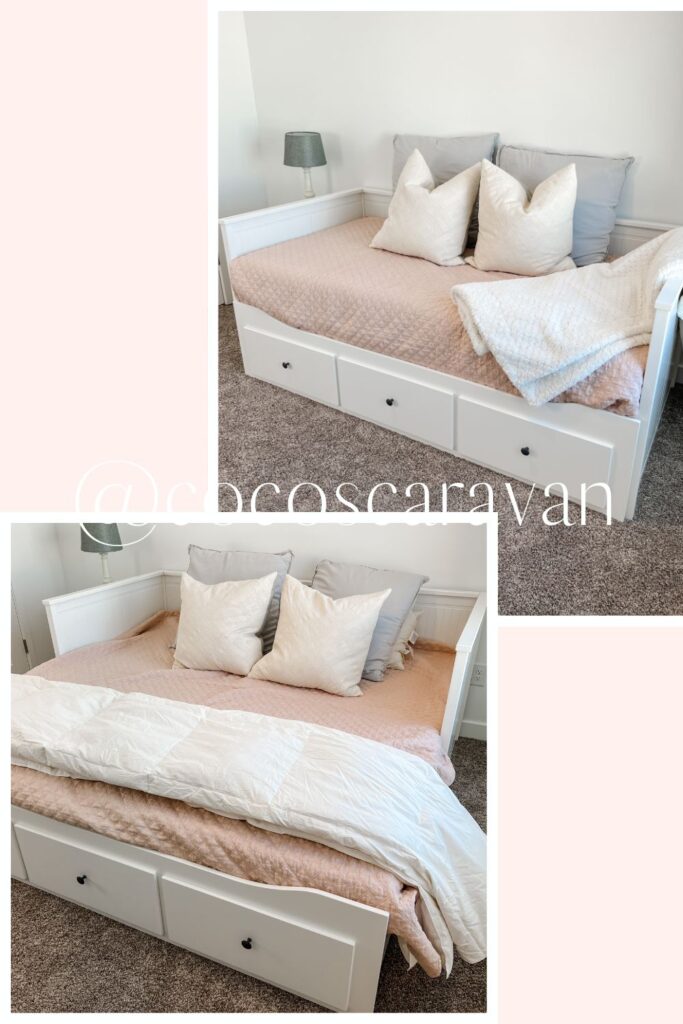 What mattress I used
I did a ton of research on what mattresses to get for this Ikea daybed. I wanted to find a mattress with a small height so that there would still be a lip around the edge of the bed. I wanted it to still feel like a couch and have somewhat of a back to it when the mattresses were on top.
I ended up getting the Zinus 6 inch Green Tea cooling gel memory foam mattress. I think 7 inch thickness would work, but no more than 7inch unless you don't mind it reaching the rim of the bed frame. My parents loved them and said they slept really well. This mattress is 75″L x 39″W x 6″T which is bigger than the Ikea mattresses they come with. So I do have to force it in a bit when I put them vertically, but it works and I'd rather have more comfortable mattresses.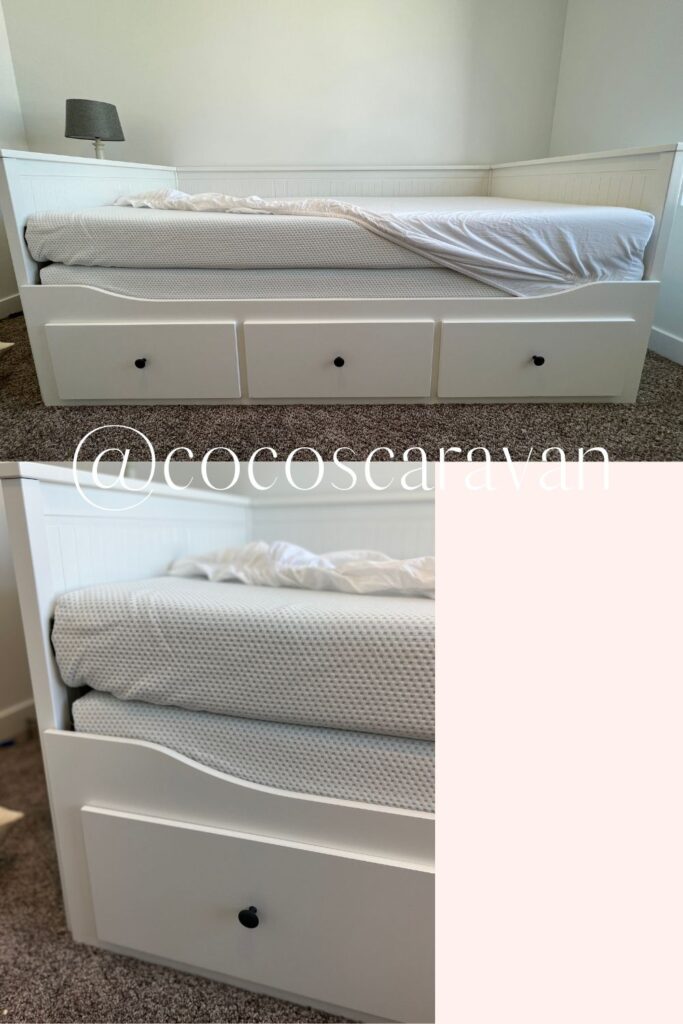 Ikea Mattresses
These are the twin mattresses you can buy from Ikea that fit with the bed. They are smaller than normal twin mattresses and fit great with the bed, but from what I've heard not as comfortable. The mattress I got from Amazon is 75″L x 39″W x 6″T. So I do have to force it in a bit when I put them vertically, but it works and I'd rather have more comfortable mattresses. See pictures of my Amazon mattresses side by side below.
If you just want a mattress that fits with the bed and you want to get everything in one shopping trip these are the two options for you. The main difference is the height. Links to mattresses below the picture.
How to arrange mattress for king size
I do have to force them in a bit to fit, but it works great. I liked putting the mattress vertical so my guest don't have to sleep on a crack. This way they have their own twin mattress to sleep on. Having the mattresses vertical rather than horizontal is the better way to go!
It was harder to get these Amazon mattresses to fit horizontal and it was pulling the trundle apart and it wasn't as good. If you get the Ikea mattresses and put them horizontal they will fit and work great that way if thats what you prefer to do.
I took a risk getting the Amazon mattress because it is slightly bigger dimensions than the Ikea mattress that went with this bed, but having comfortable mattresses was important to me. I think it works great and it's just a guest bed so its not always pulled out like this.
**Measure the width of the mattresses to make sure they will fit side by side.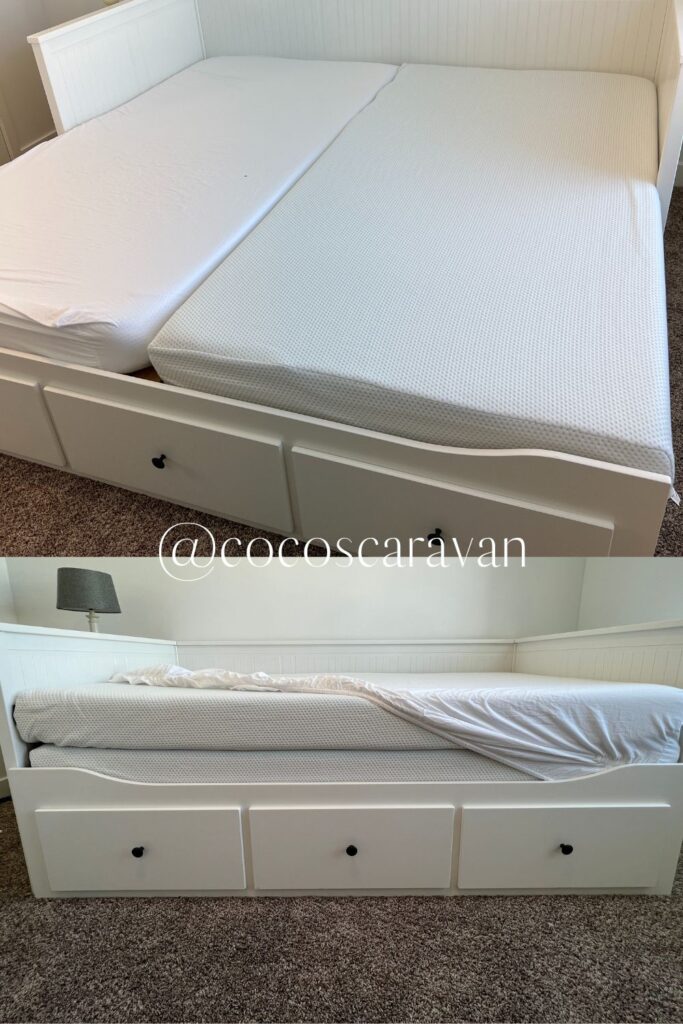 How to stack or store the mattresses
I bought two twin mattresses so that I could convert it to a king size bed. I don't have a lot of space to store stuff and I didn't want to have to store an extra twin mattress somewhere. This is why I bought two twin mattresses with a 6inch thickness/height so that when I stacked them on top of each other they would still be below the rim of the bed frame. I wanted that feel of a couch and did want the mattresses to be level with the top of the bed.
When I have it as the daybed I just stack the two mattresses on top of each other and use one twin mattress sheet to cover both of them.
Storage Underneath
I don't have a lot of storage space in my upstairs area so I loved that the bed came with storage underneath. It comes with three deep drawers and I can fit everything I need for the guest bed in those drawers. I fit my comforter in one drawer, towels and sheets in the second, and pillows in the third. Everything I need for my guest room and guest bed can fit in the storage below.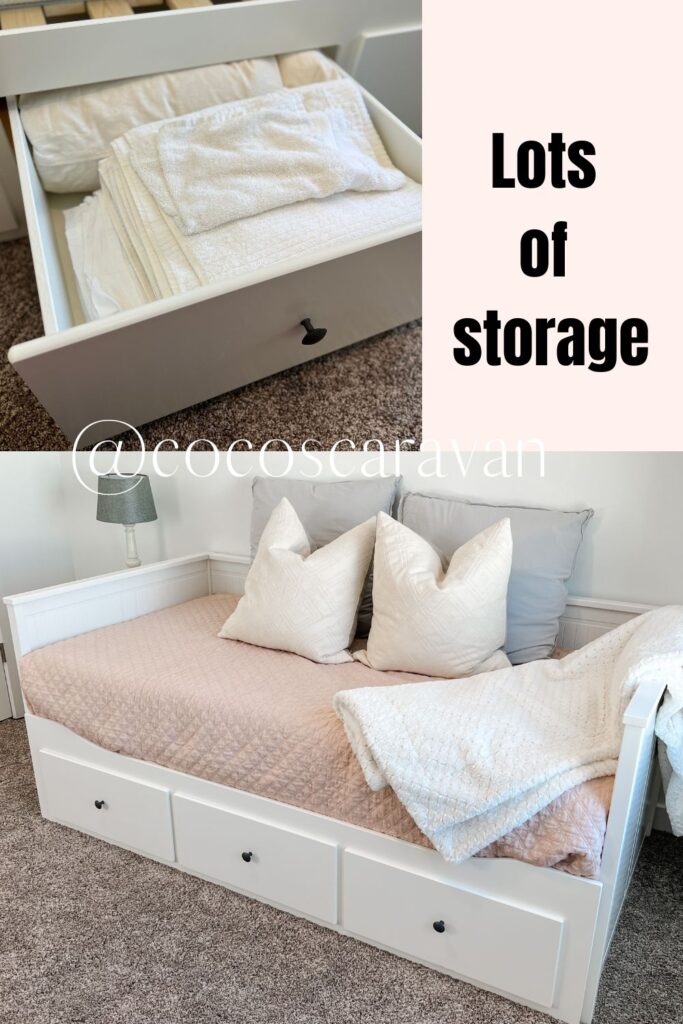 DON'T FORGET TO PIN THIS TO YOUR FAVORITE PINTEREST BOARD FOR LATER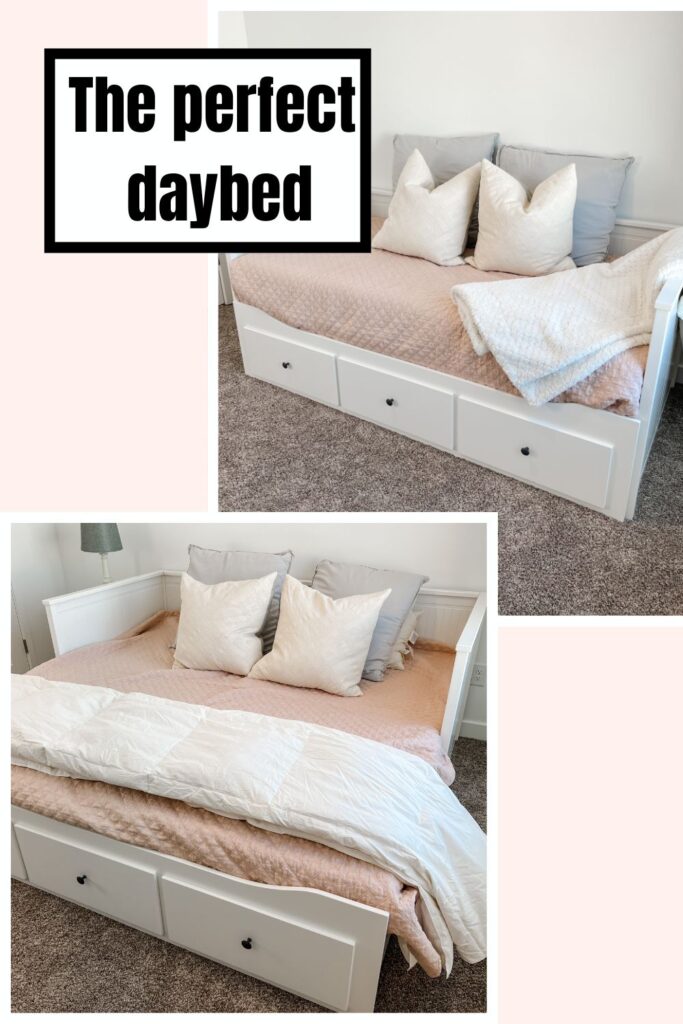 You might also be interested in: