4 fun ways to arrange the Ikea Kura bed
I just got the Ikea Kura bed for my twin boys and I am so excited. One reason I decided to get this bed is because there are so many different ways you can arrange the bed and it can grow with your toddler. See all the different ways below.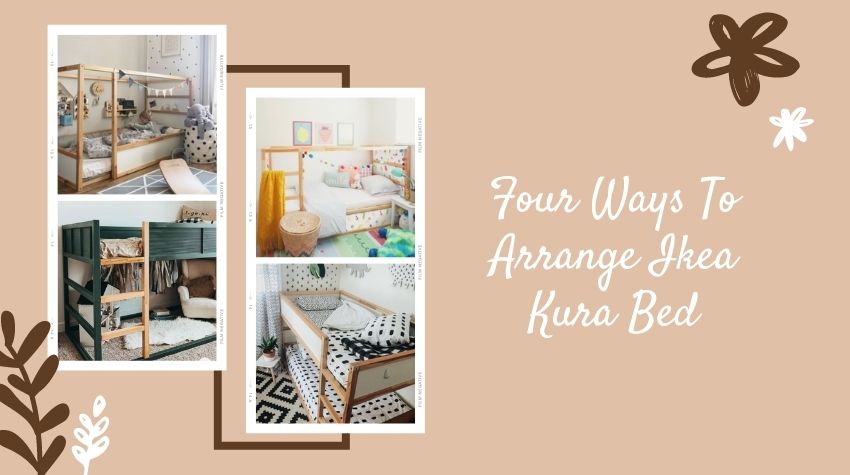 Ikea is one of my favorite places to shop at for kids furniture. I bought the boys cribs for their nursery from Ikea and have loved them. I'm all for affordable and cute. I upgraded from one Ikea bed to another.
Four ways to arrange your kids Ikea Kura bed
One reason I loved this bed was all the different options you could arrange it. It's a bed that can grow with your child. I feel like its totally worth the money because I get so many different options. I wanted to share all the different ways you can arrange it below. Which one will you do with your kid?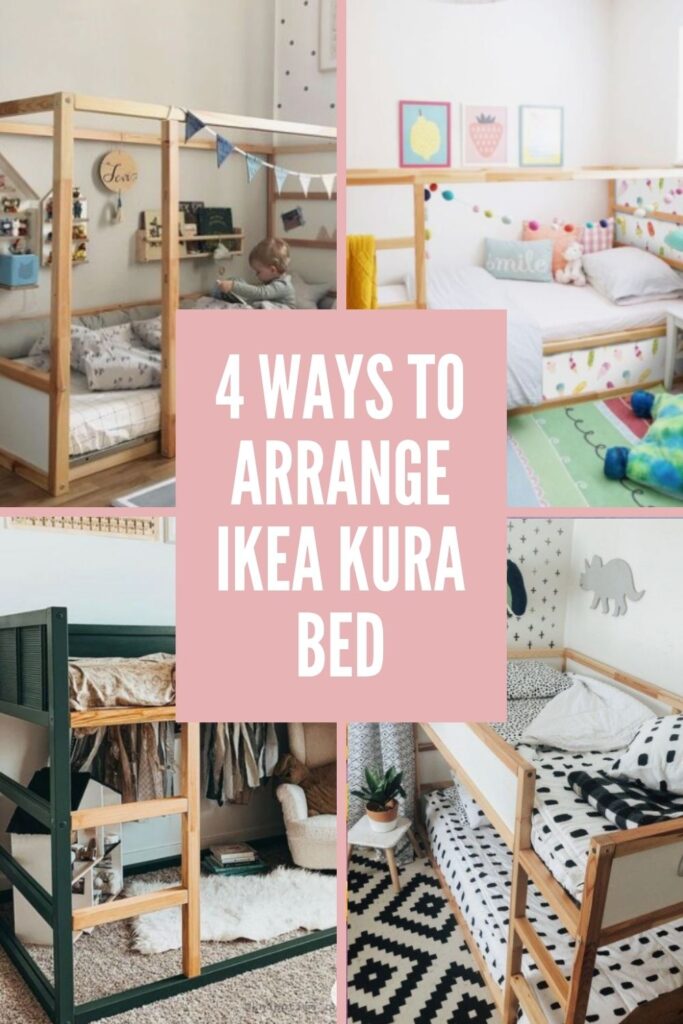 Option 1: Montessori Floor Bed
The first way to arrange your Ikea Kura bed is to put the mattress on the floor for that Montessori look. Ikea doesn't promote this as an option, but I saw some ideas on pinterest that I loved. You don't install the planks and put the mattress on the floor. I loved this option for toddlers who are transitioning from a crib. I'm not worried about them falling off the bed at night. This is what I will do with my boys for awhile.
Option 2: Normal twin bed height
The second arrangement for the Ikea Kura bed is to just install the mattress at the normal twin height. Install the Ikea Kura bed as they instruct in the instruction manual. You put the mattress on top and leave it at the height of a normal twin bed. This is a great option for your little toddlers when you are no longer worried about them falling off the bed. They can still easily get in and out of the bed.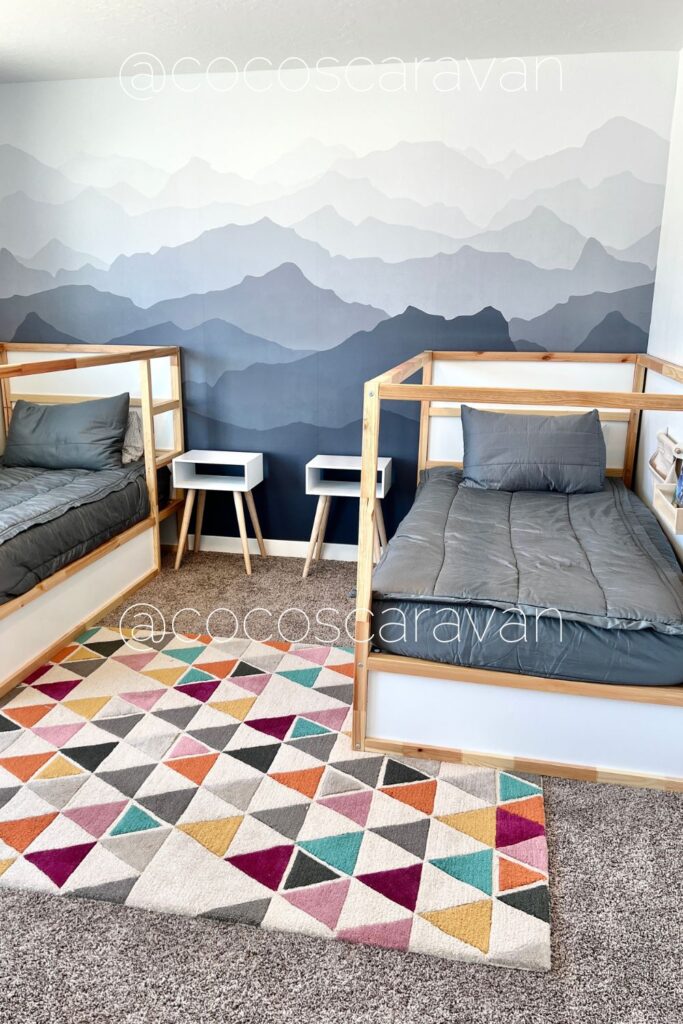 For my twin boys I put the bed in a L shape. I like this because the boy in the corner has a barrier to prevent him from falling off the bed. I bought a foam bumper pad for the twin on the left and it has worked out great! I still haven't figured out bedding yet.
Option 3: Bunk Bed with nook underneath
The third arrangement you can do with the Ikea Kura bed is to flip it over so the mattress is up high and you have an empty space underneath. I absolutely love this arrangement and I can't wait to do this with my boys beds. I am going to wait until they are a little older. Right now they still struggle getting out of their bed at night and I would worry about them climbing down the ladder.
This is my favorite option out of the four. I've seen people put their Nugget couch underneath or even their Pottery barn toddler couch. They create a little reading nook with wall book shelves. I've also seen people add curtains so they can hide and make a little fort. There are so many fun options you can do with the nook underneath.
If you live in a small apartment or need that extra space this option would be perfect. You add a whole new little room for your toddler.
Option 4: Bunk bed
The last arrangement you can put the Ikea Kura bed is into a normal bunk bed. You flip it over and have a mattress on top and a mattress below. I bough two Ikea Kura beds so one day I could make one a bunk bed for when friends spend the night and leave the other the option 3 way. This bed is 46 inches high so you could easily take a sleeping toddler and transfer them into the top bunk. I love that this bed isn't super tall and still has that toddler size.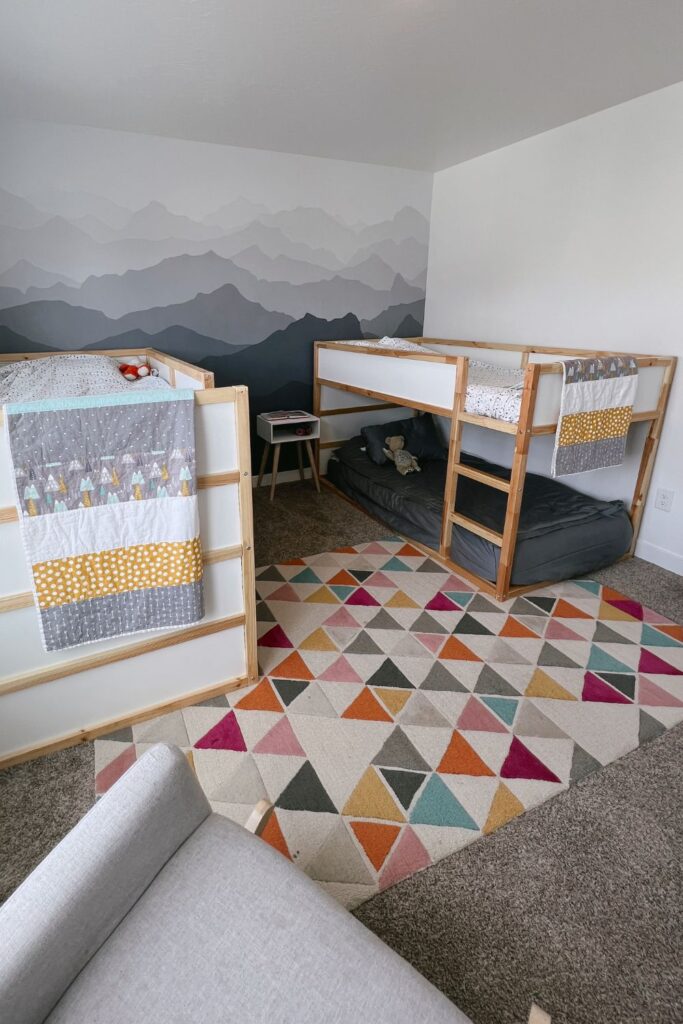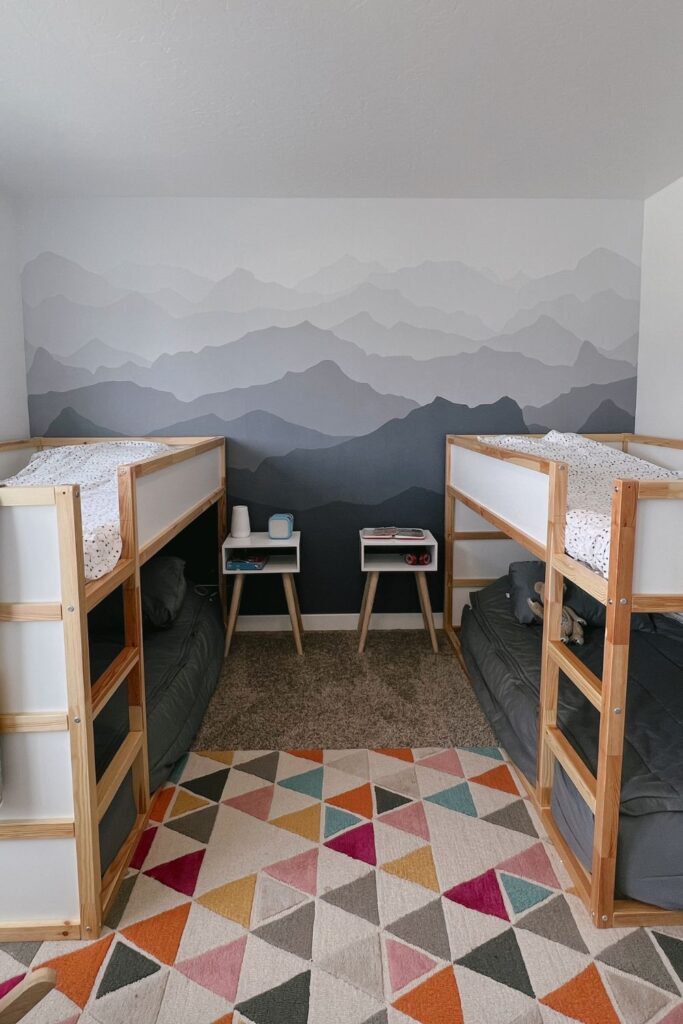 See video of me flipping the beds into bunk beds
Head over to my Boys Bedroom blog post to see what mattress I use for my boys and what other options there are for a mattress that fits with the Ikea Kura bed.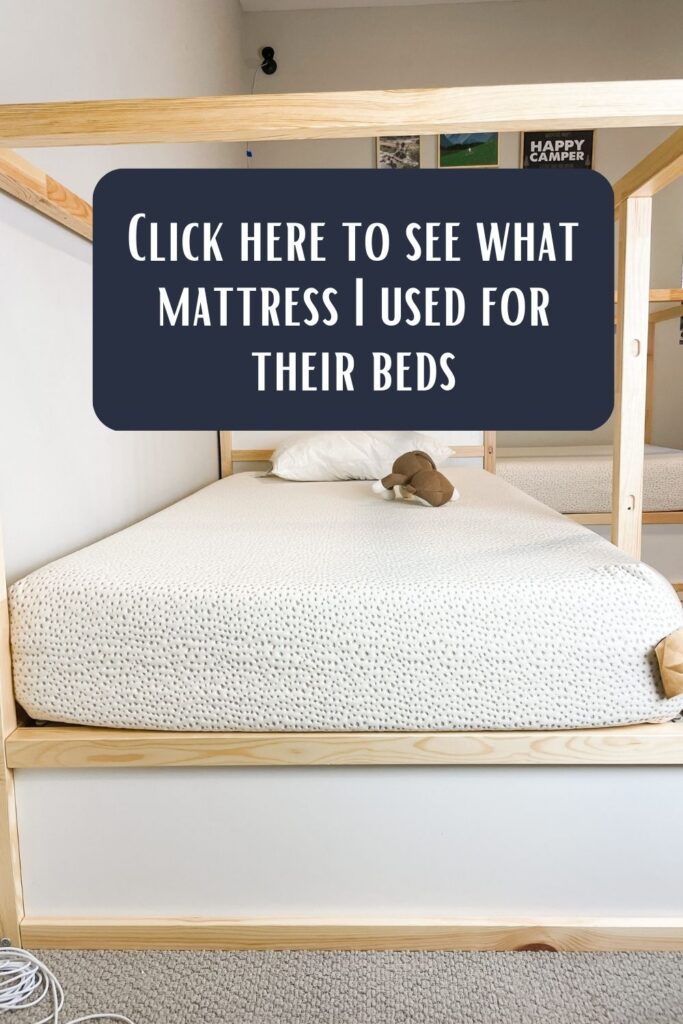 Tents for Ikea Kura Bed
You can also buy a tent from Ikea to install on the Ikea Kura bed. Another fun reason to buy this bed! More play and more fun!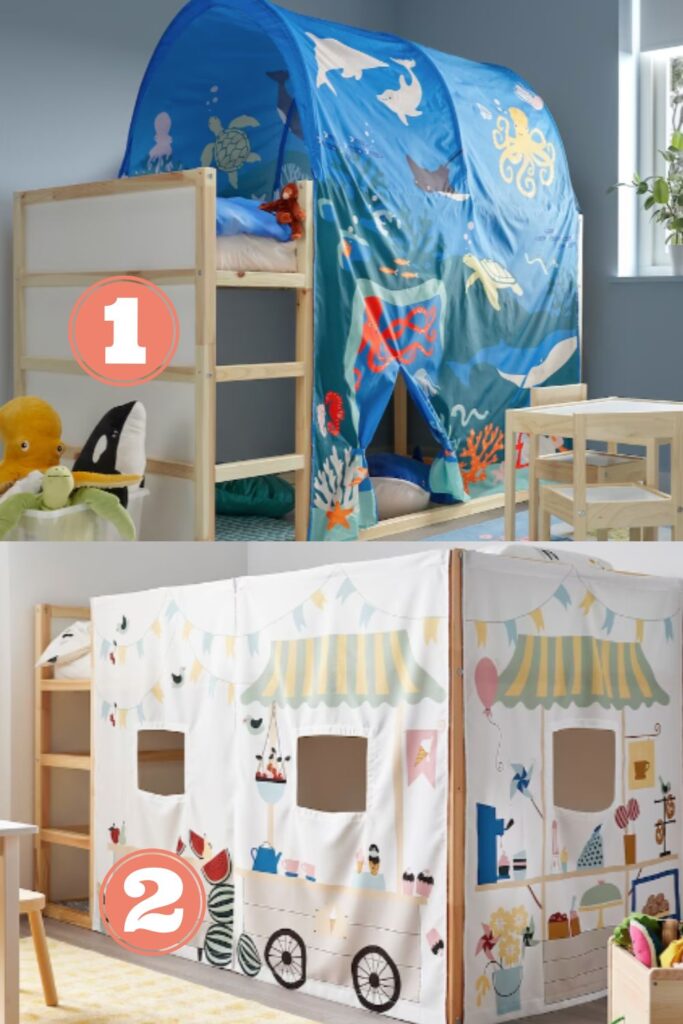 The bedding for my boys
Read blog post below to learn more about the bedding and if its worth it.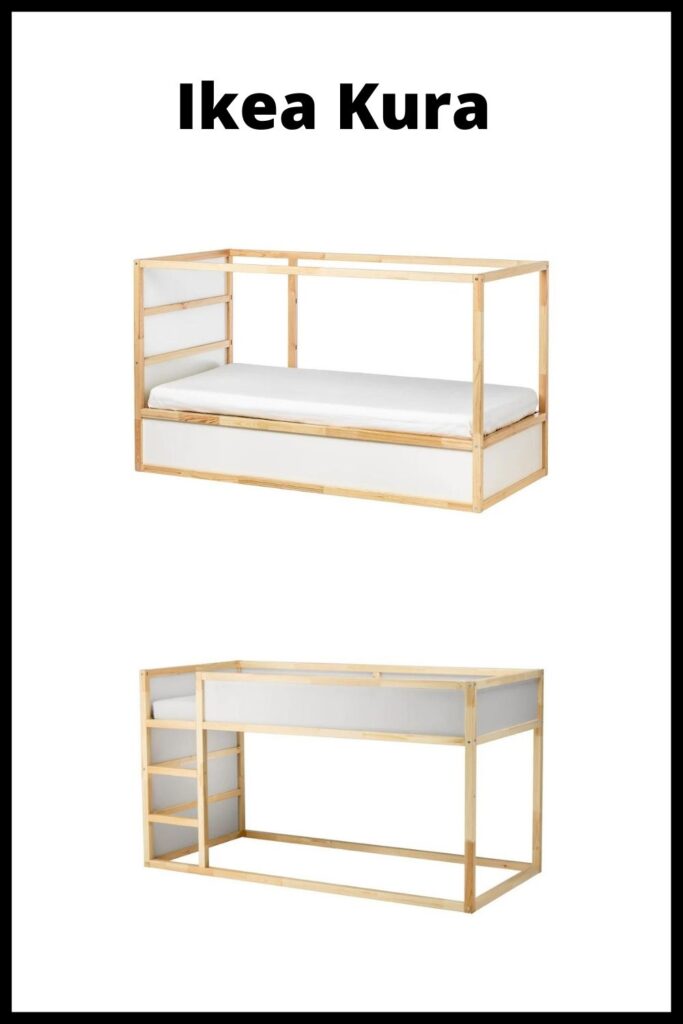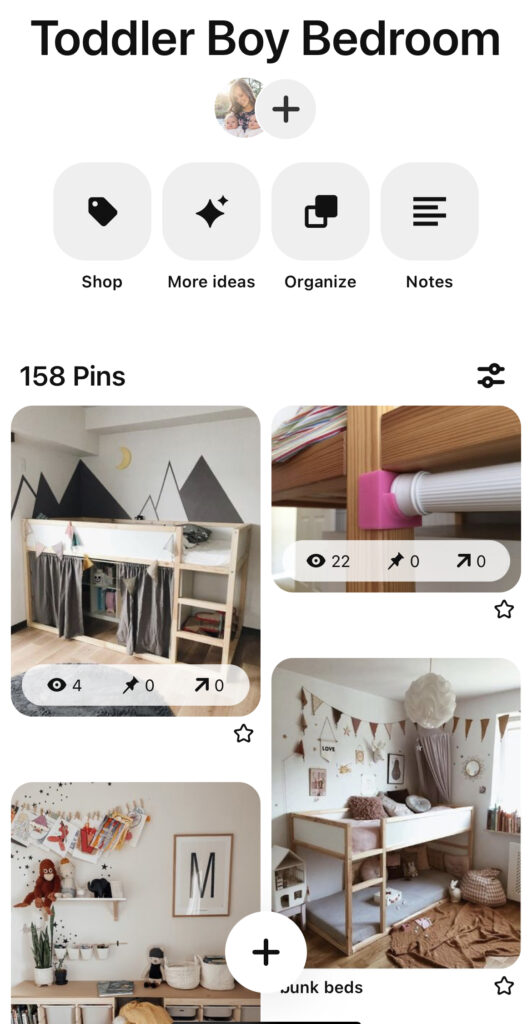 You might also be interested in:
I also got their cribs from Ikea and you can see pictures of their nursery.