5 of the best Toddler Christmas photo ideas
I put together five different toddler Christmas photo ideas you can do this Holiday season. All of these photoshoots are easy and can be done at home to save you time and money. I included a short description on how I put each photo together. These Christmas photos will be a perfect addition to your Christmas cards.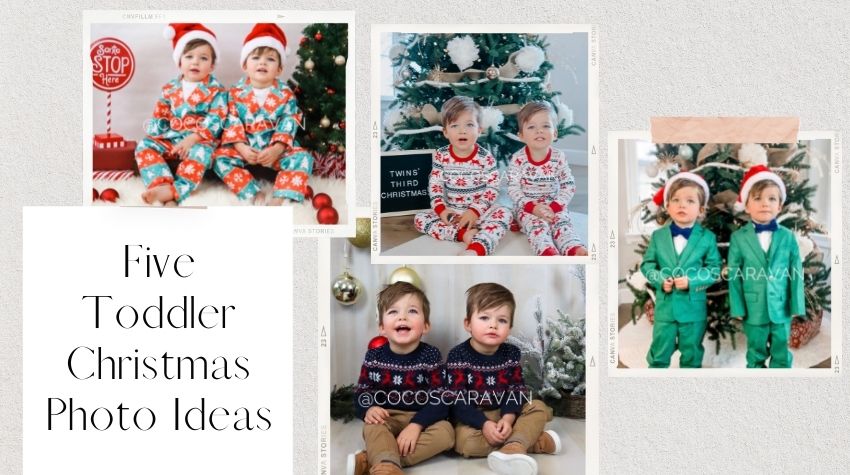 It can be expensive taking photos at a professional studio so I started to learn how to take photos myself. I wanted to save money and I wanted to be able to do them at home where my boys were most comfortable. I share a lot of DIY photography tips here on my blog so make sure to check those out as well.
5 Toddler Christmas Photo Ideas
First Toddler Christmas Photo Idea : Christmas Pajamas
The first toddler Christmas photo ideas is just putting your toddler in front of the Christmas tree. I put my boys in the pajamas I bought for them that year and change the letter board. It's tradition now for me to take this picture every year. It will be fun to see them grow and I love the letter board, it adds to the picture and makes it more fun.
The Christmas pajamas they are wearing in the picture are from last years Children's Place Christmas pajamas collection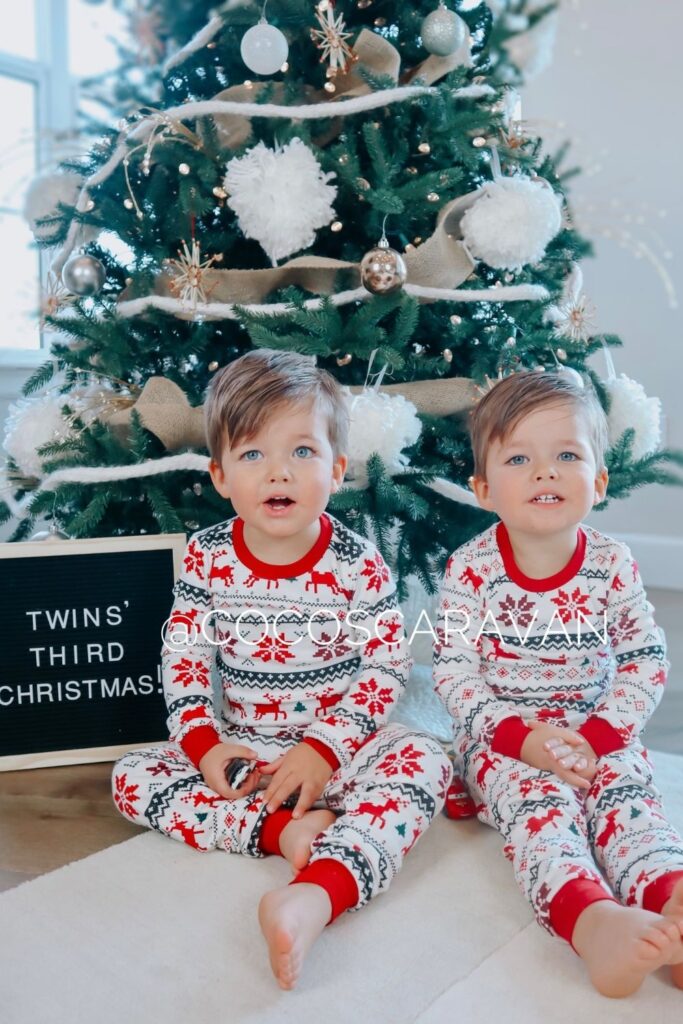 Second Toddler Christmas photo idea: Christmas Suits
The second toddler Christmas photo ideas is to put on a fun holiday outfit with a festive backdrop. I used white wrapping paper to hang the backdrop on the wall. You could also use a white bed sheet to get that white backdrop. I went to Michaels and found random props to add around them.
Where to buy outfit: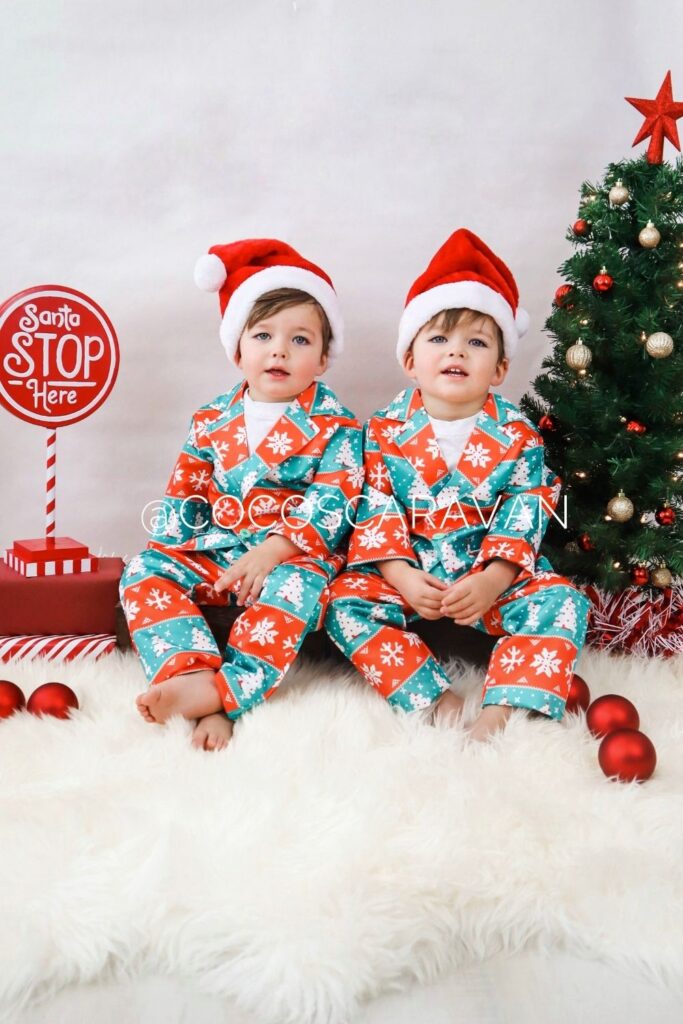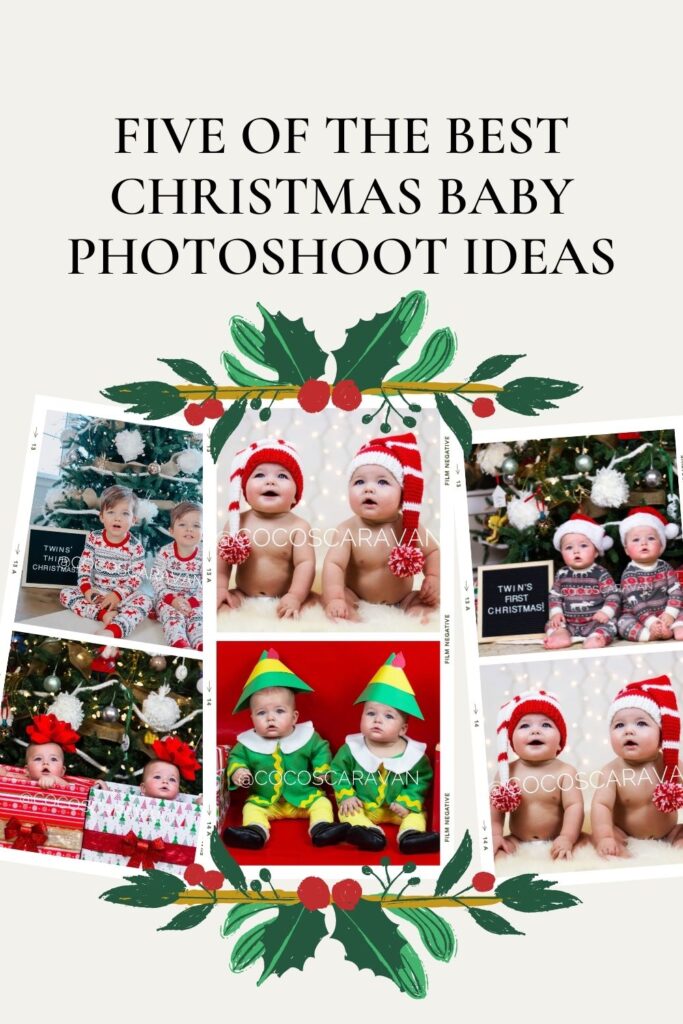 Third Toddler Christmas Photo idea: Nice Christmas outfit with festive backdrop
This one is fun and easy to do. Just put your toddlers in a nice Christmas sweater or dress and make a fun festive backdrop. I went to Michaels and got some ornaments with ribbon and hung them up at different lengths on my backdrop. If you don't have a backdrop you could tape them to a white wall. You can add green garlands along the back with some small pine plants.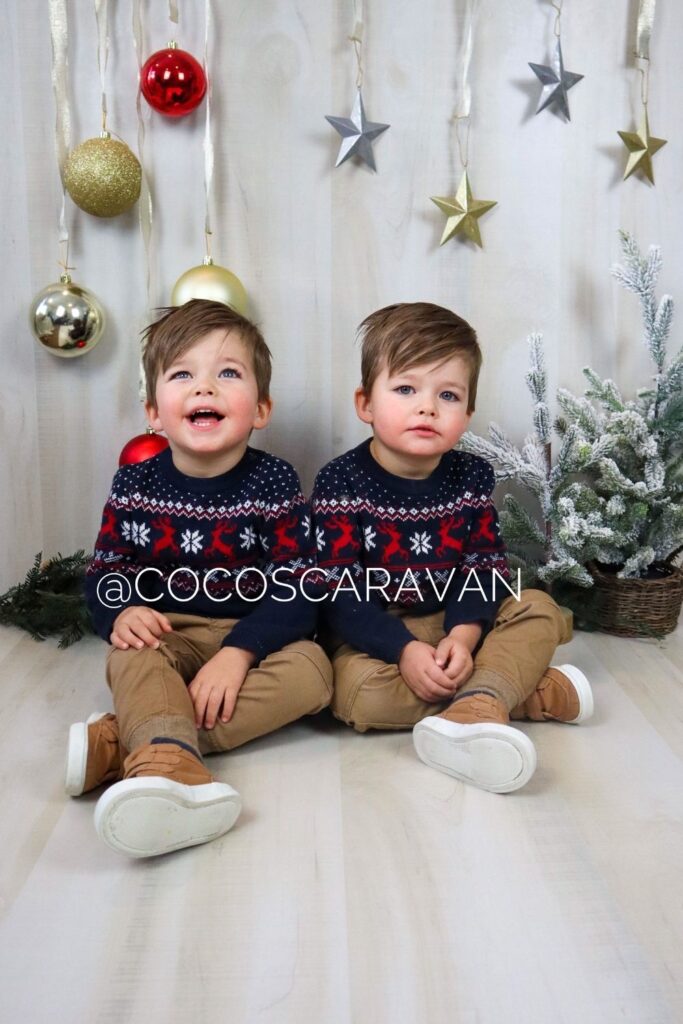 Fourth Toddler Christmas Photo idea: Christmas Suit or Sunday Dress
Another toddler Christmas photo idea wearing a nice outfit in front of the Christmas tree. I thought it would be fun to have my boys wear a nice suit with their Santa hats for a Christmas photo. I loved how it turned out and it ended up being a fast and easy photo.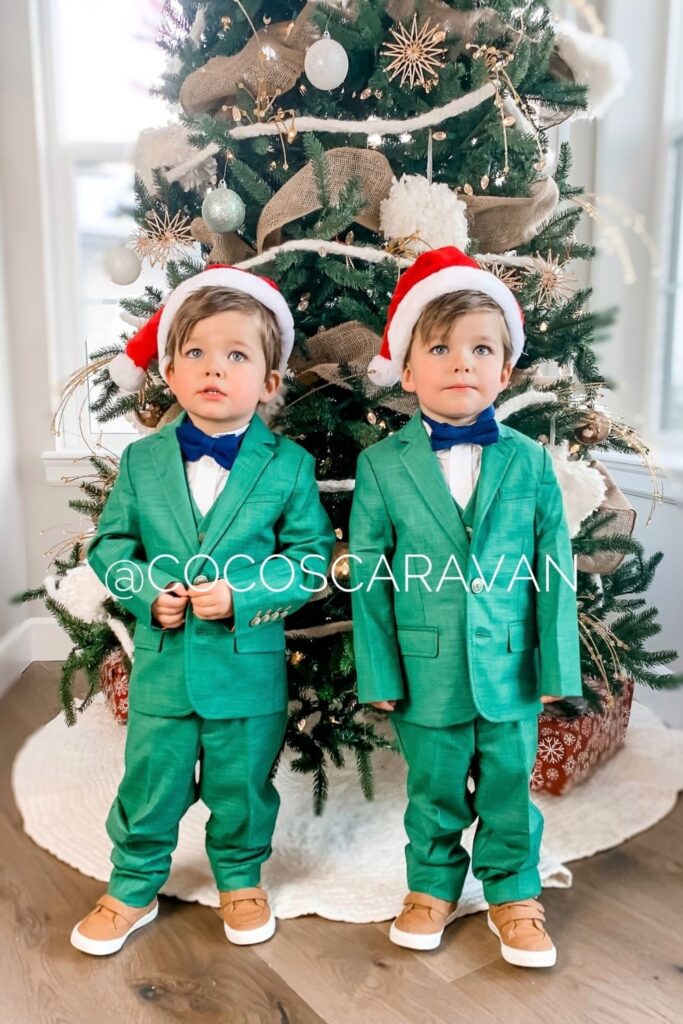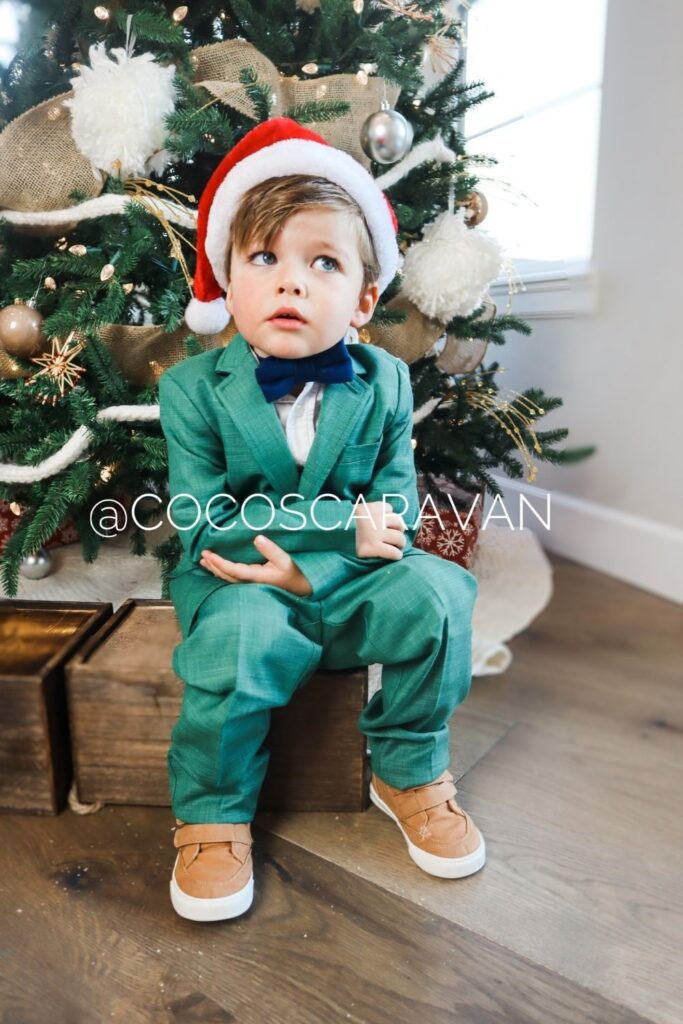 Fifth Toddler Christmas Photo Idea: Picture with Santa
The last Christmas photo idea that you could do with your toddler is get a nice picture with Santa. I have my boys wear a cute Christmas outfit and then take them to a mall. Make sure you go somewhere that will give you lots of prints. When I lived in Minneapolis we would go to the Mall of America and they would let us stand at a computer screen and pick out our favorite pictures. Last year we went to Cabelas and they didn't let us pick and only let us have one print. Its definitely worth paying extra to make sure you get more prints and get to pick your favorite.
This is alway such an easy Christmas photo to do with your toddlers. I make sure to take my kids every year. It will be fun to look back and see all the photos someday.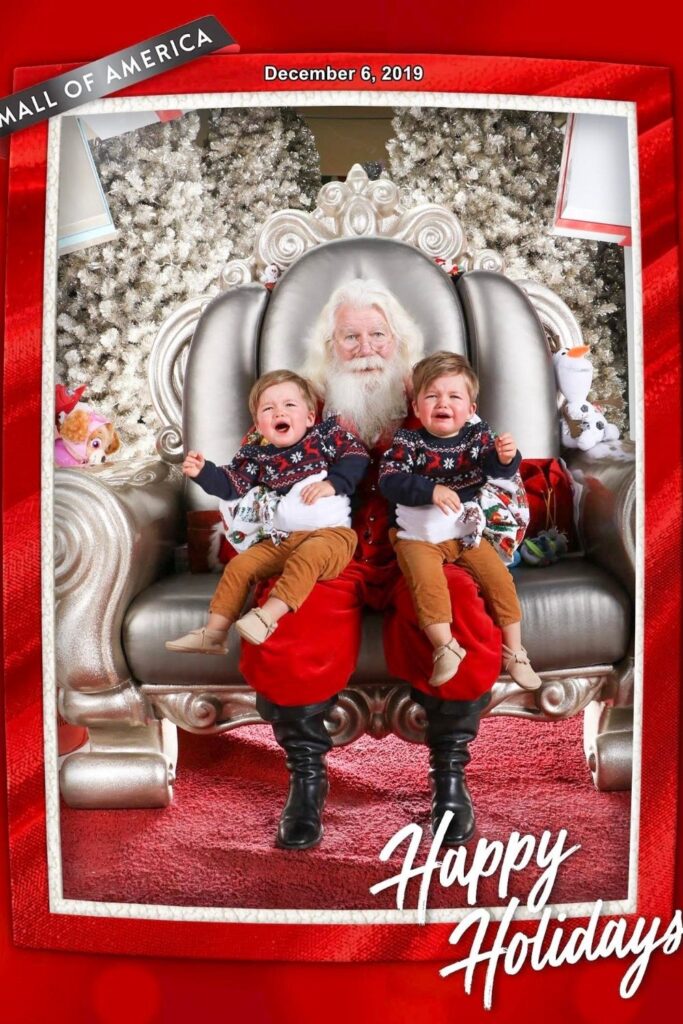 I go more into detail on how to take your own photos at home and get them to look professional. I have video footage of me showing you how I made my wooden backdrop. I'll share with you all the photography equipment I use. I'll teach you how to edit your photos to add presets and remove unwanted objects from a photo. Tips and tricks on how to get kids to look at the camera and what settings to put your camera on. Everything you need to get that professional photo, but at home! Check out my course HERE.
My favorite apps to edit all my own photos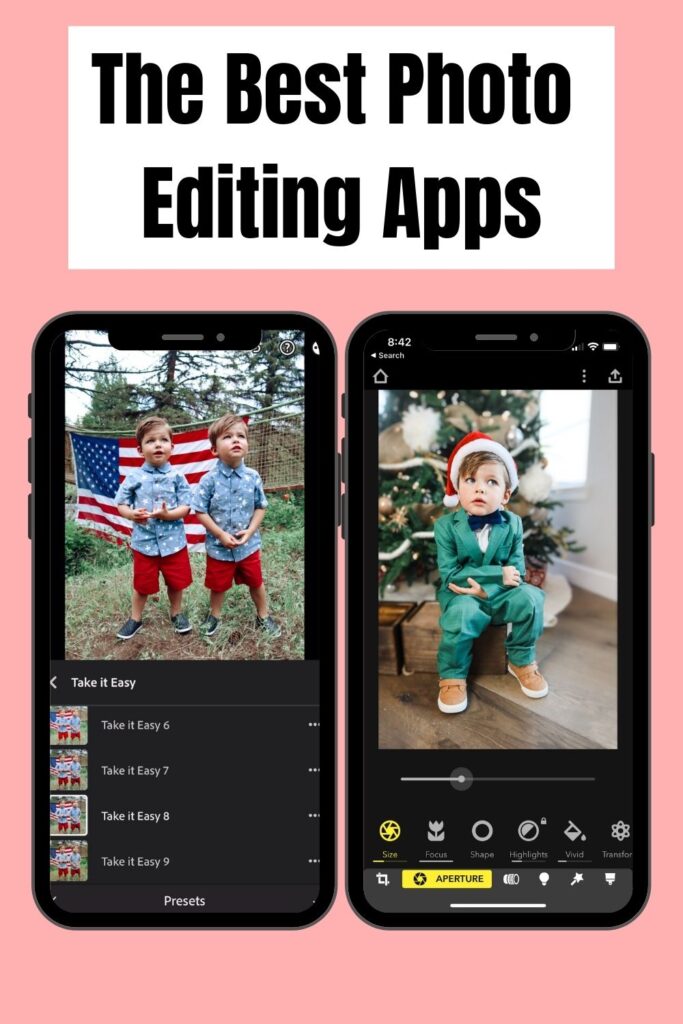 DON'T FORGET TO PIN THIS DIY PHOTOSHOOT TO YOUR FAVORITE PINTEREST BOARD FOR LATER.