A cute and easy Toddler Christmas Photoshoot
This was such a fun and easy toddler Christmas photoshoot to do with my boys. What I love about this Christmas Eve photoshoot was how easy it was to put together. I'll show you how to do it all in the steps below!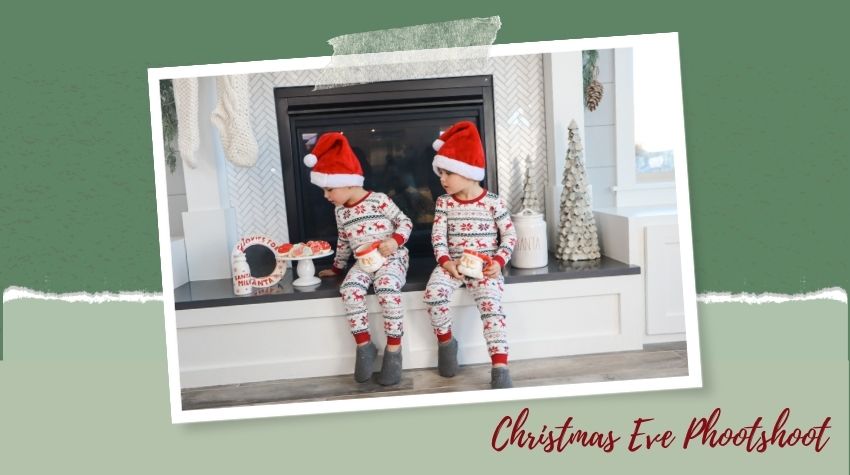 I didn't know anything about photography a couple years ago and started to learn on my own to save money. I started to share some of the things I learned here on my blog. Make sure to check out my DIY photoshoot tips. I also have a ton more Christmas photoshoot ideas you can do with your baby and your toddler.
Toddler Christmas Photoshoot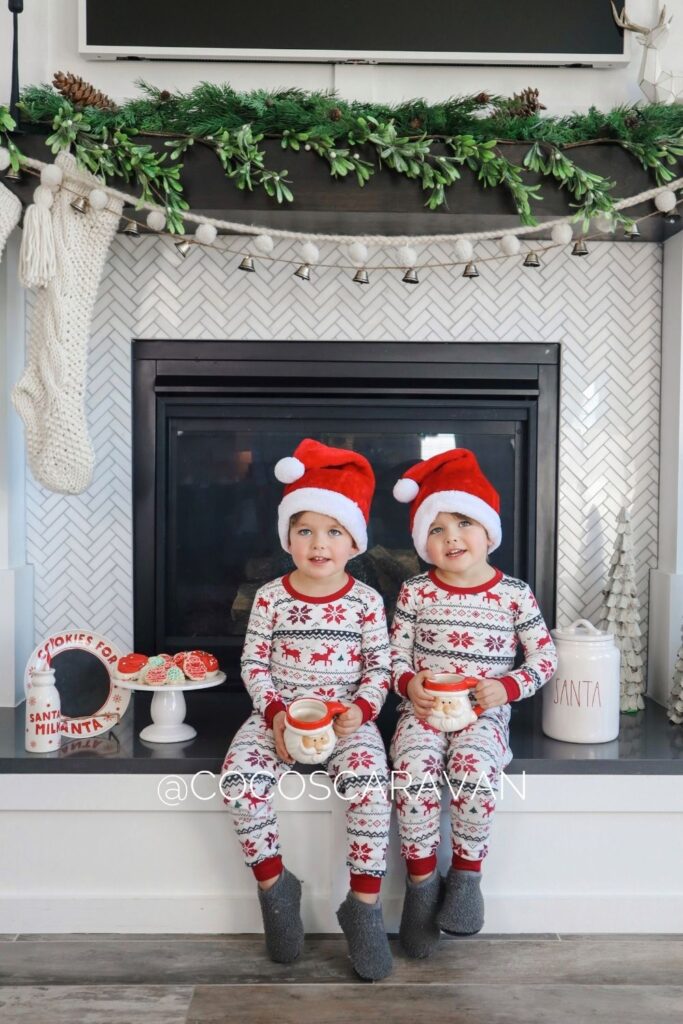 Props you will need for this photoshoot
Props can be such a fun part of any photoshoot. Sometimes I'll just walk the isle at Hobby Lobby and pick random stuff to go with a photo. The props you pick out can really add to your photo and make it that much better. My favorite places to find props is Hobby Lobby, Michaels, and the Dollar Store. I try and have somewhat of an idea of what I want before going. It helps narrow down your ideas as you're walking through the isles.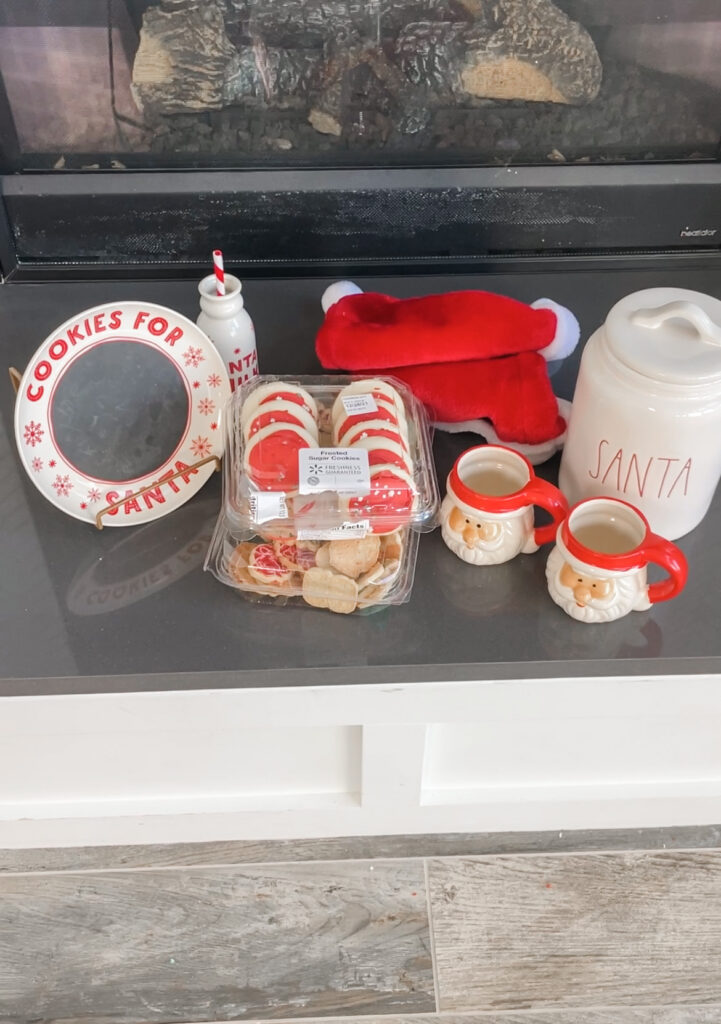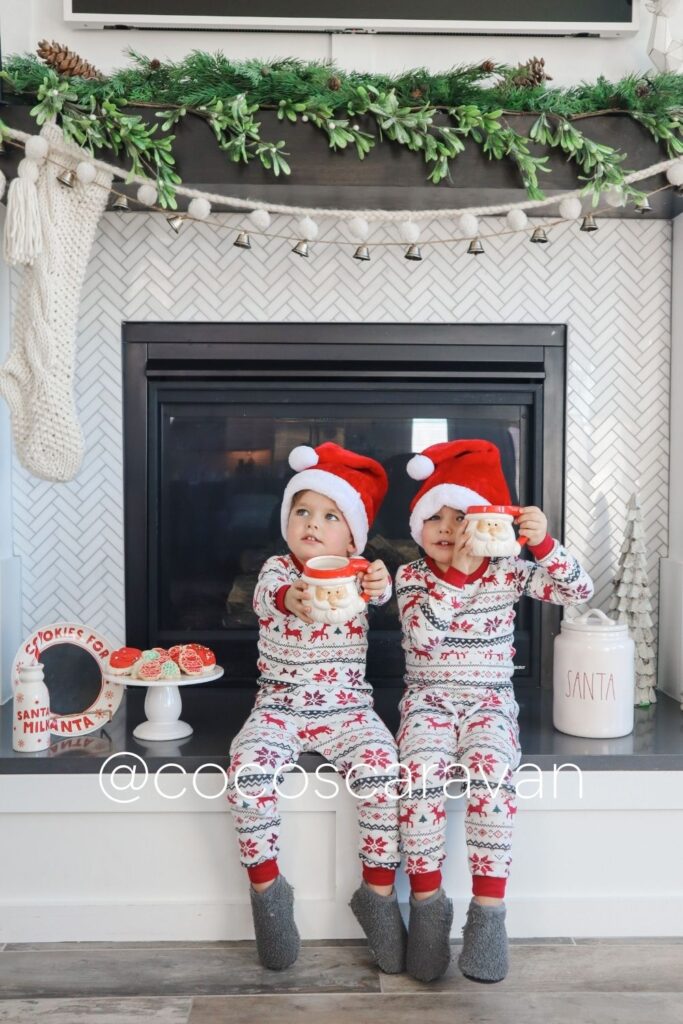 For this photoshoot theme I was doing Christmas Eve. I wanted them to be eating the cookies they made for Santa and be in their Christmas pajamas. I went to Hobby Lobby and started looking for anything with Santa and cookies.
List of props:
Cookie Jar: I found my cookie Jar at Home Goods and was so excited about it. The cookie jar I have is a Rae Dunn and I love it
Red and white straw
Cookie stand
Cookies: I just went to Walmart and bought some cookies
Christmas photoshoot backdrop
I think the backdrop is the most important part of any photoshoot. The backdrop can really define the theme of your photoshoot. For this Christmas photoshoot I wanted the boys to be in front of a cozy fireplace and pretend it was Christmas Eve and they were eating Santa cookies and ready to go to bed.
This backdrop is so easy because most of you should already have a fireplace in your home. If you don't have a fireplace you could do what I did and go to a friends house who does have one. I went to my sisters house to take these photos. You could also do this photo in front of your Christmas tree.
Clothing items you will need
I was trying to go for that Christmas Eve vibe so I had them wear their Christmas pajamas. This should be an easy item to find because you probably already picked out pajamas for the holidays. My favorite places to buy Christmas pajamas is from Target, Happy Hannas, or The Children's Place. Check those places out if you want some cute ones. The boys Christmas pajamas they are wearing in this photo are from The Children's Place.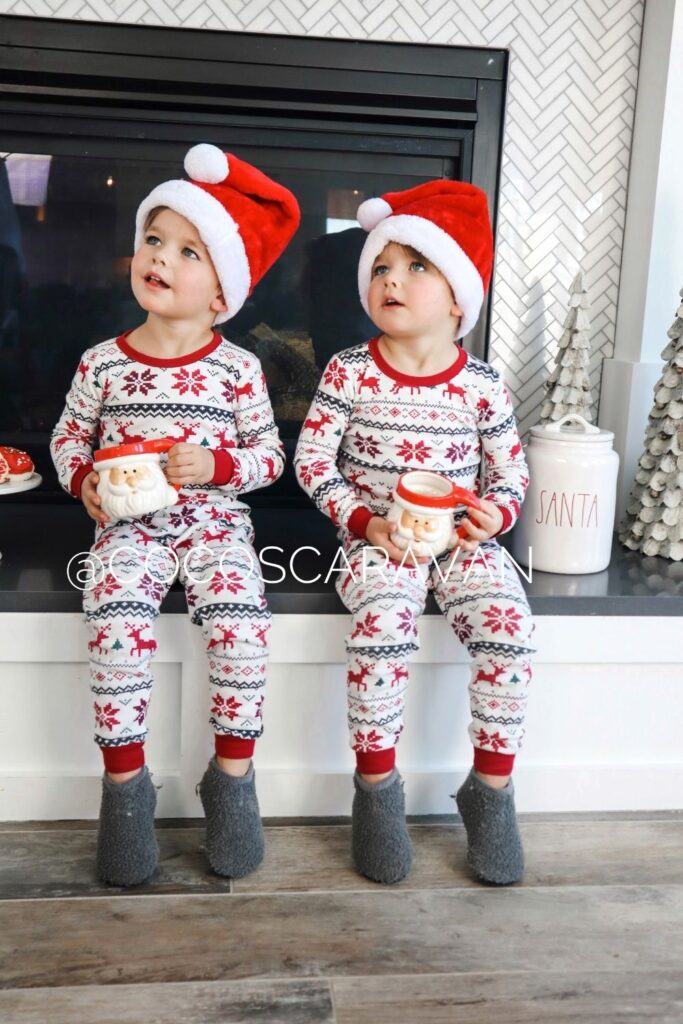 This post may contain affiliate links. See my Full Disclosure for further details.
List of clothing items:
How to edit your photos
Take my online photoshoot course to learn more about how to take photos at home. I share with you how to edit your photos. Tips and tricks to get kids to look at the camera. What settings to put your camera on. How to set up lighting. All of this on my course! Will help you save money doing these photos by yourself! Link to course HERE
How to put it together
I always set up the photoshoot before I even get my kids dressed for it. Take your time make sure it is all placed ok. I even get my camera and take a couple practice shots. Once I have an idea of how it will look I get my boys ready. Place them in the middle of the props and snap away. I had them look into each others mug or pretending to drink it. These types of candid photos can be so cute for a holiday themed photoshoot.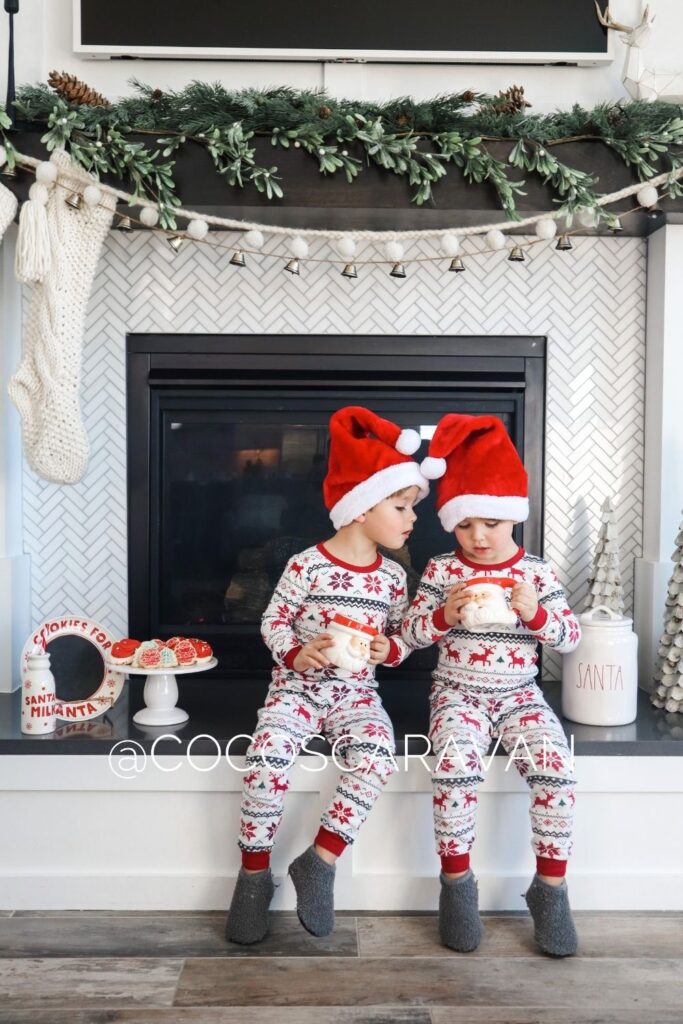 I first took pictures with them holding the Santa cups. Once they were done with the cups I got some pictures of them eating the cookies. Make sure to do the cookies last because they will get messy.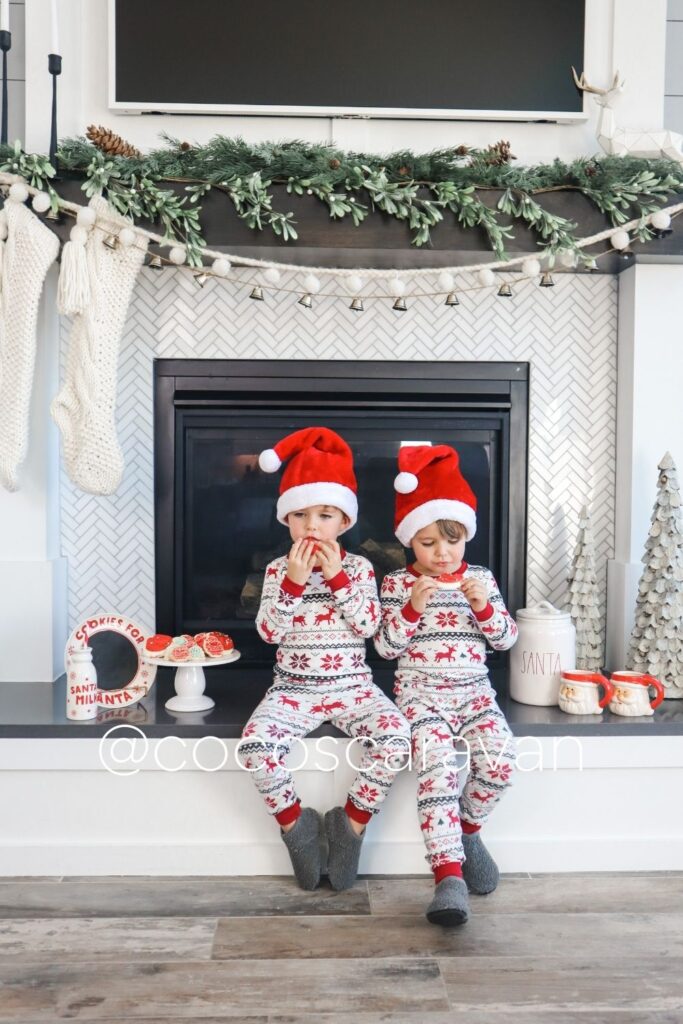 DON'T FORGET TO PIN THIS DIY PHOTOSHOOT TO YOUR FAVORITE PINTEREST BOARD FOR LATER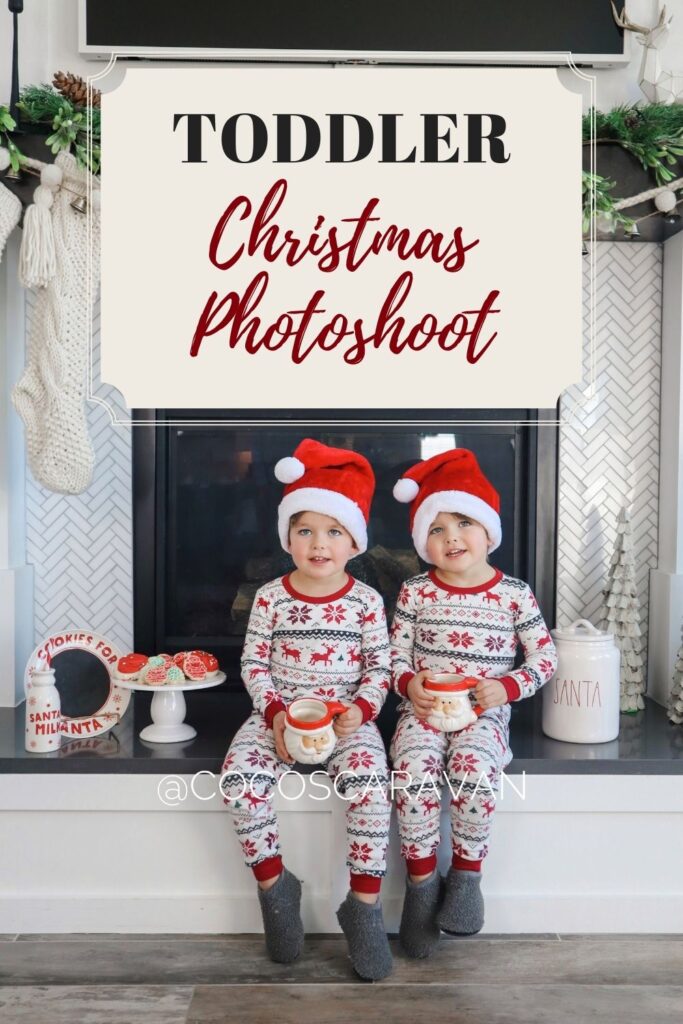 More Toddler Christmas Photoshoot ideas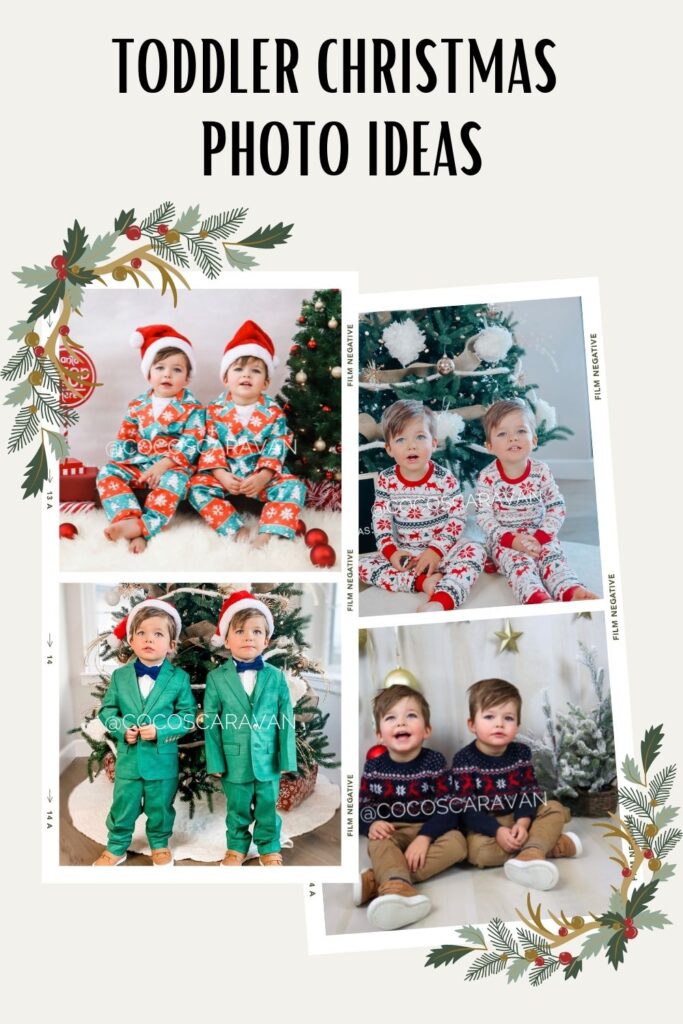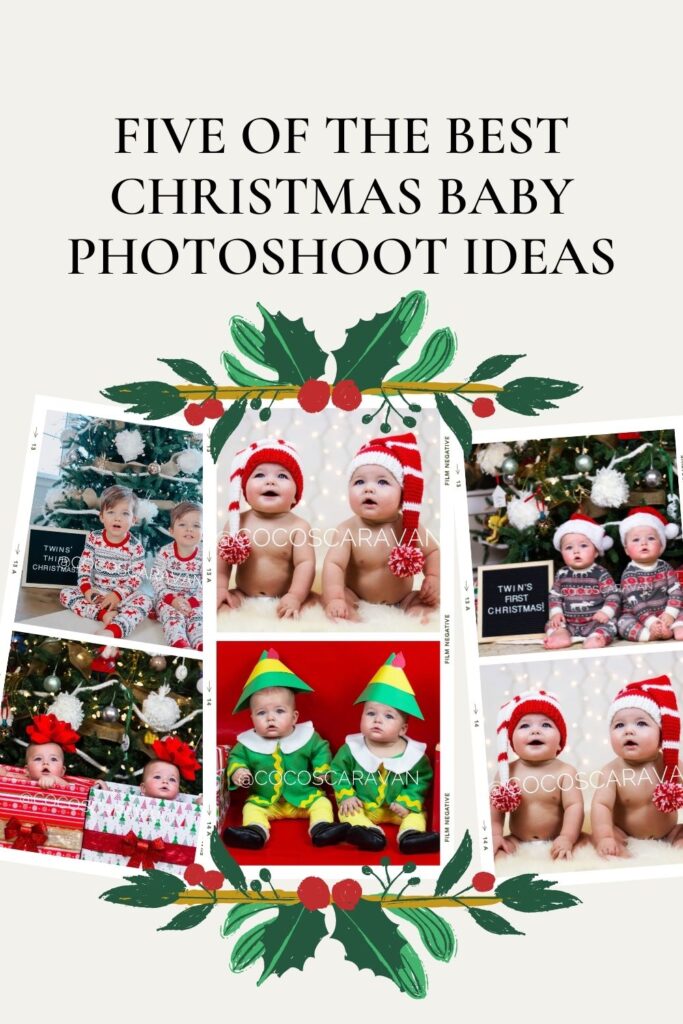 You might also be interested in these blog post