7 affordable toddler boy fall outfit ideas
Sharing seven different toddler boy fall outfit ideas you can have your toddler wear this Fall. I'm always getting asked where I get my boys clothes, so I thought I would link and share some of my favorites this fall season.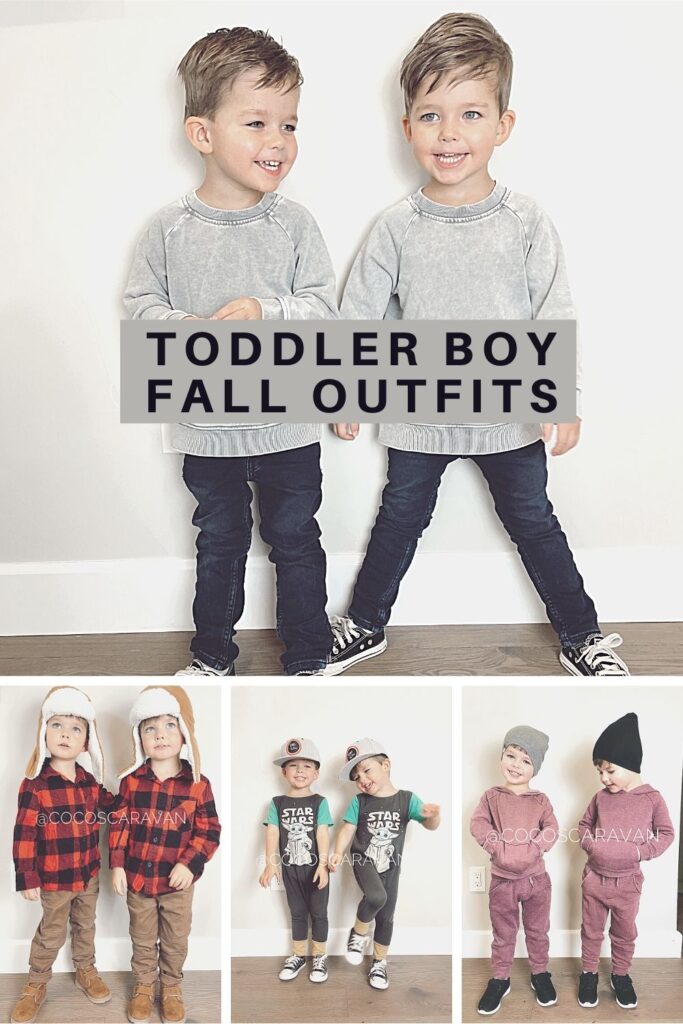 I'm always getting asked about where I buy the boys clothes. I have written a couple blog post about my favorite toddler clothing stores to shop at and and my favorite toddler boutiques to shop at. Make sure to check those out as well.
Toddler boy fall Outfit One: Crewneck sweatshirt and jeans
This is such an easy and fun look for a toddler boy fall outfit. Sadly the sweater they are wearing is sold out, but you can put the "notify me" don the H&M website so you can get a notification if it comes back in stock. The skinny jeans are now my new all time favorite jeans for toddlers. I even bought a pair for next year because I love them so much. They are stretchy and the perfect amount of skinny. If you are looking for jeans for your boys this is by far the cutest and such a good fit. Links to clothing below the picture.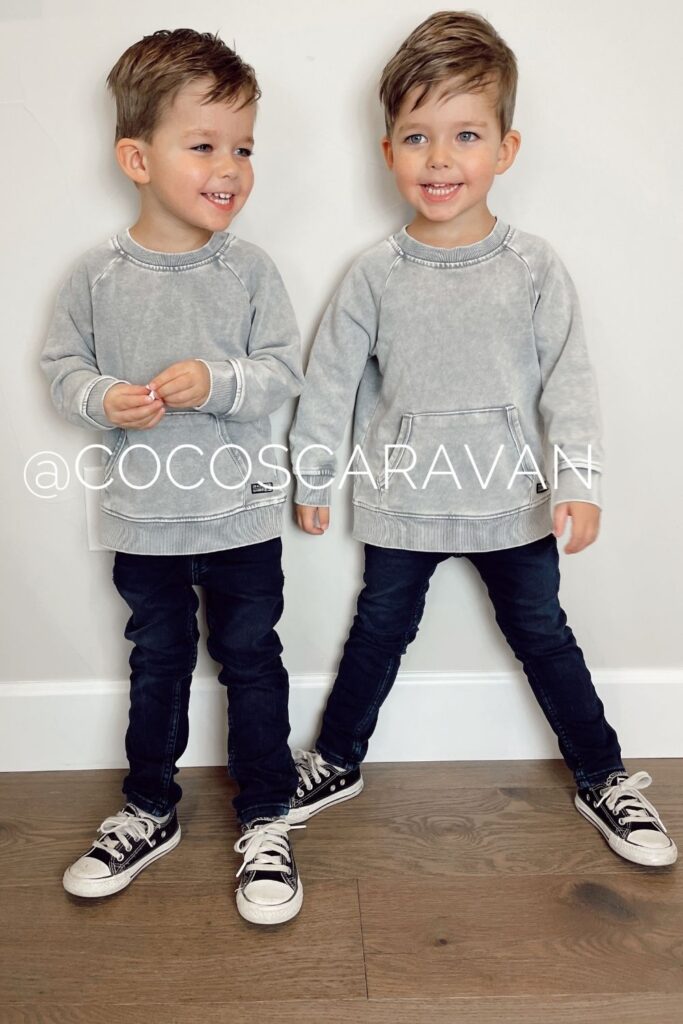 Outfit two: Long sleeve shirt and pants
Just a good long sleeve shirt with pants is a great toddler boy fall outfit. I couldn't find this shirt since I bought it last year, but linked similar ones. I love to shop at Target, Old Navy, and H&M for long sleeve shirts for my boys. They are wearing the Cat & Jack pants from Target and they are the best. They are so cheap and I just rebuy them every year in their new size.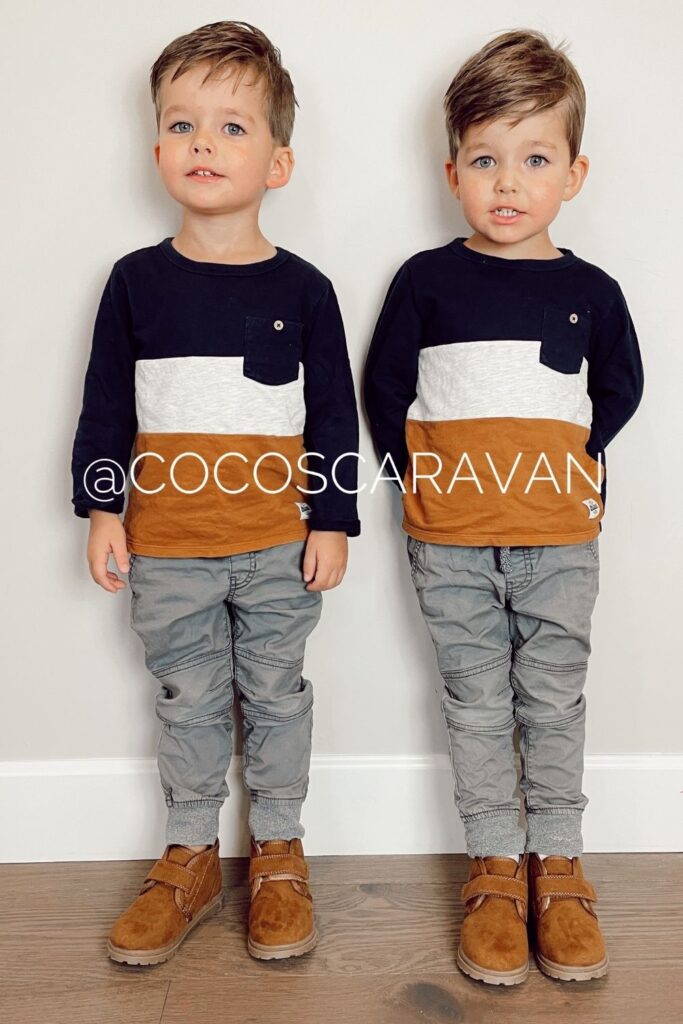 Outfit Three: Lightweight jacket with pants
During fall months you really just need a lightweight jacket for your toddler. This jean jacket has been the cutest addition to their clothes this fall. I couldn't find the exact one they are wearing, but linked some similar ones below. The one they are wearing is from Walmart but no longer available. The pants they are wearing is Cat & Jack from Target and they are my favorite pants for toddlers. I basically rebuy the same ones every year in a new size.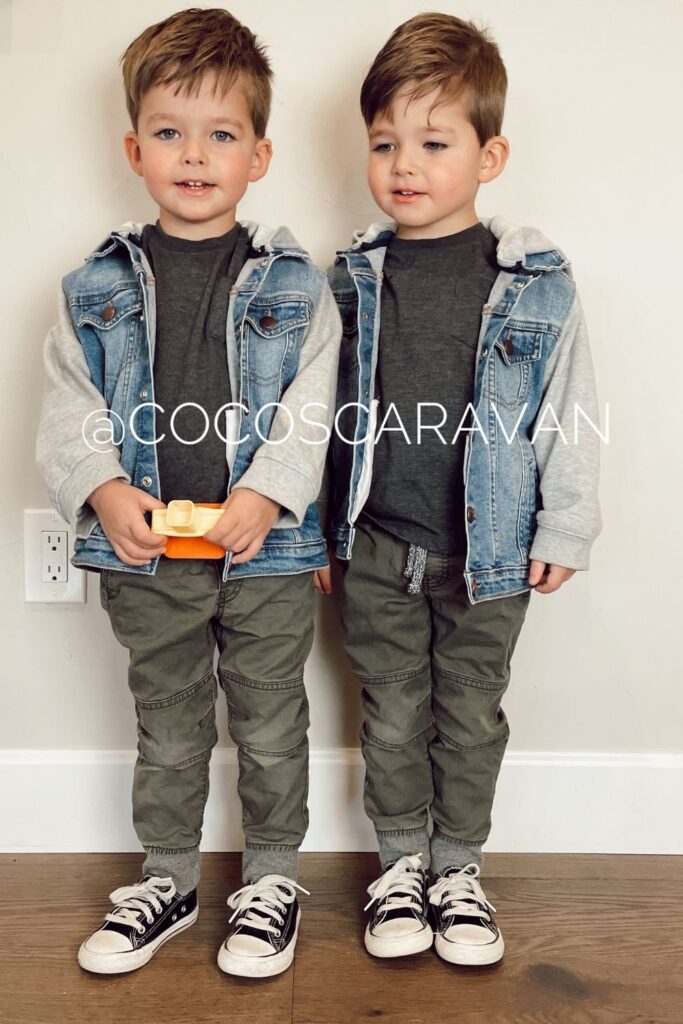 Outfit Four: Jogger set
I love a good jogger set for a toddler boy outfit. I found this jogger set at Walmart for only $13. (link below) I also love to find jogger sets at H&M and also linked some other options below. I love using jogger sets when they are first potty trained because they can easily take their pants off by themselves.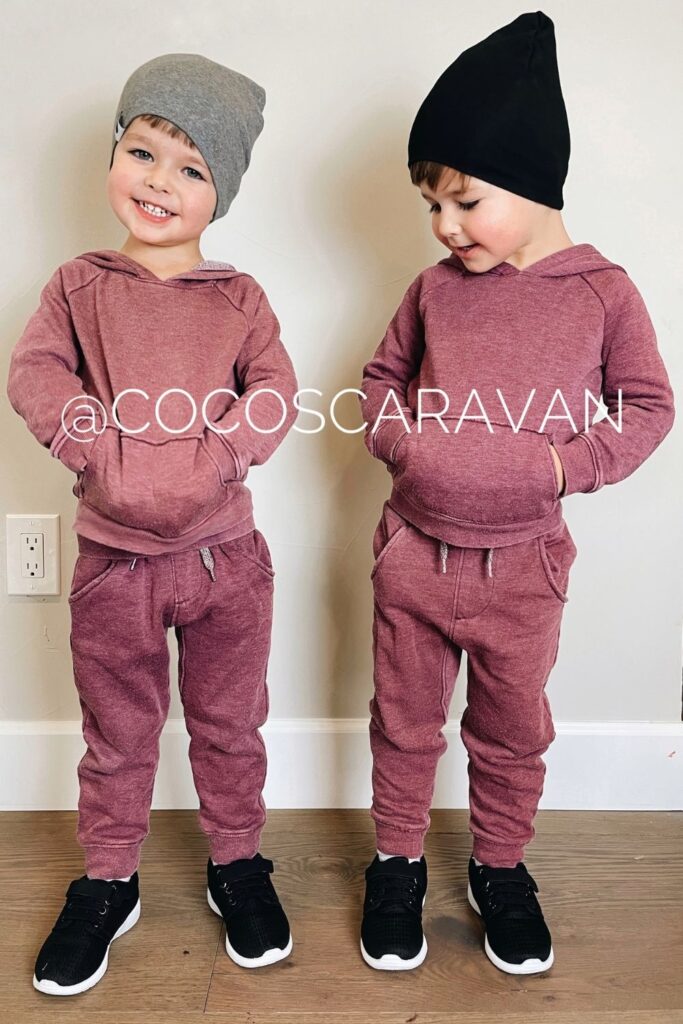 Outfit Five: Button up shirt with pants
I love a cute button up shirt for a toddler boy fall outfit. You can never go wrong with the classic plaid shirt and I rebuy a new one every year in their size. I just love the outdoor look and its so cute. I just bought these shoes from Target and love how easy it is for the boys to put on themself. This is also my favorite hat because it will velcro below the chin and really keep their ears warm. Link to all the clothing below.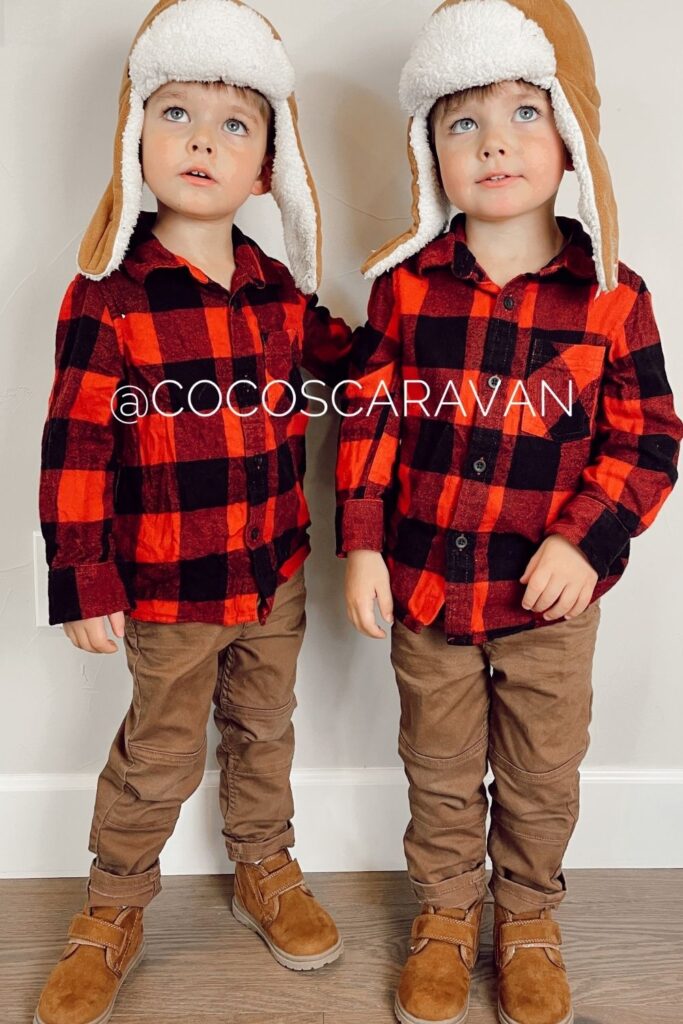 Outfit Six: Sweatshirt with pants
You can't go wrong with a sweatshirt and pants for toddler boy fall outfit. I like sweatshirts for the fall because I can avoid the jacket. It can be so hard to get toddlers to wear jackets and keep them on. H&M is my favorite to find cute sweatshirts for toddlers. I linked some different options as well below.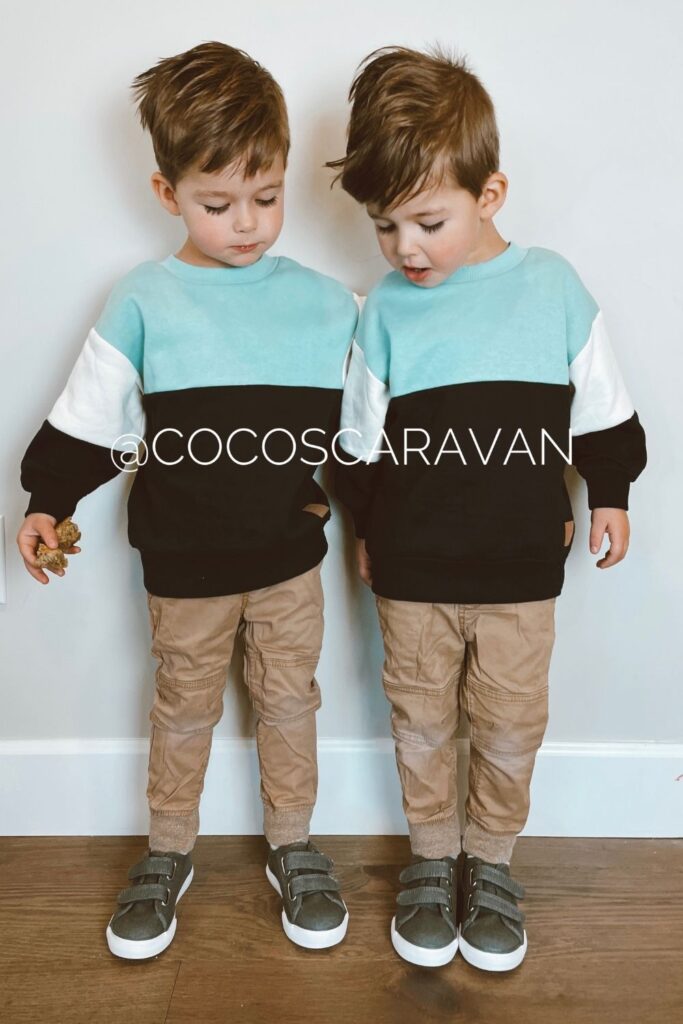 Outfit Seven: Rags romper
This is a perfect toddler boy fall outfit. When the weather is still in-between warm and cold its perfect to have an outfit with long pants and short sleeves. Sadly they no longer have this baby Yoda one, but wanted to share more of their styles. You can also find these rompers with long sleeves as well for the more colder months during winter. This romper is one of my all time favorite clothing items from a boutique. I love shopping at smaller boutiques for kid clothing. I wrote a blog post listing some of my favorite you can find that HERE.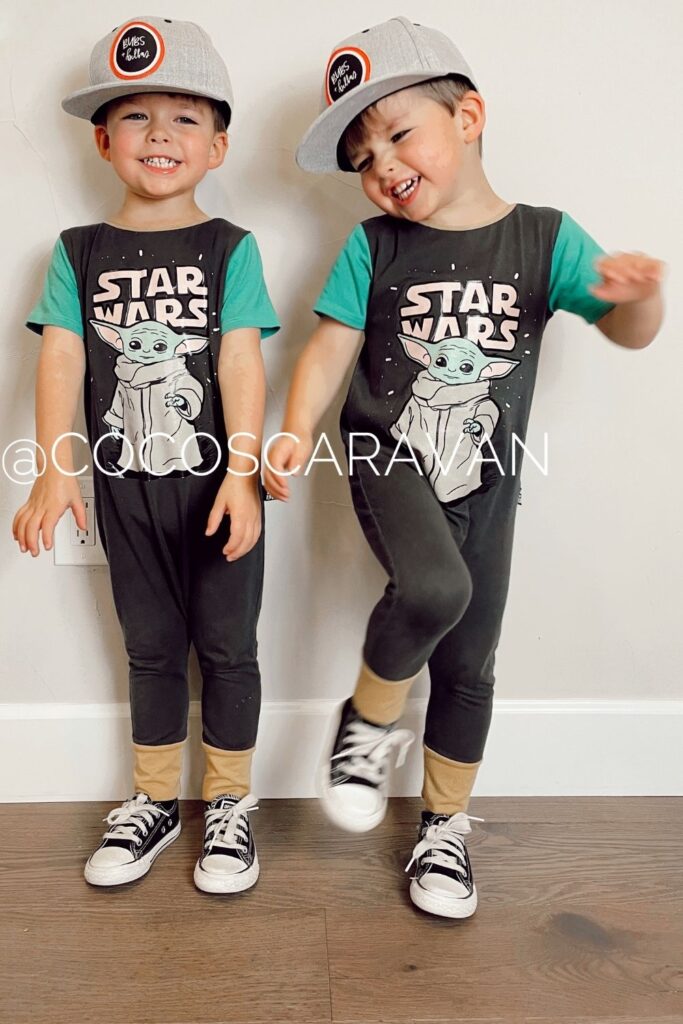 DON'T FORGET TO PIN THIS TO YOUR FAVORITE PINTEREST BOARD FOR LATER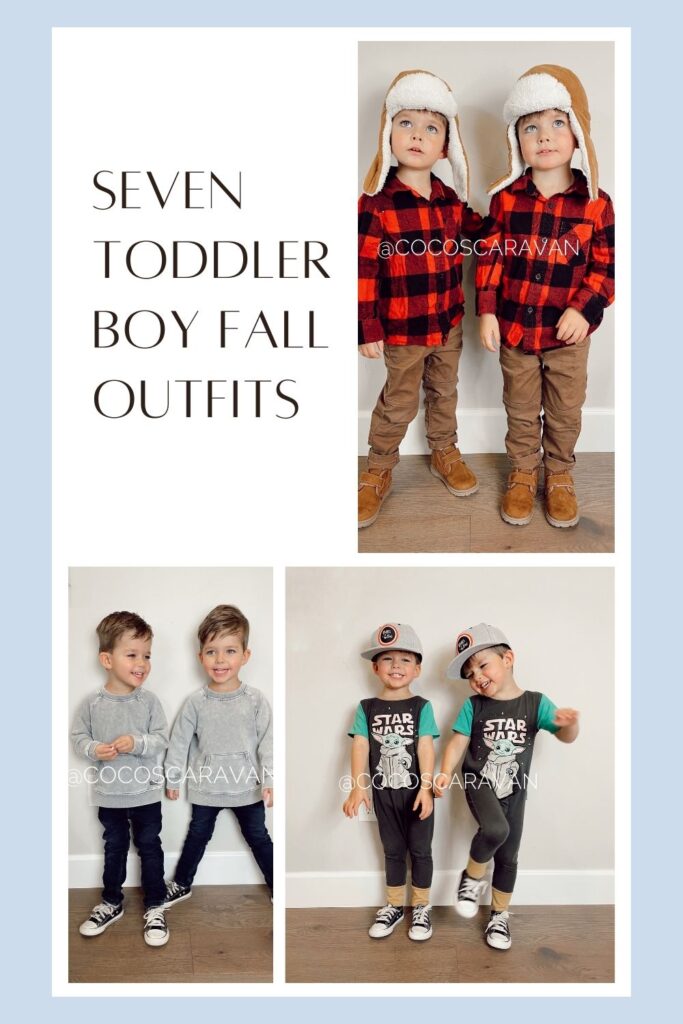 This post may contain affiliate links. See my Full Disclosure for further details.
Make sure to follow me on the Like to Know it App for updated links on new clothes I buy for myself or the boys.