Five of the best Christmas baby photoshoot ideas
Here are five of the best Christmas baby photoshoot ideas you can do with your baby this year. They are all super cute photo ideas and you will love looking back on them. I included a short description on how I put each photo together.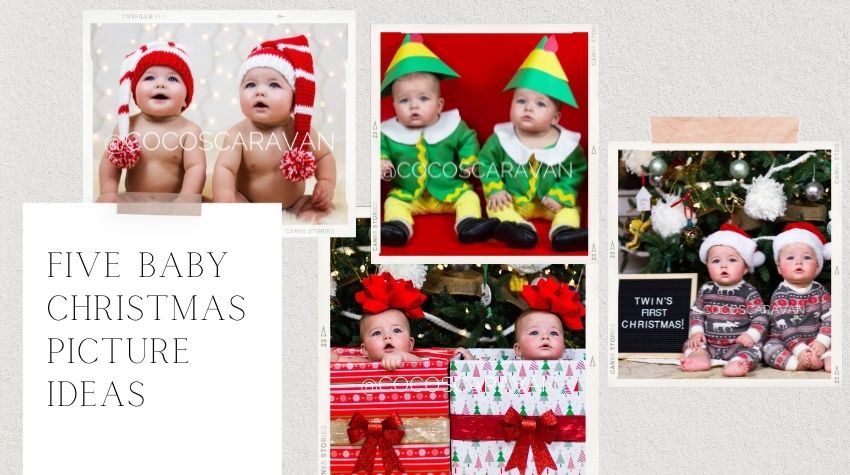 It can be expensive taking photos at a professional studio so I started to learn how to take photos myself. I wanted to save money and I wanted to be able to do them at home where my boys were most comfortable. I share a lot of DIY photography tips here on my blog if you want tips on taking pictures of babies check out my blog post HERE.
First Christmas Picture Idea: Christmas Tree
The first Christmas baby photoshoot idea is just putting your baby in front of the Christmas tree. I had a letter board and thought it would be fun to add that to the picture. It's something simple you can add to make it more fun. I think I'm going to take this picture every year now using the same letter board. It will be fun to see them grow each year next to the Christmas tree.
Any Christmas outfit would work for this picture. I used their Christmas pajamas, but any holiday outfit would work great.
Second Christmas Picture Idea: Lights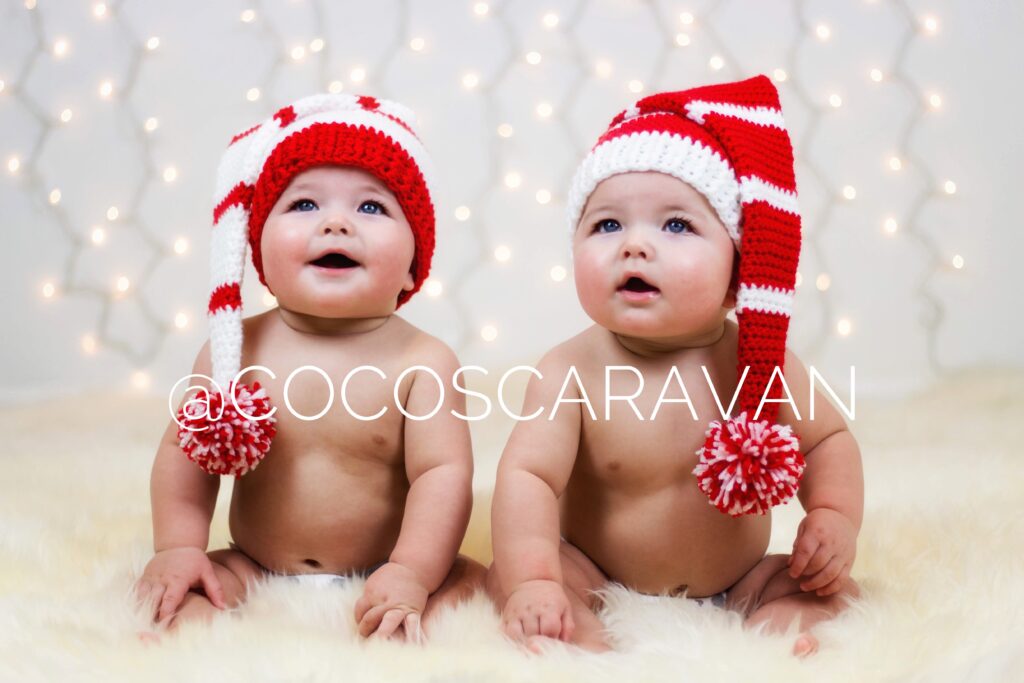 The second Christmas baby photoshoot idea is the lights in the background. Make sure to find a white wall or tape up a white bedsheet for the backdrop. Once you have a white background you can tape up white Chrismtas lights. You want the lights to be close together so they fill up the background. Make sure the string on the lights is white and not green. You want it to blend into the white background as much as possible.
I had a fur rug which added to the picture perfectly. I liked the fur rug because it was able to hide some of their diaper. If you don't have a fur rug any white blanket would work. The hats were given to us, but Santa hats would work great as well.
You will want to take the picture in "portrait mode" so that it will blur the background. If you have the portrait setting on your phone that would be best! You want the lights to be as blurry as possible.
Third Christmas Picture Idea: Elf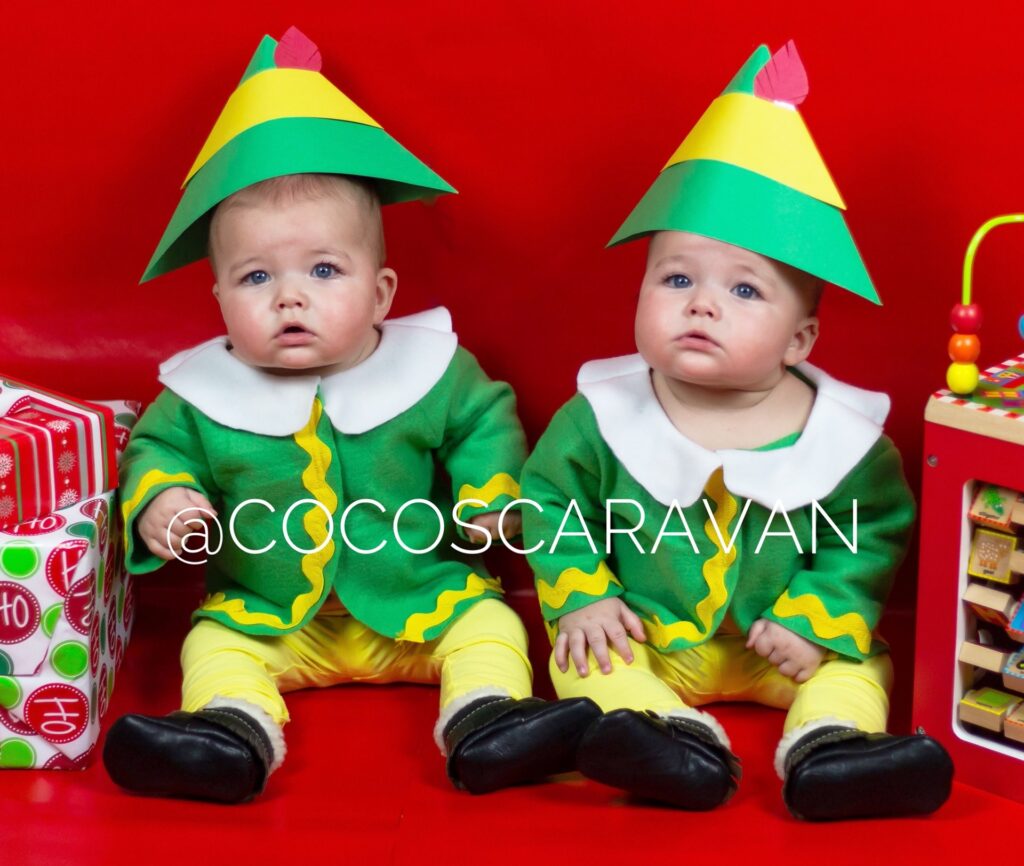 The third Christmas baby photoshoot idea was the elf from the movie Elf. My mother in law made these jackets and it worked perfectly. I bought the yellow leggings and made the hats out of construction paper.
The background was actually wrapping paper that I got from the dollar store. Its a cheap and easy way to make a colored backdrop to your photo. I took some gifts I had wrapped and some toys to add to the picture.
Fourth Christmas Photoshoot Idea: Gifts Under the tree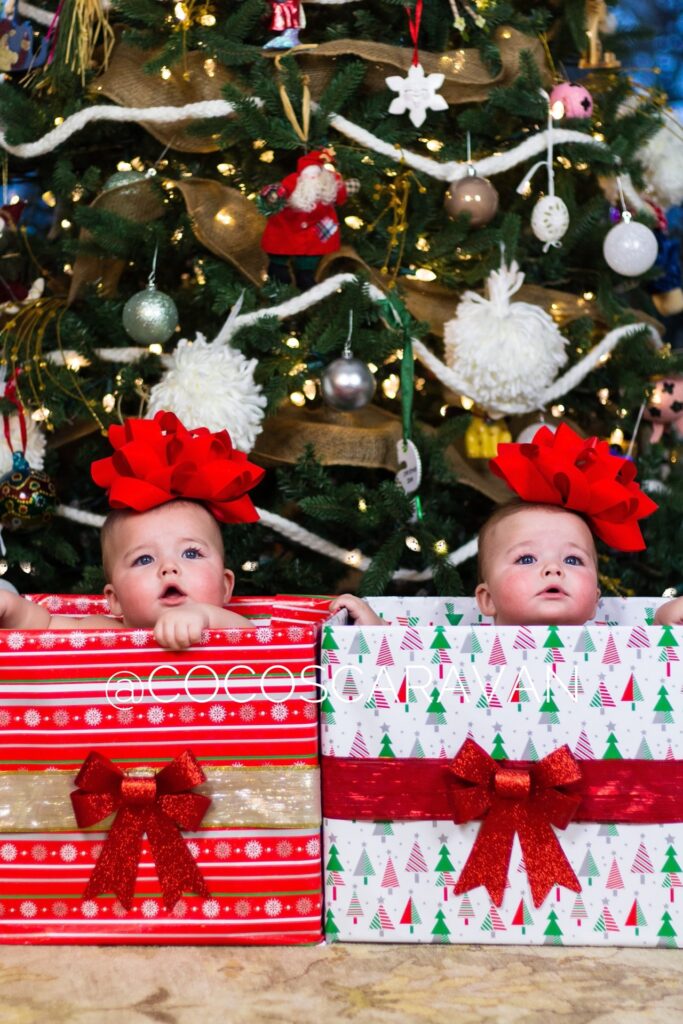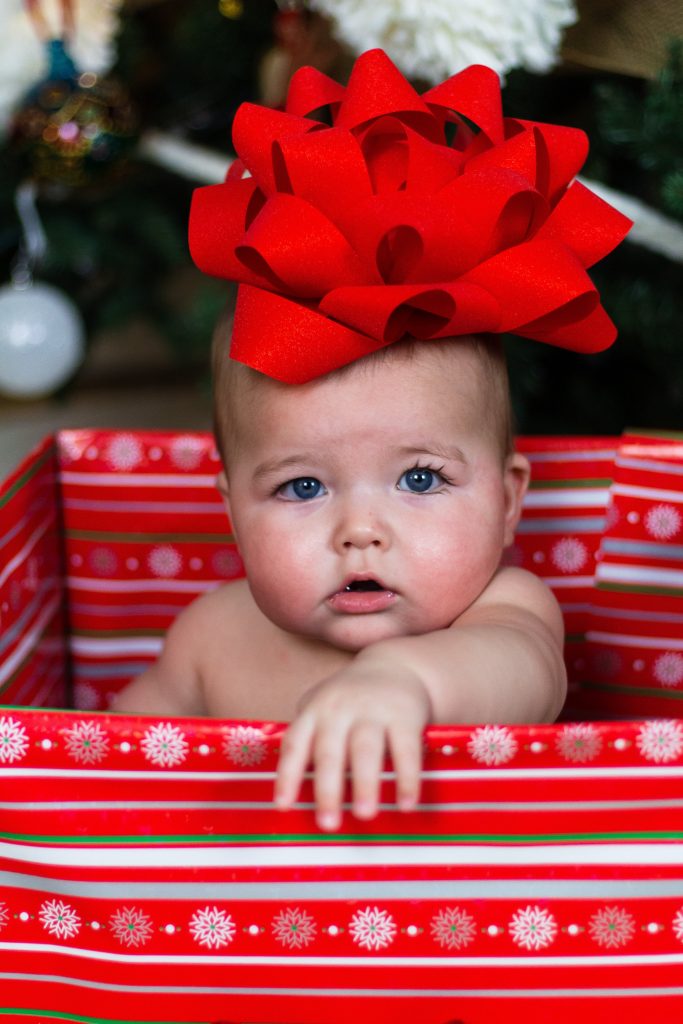 The fourth Christmas baby photoshoot idea is gifts under the tree. I used our toy bins from the playroom and wrapped them with wrapping paper. (the bins are from Ikea) I bought big bows from the dollar store to put on their heads.
I used the Christmas tree as the background so they looked like gifts under the tree. You can make the backdrop whatever you want though.
Fifth Christmas Picture Idea: Pajamas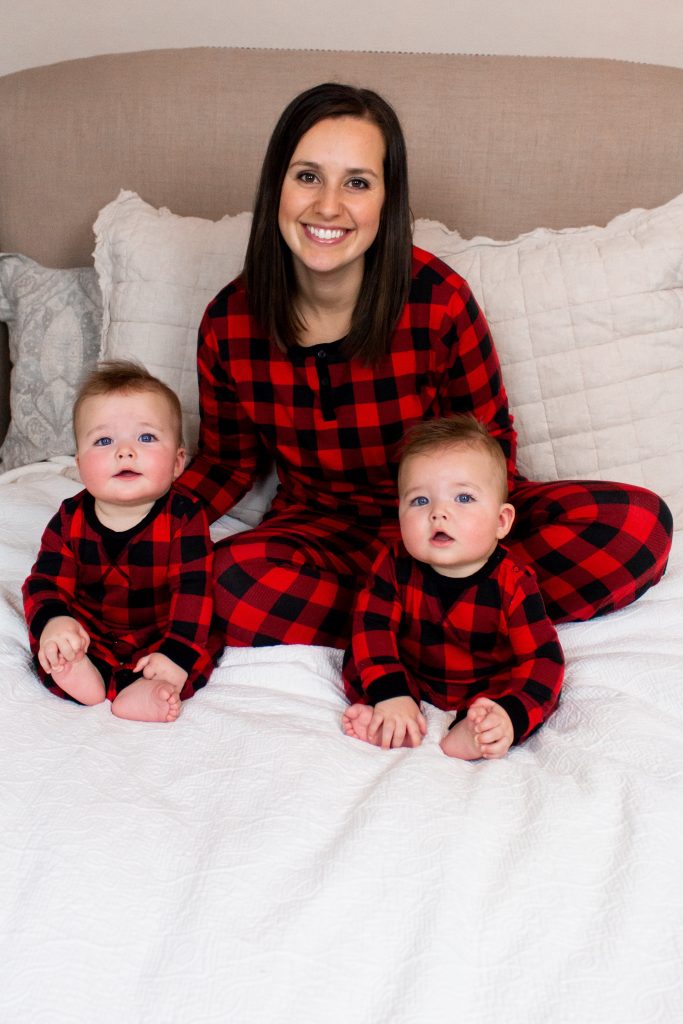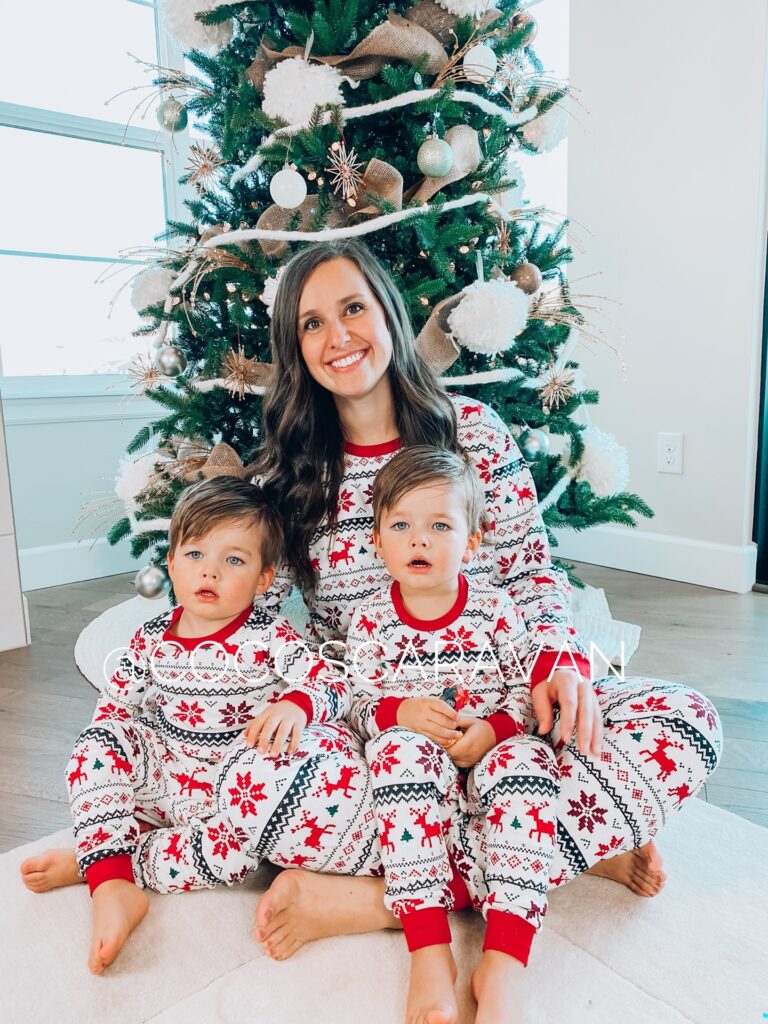 The last Christmas baby photoshoot idea is wearing your Christmas pajamas. The boys still had a hard time sitting up on their own so it helped to take the picture on the bed with me sitting behind them. Try and pick a room with the most light when you take this picture. You can take the picture in front of the tree or on your bed.
I love the tradition of getting Christmas pajamas every year. I'm going to try and take a nice picture every year with our pajamas on. It will be fun to look at them over time.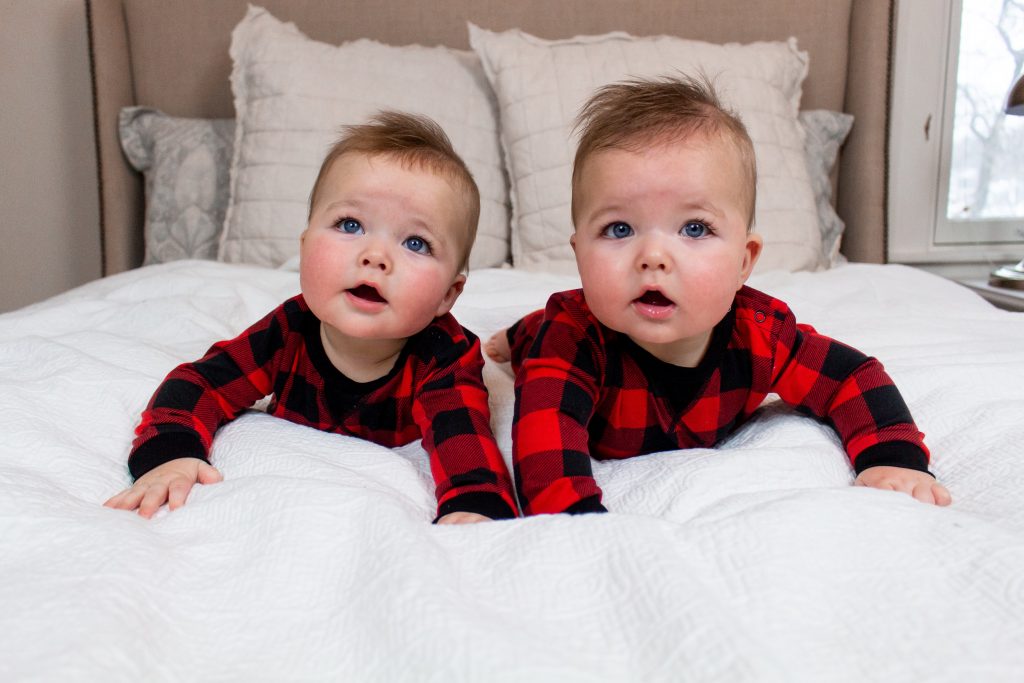 Hope some of these ideas will be fun and easy for you to recreate yourself. Some of them are easier than others, but let me know if you have questions about how I did them in the comments below.
If you are interested in the equipment I use for my photoshoots you can check out my blog post HERE.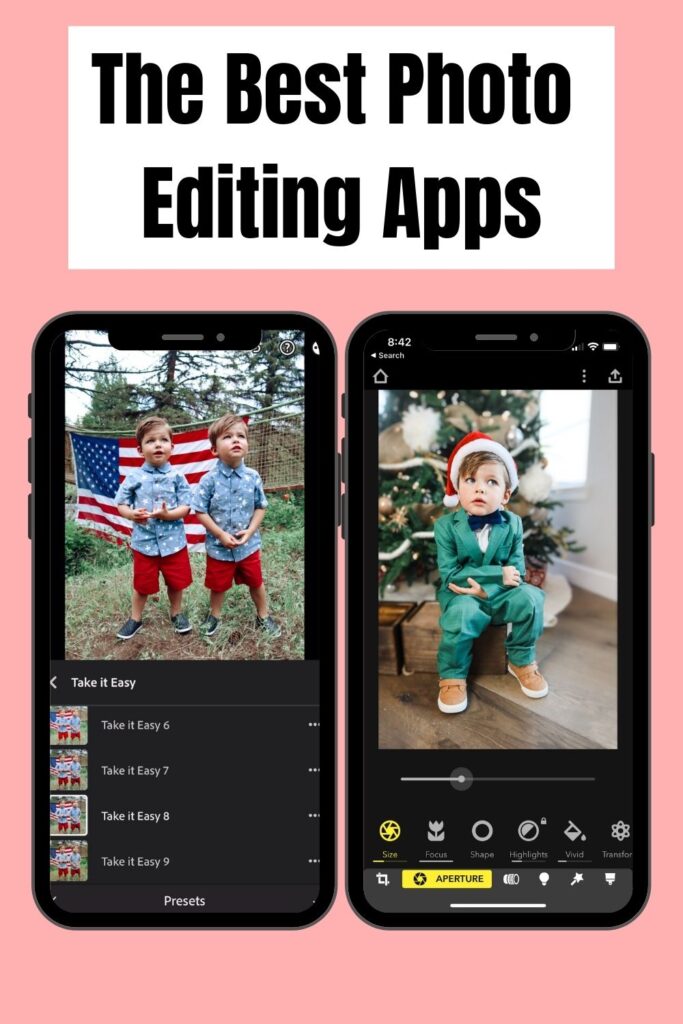 DON'T FORGET TO PIN THIS DIY PHOTOSHOOT TO YOUR FAVORITE PINTEREST BOARD FOR LATER.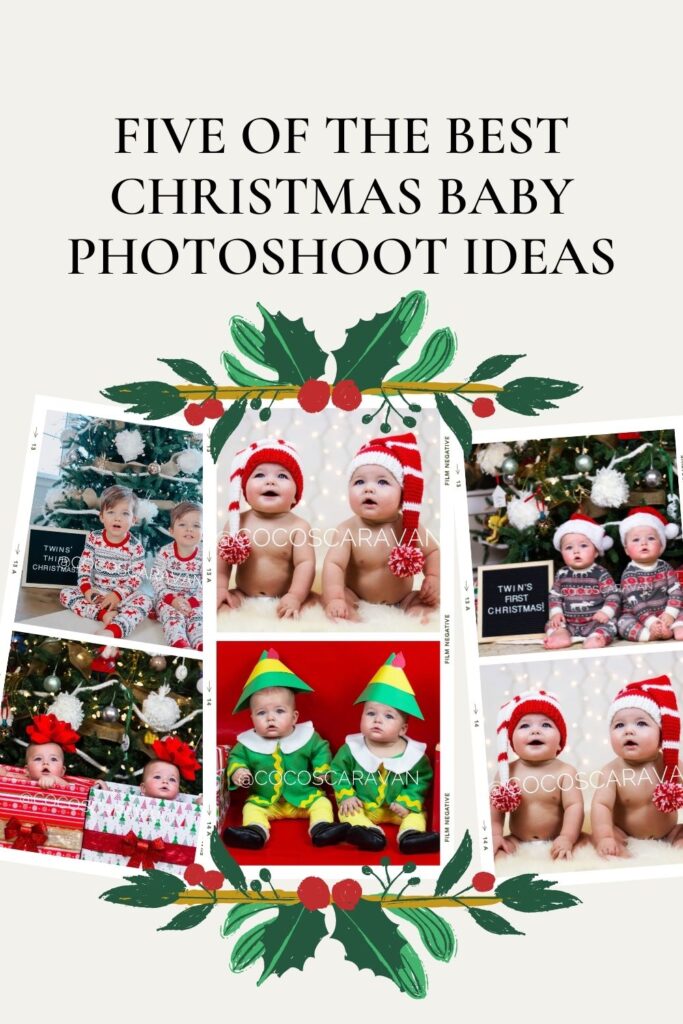 This post may contain affiliate links. See my Full Disclosure for further details.