Gifts for three year olds: Ultimate gift guide for this holiday season or a birthday. My boys are three years old right now so I have a fresh idea of their favorites at this age. I put together a list of some of their favorite toys, books, and play things. Hope this helps make shopping a little easier when trying to come up with ideas.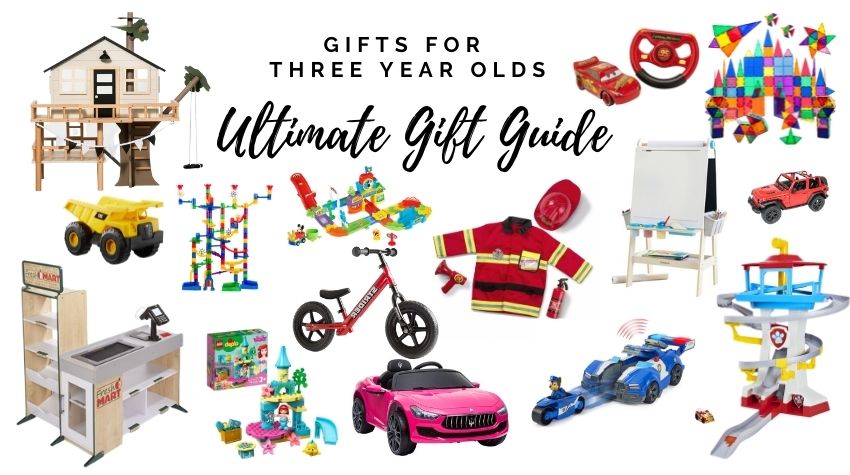 I'm here to help you shop for that perfect gift for your toddler. Make sure to check out my Ultimate toddler gift guide as well as my favorite toys over $50.
Gifts for three year olds
Here is my ultimate list for gifts for three year olds. I tried to add a variety of toys for both boys and girls. As well as try to add books and imaginative play things. Hope this list helps.
Yoto Player is a screen free audio player for kids. They have cards that insert into the Yoto Player that will play music or audiobooks. You can even upload your own music or audiobooks. Its easy to use and my boys love it. You can read my full review on the Yoto Player HERE.
You can't go wrong with Legos. This is the perfect age to buy the Duplo lego sets for your three year olds. They have fun putting together the set or just playing with the legos.
This post may contain affiliate links. See my Full Disclosure for further details.
Car Tracks
This Vtech train track is so fun. I love that the tracks are big enough my boys can build it themselves. You can also buy new sets to add on to this and make it as big as you want. Links to track below picture.
More Gift Guides
Toy Car Towers
This fisher price car tower is the number one choice on Amazon. My boys love playing with this. I also added the Paw patrol tower and a Vtech train tower. These are some of the favorites for car towers. Links to everything below picture.
Toy Cars
I feel like I'm an expert at toys cars at this point. We are all about cars over here. I listed some of my boys favorite and some new ones out right now that look so fun. You can never go wrong with Paw Patrol so I listed some of their best toy cars out right now as well. My boys have the small Mack truck and love to put all the smaller cars on it. You can also never go wrong with hot wheels cars. Right now my boys love Monster trucks and thats all they play with. Links to everything below the picture.
You can never go wrong with dress up clothes for gifts for three year olds. We go to a local children's museum and they love putting on the fire fighter jacket every time we go. Dress up is a great gift to give instead of another toy. It's always good to encourage pretend play and dress up is great for that.
Marble Works (Amazon) (Target)
I bought this marble works for my boys this year for Christmas. My parents had one up at their cabin and my boys played with it for hours. Three years old is a perfect age for starting marble works and this a toy that will grow with them.
Magna Tiles
I put Magna Tiles on my ultimate toddler gift guide because it really is the best toy for kids. You can use them in so many different ways and it can help with that imaginary play. Just recently my boys built little car garage with the tiles for all their cars. I've also see people build a tower and then have toys cars crash into them. You can do so many different things with the tiles. I always suggest this for a fun gift to give a toddler.
Colorful Clear Magna Tiles (Amazon) (Target)
Magna-Tiles Brown Bear, Brown Bear (Target)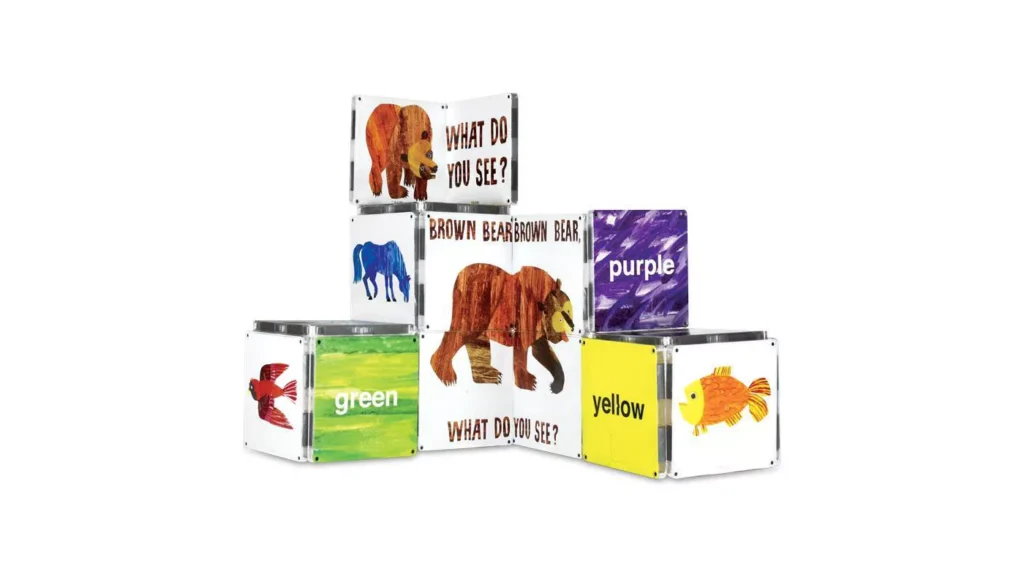 Letter Robots (Amazon)
My mom recently bought these for my boys and they have been obsessed! They have so much fun seeing what each letter turns into. Great way for them to learn their letters and have fun! See more of my favorite Alphabet toys HERE.
I love toys that help encourage imaginative play and something like a doctors kit is perfect for that. My mother in law had a doctors kit at her house and they loved playing with it while they were visiting. The other day my son had me sit down and did a pretend doctors visit. This is the perfect age for something like this. I bought this set for my sons this Christmas.
Dollhouses are fun and creative gifts for three year olds. I saw this treehouse and was so tempted to buy it for my boys. I feel like three years olds is the perfect time to buy a dollhouse and this will grow with them as they get older. Links to all the houses will be below the picture.
Electronic Reader Books
Books can be great gifts for three year olds. I bought this Paw Patrol electronic book set for our most recent road trip and they read the whole time. They love taking the books in their bed at night and can read it by themselves. I taught them how to press the button that goes with the page. They love it! One of my favorite purchases this year.
Frozen Electronic Reader (Amazon) (Target)
An art Easel is another fun and creative idea for gifts for three year olds. I have an Art Easel for my boys and they love it. I try and do something with it once a week. I loved that this Easel has so many places to put markers, paint, and a shelf for supplies below.
If you follow me on Instagram you know I'm always talking about Lovevery toys. They are hands down the best quality toys I have ever seen. Every toy is well thought out and exactly what they are suppose to be learning at that age. It is a subscription, but I think its well worth it. You can buy some single toys at Target if you don't want to commit to the subscription.
This is the big gift I'm going to give my boys for Christmas this year. They love playing with their play kitchen so I knew they would love this as well. I also got them grocery carts to add to the whole experience. They will have a lot of fun playing with this.
Grocery Store Food
Ride on Cars
You can never go wrong with a fun ride on toy for a gift. My boys have this black jeep and they love it. The best part about the jeep is that it comes with a remote control so you can drive for them. I added some of Amazon best sellers as well. Links to everything below the picture.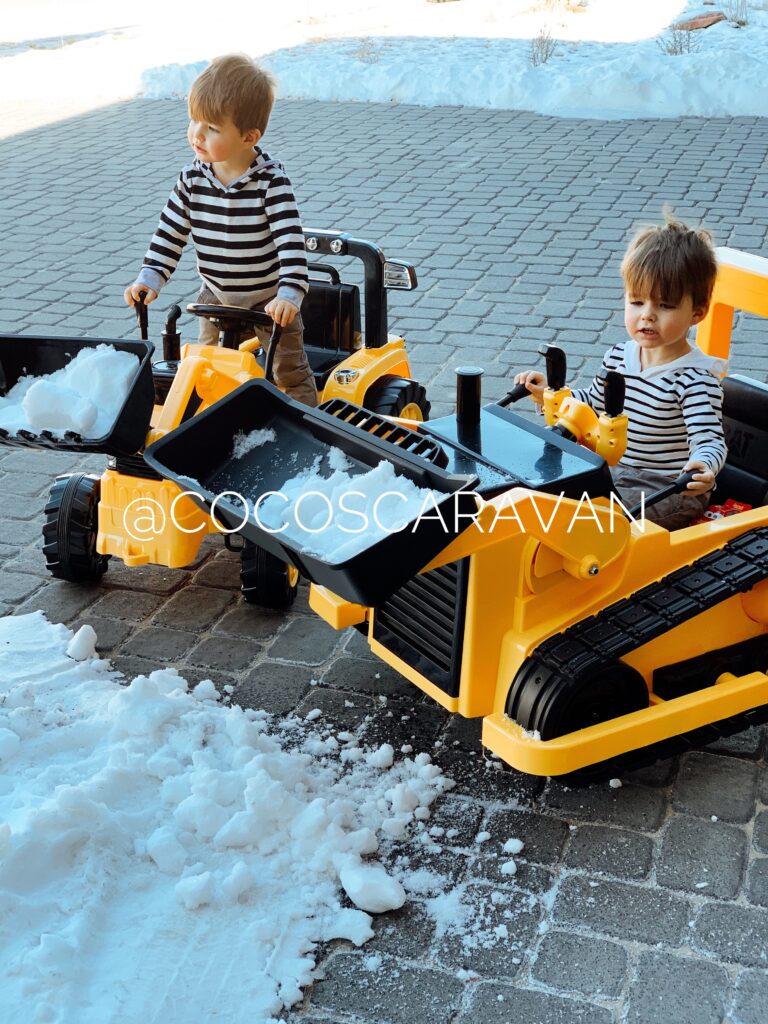 Jeep Ride on (Amazon) (Walmart)
Bikes and Push Cars
This is the age they start to enjoy getting outside and riding bikes and push cars. I listed two of my favorite, but you can see more of my top favorite bikes and ride on toys over on my blog post: 6 of the best toddler bike and ride on toys.
DON'T FORGET TO PIN THIS TO YOUR FAVORITE PINTEREST BOARD FOR LATER
Similar Blog Post