The best travel snack containers for kids
Discover the top travel snack containers for kids, designed to keep little adventurers happy and well-fed on-the-go. From spill-proof bento boxes to insulated snack bags, find the perfect snack storage solutions to make family trips a breeze. Explore our handpicked selection for mess-free snacking and stress-free travel!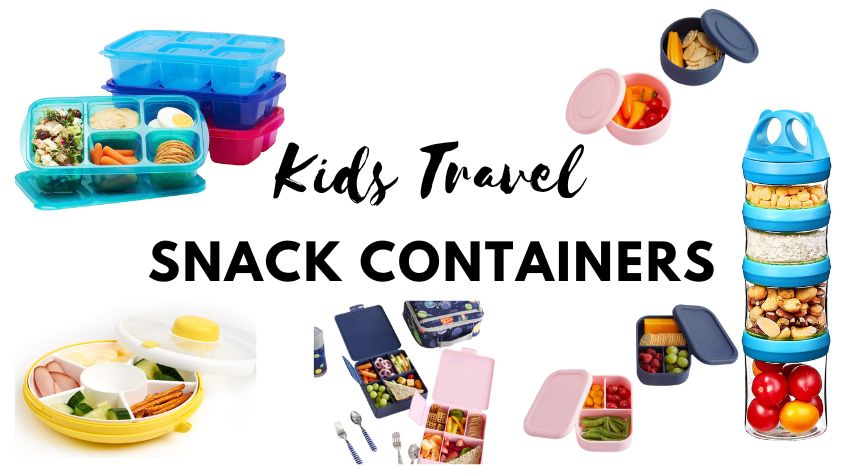 Make traveling easier with the best travel activities for kids.
Why kids love travel snack containers
Travel snack containers are a hit with kids for all the right reasons! These nifty containers come in vibrant colors and fun designs that instantly catch their eye. Kids love the sense of independence they get when they can access their favorite snacks on their own, thanks to the easy-to-open lids and compartments tailored just for them.
It's like having a little treasure trove of treats during journeys! Plus, these containers often keep snacks fresh and mess-free, allowing kids to enjoy their munchies without any worries. Whether it's a road trip, a plane ride, or a picnic, travel snack containers make snacking on the go exciting and enjoyable. It's no wonder kids look forward to snack time with these fantastic companions by their side!
The GoBe kids snack spinner is the perfect travel snack containers. It's got everything you need to keep those little tummies happy on the go. With its spinning magic, your kids can easily reach their favorite snacks without making a mess. And guess what? It comes with multiple compartments for all their munchies!
Plus, it's super durable and totally safe with no yucky stuff. You can just toss it in your bag or car and you're good to go on awesome adventures. Snack time has never been this fun and easy! Get ready for some seriously happy kids during your travels with the Gobe Snack Spinner!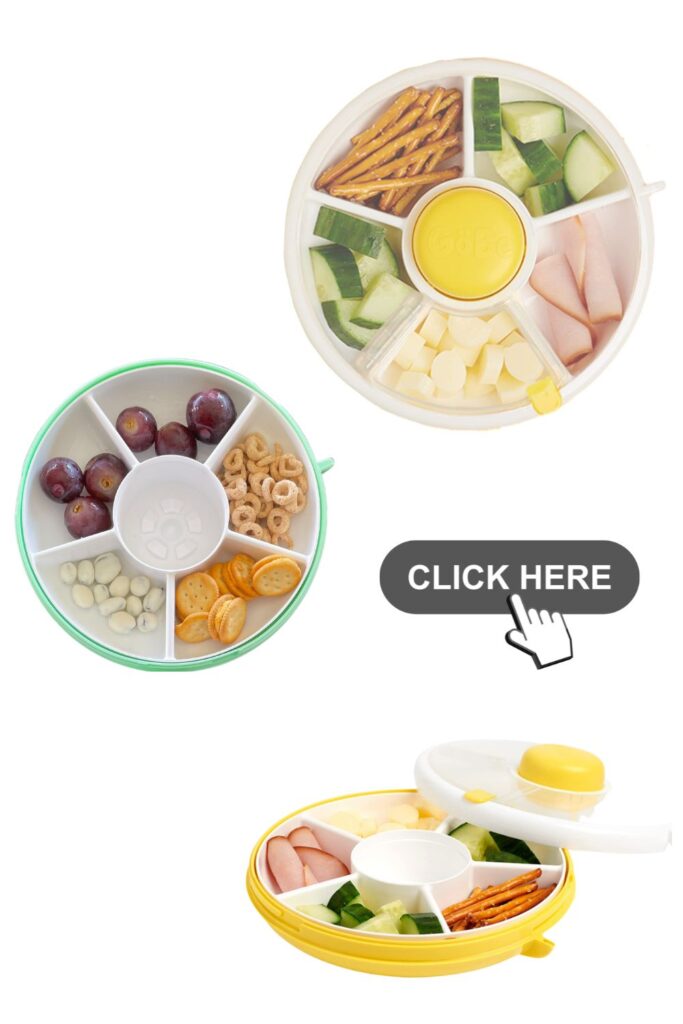 If you need more ideas I also share the best kitchen essentials that I use with my boys. I've had to go through a lot of bad sippy cups and kitchen products to find the perfect ones. I listed my favorite plates, cups, cups, and smoothie cups below.
Pottery Barn is offering the cutest selection of Bento Boxes that can be perfect for travel snack containers. It's a total game-changer for on-the-go munchies. With its cleverly designed compartments, you can pack a variety of delicious snacks all in one place. From juicy fruits to crunchy pretzels, there's room for it all!
The best part? No more spills or mix-ups – each treat stays perfectly in its place. Plus, bento boxes are sturdy and easy to clean, making them a parent's dream come true. Just pop it in your bag, and you're set for any adventure with happy and well-fed kiddos. Embrace snack time bliss with the trusty bento box, the ultimate travel companion for your little explorers!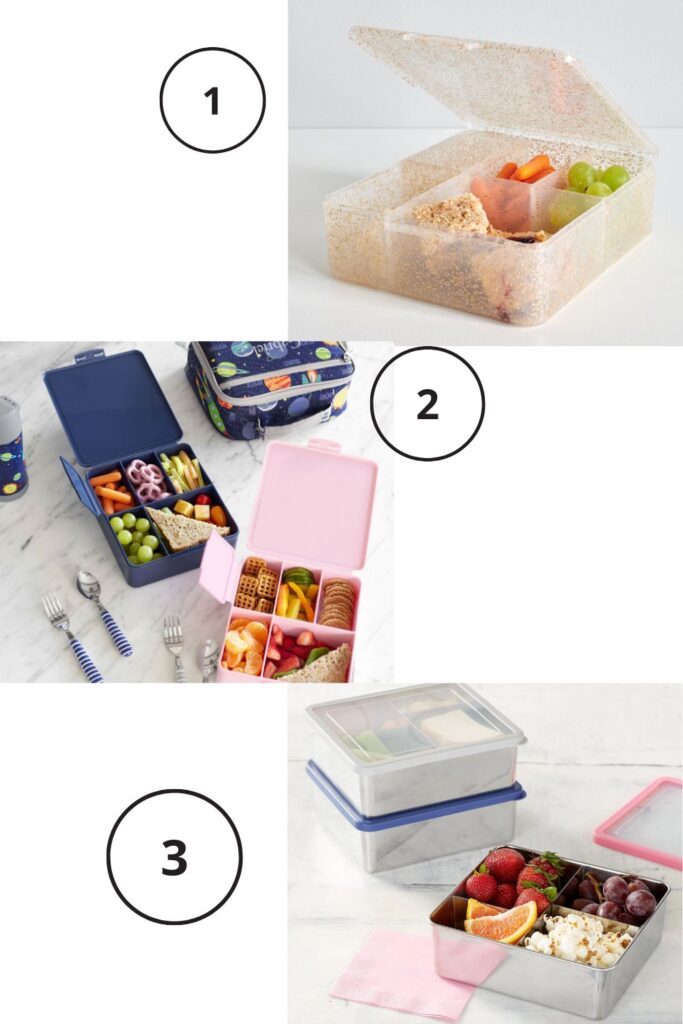 The silicone bento box is another great option for travel snack containers. First off, it's incredibly flexible and collapsible, making it easy to store and carry around when empty. Not to mention, the silicone material is super durable, ensuring it can handle even the most adventurous journeys without cracking or breaking.
Cleaning is a breeze too, as it's dishwasher-safe and resistant to stains. But the real magic lies in its leak-proof and airtight seal, keeping snacks fresh and preventing any messy spills in your bag. With the silicone bento box, snack time becomes a stress-free delight for both kids and parents alike!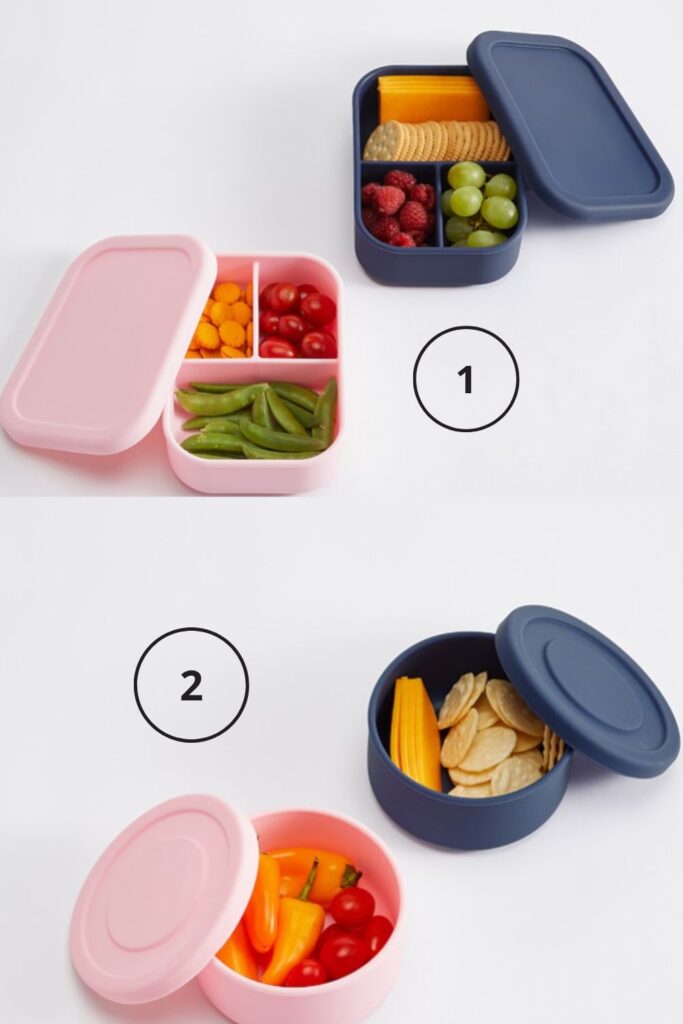 I love the stackable containers for travel snack containers. Its clever and compact design allows for easy stacking, ensuring you can carry multiple snacks without taking up much space. This feature is a real game-changer for busy parents on the move. With different compartments neatly stacked together, you can pack a variety of snacks to cater to your child's cravings.
No more rummaging through bags to find snacks – everything is organized and easily accessible. The Stackable's secure and leak-proof lids keep snacks fresh and mess-free, making it perfect for travel, whether it's a quick trip to the park or a long journey. Say goodbye to snack-time stress and embrace the convenience and versatility of the Stackable, the ultimate companion for happy and well-fed kids on all your adventures!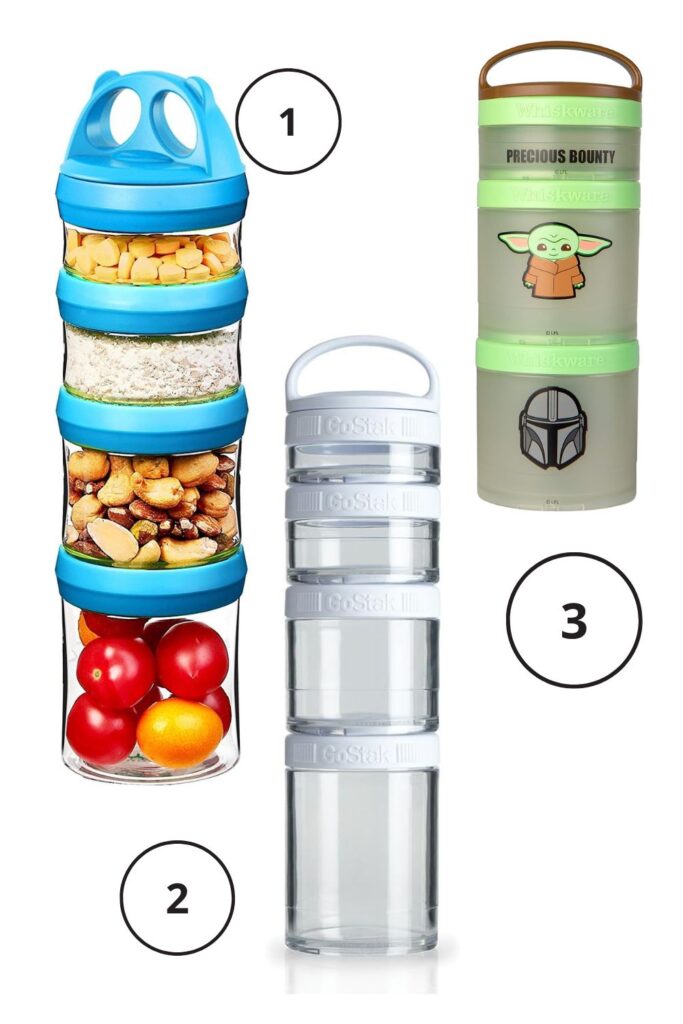 The tackle box is actually such a good and inexpensive way to store your snacks. I've seen such a fun arrangements of snacks using the tackle box. Your kids will love to open this up on the plane or on a road trip.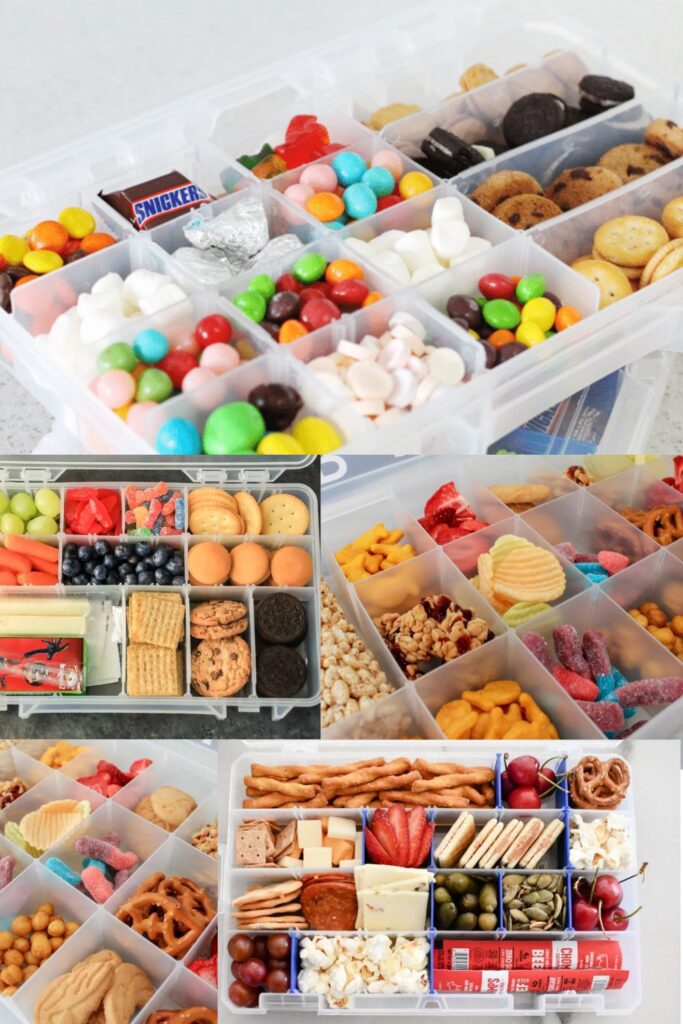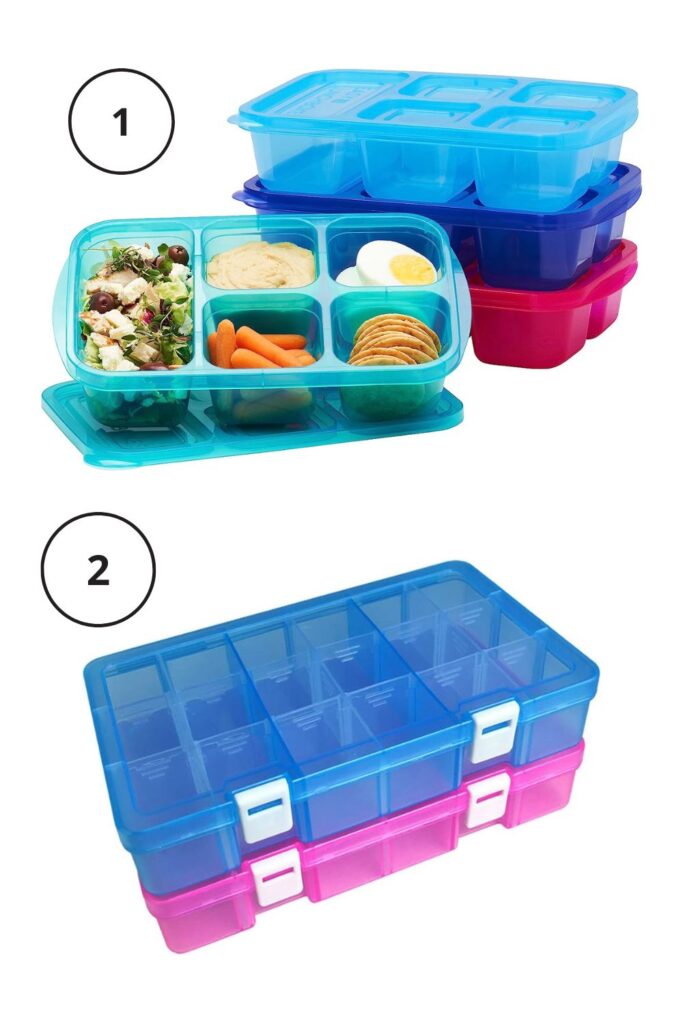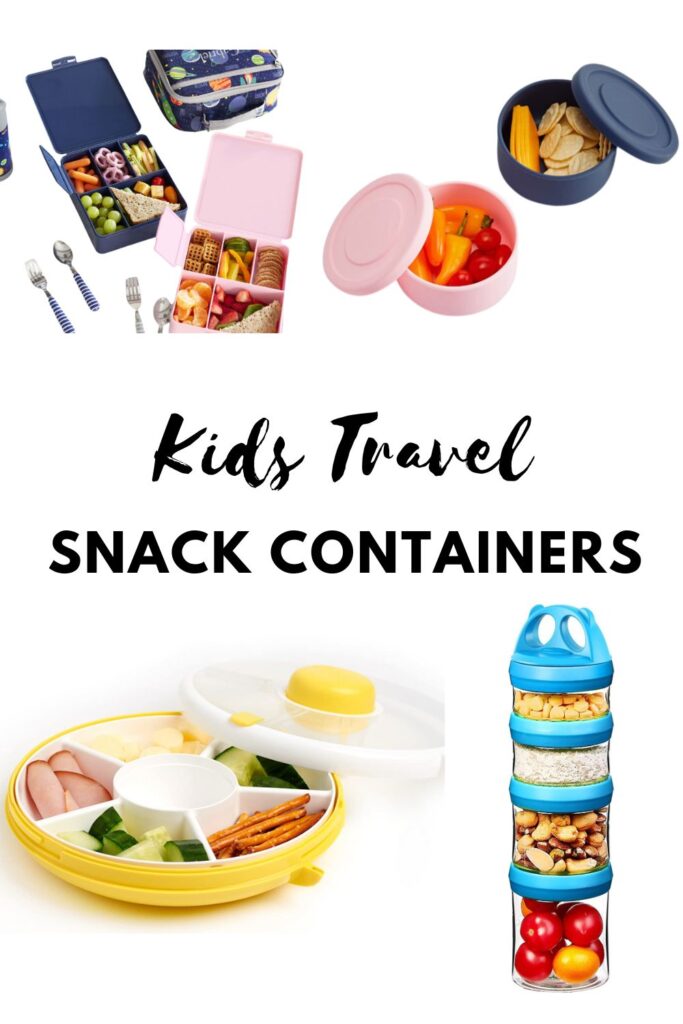 Trader Joe's kid snacks offer a wide variety of kid-friendly snacks that are not only tasty, but also free from artificial flavors, colors, and preservatives. With so many options available in the market, it can be hard to find a snack that is both nutritious and appealing to picky eaters. I listed my favorite snacks below!
Tips for flying or driving with kids