How to make an easy kids artwork display at home
If you have been wanting to make an easy kids artwork display for your home, you have come to the right place. This artwork display is cheap and easy to do at home with no drilling involved!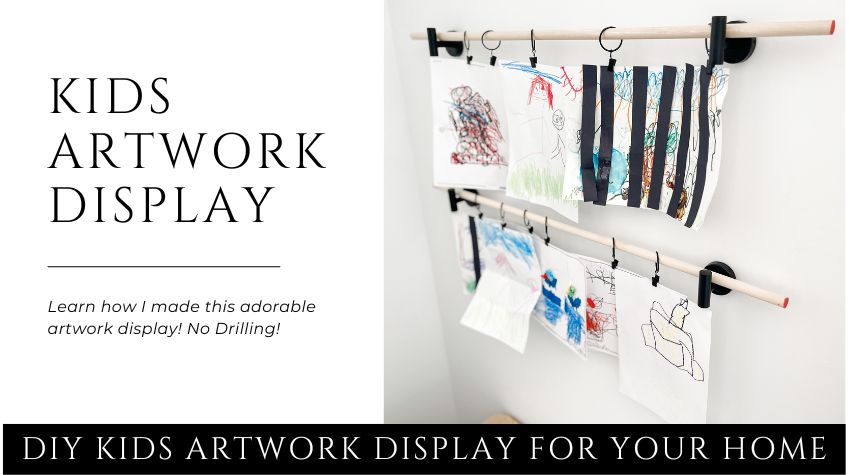 You might also want to hang their summer activity chart or chore chart on this kids artwork display. So many things you can do with it.
Why it's important to display kids artwork
Displaying your kids' artwork is important for several reasons. Firstly, it nurtures their creativity and boosts their self-esteem. When you proudly showcase their creations, you send a powerful message that their ideas and efforts are valued and appreciated. This validation encourages them to continue exploring their artistic abilities and develop their unique talents.
Additionally, displaying their artwork creates a sense of pride and accomplishment in children. It provides them with a tangible representation of their progress and growth over time. Moreover, exhibiting their artwork can foster meaningful conversations and connections within the family.
It offers an opportunity to engage in discussions about their inspirations, techniques, and the stories behind their creations. By displaying their artwork, you not only celebrate their artistic endeavors but also create a supportive environment that encourages their overall development and self-expression.
Not sure what to do with your kids keepsake and school work? I'm here to help you keep things organized and safe. Check out my blog post where I show you how to make your own memory bin for your kids.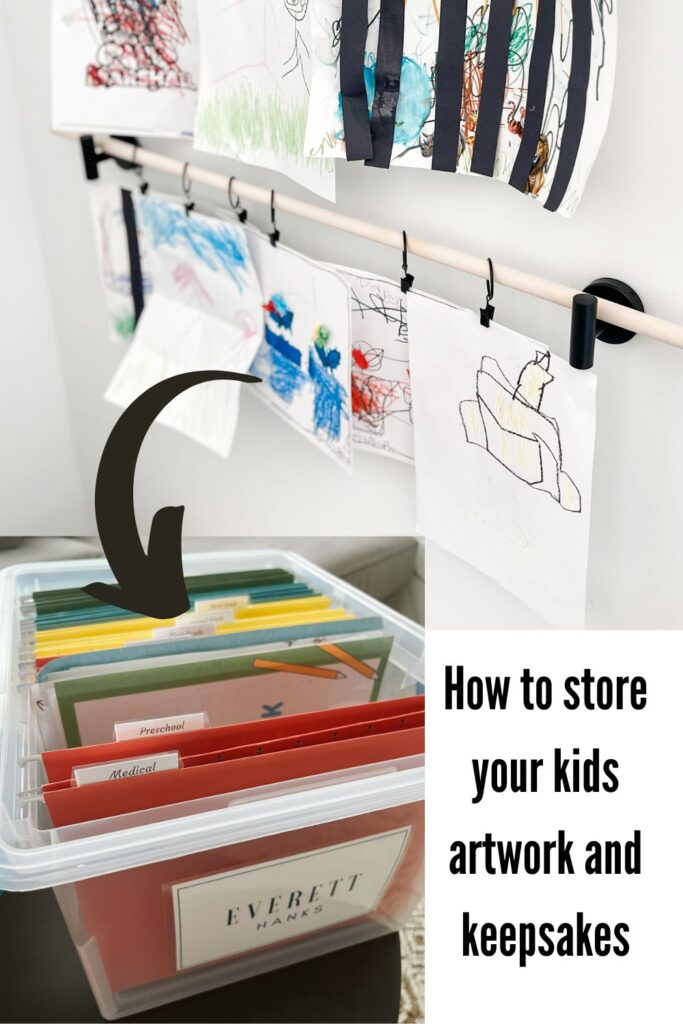 My kids artwork display
My kids come home with the cutest artwork and the fridge was not the best place to keep putting them. They would get knocked off or ruined from opening and closing the fridge doors. I wanted to create a corner to display their artwork, but make it look cute as well.
I decided to make a kids artwork display in our kitchen and it turned out so cute! Super easy to do and I didn't have to drill anything. Continue reading to see how I made this.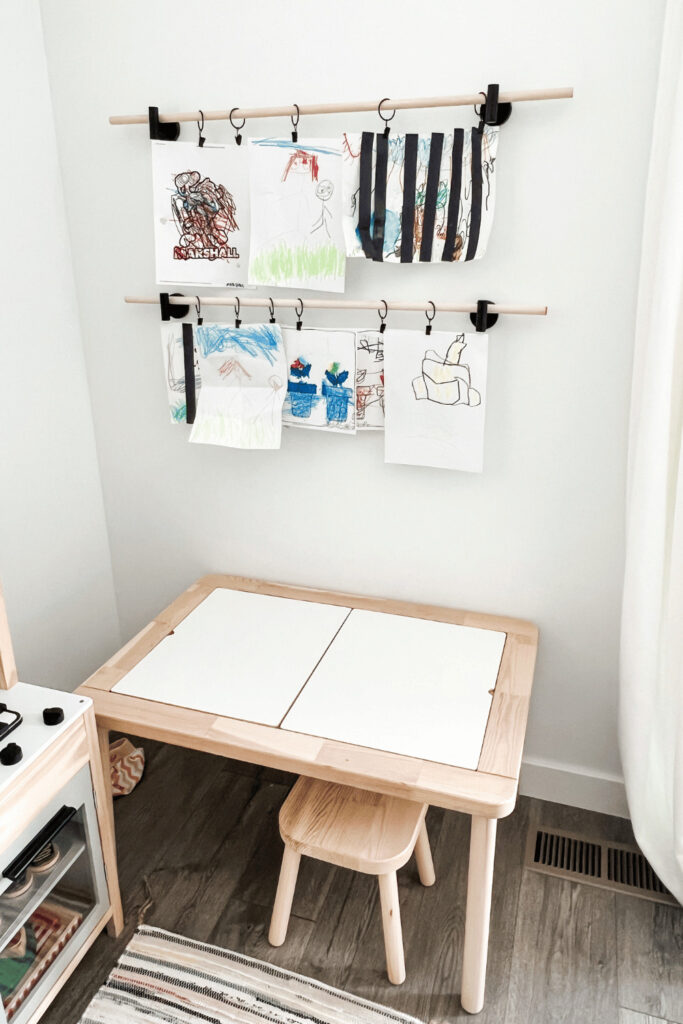 Kids artwork display supplies
This kids artwork display is so easy to make you just need 4 items to complete it. NO DRILLING! I went to my local Walmart and got their wooden dowels and picked the size I wanted. You can go with whatever you want, but I went with the 36" Long, 5/8-inch Diameter dowel and that was the perfect size.
I got hooks to hang the wooden dowel and the curtain clips to hang the artwork. I decided to do no drilling and use picture hanging strips to hang the hooks on the wall.
Hanging kids artwork display
To install the kids artwork display you will need a level to make sure the dowels are straight. You will also need painters tape so you can see where you want them before you install. I first taped them to the wall to decide the desired space in-between the two dowels. I even clipped artwork so I would know what it would look like once I hung paper.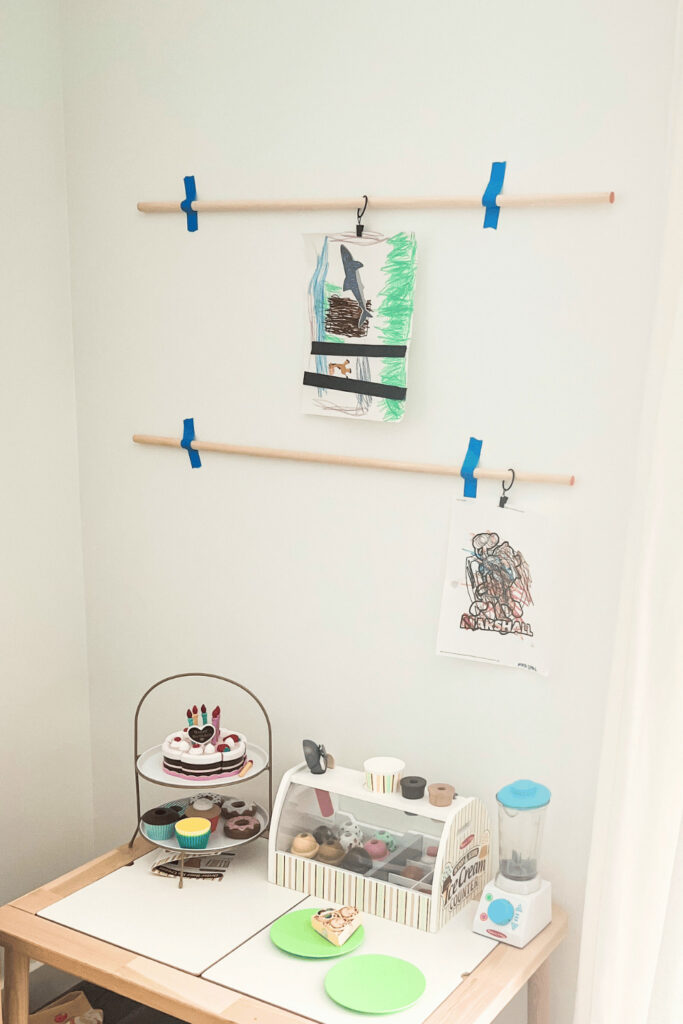 The picture hanging tape I had was longer than the black hook. I cut it down so you wouldn't see the tape peeking out from behind the hook. I stuck the tape to the hook and once it was level I pushed it to the wall. No drilling needed! The level will help you keep it straight.
I first started by taping the right hook then using the level to tape the left hook. I did have to step back and readjust the hooks to make it look more level. Glad I used tape because I was able to unstick it and re-stick it to the wall. Since we are just hanging paper using the picture tape to hang the hooks was totally fine.
Hang Chore Chart or Summer Activity Chart
You can also use the kids artwork display to hang their chore chart or their summer activity chart!
Pin this to Pinterest to find later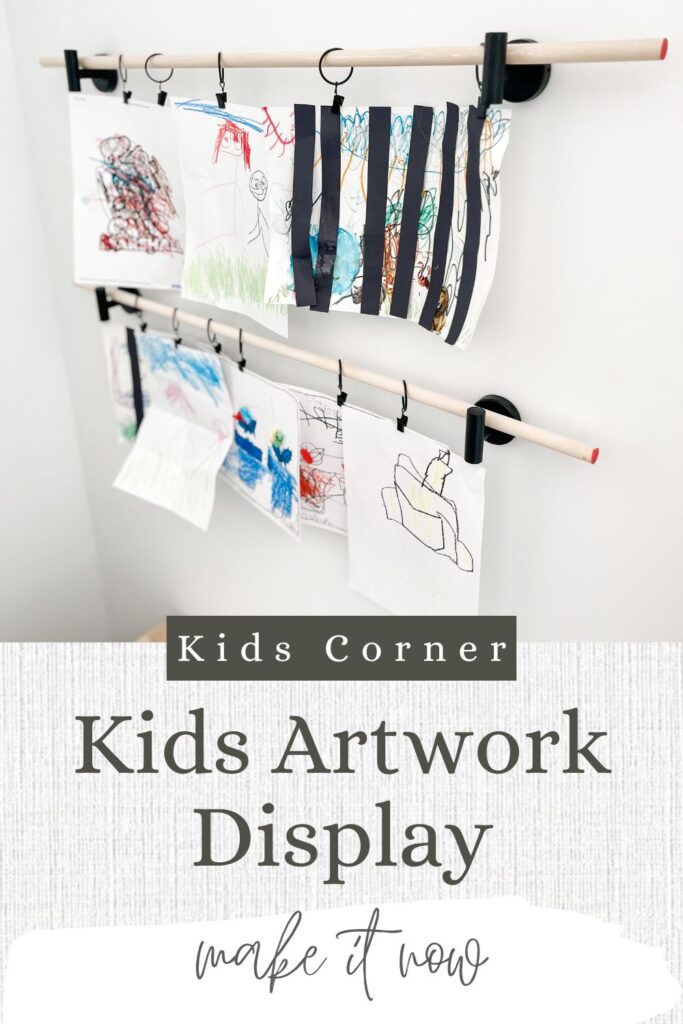 You might also be interested in: