Unplugged Play for Kids: Introducing the Yoto Mini Player
Discover the magic of the Yoto Mini Player – a compact and portable audio device that revolutionizes storytelling and education. Explore a vast library of interactive cards, immersing yourself in captivating tales, songs, and educational programs. With its child-friendly interface and adorable design, the Yoto Mini Player is perfect for kids and adults alike. Experience the joy of audio content on the go, with the Yoto Mini Player, where technology meets imagination.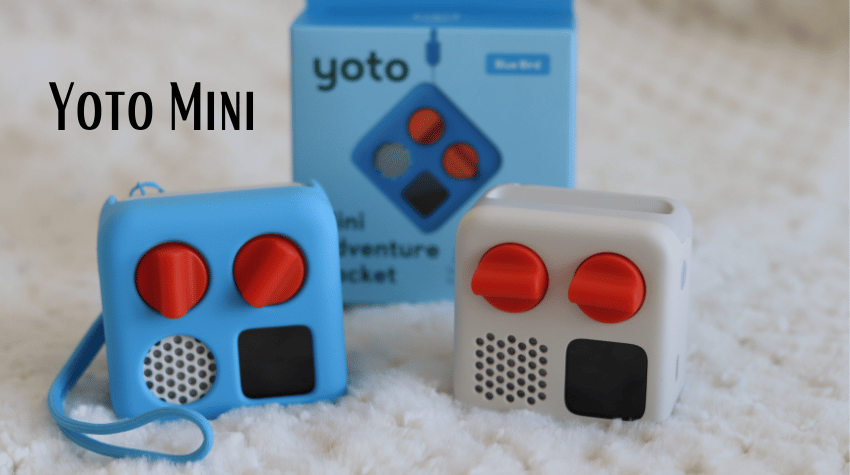 We love the Yoto so much, make sure to read my full review on the Yoto player.
What is the Yoto Mini Player
I absolutely adore the Yoto Mini Player for so many reasons. First and foremost, its compact size and adorable design make it incredibly appealing and easy to carry around. It fits perfectly in my hand, making it ideal for both kids and adults alike. But what truly sets the Yoto Mini Player apart is its unique and innovative approach to storytelling and education.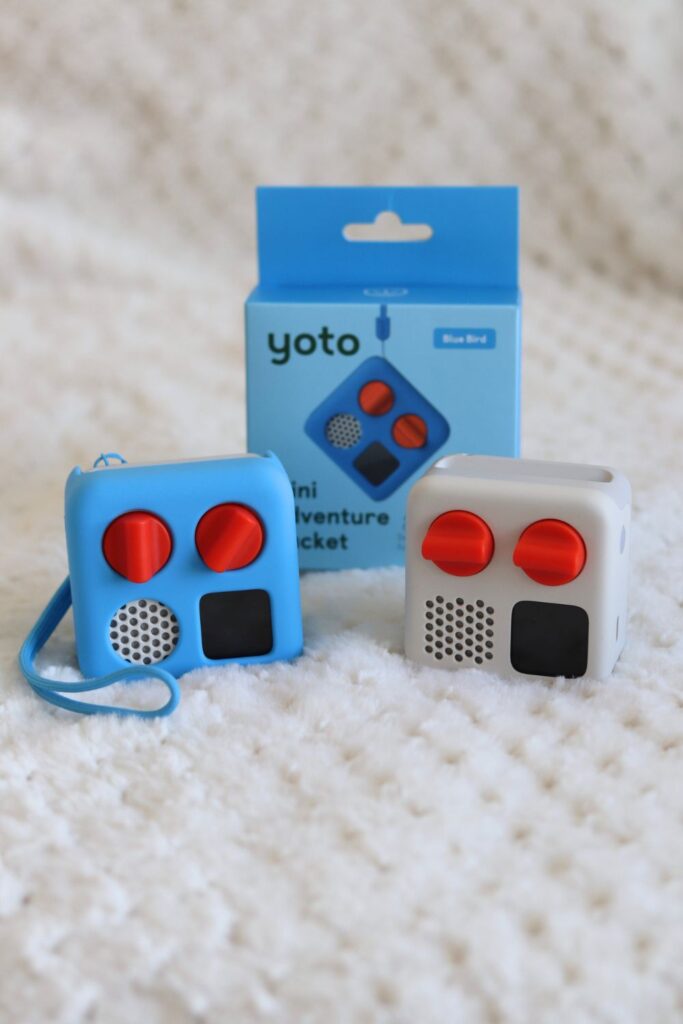 With its interactive cards, I can explore a vast library of captivating audio content, from classic tales to educational programs. The intuitive controls and child-friendly interface make it effortless to navigate and enjoy my favorite stories and songs. The Yoto Mini Player has truly revolutionized the way I experience audio content, combining technology with imagination in the most delightful way.
Yoto Player Vs. Yoto Mini
The Yoto Player and the Yoto Mini Player are both fantastic devices that offer a remarkable audio experience, but they cater to slightly different needs. The Yoto Player is a larger device that serves as a standalone audio player and speaker. It has a larger screen, which allows for visual elements like album covers and animations. With its built-in speaker and more robust hardware, the Yoto Player delivers rich and immersive sound quality.
On the other hand, the Yoto Mini Player is a smaller and more portable version, designed specifically for on-the-go use. It retains the same delightful interactive features as its larger counterpart, but with a more compact design that easily fits in your pocket. The Yoto Mini Player is perfect for travel or for children who want to carry their favorite audio content wherever they go. Ultimately, whether you choose the Yoto Player or the Yoto Mini Player depends on your specific preferences and requirements. Both devices offer an incredible audio experience and a vast library of content to explore.
The Yoto Mini accessories are the perfect companions to enhance your Yoto Mini Player experience. From colorful and protective silicone cases to stylish headphones, these accessories add functionality and style to your device. The silicone cases not only provide a vibrant and fun look but also offer protection against bumps and scratches, keeping your Yoto Mini safe during your adventures.
The headphones are specially designed for children, with adjustable sizes and comfortable padding for long listening sessions. Additionally, the Yoto Mini accessories include charging docks and battery packs, ensuring that you never run out of power when enjoying your favorite audio content. With the Yoto Mini accessories, you can personalize and optimize your Yoto Mini Player, making it even more enjoyable and convenient for everyday use.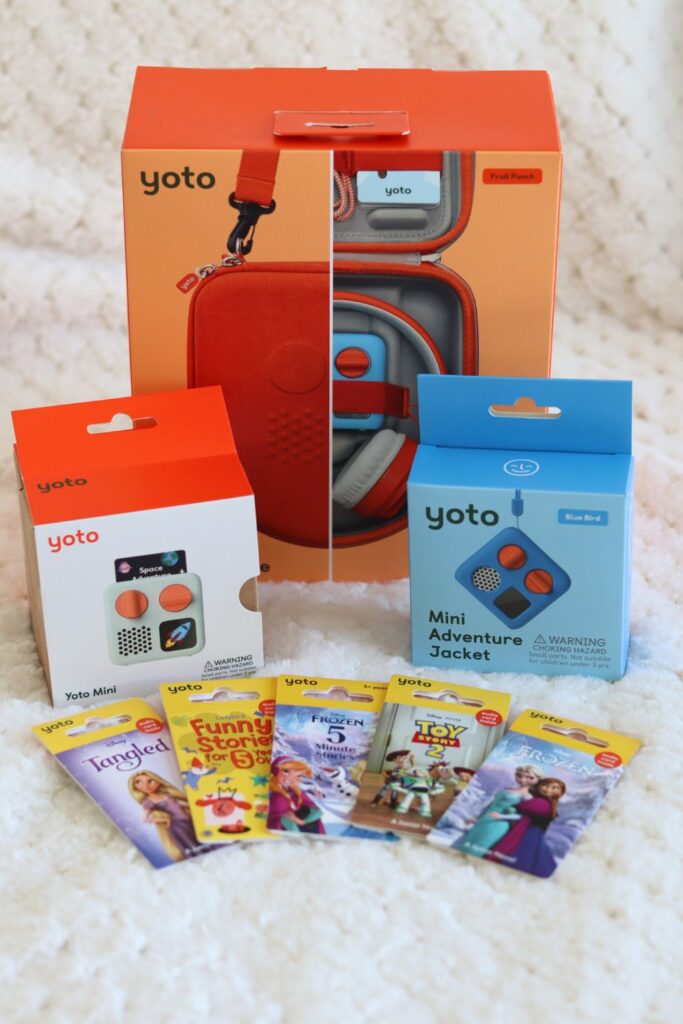 More cases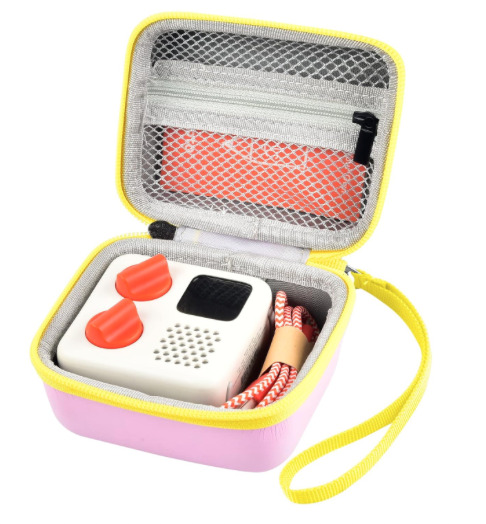 Traveling with Yoto Mini
Traveling with the Yoto Mini Player is an absolute delight. Its compact size and lightweight design make it the perfect companion for any journey, whether it's a long road trip or a quick flight. The Yoto Mini easily fits into any bag or even a pocket, ensuring that you can bring your favorite audio content with you wherever you go.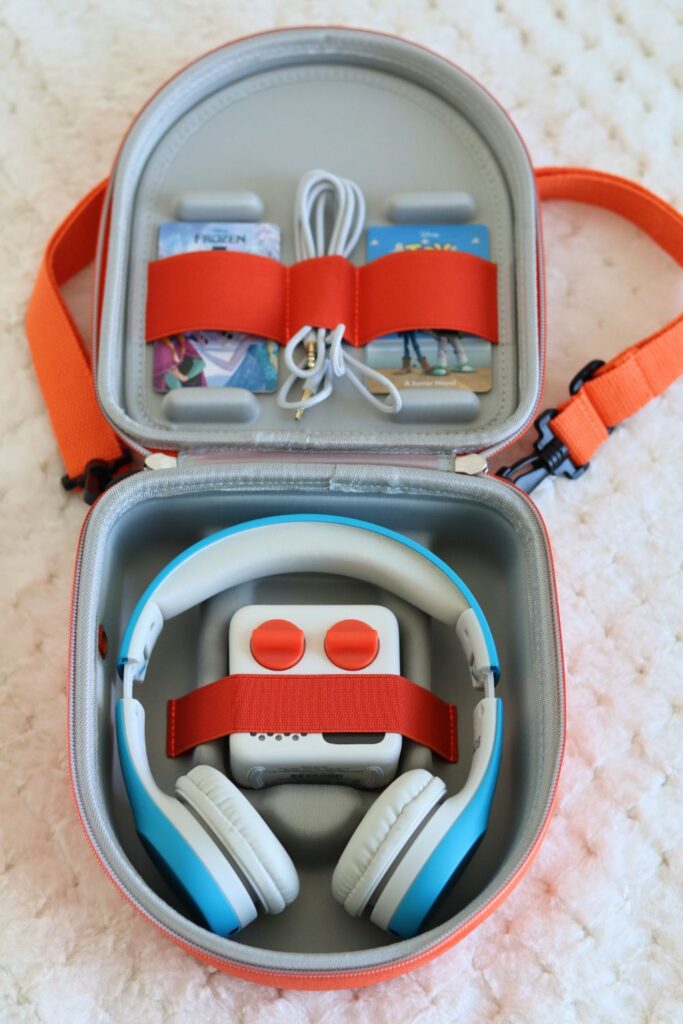 Its durable build and sturdy construction provide peace of mind, knowing that it can withstand the rigors of travel. Whether you're exploring new cities or simply relaxing on a beach, the Yoto Mini keeps you entertained and engaged with its wide array of interactive cards, offering a world of stories and music at your fingertips. Traveling with the Yoto Mini ensures that you never have to compromise on the quality of your audio experience, even when you're on the move.
Our Favorite Yoto Cards
The Yoto Player cards are truly the heart and soul of the Yoto Player experience. These interactive cards are ingeniously designed to unlock a world of stories, music, and educational content. Each card represents a different audio program, whether it's a classic tale, a popular song, or an educational podcast. The cards feature beautiful artwork and are carefully crafted to engage users of all ages.
By simply inserting a card into the Yoto Player, you are transported into a captivating audio adventure. The cards are not only entertaining but also educational, offering a diverse range of content that sparks curiosity and fosters learning. With a growing library of cards to choose from, the Yoto Player cards ensure that there is always something new and exciting to discover, making every audio experience a delightful and enriching one.
Read my review on the Yoto club and if its worth it on my Yoto player review blog post.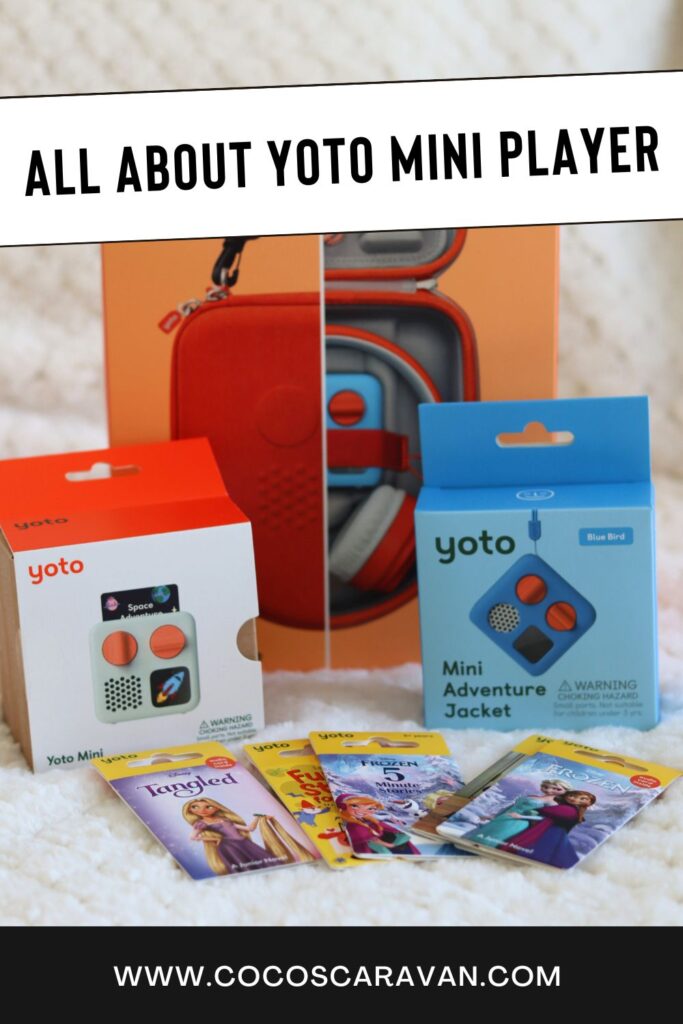 You might also be interested in: