How to put together a festive Christmas charcuterie board
My sister and I put together this Christmas charcuterie board and we were so happy with how it turned out. A charcuterie board is the perfect thing to bring to a Christmas party. I'm going to show you how we put it together and everything you will need for it.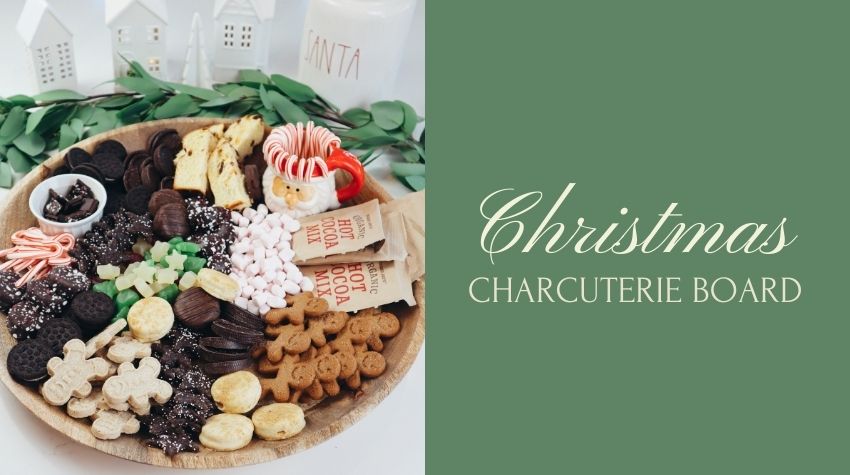 Most of the food items I use in this Christmas charcuterie board came from Trader Joe's. Check out my favorite holiday treats from Trader Joe's to get more ideas on what you can add to your Christmas charcuterie board.
What is a charcuterie board?
A charcuterie board is a display of cured meats on a cutting board. It has become very popular lately and now people will add cheese, crackers, and nuts with the meat. It's just a selection of food that offers contrast, various textures, and different colors.
It's almost an art form in the way you display the food. The idea is you can bring it to a party or use with a group of friends. Its food that is easy to eat kind of like finger foods. You don't have to display it on a cutting board and you can use any plate you like. There are essential no rules, just have fun!
What is a Christmas charcuterie board?
A charcuterie board was first just an assortment of meats on a cutting board, but has branched out to different types of food. Now people have created all sorts of different yummy charcuterie boards. In this case a Christmas charcuterie board is just an assortment of Christmas treats on a cutting board.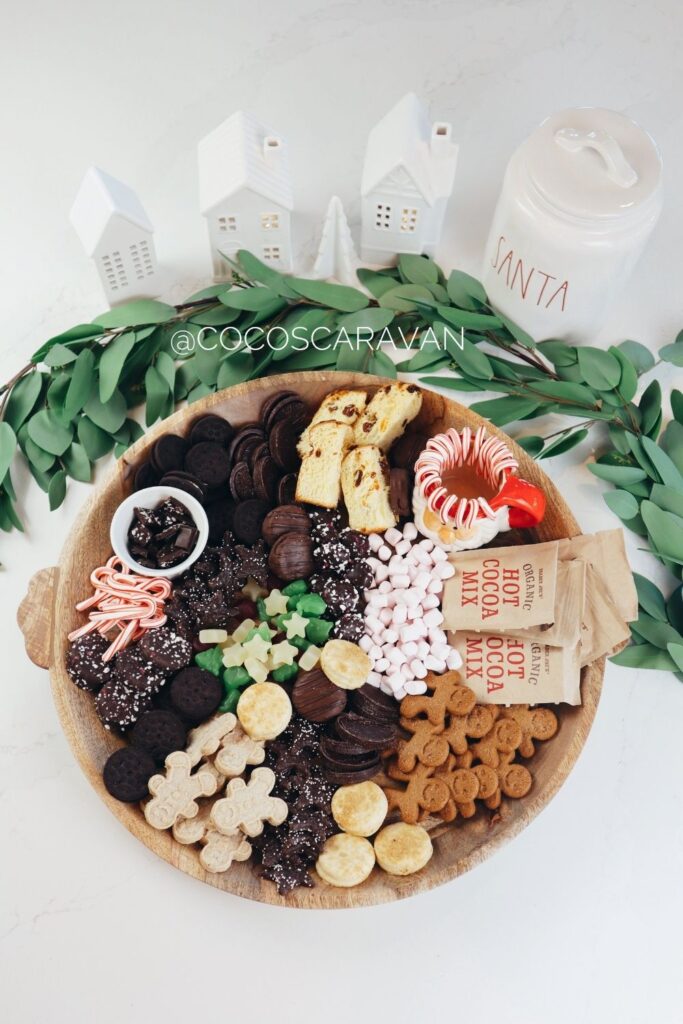 Christmas charcuterie board ingredient ideas
I got the majority of my treats for this Christmas charcuterie board form Trader Joes. I listed my favorite Christmas treats to buy from Trader Joe's on another blog post so make sure to check that out as well.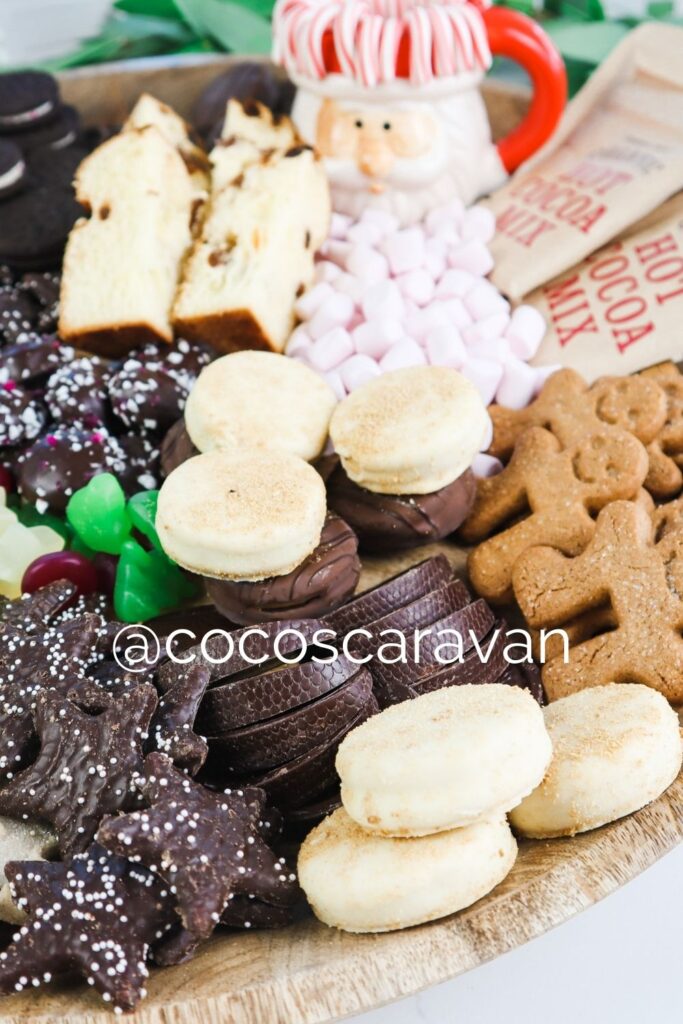 Ingredients:
Christmas Cookies
Gummies
Marshmallow
Chocolate
Candy Cane
Hot Cocoa
Gingerbread Men Cookies
Peppermint Bark
What board to use
There are really no rules of what board you can use. You can use a wooden cutting board or a nice holiday plate for this. My sister had this beautiful wooden plate that we ended up using and it worked perfectly. I will link some fun boards or plates you could use below.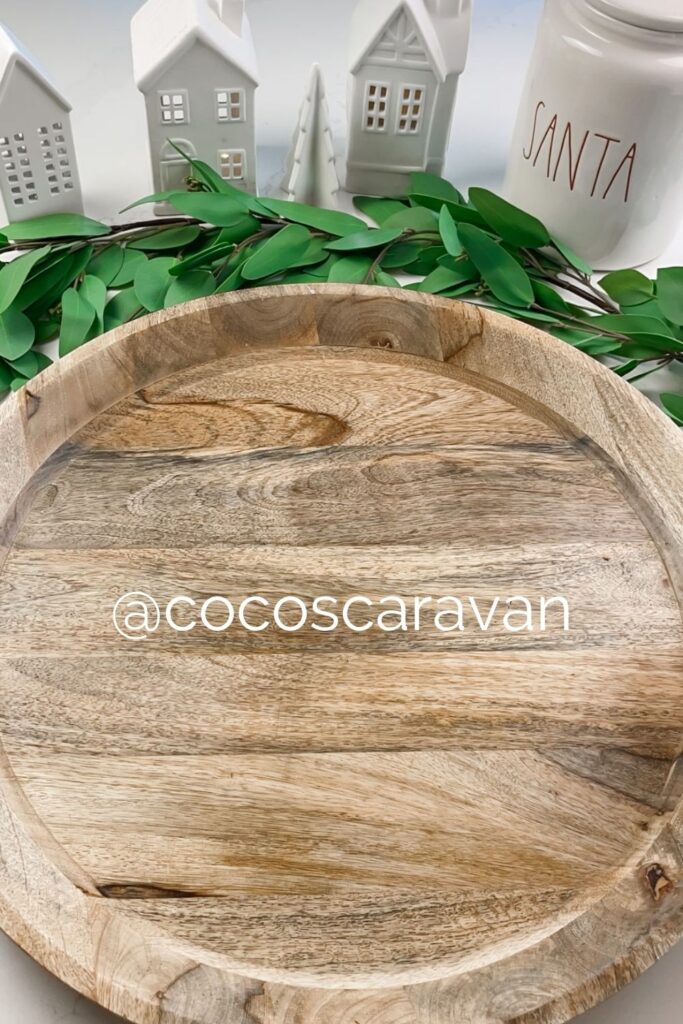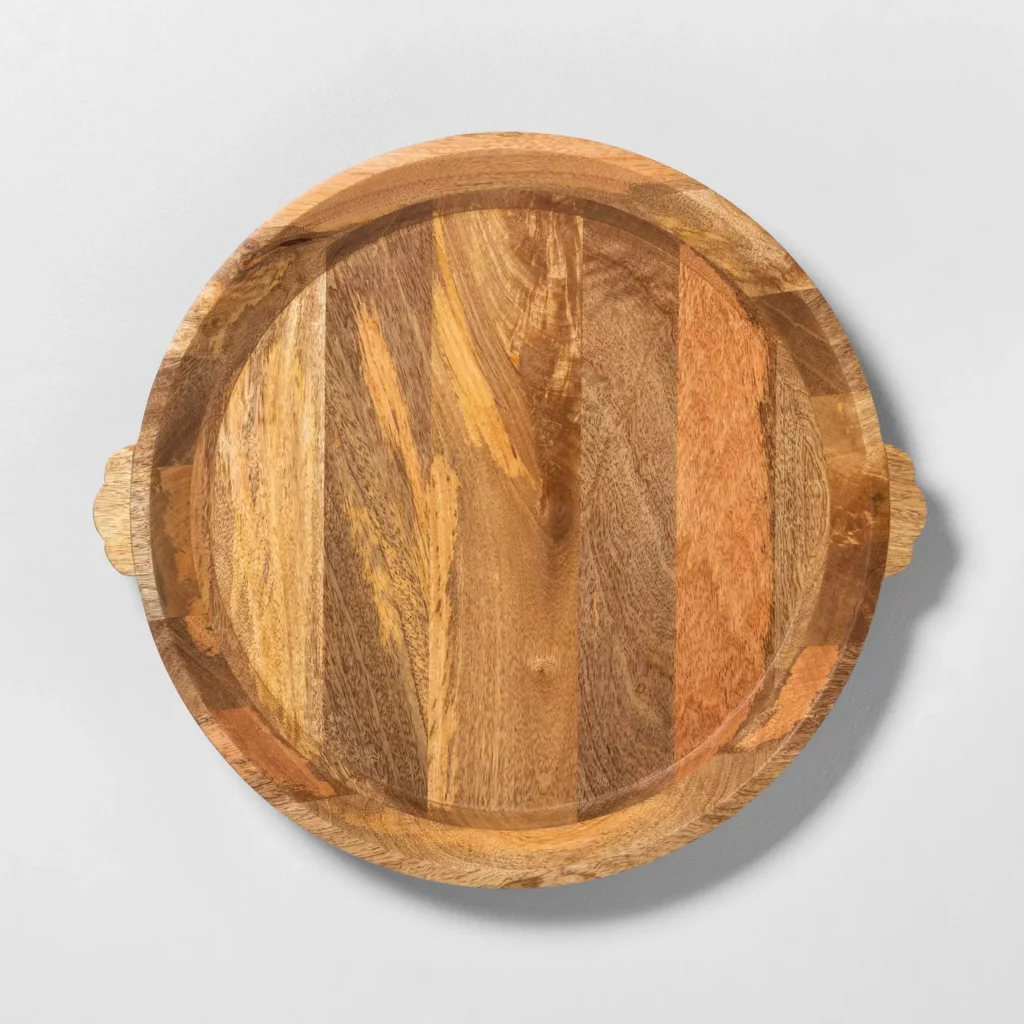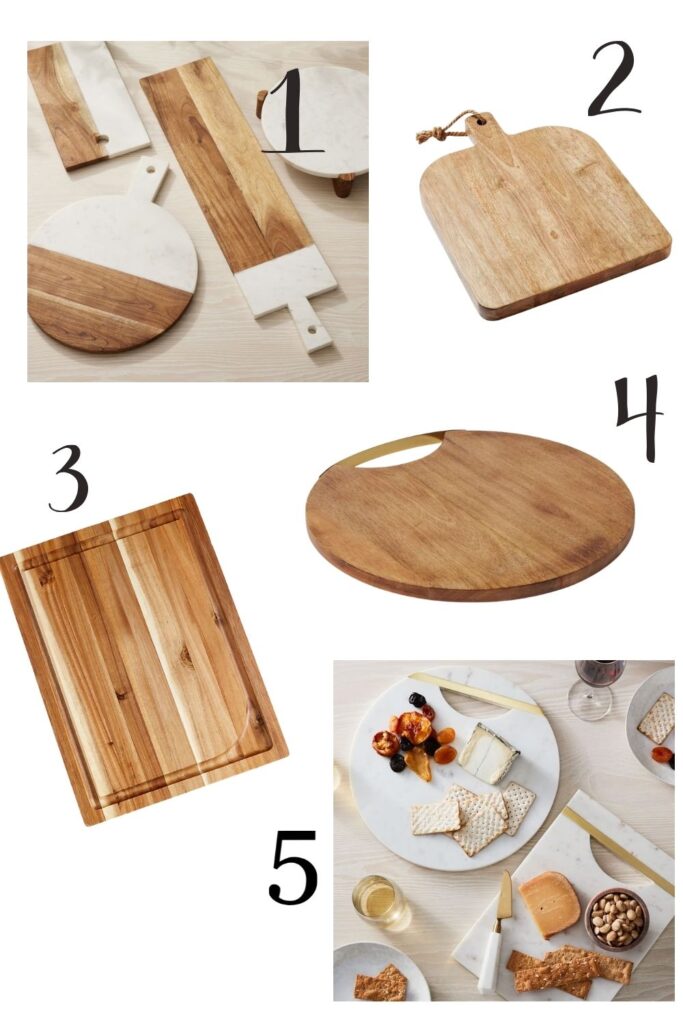 This post may contain affiliate links. See my Full Disclosure for further details.
How to plate a Christmas charcuterie board
The way you display your Christmas charcuterie board is almost like an art form. Its a beautiful masterpiece when you finish. A charcuterie board is a selection of food that offers contrast, various textures, and different colors. In my Christmas charcuterie board I have a variety of different colors and textures. As you start to put food on your board think about where you will place things. We had to move things around often to find the perfect fit for everything.
I love adding cute bowls or mugs to get that pop of color and contrast. We placed those down first and then put the treats around them. The marshmallows, candy cane, and gummies all add a pop of color, so make sure to not place them side by side. Have some darker color cookies that go in between them.
You can also mirror your board. If you put Joe Joe's cookies on the top left side then you can do the same on the bottom left side. Just remember to spread the different colors and textures apart.
Watch my video below to see how we placed all the food on the board.
How to take pictures of your Christmas charcuterie board
If you love how your Christmas charcuterie board turned out and you want to take a picture I can give you some tips.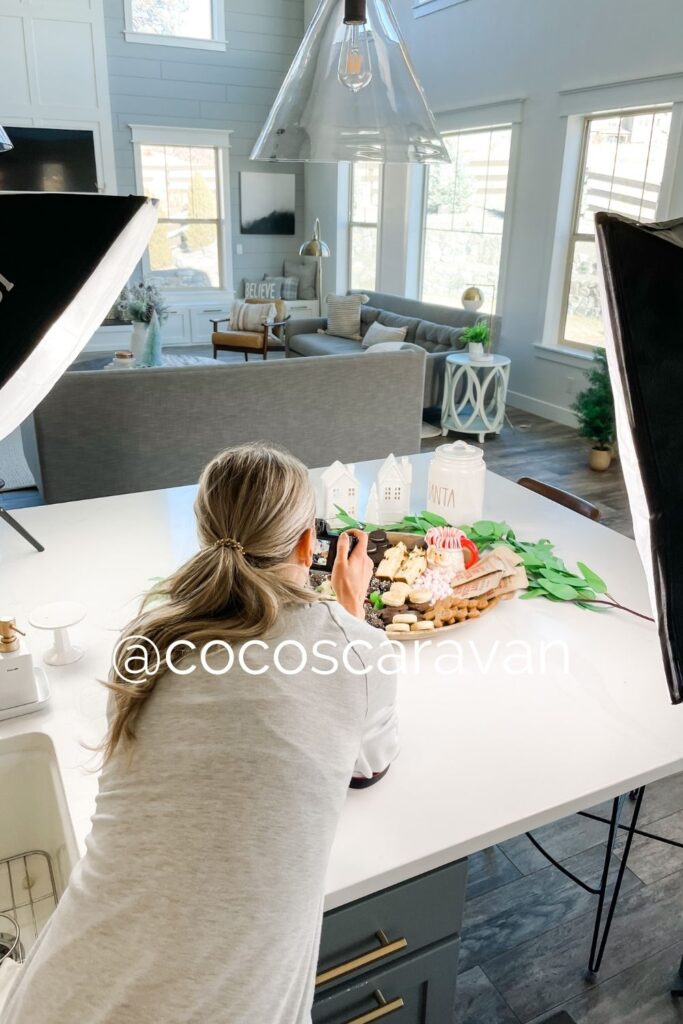 First Tip: Use natural light from your windows. When you turn lights on from your ceiling it can give off a yellow color and make the food look weird. You can see the professional photography lights I use on my blog post HERE.
Second Tip: Add some Christmas decoration around the top of your board. My sister had some cute greenry and the white houses we placed on top. Use decorations you have around your home to just add to the photo. Try not to add to much or make it to busy in the background.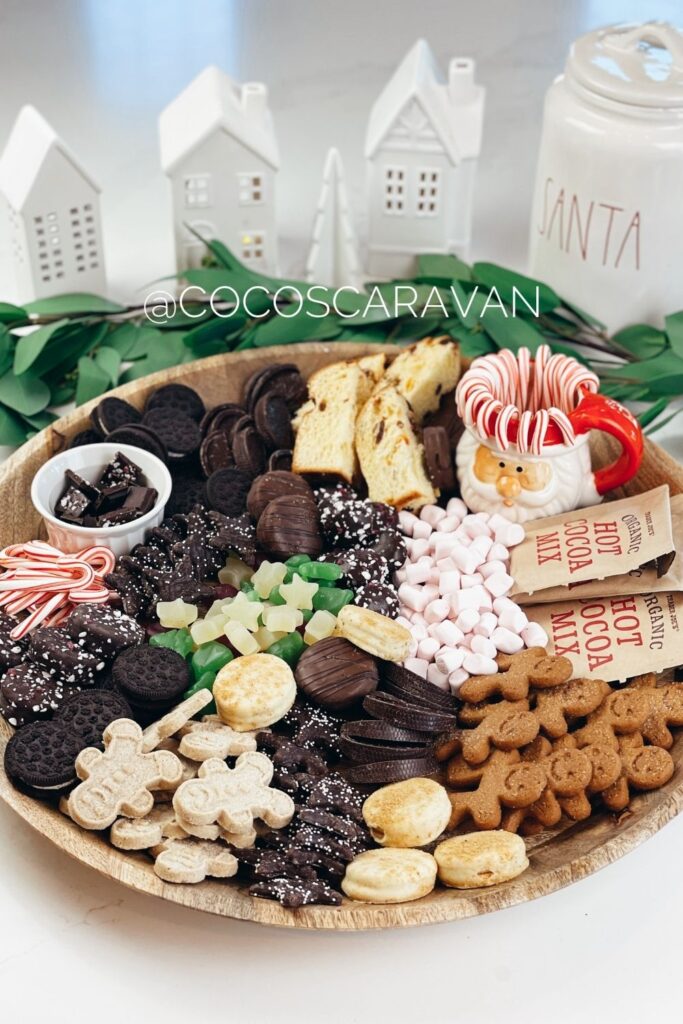 Third Tip: Use the portrait mode on your phone. It will focus on your board, and blurr the background. Portrait mode can make your photo look professional.
Fourth Tip: Take one picture from a birds eye view. Stand on a stool or chair so you are directly above it. This way you can see the whole board from above.
Last Tip: Edit your photo! Check out my blog post "My favorite apps to edit photos" to see what I use to brighten up a picture. This can finalize your photo to give it that professional look!
DON'T FORGET TO SAVE THIS PIN TO ONE OF YOUR BOARDS ON PINTEREST SO YOU KNOW WHERE TO FIND IT FOR LATER