My Top 10 Favorite Tik Toks Videos of 2020
I thought it would be fun to put together my top 10 favorite Tik Tok videos I made in 2020. Most of my followers are either on Instagram or here my blog and don't have Tik Tok so I thought it would be fun to show them here. I love creating videos and waiting to see everyone's reaction on how they liked it. It brings me so much joy!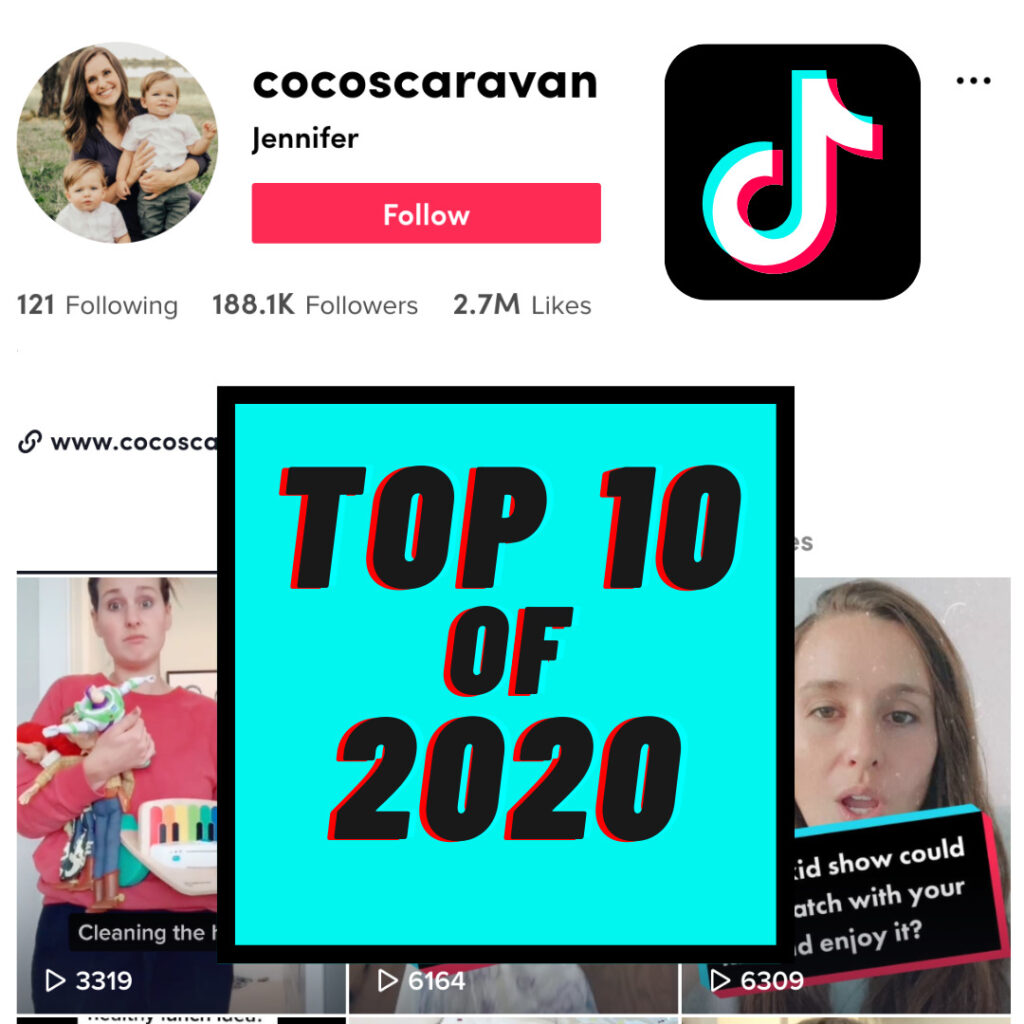 I am also so happy that Tik Tok came out during quarantine! It was the perfect solution to get my mind off of things and I had so much fun making tons of videos! Let me know which video was your favorite in the comments below! Follow me on Tik Tok @cocoscaravan
Tik Tok Favorites of 2020
1. Disney Lover
If you have been following me for awhile now you know I love Disney. My kids are totally brainwashed at this point. (lol) I had to make my own version of this video! I took the boys to Disneyland when they were 15 months old and it was so fun. You can see more from that trip HERE.
2. Star Wars Outfits
I am a huge Star Wars fan and thought it would be fun to show the boys in all their different star wars clothes! The last two outfits are the best and totally not expected! This was such a fun one! I made a blog post listing my favorite places to buy Star Wars clothes for my kids so make sure to check that out if you are interested.
3. Stages of Quarantine with Kids
This one is so funny to watch because it's so accurate. The first two weeks we tried to do fun creative stuff and by the end we were dying to go outside again. Little did we know it would last a lot longer than two weeks.
4. Which Twin is Which?
This song was trending during quarantine and I had to make my own video fo the twins. I happen to film it perfectly when Marshal was putting his hands on his head. I loved it!
5. Marshmello vs. Deadmau5
I'm always trying to learn new things and this was something I had fun learning. I used the app Flipaclip to animate this video! It deserved more love than it got, but I was proud of myself. It took me all weekend to make.
6. Favorite outfit of the week
I think this might be my favorite video of the year. This video took a week to film. It was too hard to try and do this all in one day. We took one video a day and a new outfit each day. My cousin helped film while I would stand by the door and guide them out into the Hallway. It took lots of takes to get it right, but I love it! I also love seeing some of my favorite outfits they wore at that age.
7. Vogue Challenge
So Tik Tok was having a Vogue challenge where people were taking their own photos and adding the Vogue logo at the top. I decided it would be fun to do the same challenge, but make it a toddler version. I for sure got the love this video deserved and had so much fun reading everyone's comments! Its one of my favorites!
8. Different outfit for each store
This was another fun trend on Tik Tok that I decided to do with the twins. What people wear when they go to different stores. This was hilarious and the boys loved the part where I let them wear diapers and rain boots around the house all day. This was also too hard to film all in one day. I did one video a day. They would probably not be happy with me changing them five different times.
9. Harry Potter Modern Day Outfits Toddler Version
This was such a fun video to make especially since I love Harry Potter. I had to really think hard how to make fun transitions between the different outfit changes and it turned out so good. This was one video I thought for sure would get more love, but didn't do as well on Tik Tok. I love it thought and the boys dressed up in their slythernia outfits are my favorite!
10. Jail from Parks and Rec
Justin and I were huge fans of the show Parks and Rec so this was just too funny not to do. I saw someone make a similar video with their dog and decide to make it with the boys. Justin would have loved this video and just would have laughed and laughed over it.
Make sure to follow me on Tik Tok! I have a lot more fun videos just like this!
Which video was your favorite?