Top 3 Double Strollers For Twins
This blog post includes my top three favorite double strollers to use for twins. I included the stroller I used when they were first born to the stroller they use now as toddlers. Hope this blog post can help!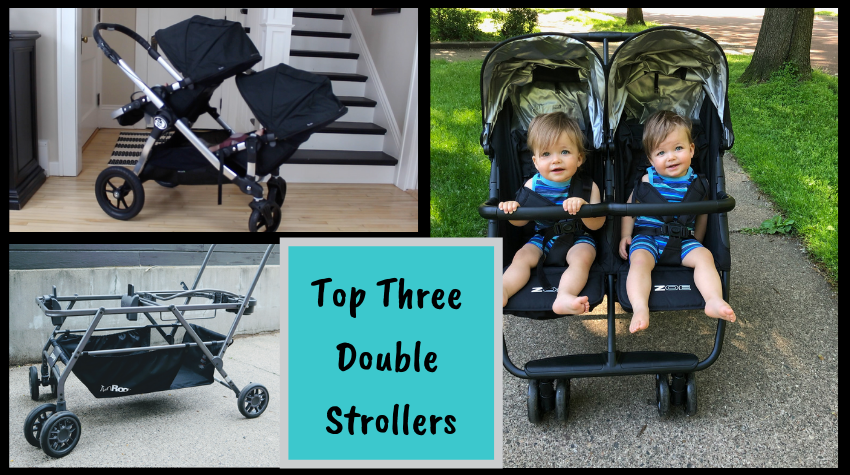 Strollers are a must for any twin mom. When you have two babies that can't walk or are always running in different directions, a stroller can be a lifesaver. I did a lot of researched and tried some different strollers and these were my favorite! If you want to know my favorite twin must haves you can read that blog post HERE.
First Double Stroller: Joovy Twin Roo
The first double stroller I used and loved was the Joovy Twin Roo. This stroller was perfect for starting out with twins. I loved that the car seats were side by side. It was great for getting through doors or around stores when I out shopping. I loved rolling the stroller up to a table when I would go out to eat. We could easily see both and could feed them as we ate.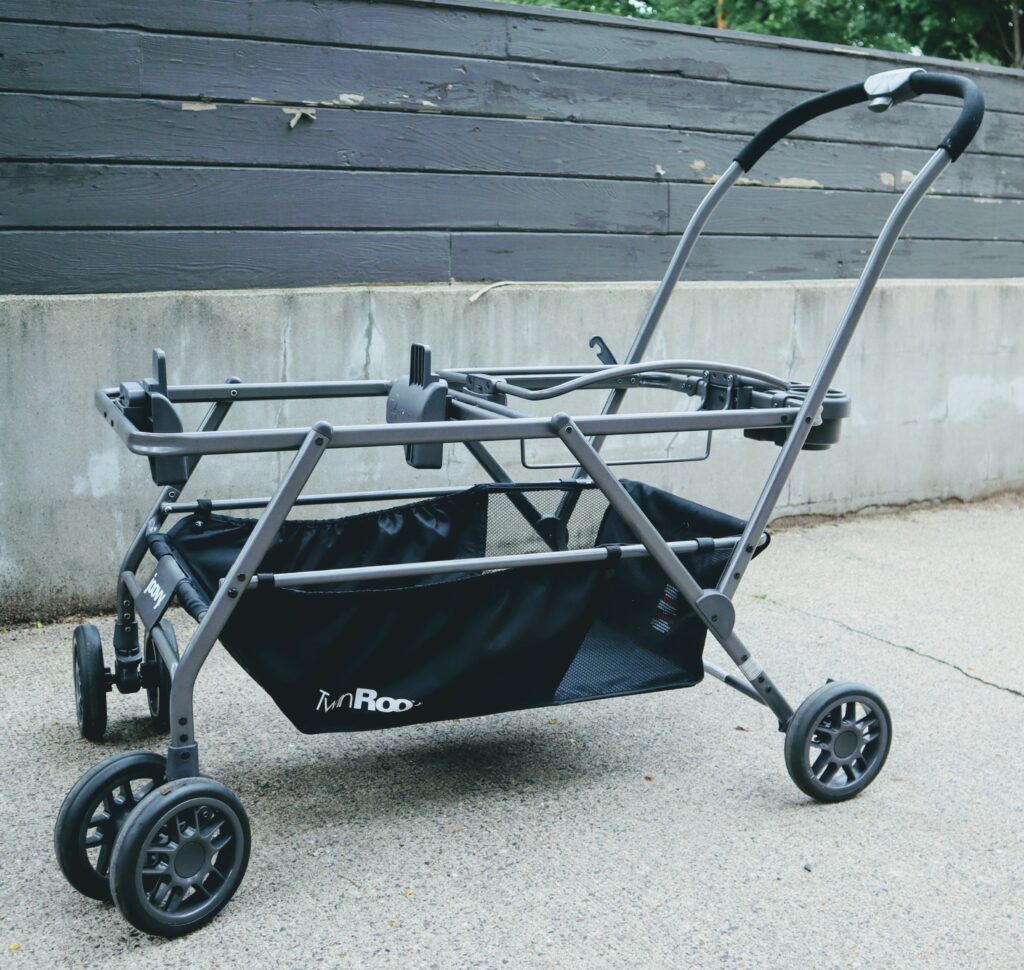 This stroller is super easy to fold down which made it perfect for plane rides or quick errands. It folds down really flat which was great for space issues in my small car.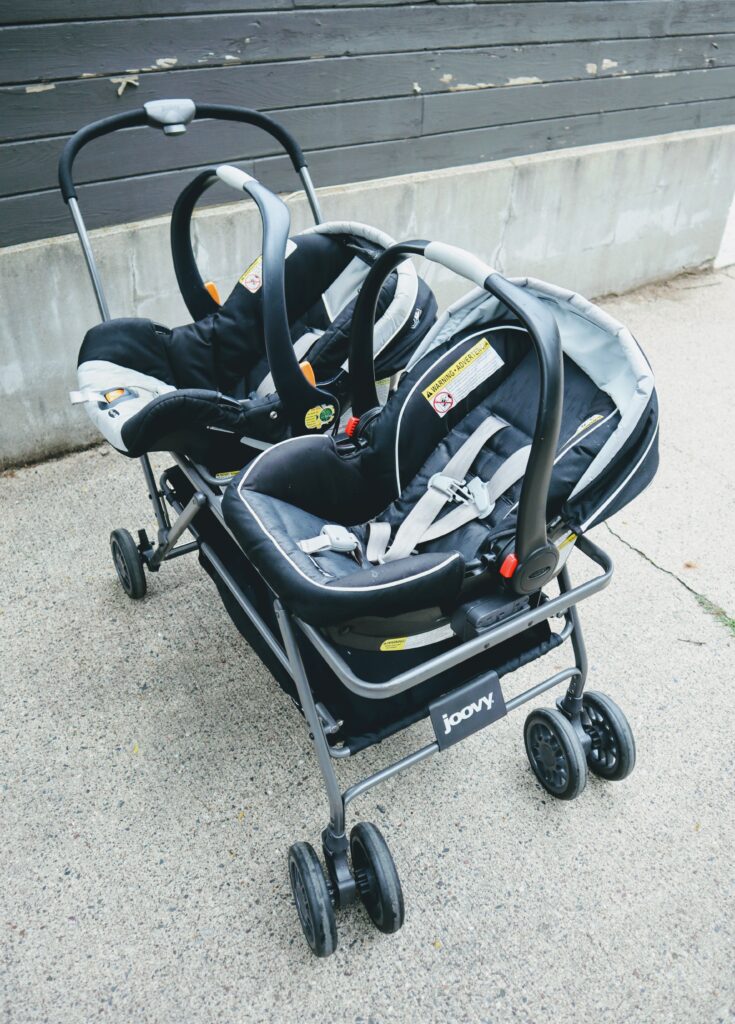 You do have to buy the adapters for your car seats separately, but it wasn't that much extra. I would recommend buying two of the same carseats so its easier to find adapters. This way its not confusing when you put the car seats on. I had two different car seats and it was always confusing trying to remember which car seat went to which adapter. You can also buy them together on amazon if you know what car seats you already have. I included links to those below.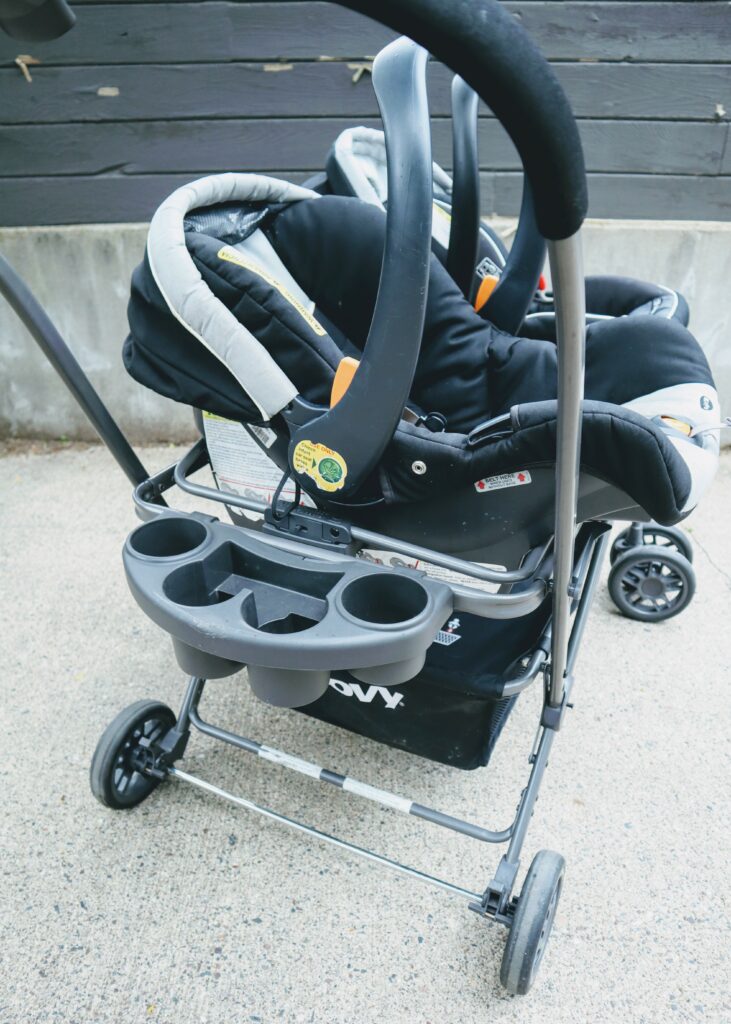 I love that the stroller comes with lots of cup holders! I also love how much storage you have underneath! When we traveled we could fit so much under there.
I used this stroller for as long as I kept the infant car seats. Once they got big enough to sit up in the baby jogger I switched back and forth. I liked using the joovy when I knew they would fall asleep and I wanted an easy transfer into the stroller without waking them up. It was nice when I was running errands or shopping.
Second Double Stroller: Baby Jogger City Select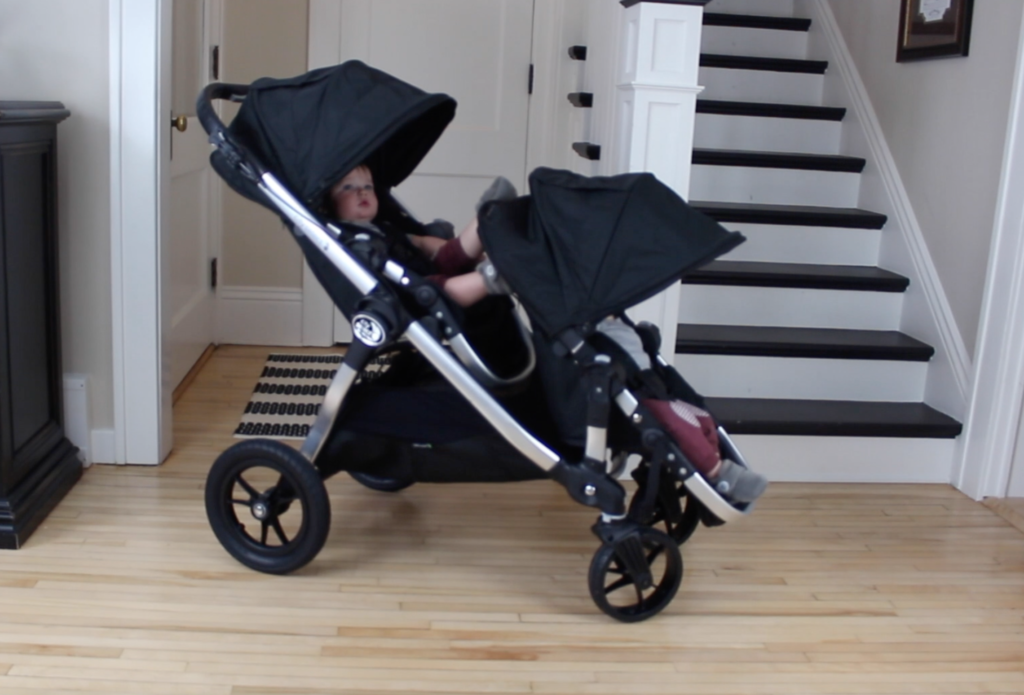 The second double stroller I used was the Baby Jogger City Select. I love getting a good deal and buying things at a cheaper price, but I've learned the hard way that doesn't apply to everything. Sometimes its better to pay full price to get the best quality product. This stroller is amazing and its definitely worth the price.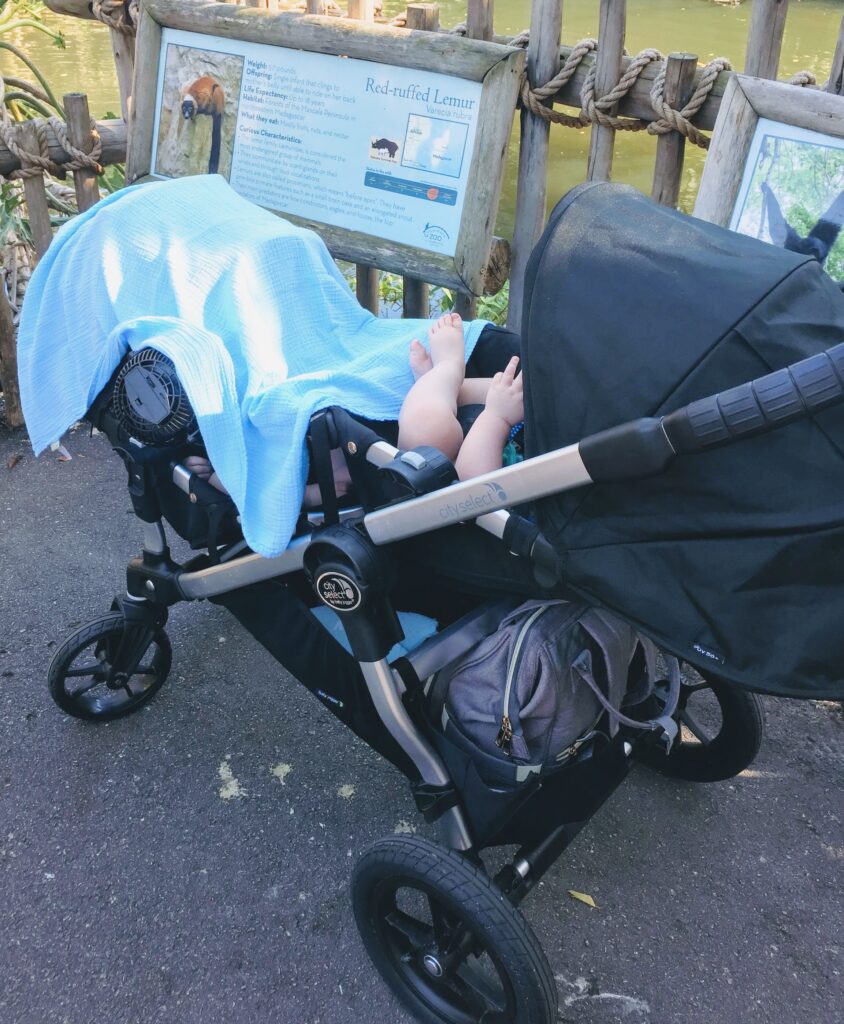 I think this was the perfect stroller to use after the Joovy. My babies slept in the stroller up until they were 10 months old. What I loved about this stroller was how you could lay the seats back flat and the babies could nap. I would use the muslim thin blankets to put over the top to block out the light. You can't really do that with a side by side stroller.
I love all the different ways you can position the babies. This was such a creative thing to do with a stroller. When they were younger I liked having them both face me. As they got older they liked to face forward so they could see where we were going.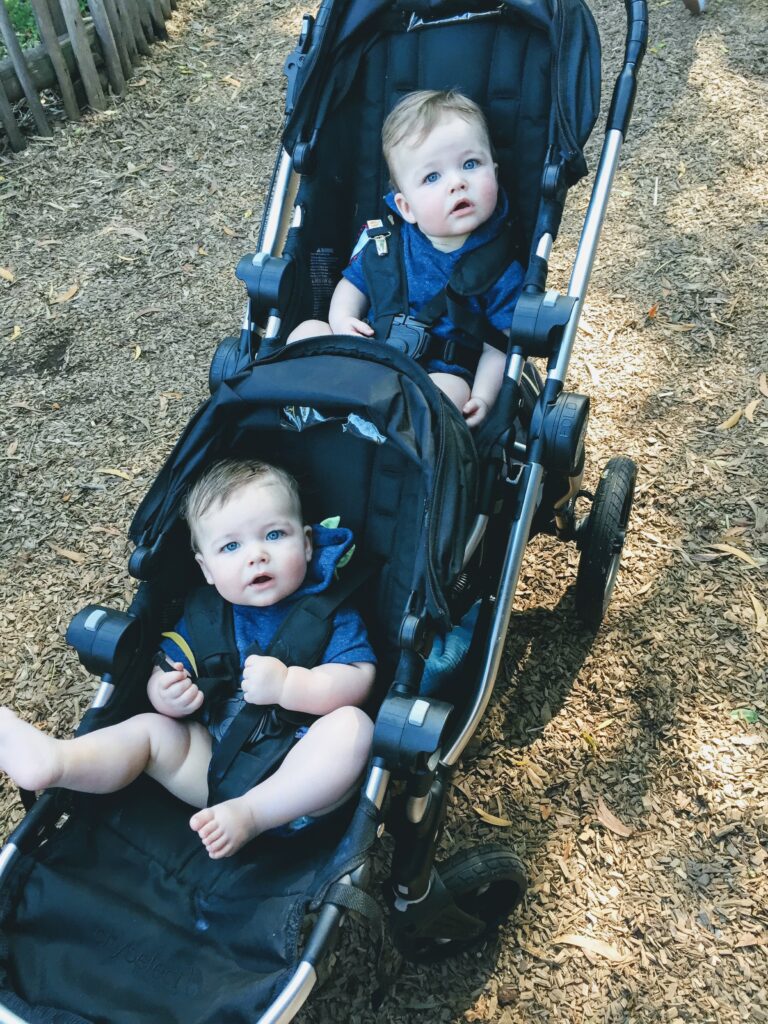 Another reason I wanted this stroller was so it could easily fit through doors and pass people on the sidewalk. The straps are easy to use which I loved as well. The bar can extend higher if you are taller. (my dad loved that feature). I also wanted a stroller I could go running with and this is perfect for that!
This stroller does give you the option to use infant car seats if you don't want to use the Joovy Twin Roo. You can find infant car seat adapters on amazon and use this stroller for your infant car seats as well.
The Baby Jogger City Select 2, Eco Collection, is a versatile dream for parents who know having only one option is not an option. With 24 configurations, this stroller converts from a single stroller to a double or even triple with a second seat, infant car seat, or glider board (sold separately). Baby stays comfortable with a padded seat and canopy featuring soft, sustainably sourced TENCEL fabric. You'll love the included belly bar and the stylish premium leatherette accents on the handle.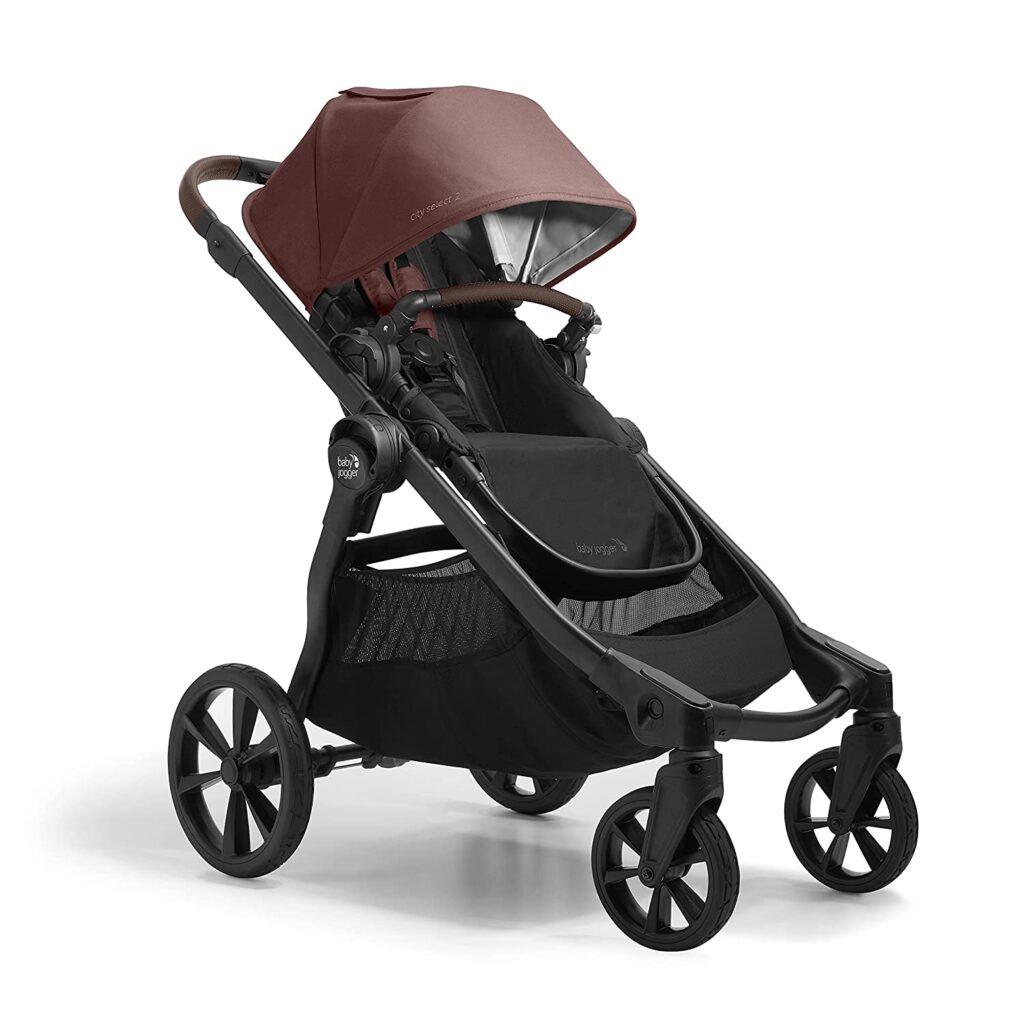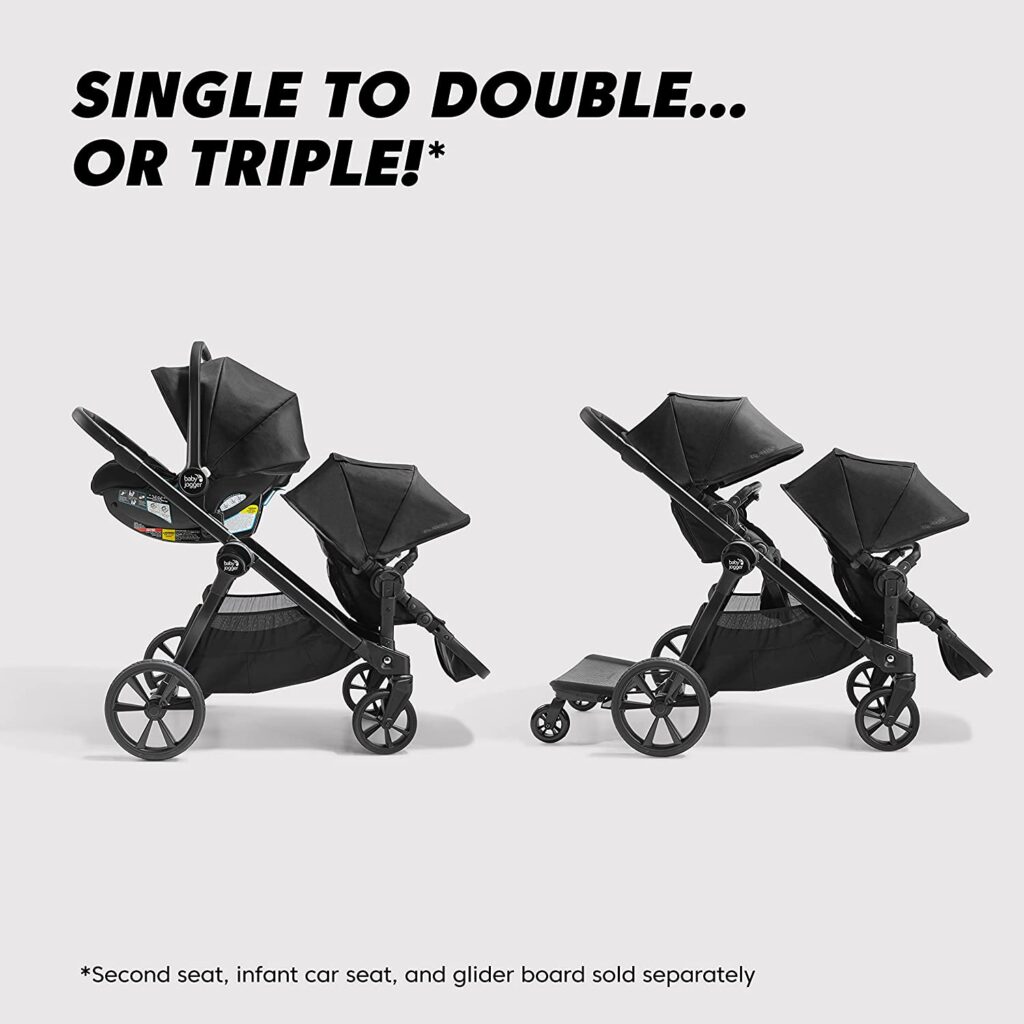 Flying with the Baby Jogger
It can be tricky figuring out how to fly with baby strollers. When I was trying to figure out how to fly with the Baby Jogger and check it at the gate I couldn't find any tips. I asked around from some of my friends who had flown with this stroller and put all the tips into a blog post. If you are interested in knowing how to fly with this stroller you can read that blog post HERE.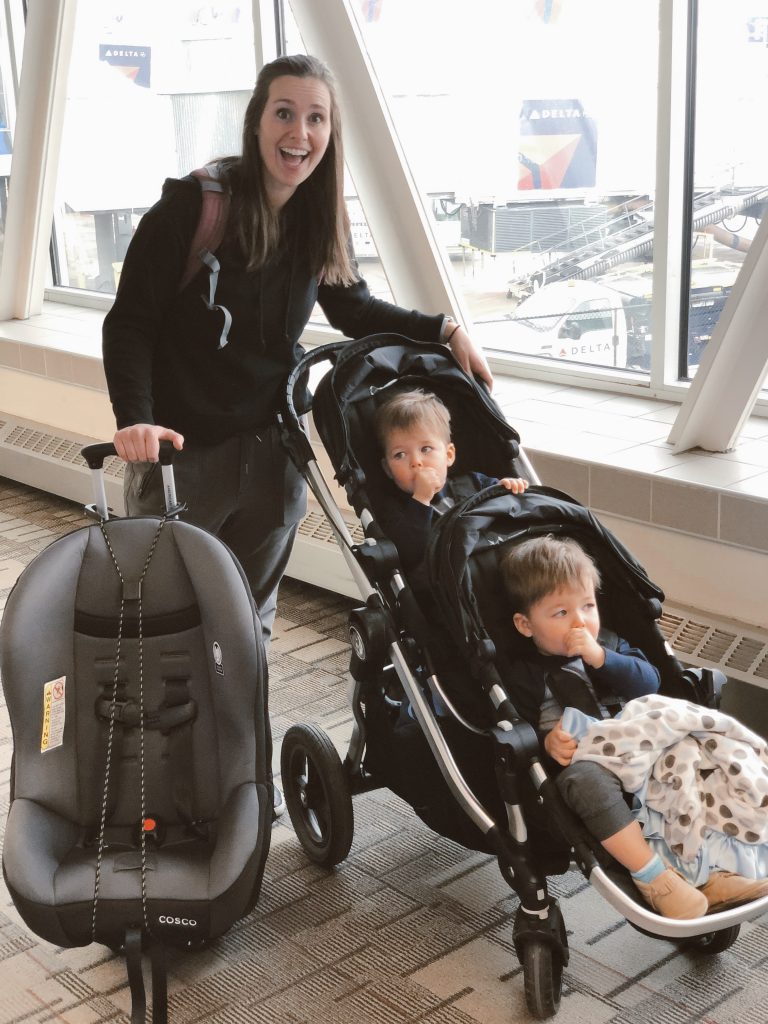 The third twin stroller I loved was the Zoe XL2 double stroller. I love the baby jogger, but its hard to transport for quick errands and for traveling. This is why I wanted a lightweight stroller and it has worked out perfect for those things.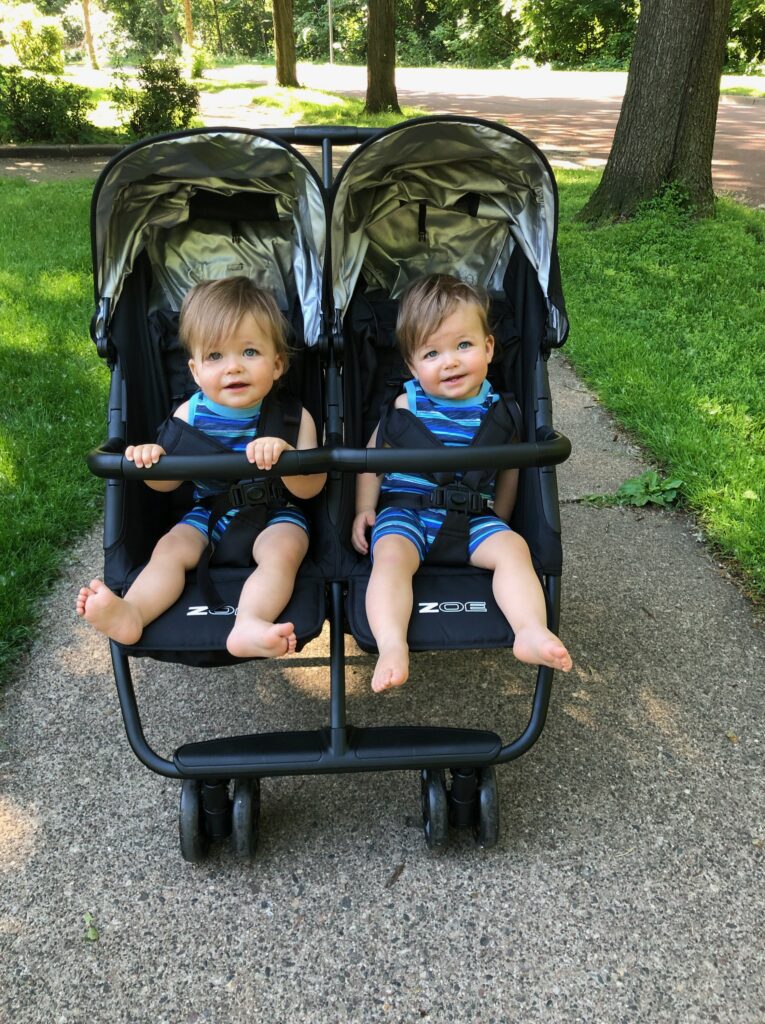 There are a lot of side by side strollers out there and its hard to know which one to get. I also have the Bitsy Contour stroller and wrote some of the things I like about that HERE. After using both I prefer the Zoe stroller.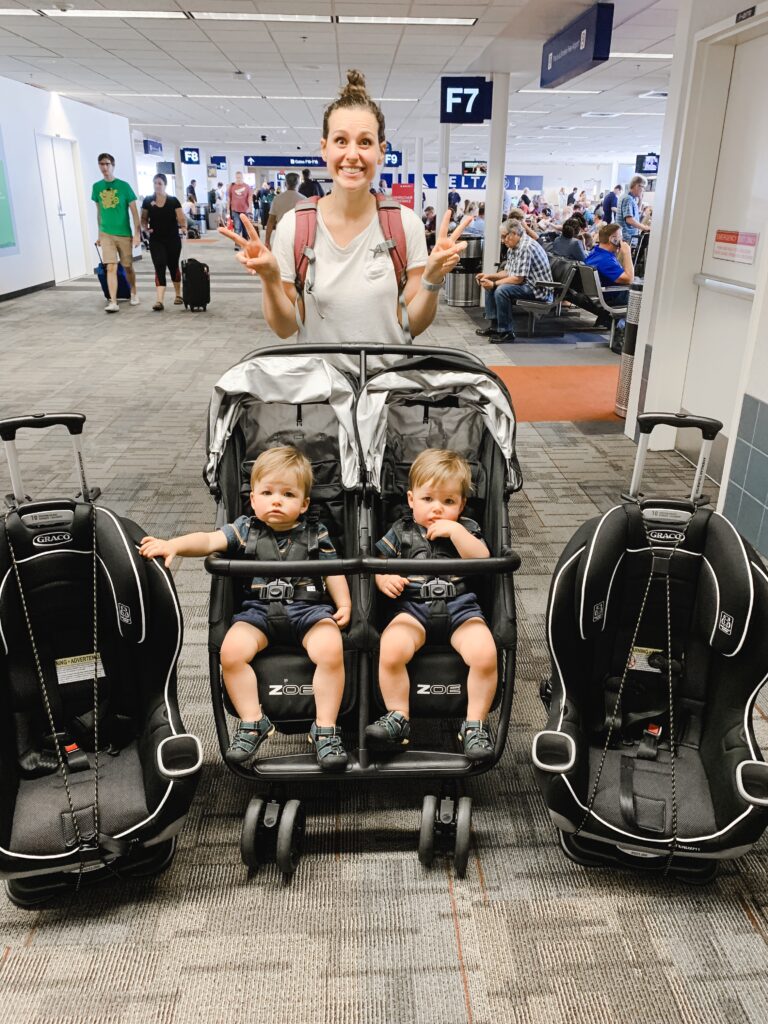 I liked this stroller because it was lightweight and easy for travel. It folds up so easy and locks automatically. It came with a cup holder strap for your drinks and place to put your phone. It has a place to put things underneath the stroller as well.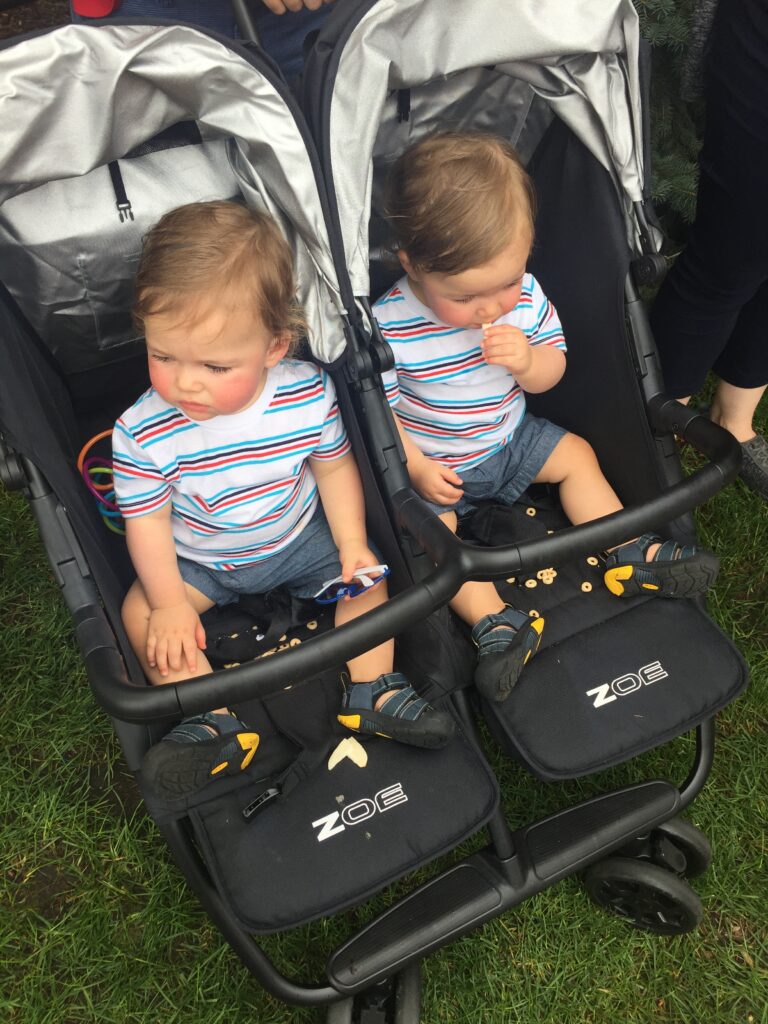 I think my favorite part about this stroller is the bar across the front. The boys love to hold onto it and I like how it keeps them more safe. When we were at a parade I put the seats all the way down and the bar made it feel like a pack n play. They could sit there and eat snacks.
I hope this helped you in making a decision on what stroller you should get. If you have any further questions comment below!
Stroller Wagon
I also have a stroller wagon and love it as well! I wrote a blog post review on that below you can read that HERE.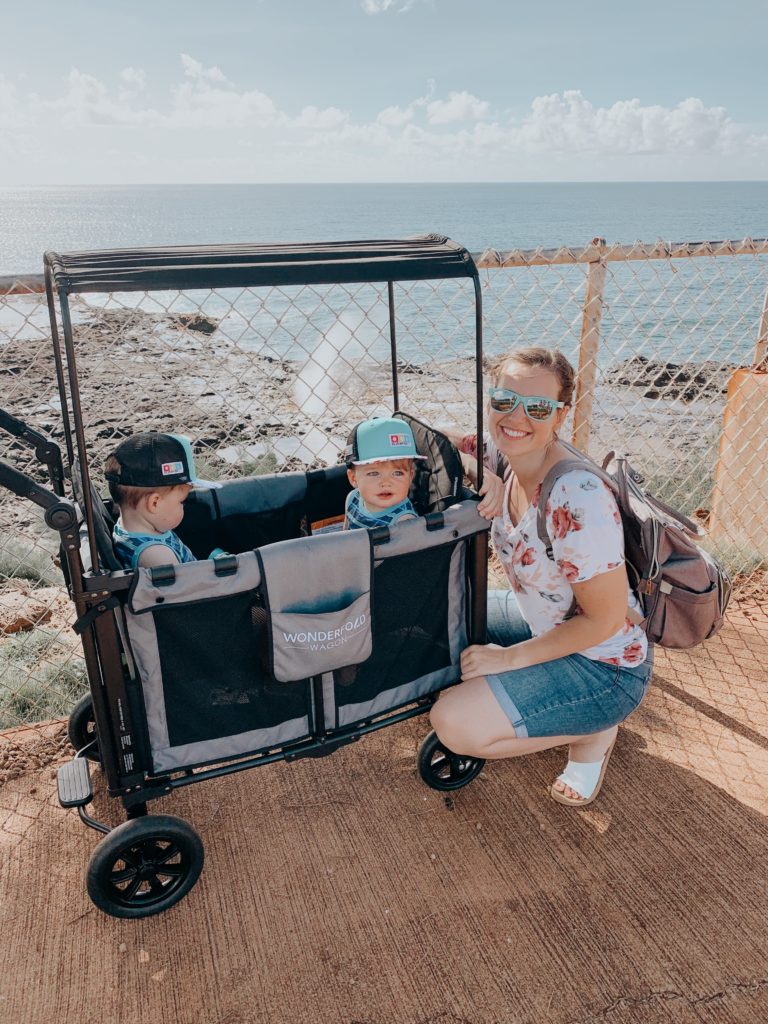 *This post may contain affiliate links. See my Full Disclosure for further details.