This is the best stroller wagon out there and I'm excited to tell you all about it! I highlighted some of my favorite features and why I think this wagon is the best! Make sure to read to the end of the post to get your promo code!
I also wrote a blog post with my top favorite double strollers and you can read that post HERE.
Review
I didn't think it could be possible to be so excited about a product. I had a beach vacation coming up and I knew I wanted some type of wagon. With wagons its easy to quickly put the kids and stuff in and head to the beach. I looked at a lot of different ones and I am so happy that I chose Wonderfold!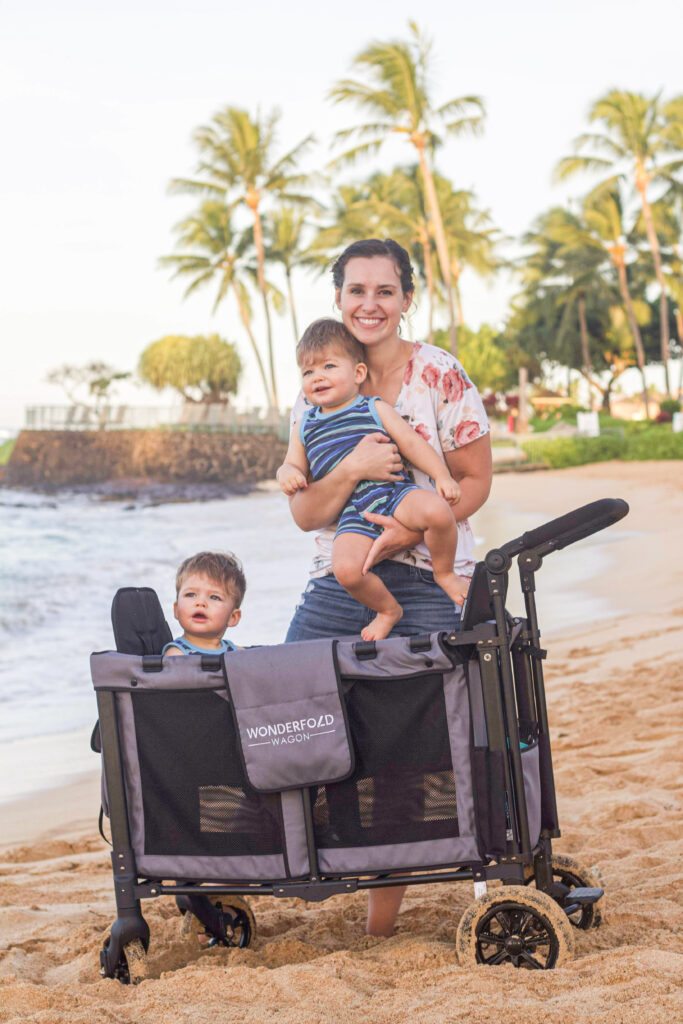 I will be talking about my favorite features below, but wanted to quickly highlight some of the reasons why I love this wagon so much. I love how high the sides of the wagon are so if my boys stand up they won't fall over the side. I noticed recently that my kids don't like sitting in a stroller for very long, but they would sit in this forever if I let them.
I love how easy it is to get them in and out. I also loved how easy it was to get onto the beach! Every time I took it out I was stopped by at least one person asking me where I got it. I even had people ask to test drive it and see how it felt!
What size of children can it hold
This wagon can hold any child 6 months and up
Durability
The wagon is very easy to push and maneuver around. We took it to the park and it was easy to push on the grass and over the hills. It feels just like a really nice stroller, but more durable on terrain.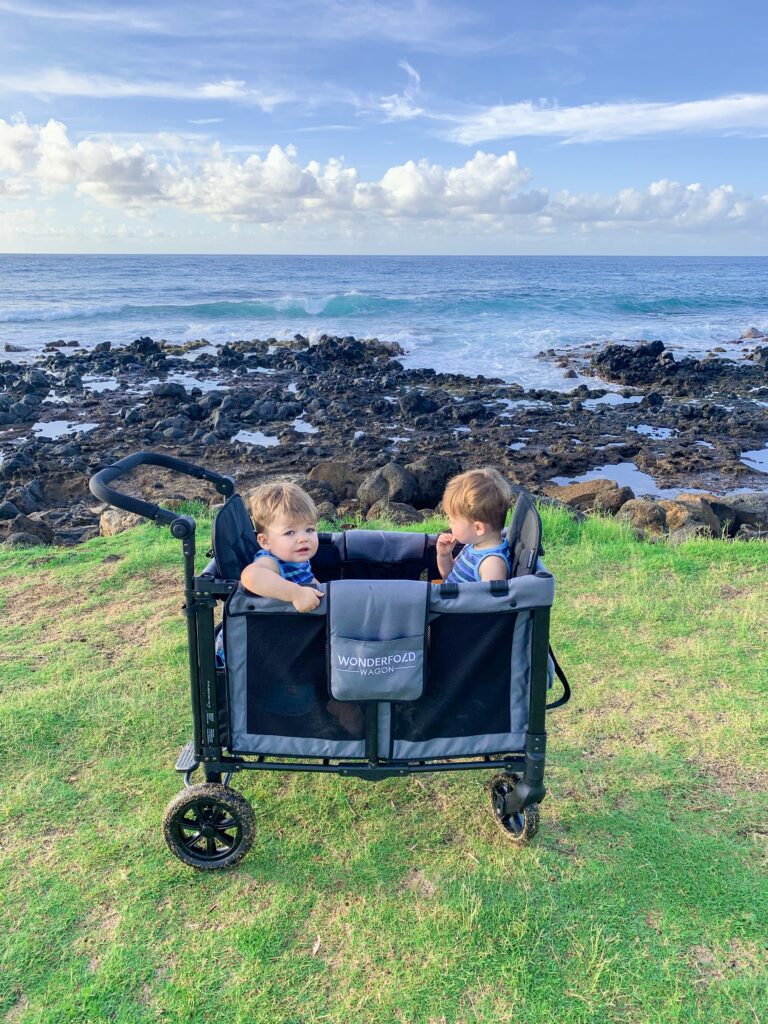 How is it on Sand?
I don't think anything is really good on sand, but this wagon comes pretty darn close. The wagon comes with a strap you can attach to the front. When we took the wagon on the beach we had one person pushing and another person pulling. This is how we were able to make it on the beach and we did this most of the time while the twins were still in the wagon.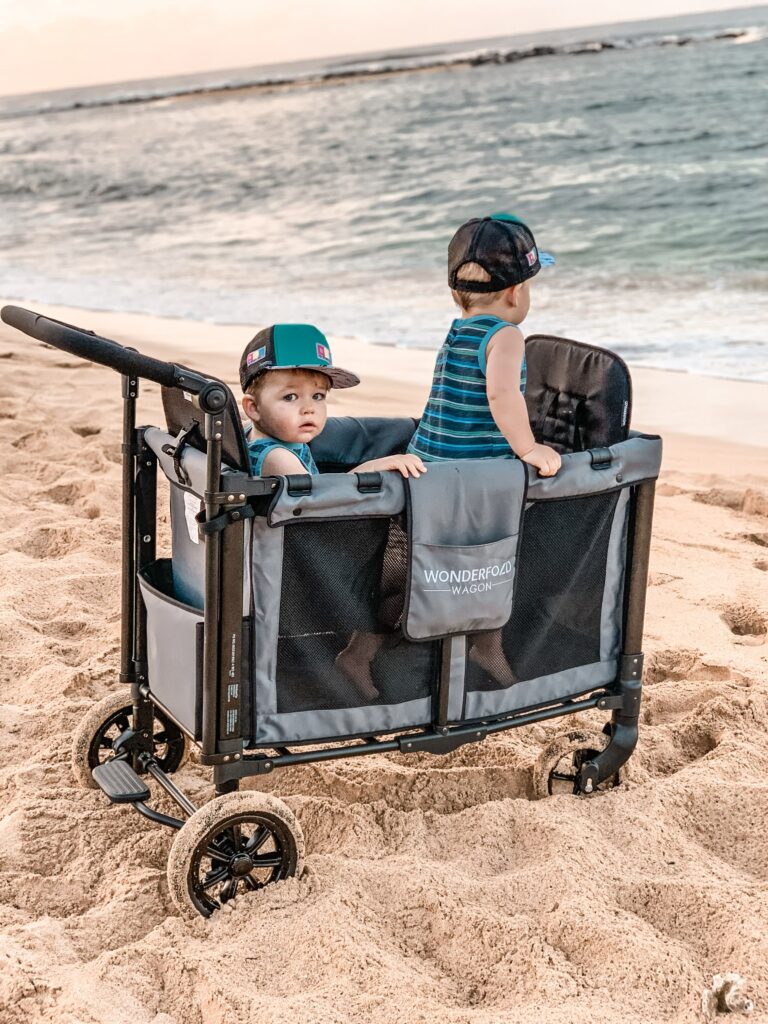 I don't think I could pull both of them on the sand by myself. If I only had one kid in the wagon I could do it by myself. If you have no kids in the wagon its really easy to push on the sand.
My Favorite Wagon Features
Seats
The wagon I got has two seats, but they do offer a bigger wagon with four seats. They are removable and come with straps so you can buckle them in.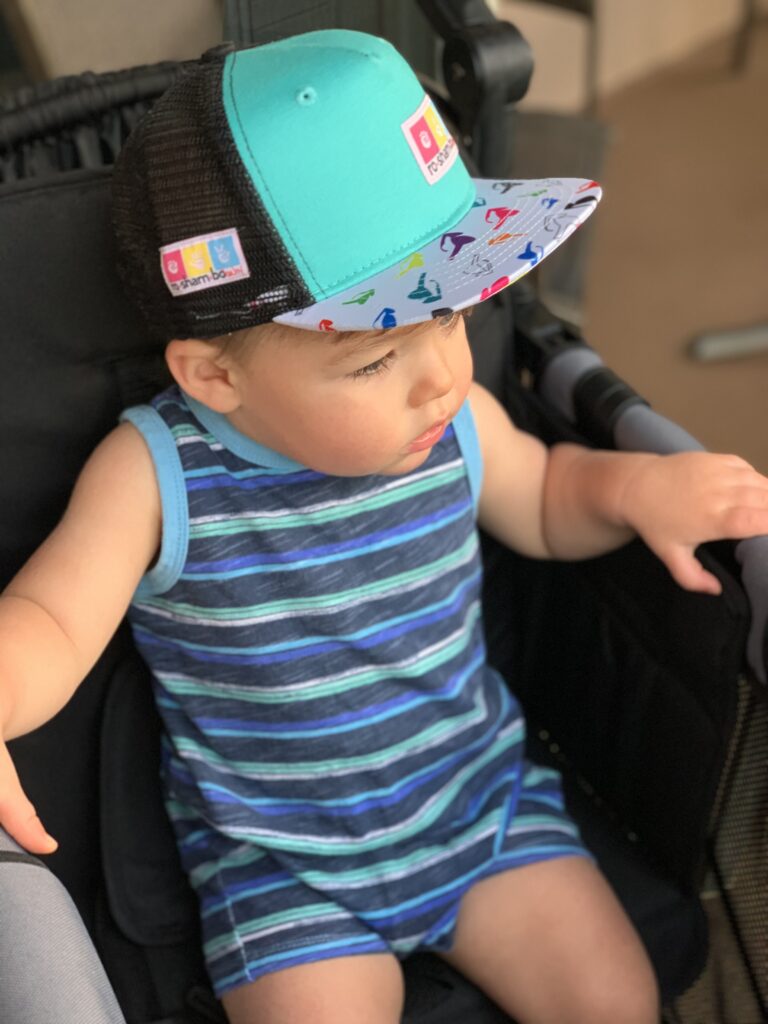 Weight Limits:
Wagon Weight Capacity: 200 lbs
Seat Weight Limit: 33 lbs per individual seat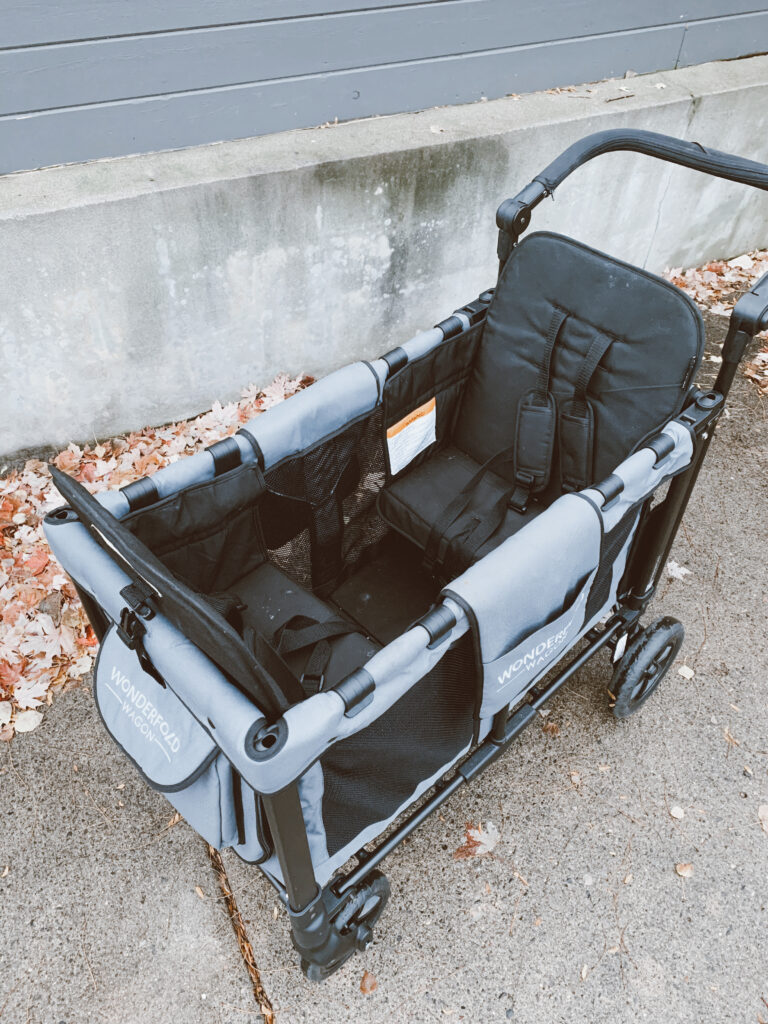 My twins were small enough I was able to fit both in one seat and my nephew who is three years old in the other seat. We did this a couple times on my trip and it worked fine!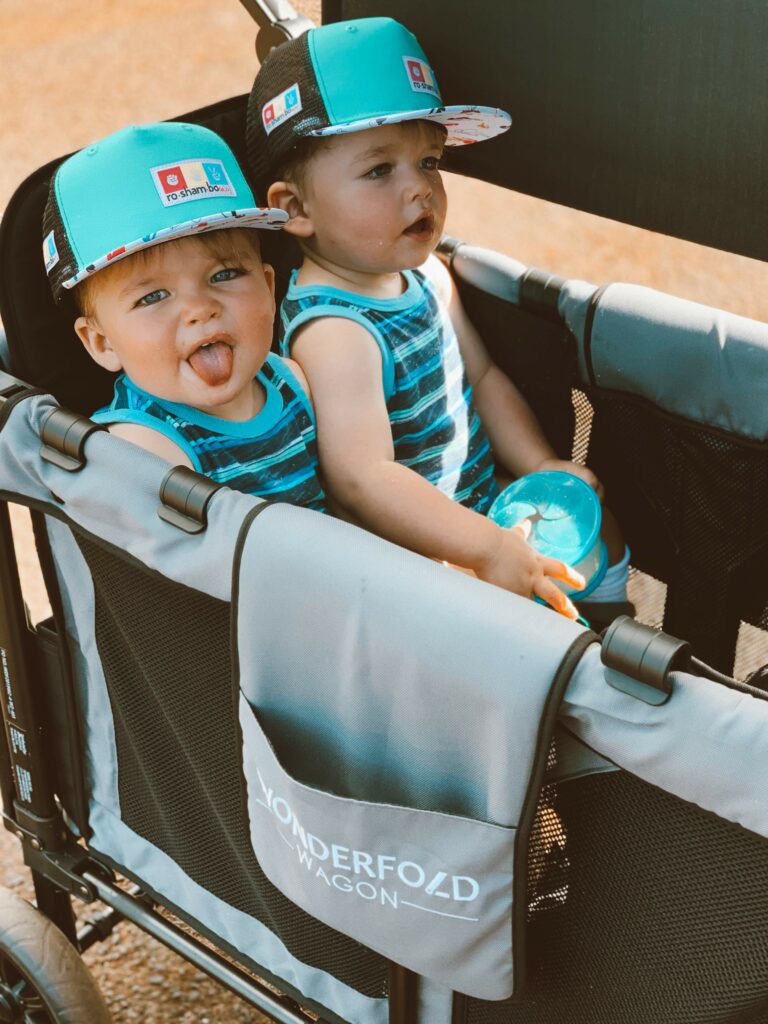 Pack n Play on wheels
I wish I had this when they were younger because you can remove the seats and it becomes a pack n play on wheels. It really is brilliant and something I wish I had when I traveled to Florida last year. I could have easily given them a nap right by the pool.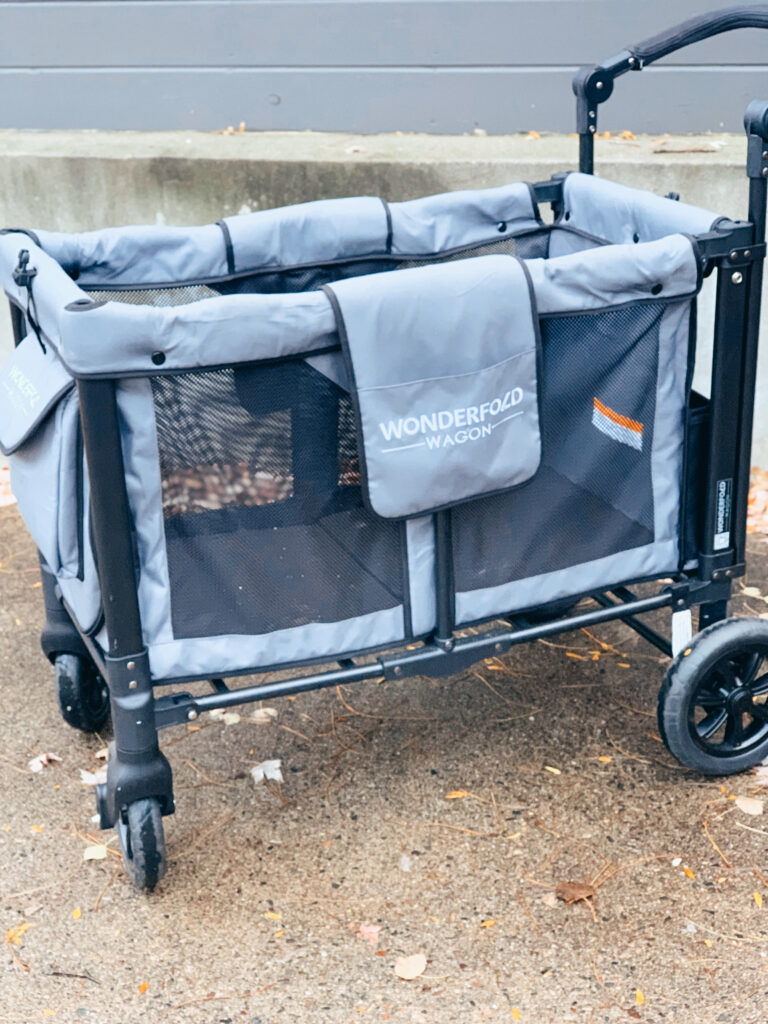 Folding
The wagon is easy to fold, but does take up a lot of space in the back of my jeep. You do have to remove the seats in order to fold it up which I found was a little annoying, but not a deal breaker for me!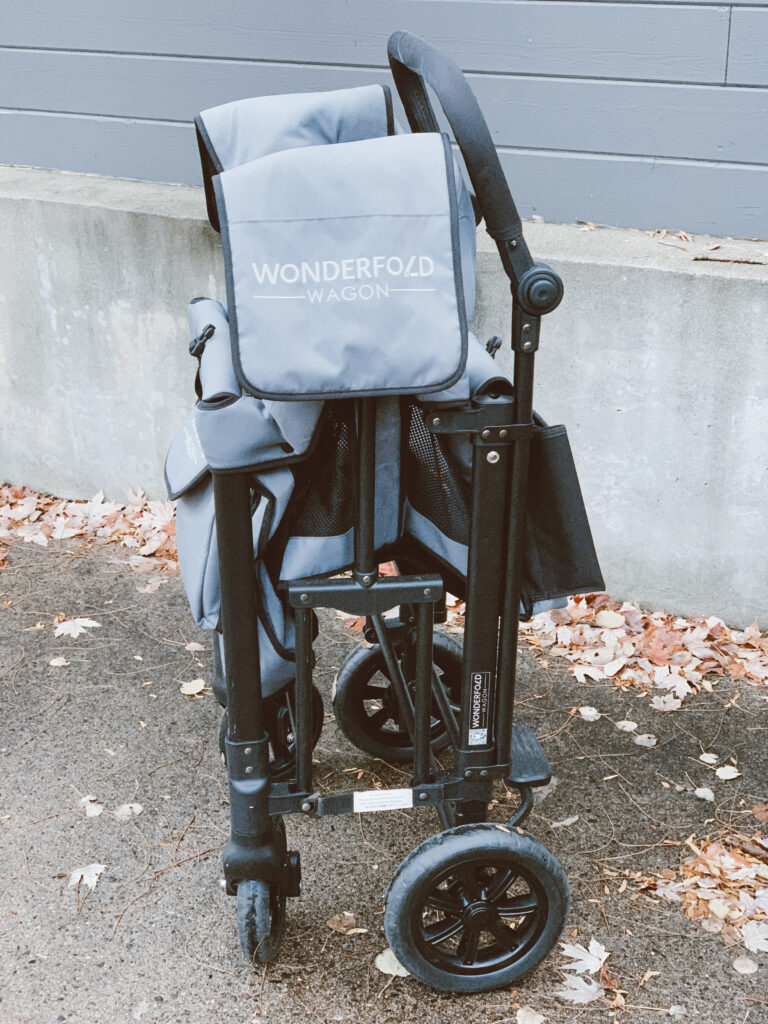 Traveling:
I think it would be hard to check the wagon at the gate because of how it folds. In order to fold it you have to remove the seats which is why I think it would be hard to gate check. It would work if you had a bag to put it in at the gate.
I brought a side by side stroller (or umbrella stroller) to use through the airport and then checked the wagon under the plane. Strollers and car seats can be checked under the plane for free. I just used this stroller bag for the it and it worked great, I had no damages after the flight. I checked it at curb side and it was super easy!
Tray
I love having this tray because the boys will stay in the wagon longer if they have snacks. Its easy to put snacks or food on there and its basically like they are sitting in their high chairs. I've gone out to eat and had them just stay in it and I put their dinner right on the tray.
I don't always keep the tray on because the boys like to move around, but I have it with me just in case. This tray is an extra accessory you have to order. It does not come with the wagon.
Break
I love how easy the break is to use. I used the wagon on my trip in Hawaii where I was wearing no shoes a lot of the time and I was still able to easily use the break. It looks like you might hit the break while walking, but I never had an issue with this.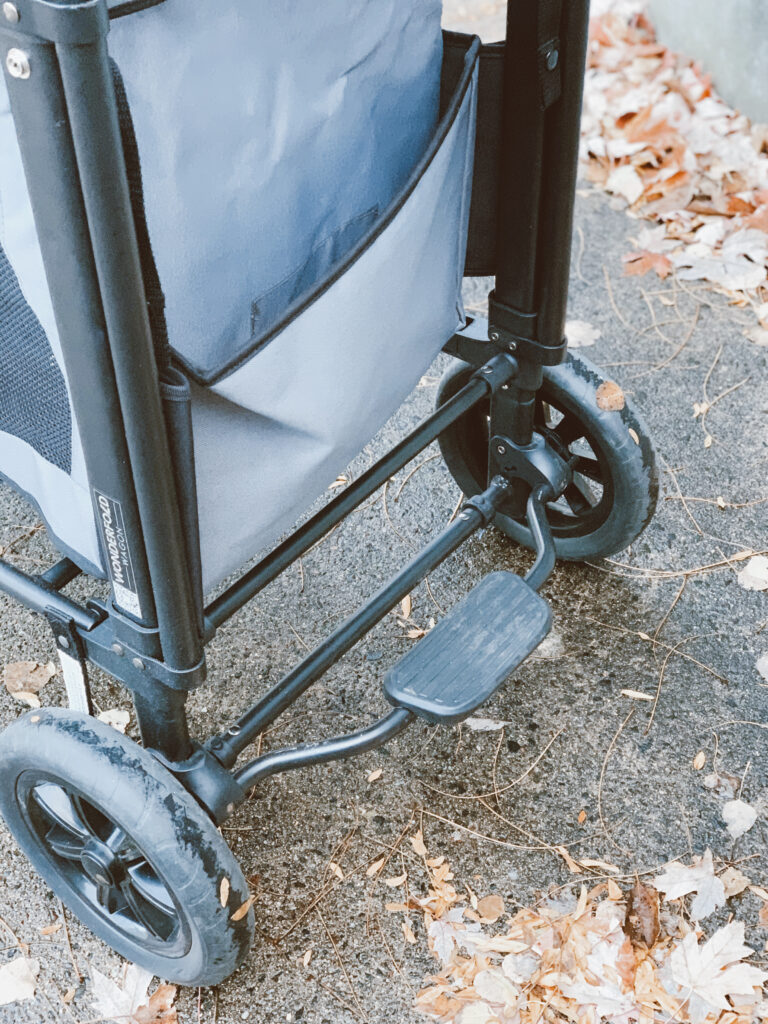 Canopy
I loved the canopy and used it a lot more than I thought I would. It is removable which I really liked. We used it during the day when we were at the pool and I took it off at night when we went out.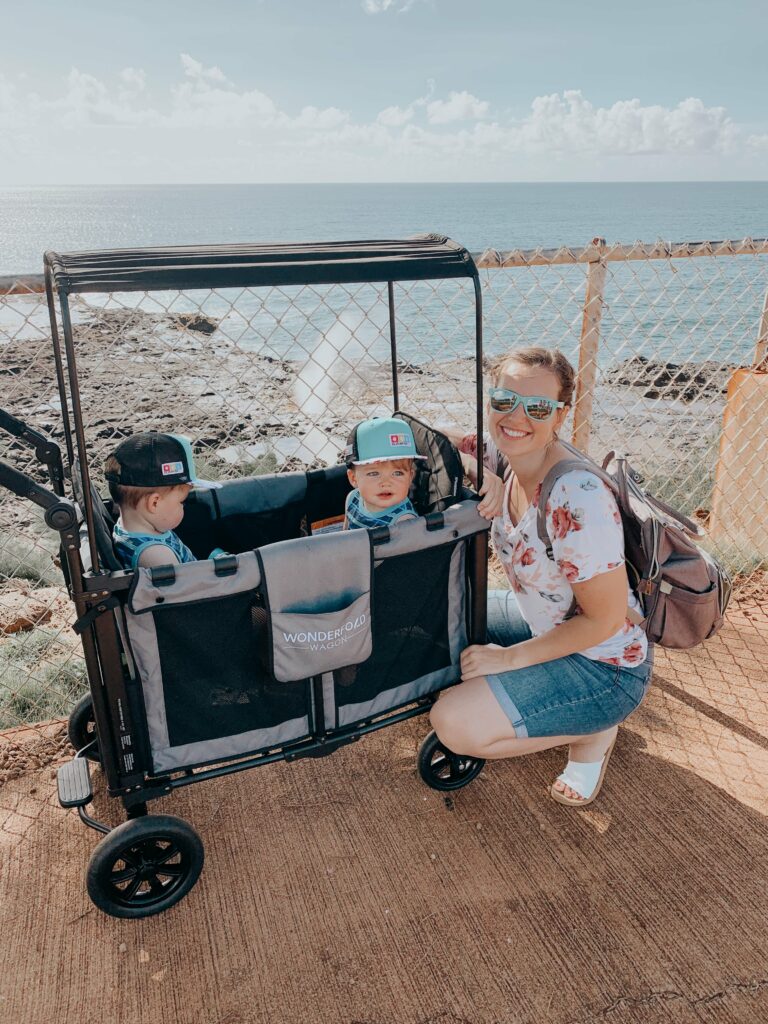 I also love that you could move the fabric along the polls. Depending on where the sun was while we were walking we would move the fabric to block the sun. We also used it as shade on the beach as well.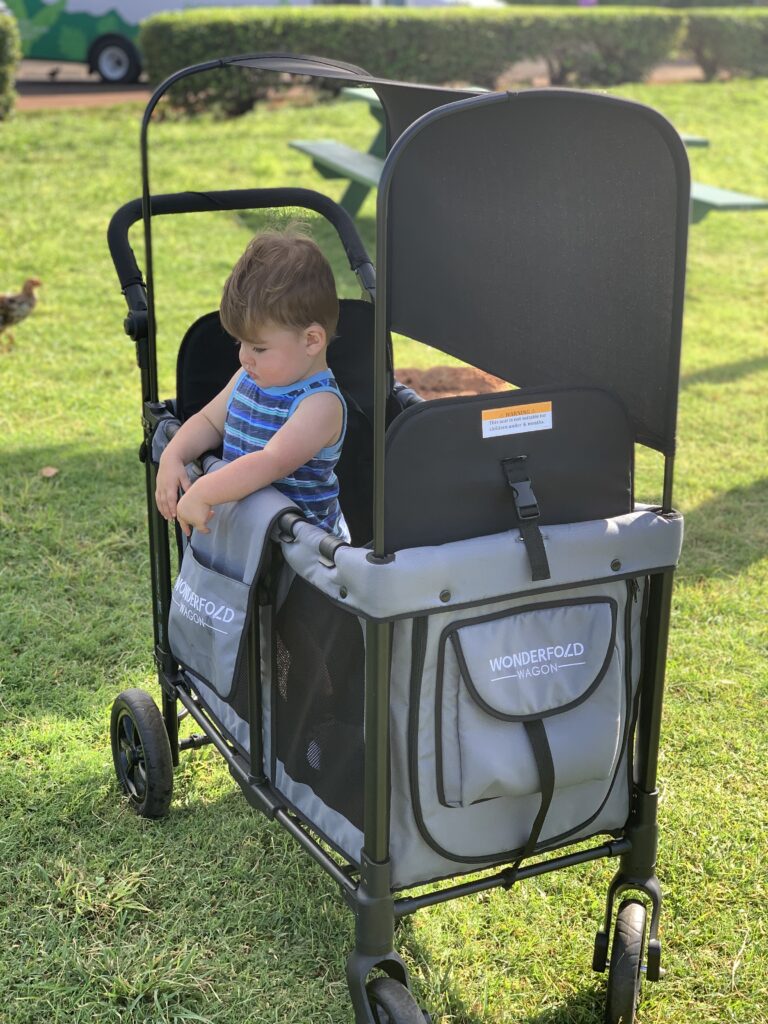 Side Door
The wagon has a zip up side door for easy access into the wagon. I didn't use this a lot because its easier to pick them up and put them in. I think as the boys get older and heavier it will be a lot easier to use the door so I don't always have to lift them in.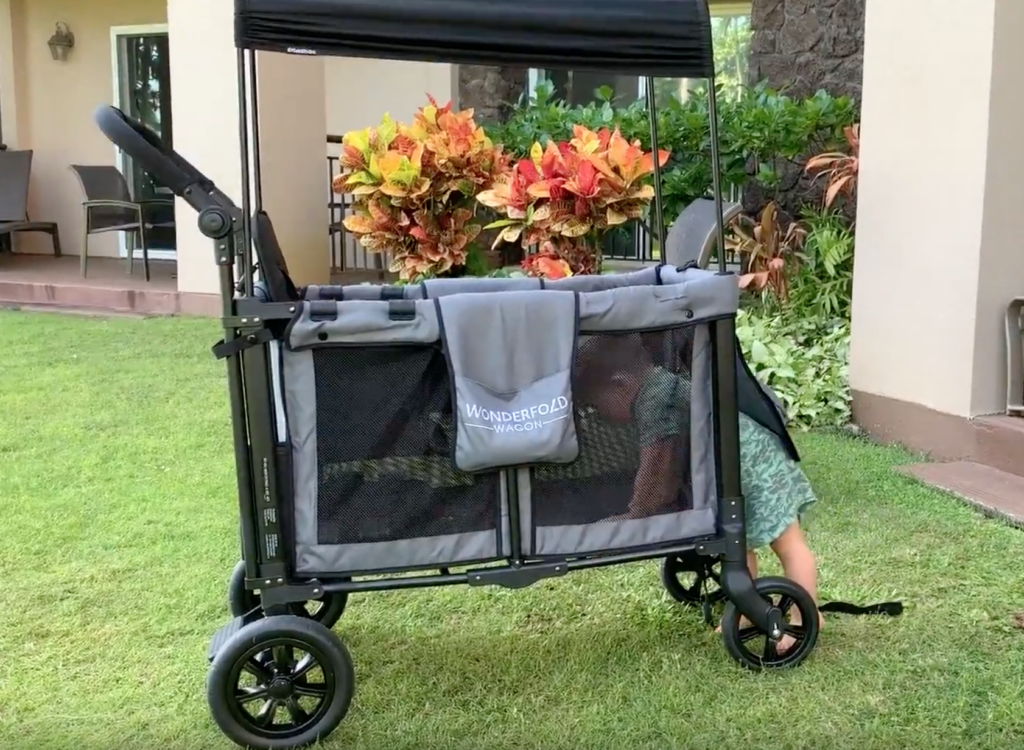 I hope I was able to answer your questions about this amazing stroller wagon. If you have anymore questions comment below and I will try my best to answer them!
*This post may contain affiliate links. See my Full Disclosure for further details.