How to fly with the Baby Jogger City Select
This post is all about how to fold up the Baby Jogger City Select stroller at the gate when you are flying. This stroller comes with a lot of different parts and you don't want to lose anything so its helpful to know what to do.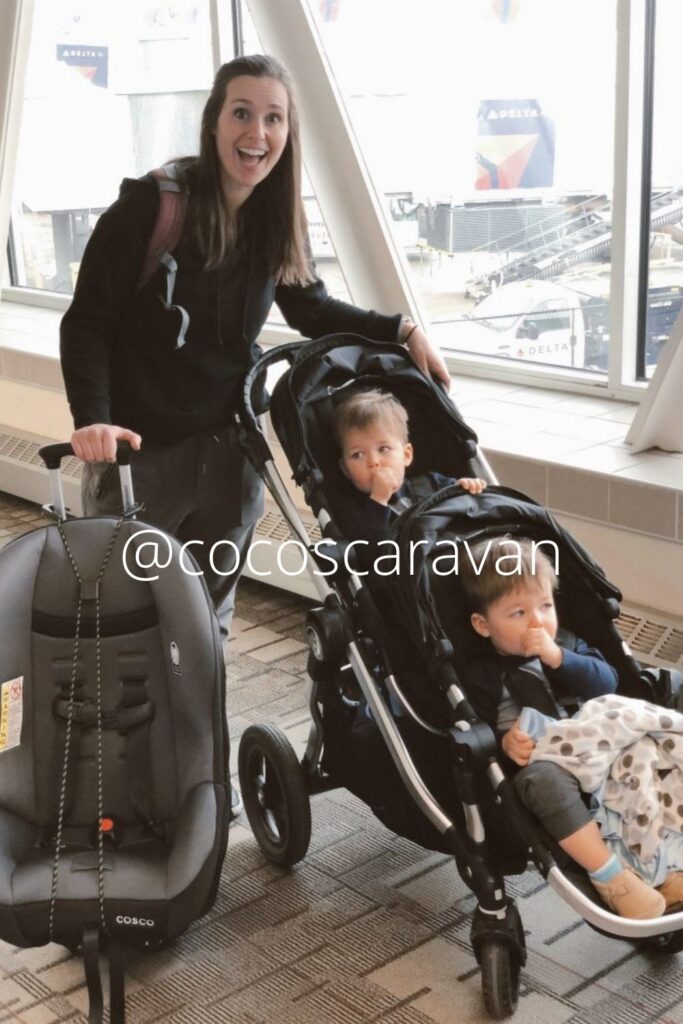 If you are interested in the other strollers I use or the link to this stroller you can check out my blog post HERE.
How to fly with your Baby Jogger
I was going on a trip to Disneyland and I really wanted to use my baby Jogger City Select stroller. I usually bring the Zoe double stroller when I fly because its so easy to fold up at the gate, but I didn't want to use this stroller at the Disneyland park. I didn't want to check the Baby Jogger under the plane because I needed it for walking through the airport.
I searched online to find out how other people gate checked this stroller and I couldn't find it anywhere. I ended up calling some of my friends who also have this stroller and they had some great ideas! I wanted to make this blog post because I figured there are other people wanting to know how to do it as well. Hope this helps! If you are interested in tips on flying with toddlers you can find that blog post HERE.
How to Gate Check your Baby Jogger City Select Stroller?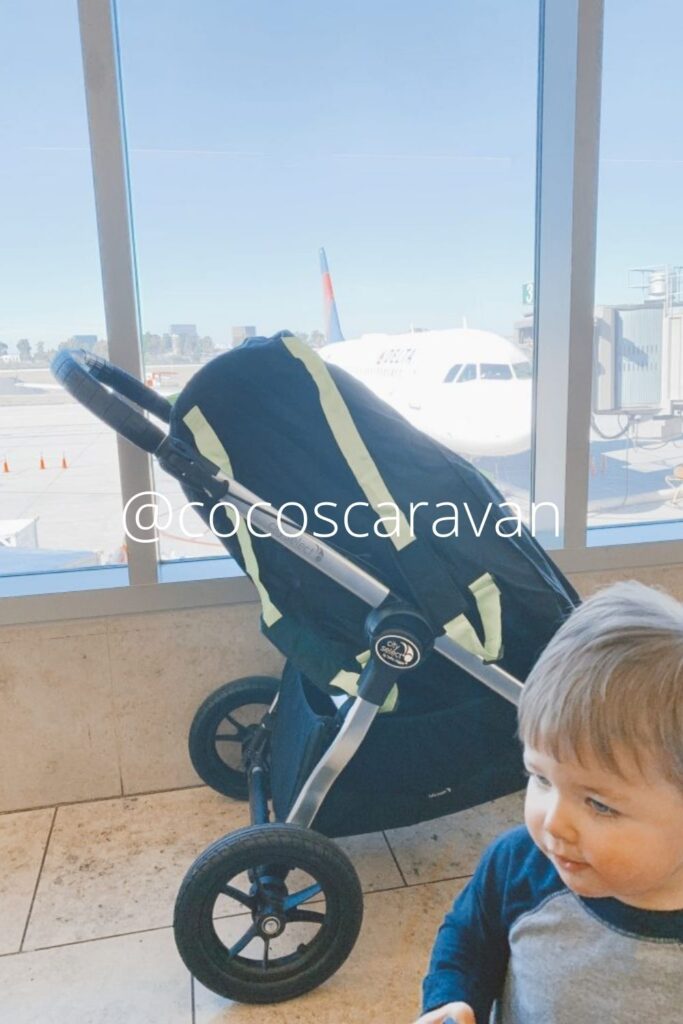 STEP 1: Getting Through Security
Most likely the stroller you bring will not fit through the baggage security scanner machine. The Baby Jogger City Select stroller will for sure not fit with how wide and big the tires are. The people working at the security check will take your stroller through a side gate and check the stroller by hand. This is the same for car seats as well. Most of my car seats have fit through the machine, but if it doesn't they will search by hand.
I usually set my stroller aside before I walk through the metal detector and they won't see it and we will be waiting on the other side for awhile. So make sure they see that you set it to the side and point out that its your stroller. This is why its always smart to get to the airport early because the security check always takes longer with kids.
It does help a ton to get TSA pre check. I highly recommend doing that if you fly often. Check out my blog post HERE to learn more about it.
STEP 2: Baggage Claim Tag
The first thing I do when I arrive at our gate is ask the person at the front desk for baggage claim tag. You want one for each item. I have one ticket for the bag and one ticket for the stroller frame. This is important to have just in case they misplace it during the flight. These tickets also tell the people unloading the plane that these items need to go back to the gate.
STEP 3: Pack seats in bag
Once it gets close to boarding time I start to pack up the stroller. I take the two seats off and put it in the bag. I also take off the two lower polls that hold the bottom seat. I place those in the bag as well because I worry about losing those. (They would probably be okay, but for peace of mind I put them in the bag)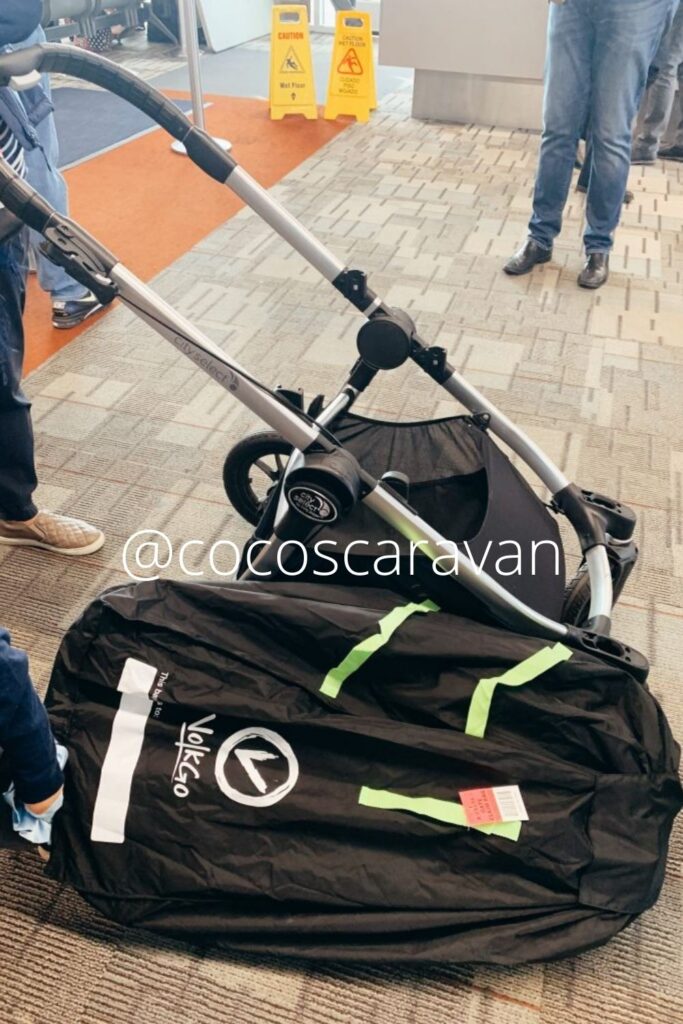 I found that it was a lot easier to pack up the seats before boarding. It can be stressful when you are right at the plane door and people are trying to get around you. If you are alone you might have to wait and push your kids down in the stroller and then pack up.
STEP 4: Bag on stroller
Once I pack up the seats I place the bag on the stroller frame so its easy to push down to the plane.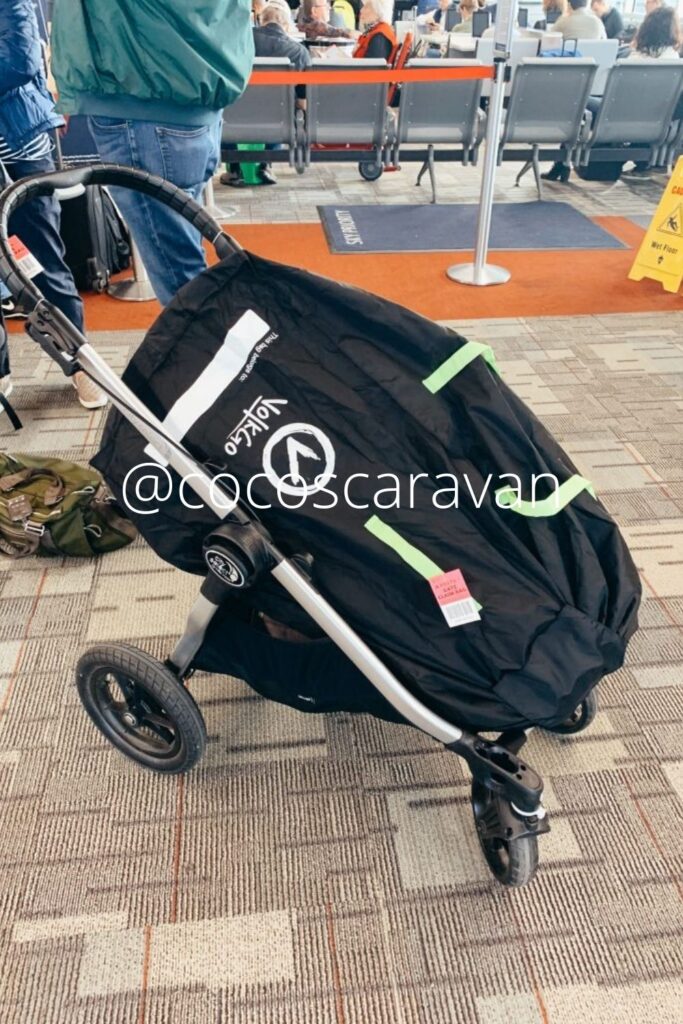 STEP 4: Leave it by the door
Once you get to the plane door you can just leave the bag by the outside door. I fold up the frame and lock in place and set it next to the bag. After my flight I just throw the bag on the stroller and walk out. Once i'm in the waiting area I put the stroller back together. I could do it as soon as I get off the plane, but it stresses me out having people walk by me and wait for me.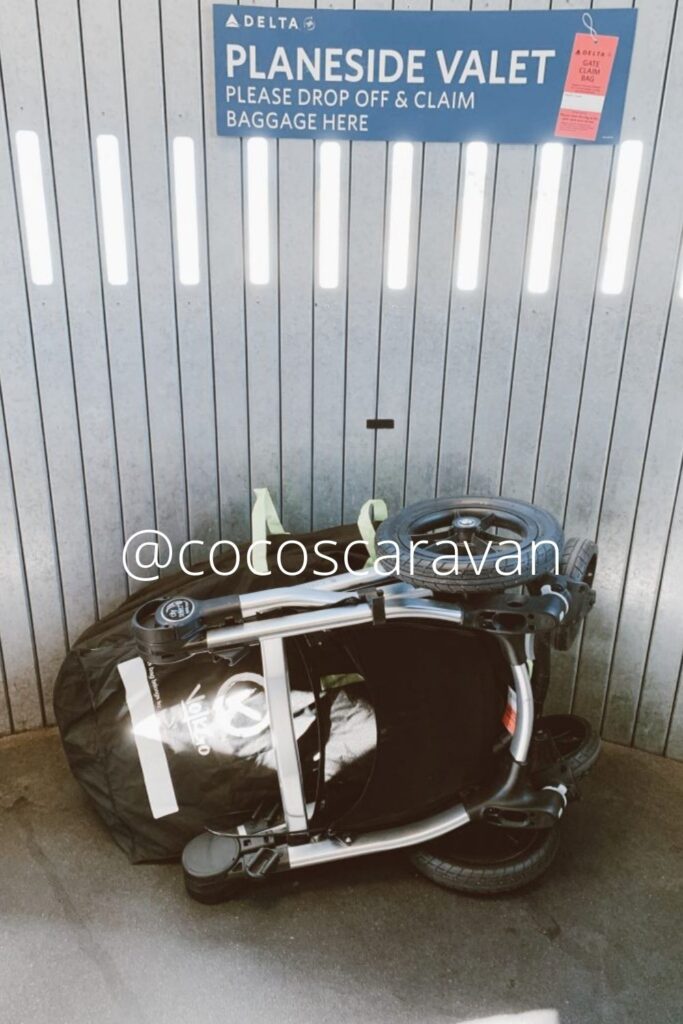 How to Gate Check without a bag
You can totally gate check this stroller without a bag. I just like the bag because it keeps the seats cleaner and it's less of a chance of losing something.
If you don't have a bag just make sure you get a baggage claim tag for each item. You will want one for each seat and one for the stroller frame. Once you get to the plane door take off the two seats and set them by the outside door and then fold the stroller frame up.
**If you have any more tips on gate checking this stroller please comment below!
This post may contain affiliate links. See my Full Disclosure for further details.
PIN THIS TO PINTEREST TO FIND LATER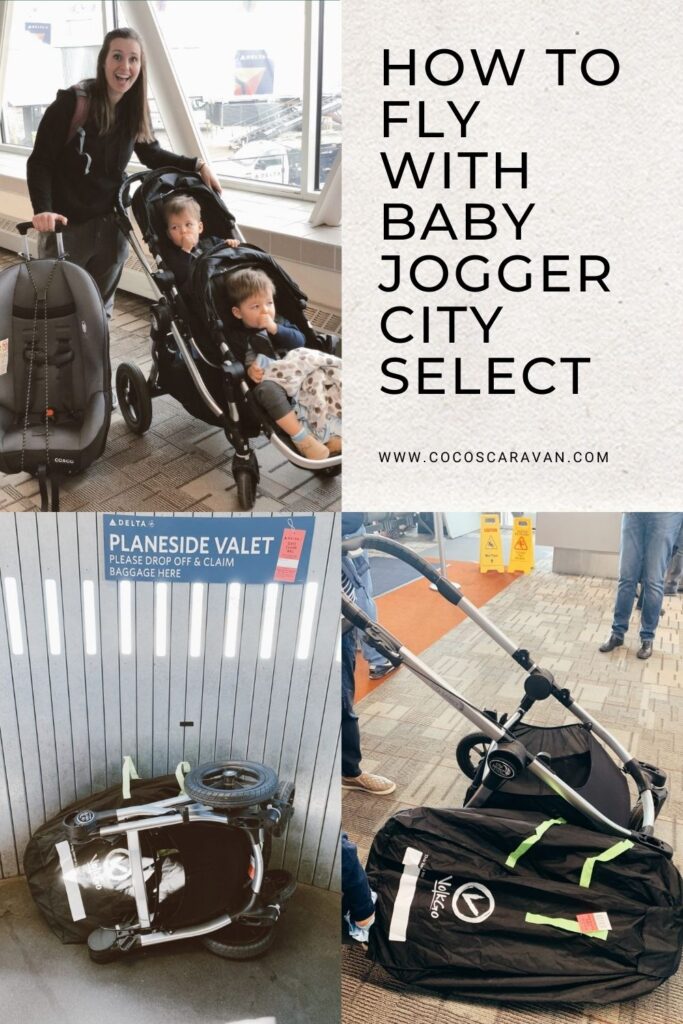 You might also be interested in these blog post:
Check out my tips on flying with toddlers HERE.