The best superhero party food ideas
If you are looking for superhero party food ideas you have come to the right place. You'll find great ideas for food at your kids superhero party. I love when the food goes along with the theme and I had fun coming up with ideas that worked with Spiderman and Batman. You will also find free printable food labels below.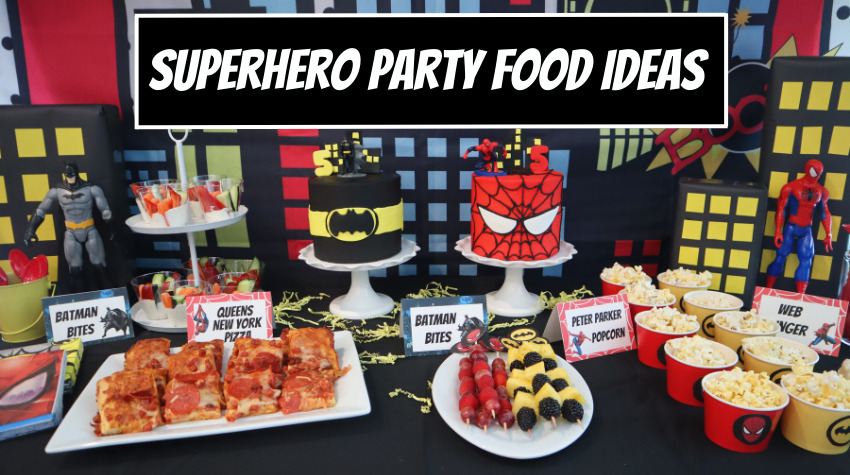 I had so much fun putting together this Superhero birthday party for my twin boys. Check out my spider-man party decorations blog post for links to the backdrop and toys you see. I used all these same props on their birthday superhero photoshoot which turned out so cute as well.
Superhero Party Food Ideas
I have twin boys and one loves Spider-man and the other one loves Batman so I decided to make it a Superhero themed for the two. I loved how the superhero party food ideas came together and it looked so cute! So if you are just doing a spider-man themed party or batman this blog post will help you as well!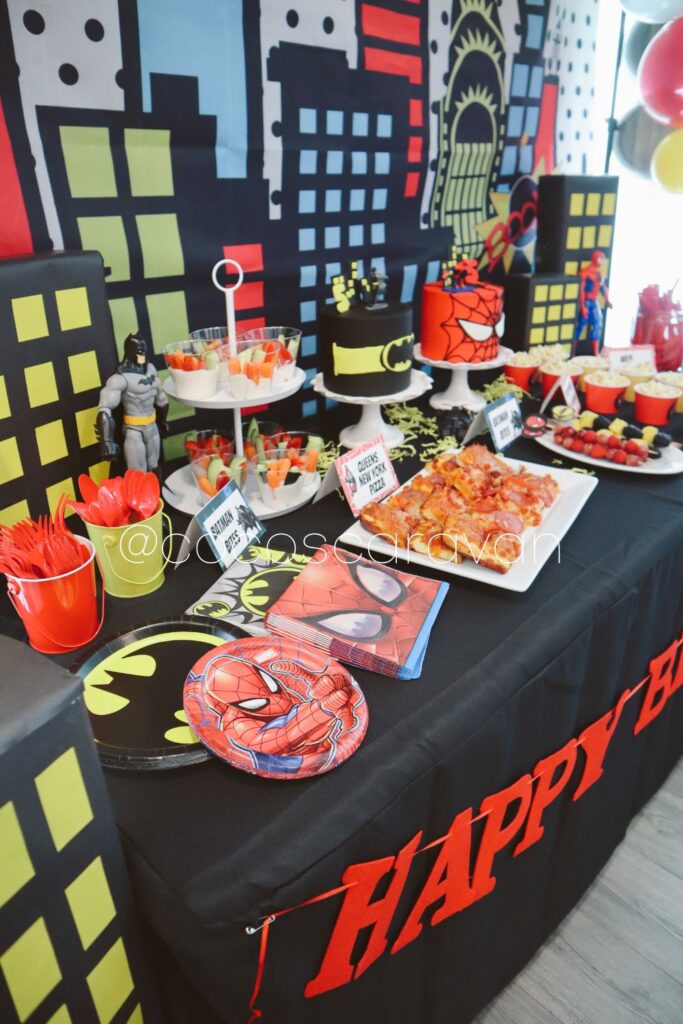 Main Course
There were so many Superhero Party food ideas, but I thought pizza would be easiest for the main course. No prep or mess before the party starts. I love getting pizza from Costco already made. Its cheap and easy to do. You could also do Papa Murphy's the day before the party and bake it right before the party starts. It was super easy and fun!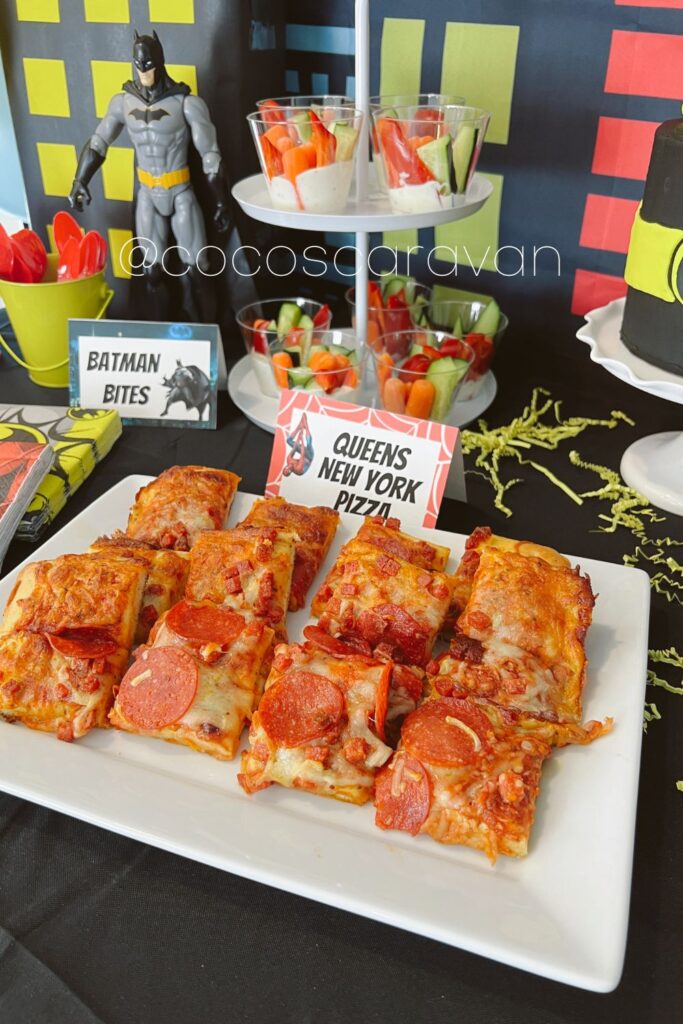 For Spiderman I thought it would be fun to do "Queens New York Pizza" I also saw "Peter Parker Pizza". For Batman I saw a label that said "Gotham Pizza" which was a cute name.
Snack/Appetizer
I loved coming up with superhero party food ideas. I think it's so much fun finding snacks and appetizers that goes along with the theme of the party. The food ideas I did for my boys Paw Patrol party last year turned out so cute and fun. This year it was fun to find cute names that fit the Spiderman and Batman theme. You can print off the food labels I made below.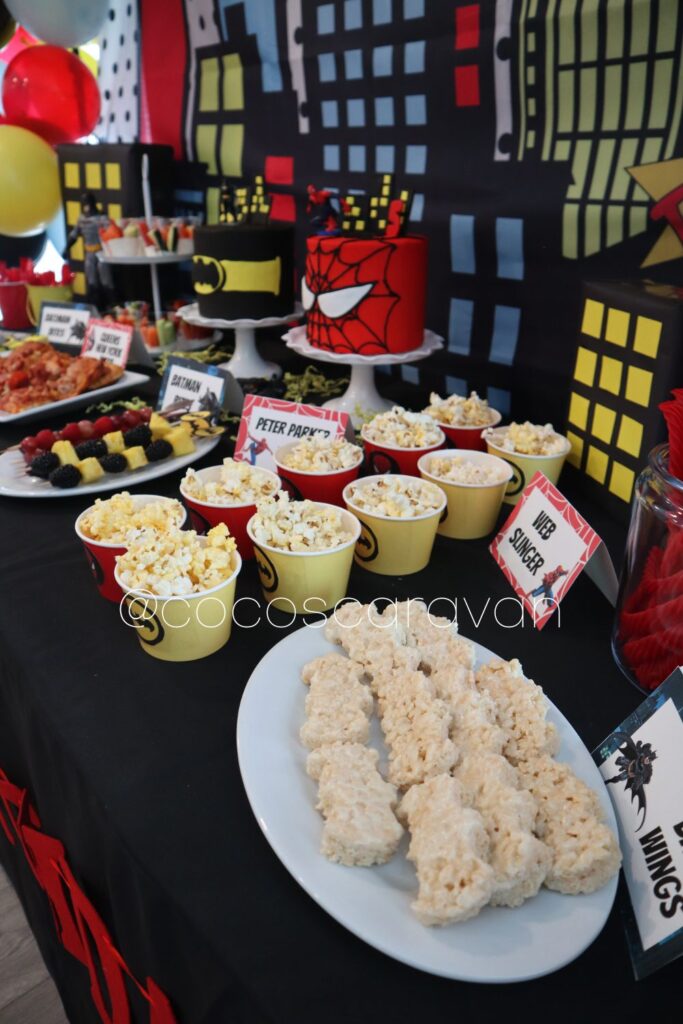 Veggies
I love doing veggie cups for parties with ranch at the bottom. It's easy to grab and eat and the kids actually love them! I found these clear cups from the dollar store.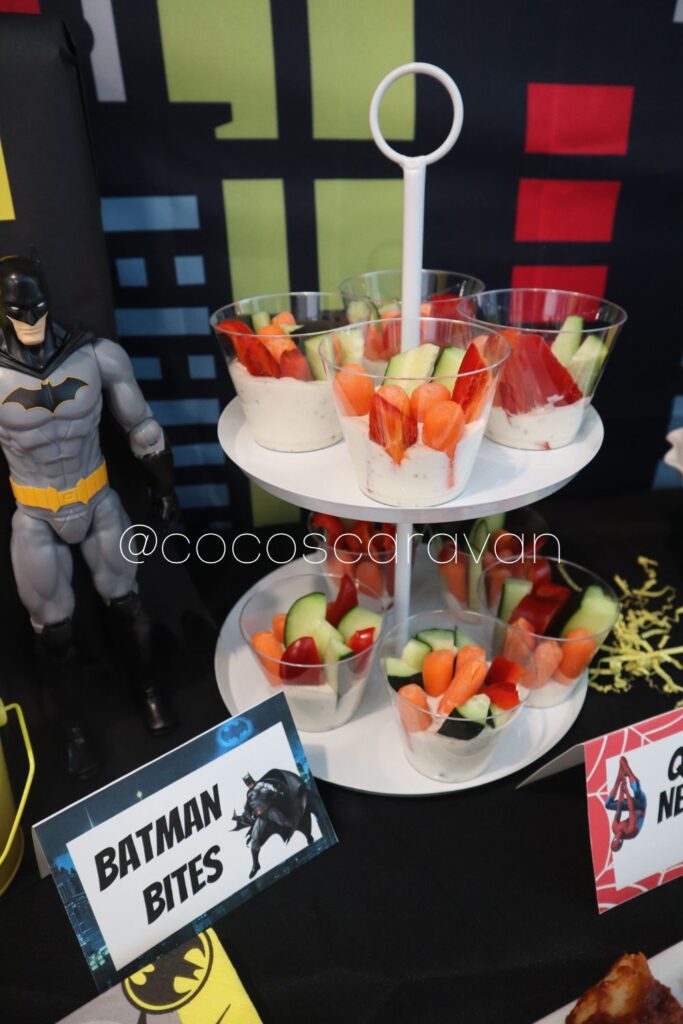 Fruit
I thought this was clever and so fun. I was hoping to do strawberries for Spider-man but the store was all out. The grapes and raspberries turned out just as cute. I use skewer sticks from the dollar store to put the fruit on. You can print these labels below for free.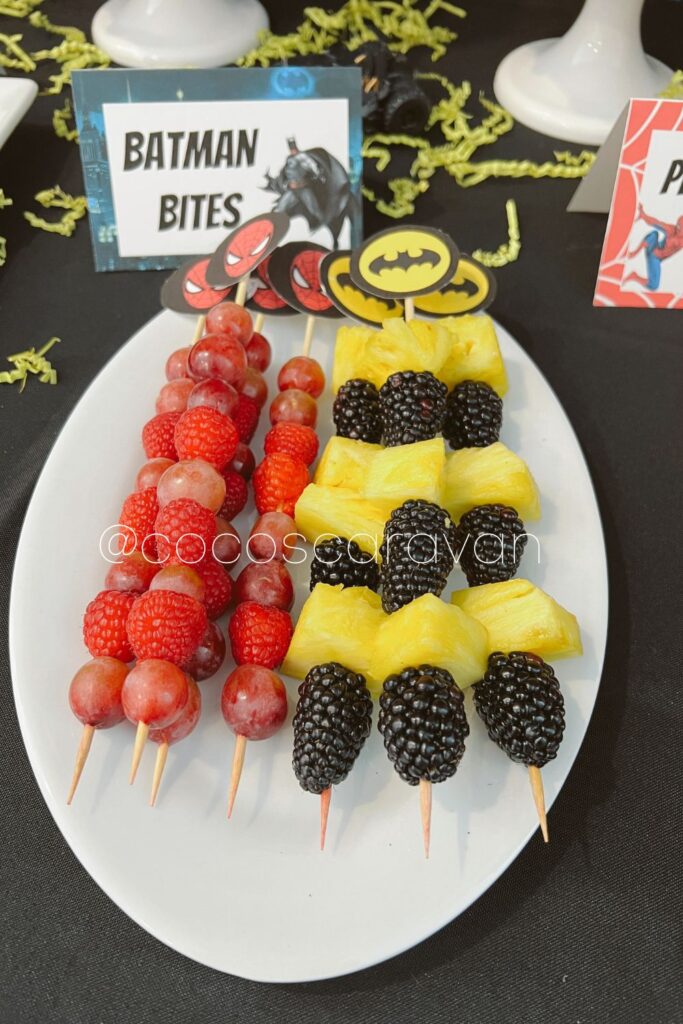 Popcorn
I found these popcorn bowls at the dollar store and then I made the circle Spiderman and Batman labels to tape on the front. You can print them for free below.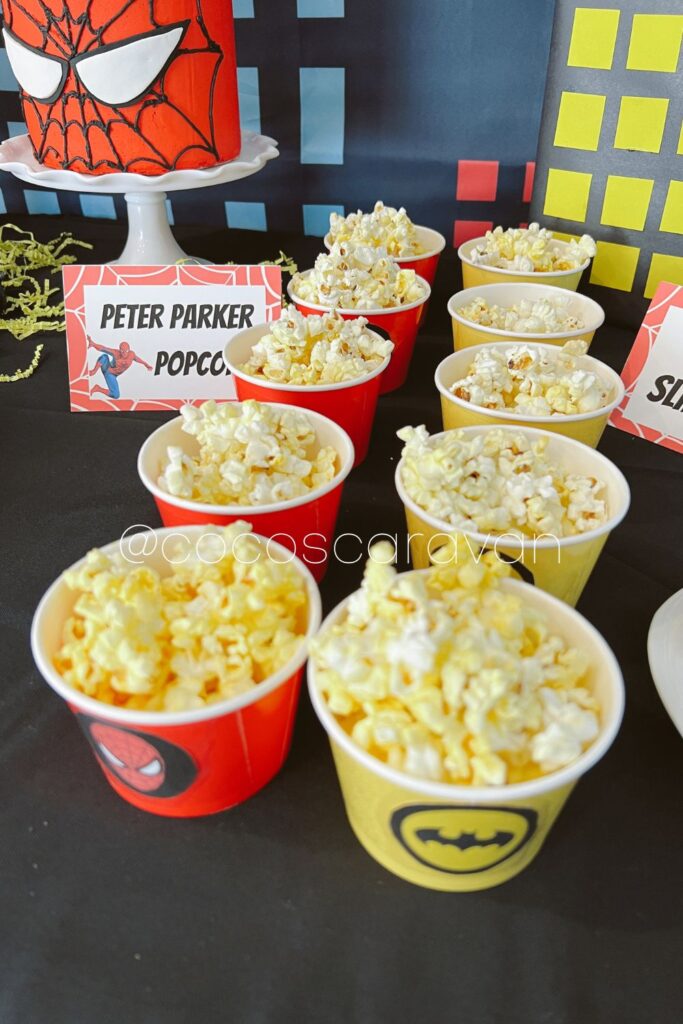 Rice Krispie Treats
I bought these Batman cookie cutters to make the rice krispies in the shape of bats. I thought they turned out so cute. I put the rice krispies in a cookie sheet so they wouldn't be as thick and easier to cut through.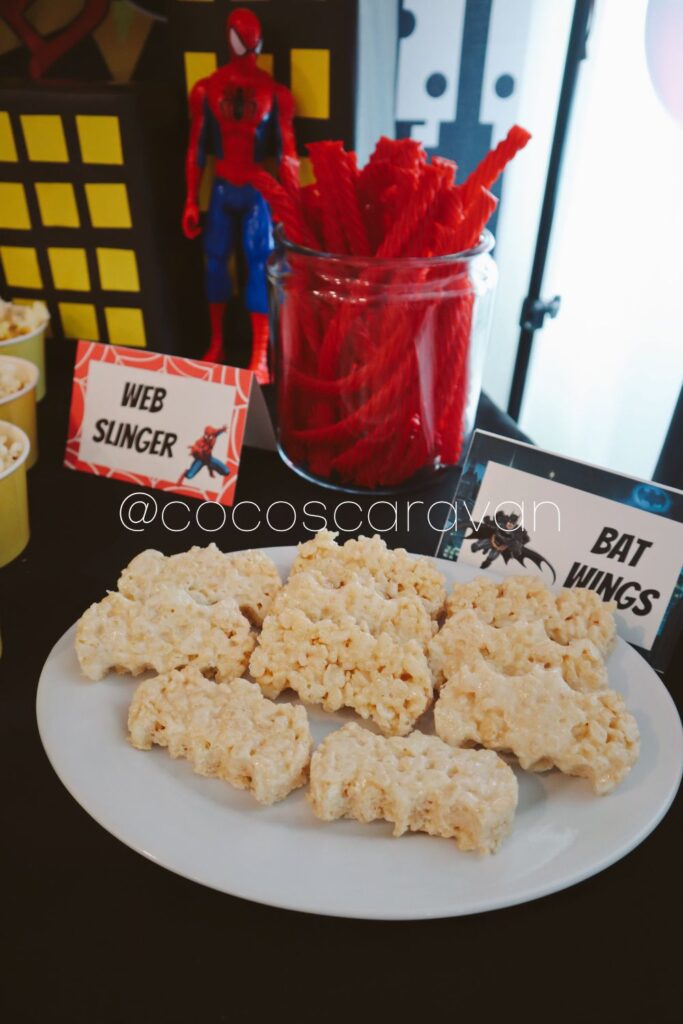 Licorice
I used red vines for the Spiderman themed food idea. I got this glass jar from Walmart and thought it was perfect to put the red vines in. You can find a link to this Spiderman toy on the Spiderman Party decoration blog post.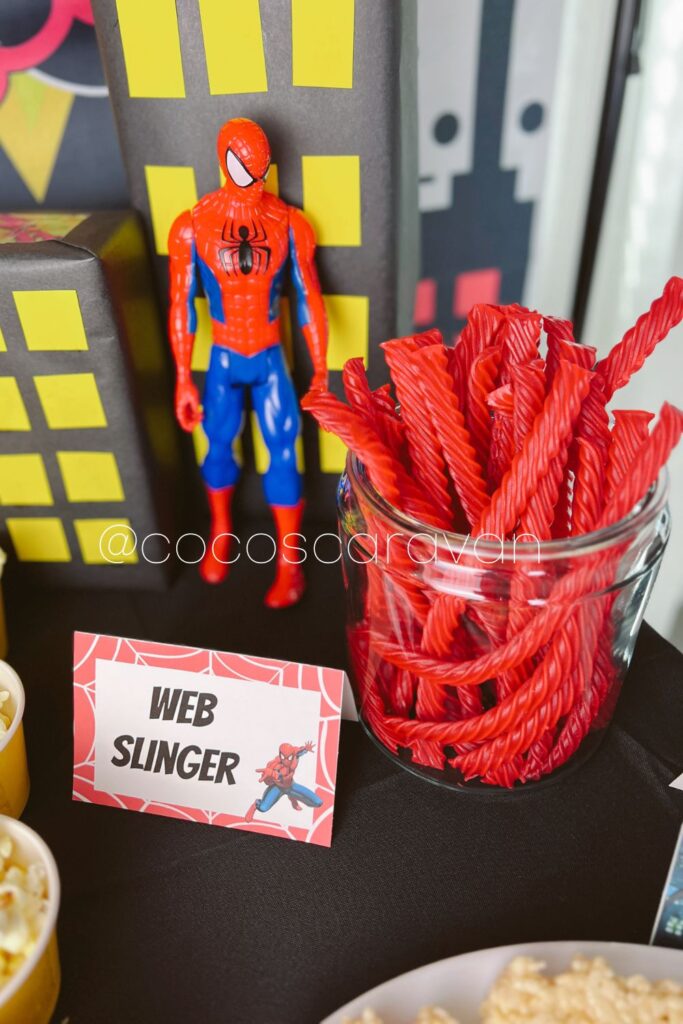 Drinks
I loved the idea of doing red punch and then putting the Spiderman Eyes on to look like spiderman. You can print these eyes below. I bought this drink dispsener at Walmart and it worked perfect for this party. I'll continue to use it for every party now. I also took red cups and put eyes on the bottom cup to also look like Spiderman.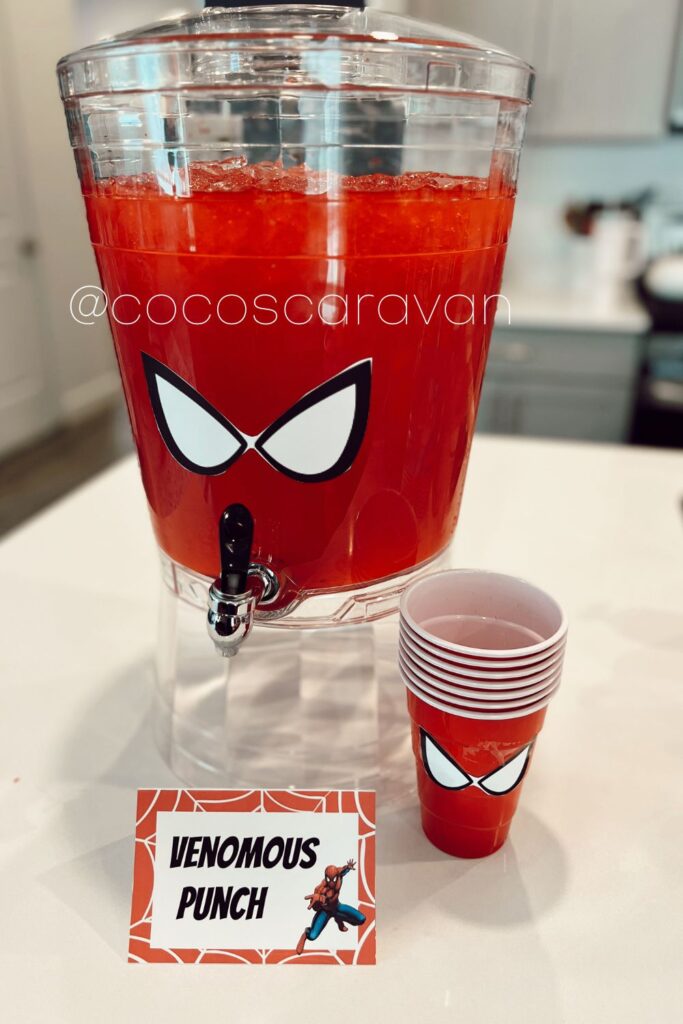 Cake
I had a local bakery make these cakes for me. I sent over a picture of something similar that I wanted and they gave me a price. Sometimes to cut down on cost I'll add my own toy on top instead of them making a figurine with fondant. I found a small spider-man and batman action figure that worked perfect.
I also have them use cover the whole surface with buttercream instead of fondant to save money. Then they can have fondant additions. You can also save money by buying pre-made fondant and add to a cake if you like to do that.
Last year I bought my own fondant and added paws to their Paw Patrol cake which saved me some money and it looked really cute.
I love taking on DIY projects, but baking is not my favorite thing to do. It's always easier to hire that out and focus on all the other stuff. My boys were so excited with out these cakes turned out! They really make the rest of the table pop and are the best part of any food table.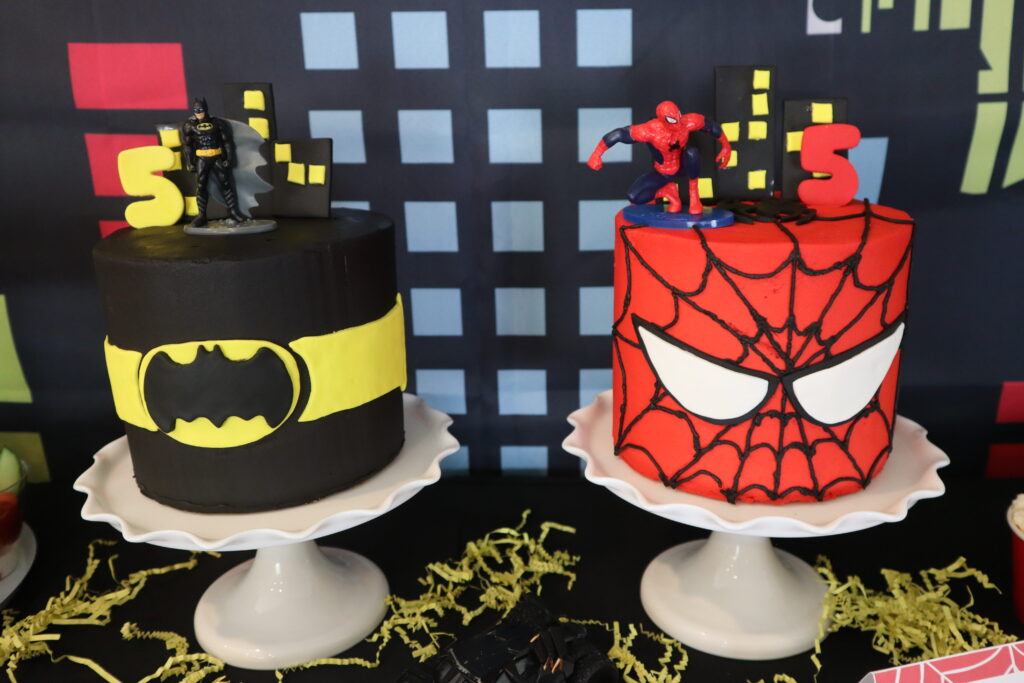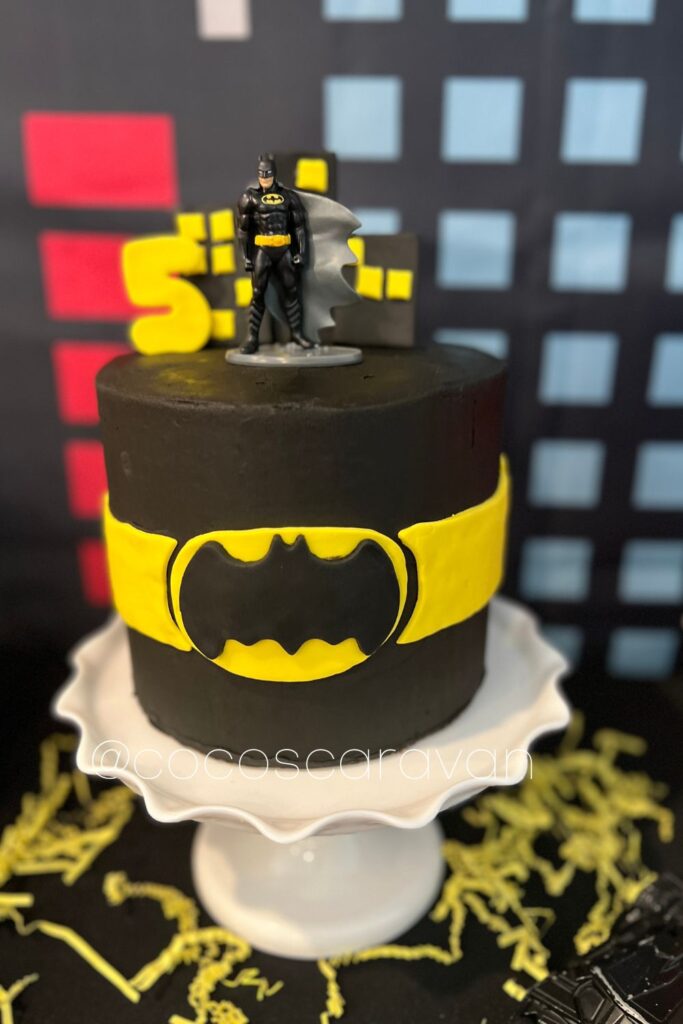 Food Labels (Free Printable)
Feel free to print these and use them for your party. I just made them in Canva and use images from google to make them. I loved how they turned out! The font I used for the food labels is called "bangers" if you want to make some.
Pin this to your Birthday Party Pinterest board: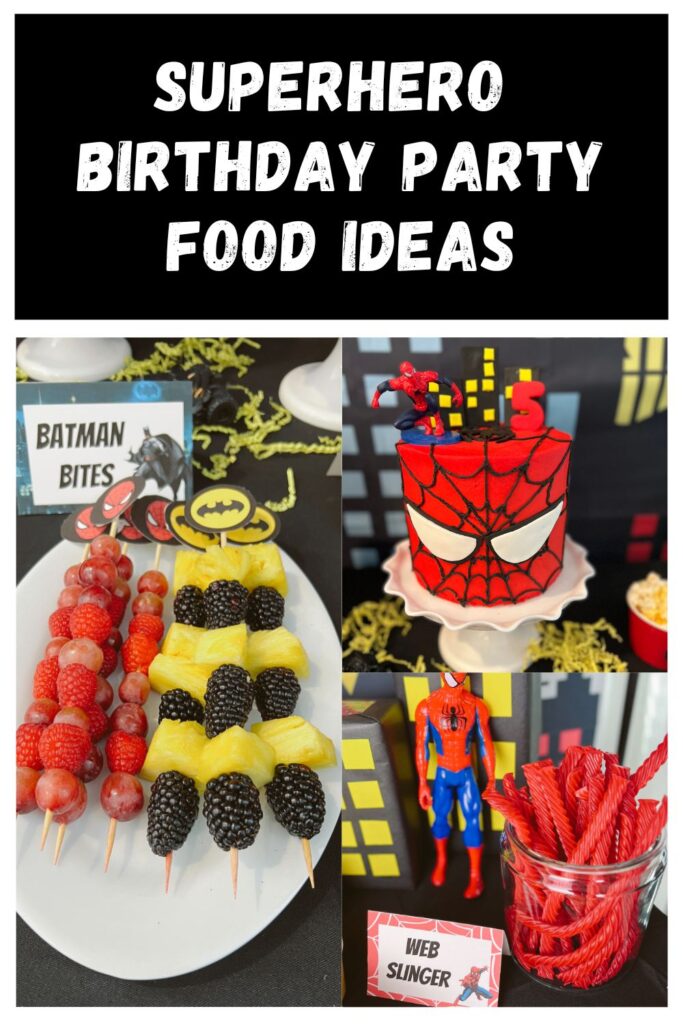 This post may contain affiliate links. See my Full Disclosure for further details.
You might also be interested in: