Easy and unique Paw patrol party food ideas
If you're looking for some great Paw Patrol party food ideas, then you've come to the right place. You'll find great ideas for food at your party. I love how the food goes along with the dog theme. See my ideas below and free labels you can print as well.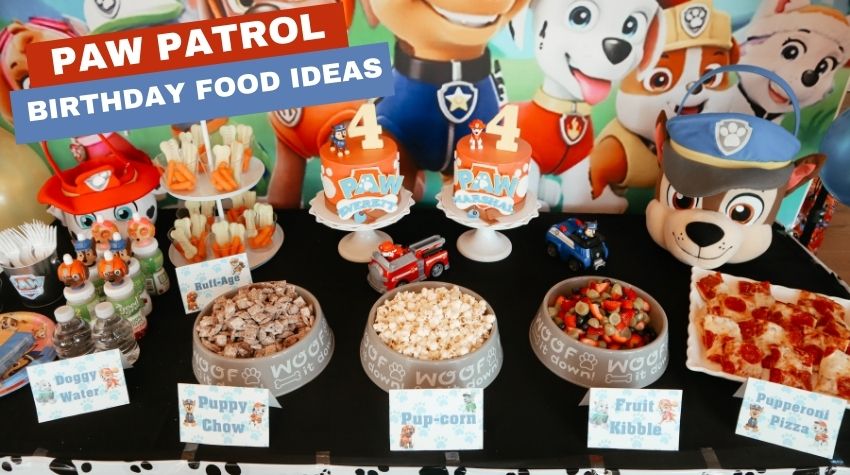 Last year for the twins birthday I put together a really fun Disney Pixar Cars birthday party. You can see how I put that together HERE.
Paw Patrol Party Food Ideas
I love the cute names that match with the Paw Patrol show. I found a ton of cute ideas on Pinterest and picked my favorite ones. You can see what I chose to use for the main course and the appetizers below.
Main Course: Pupperoni Pizza
There were so many Paw Patrol Party food ideas, but I chose to do things that were easy. For the main course I decided to do pizza which is so easy for a party. No mess no prep. I got Papa Murphy's the day before the party and baked it right before the party started. It was super easy and fun! I also loved the "Pupperoni Pizza" name and it fit the theme perfectly.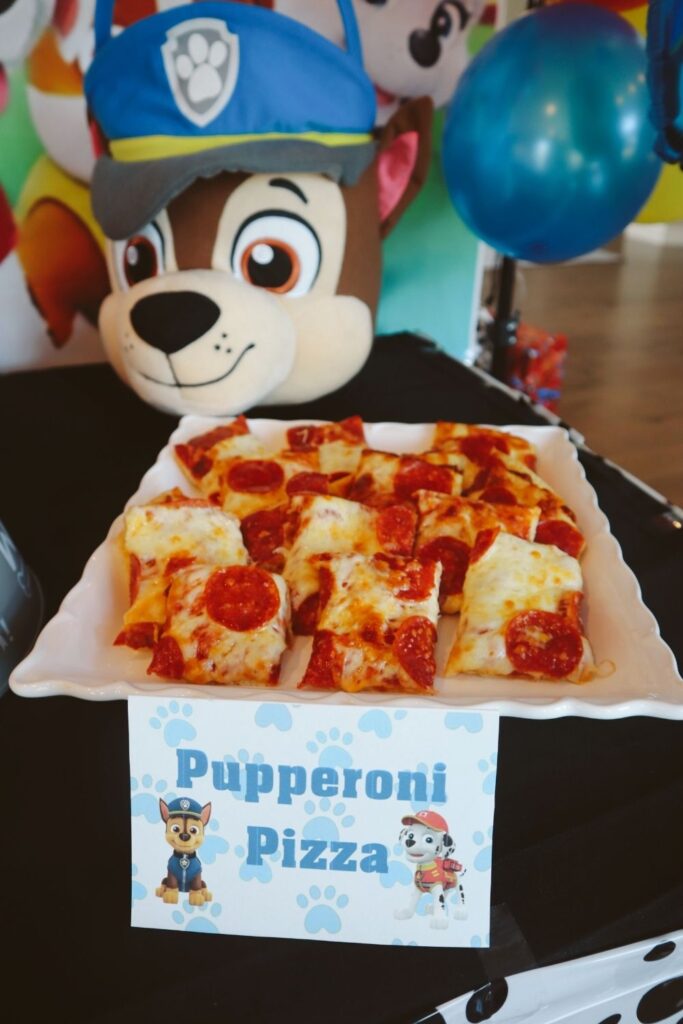 Snacks/Appetizer
These were my favorite Paw Patrol party food ideas for appetizer/snacks. I wanted it to fit the dog and Paw Patrol theme and thats why I chose these. The puppy chow was by far the favorite and everyone was super excited to eat that. I loved the cute names and how it fit the dog theme. It was all easy to make and prep for the party.
The veggie tray was also really fun and cute. I used a bone cookie cutter to cut out bone shaped cucumbers.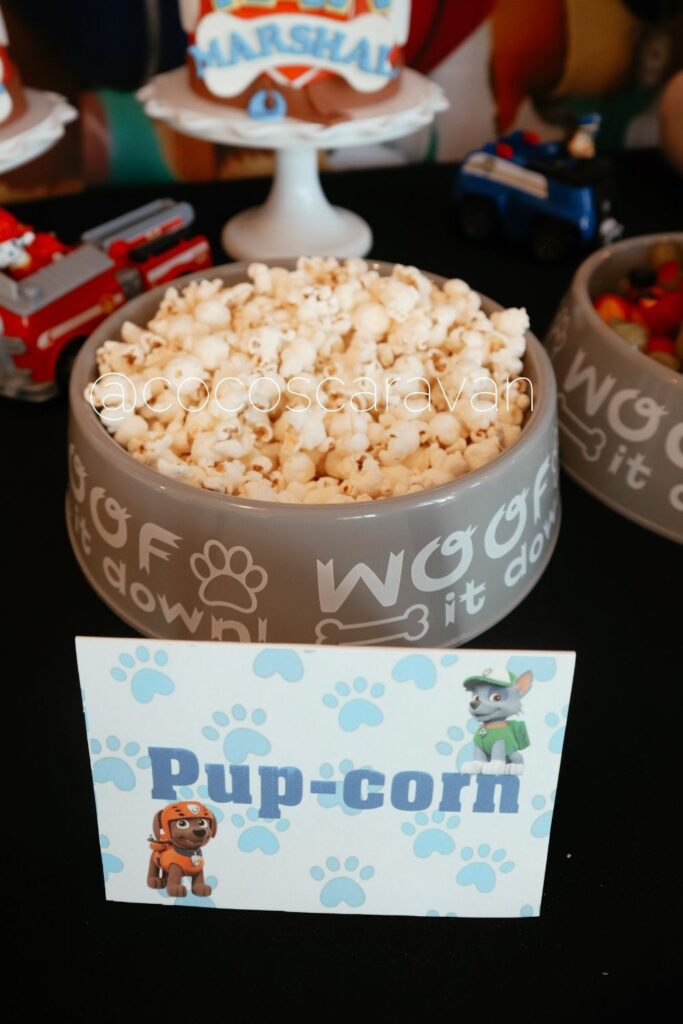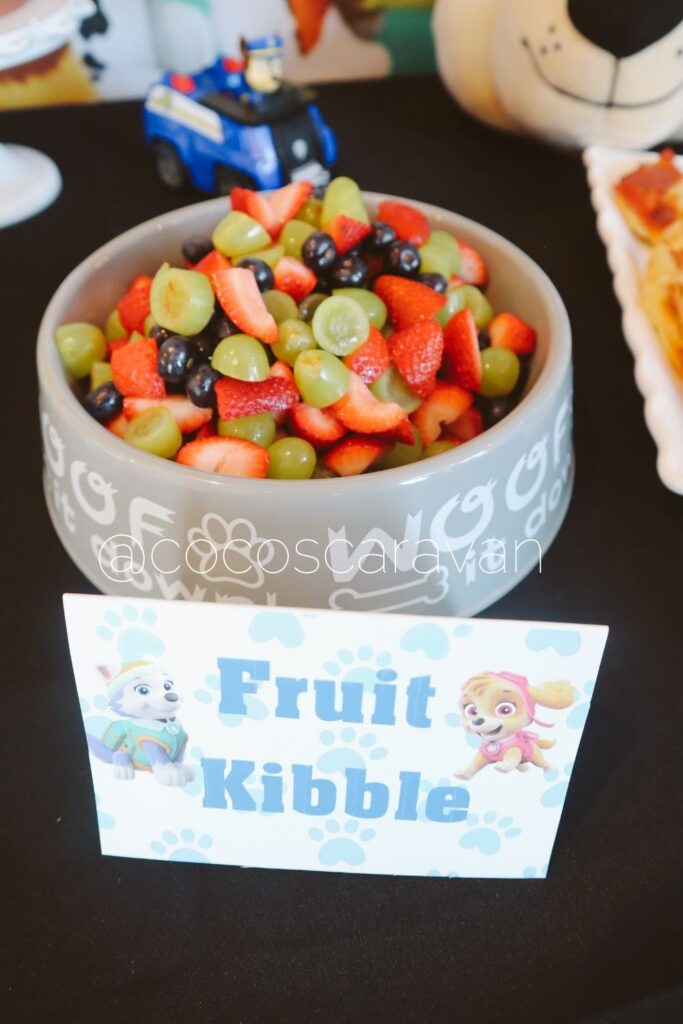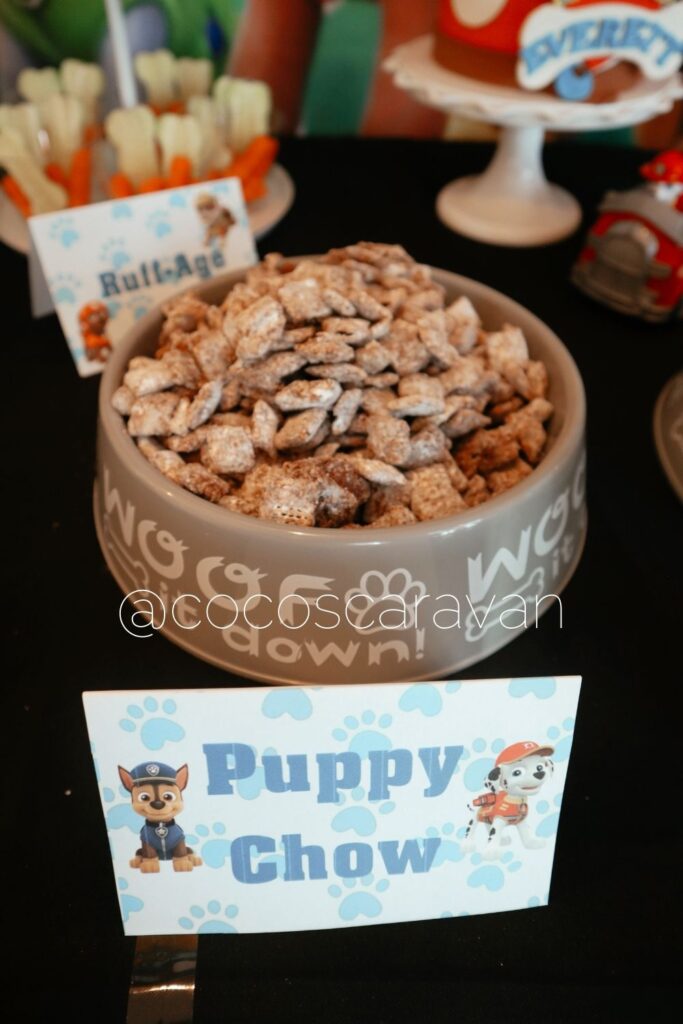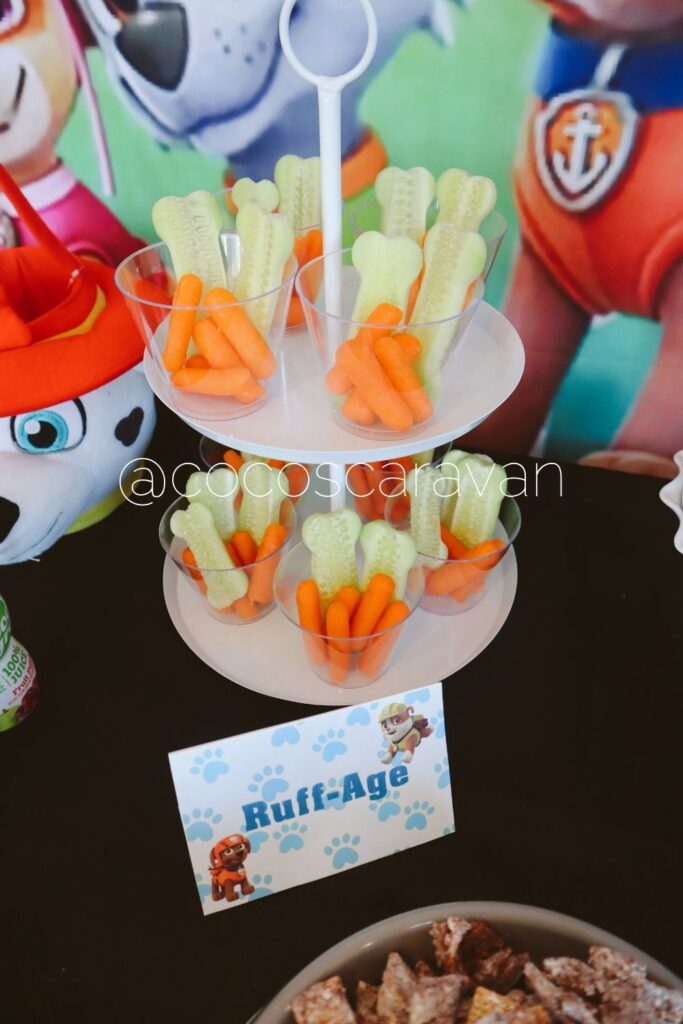 Drinks
For the drinks I got small waters and the Paw Patrol juice from Walmart. I was so excited when I found those because it fit the Paw Patrol theme perfectly.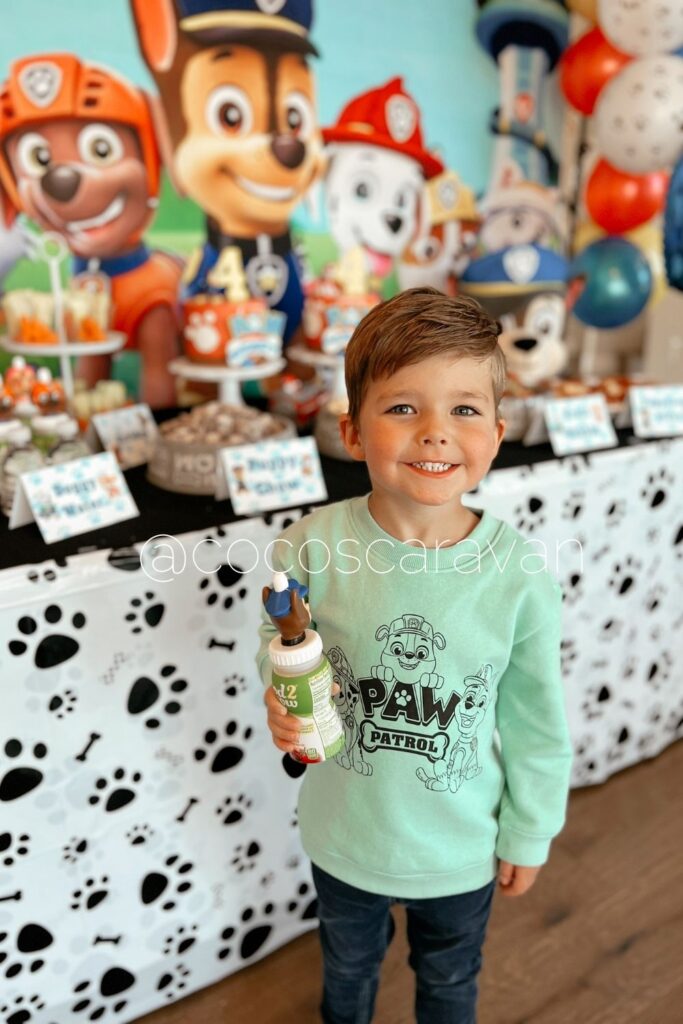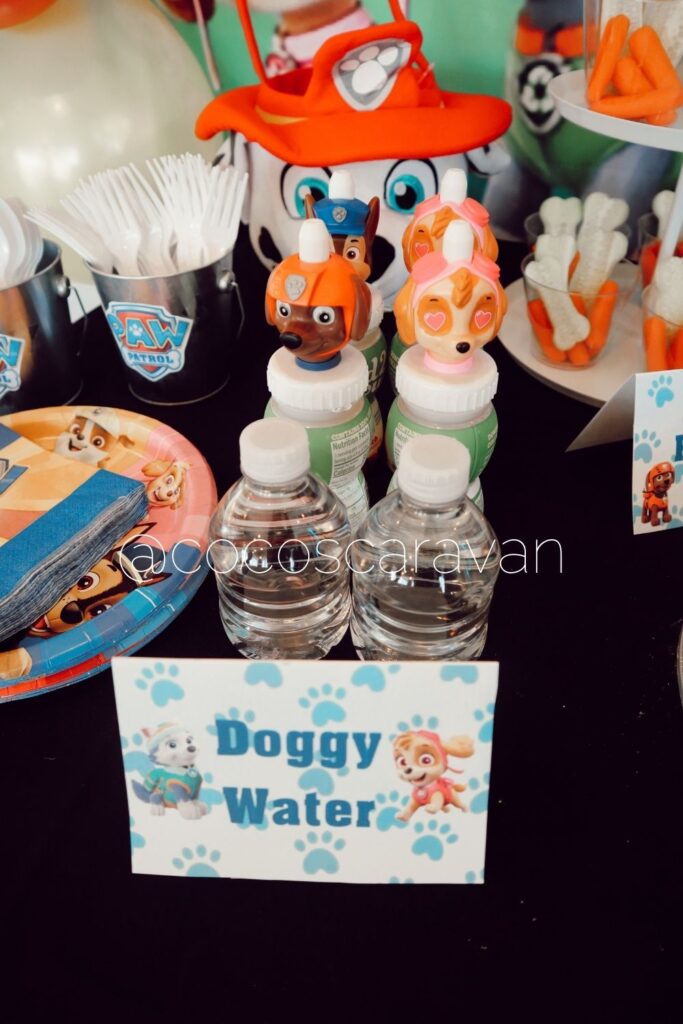 Cake
I had a local bakery make these cakes for me. I sent over a picture of something similar that I wanted and they gave me a price. It was really expensive so I asked if I could just add my own toy dog on top and that would lower the price. When I picked up the cake I realized they didn't add the word "patrol" under Paw, but the boys were still super excited about the cake and it turned out so cute.
I also went to Walmart and bought pre-made fondant and added the paw prints on the side. It's just like using play-dough and was super easy to do. The boys were so excited about their cake and couldn't wait to eat it!
I love taking on DIY projects, but baking is not my favorite thing to do. It's always easier to hire that out and focus on all the other stuff.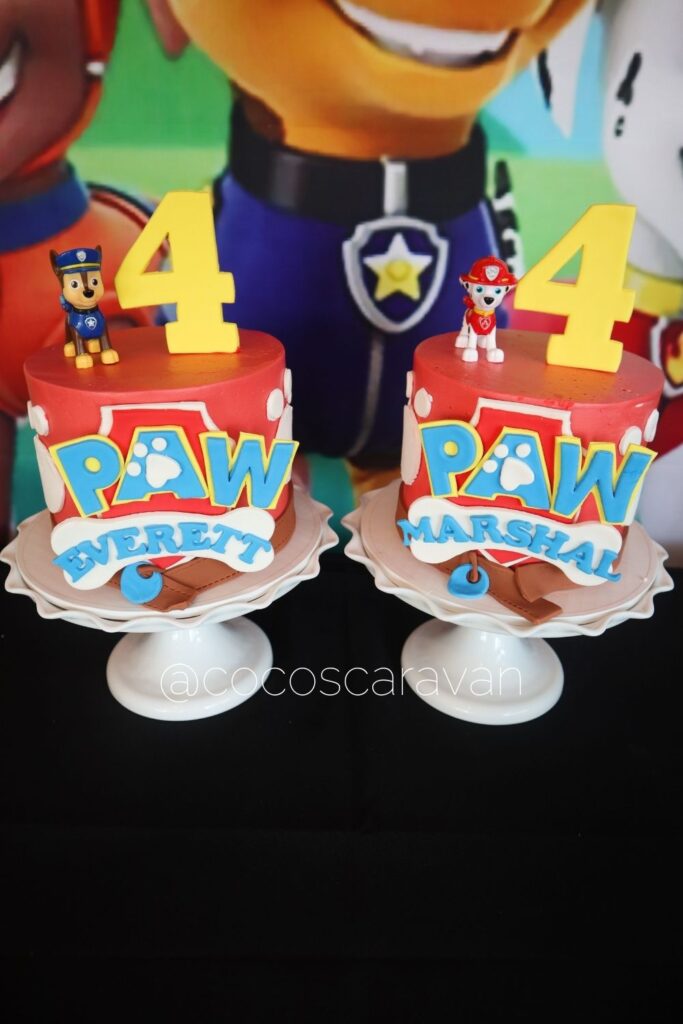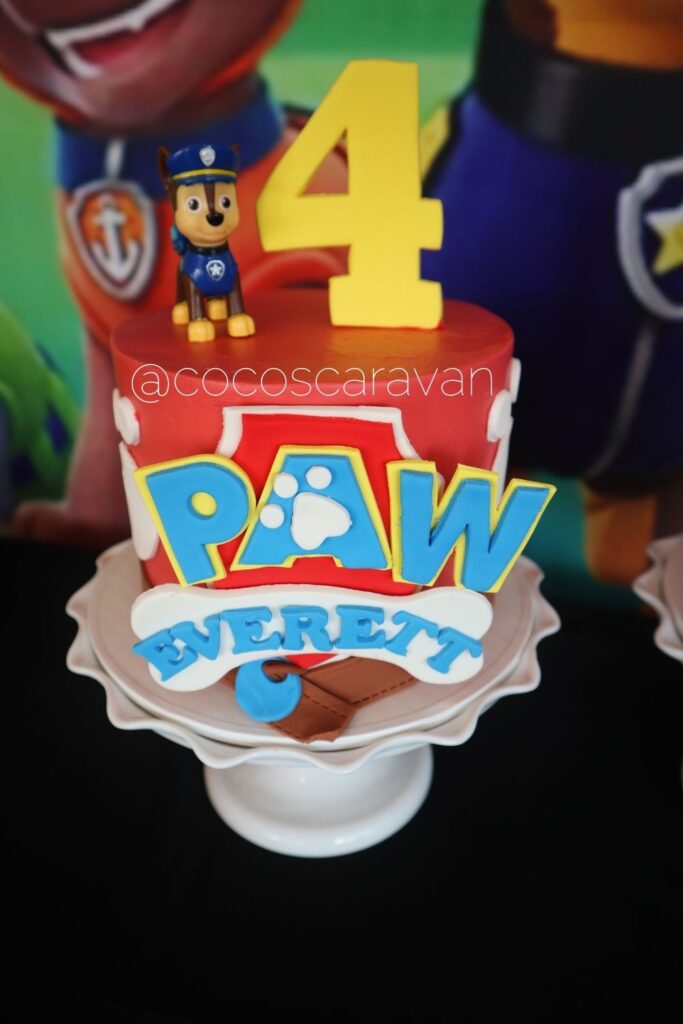 Food Labels
Food labels can add so much to a food table and make it super cute. I love creating my own labels and I use Canva.com to do that. You can print the one I made below for free or make your own.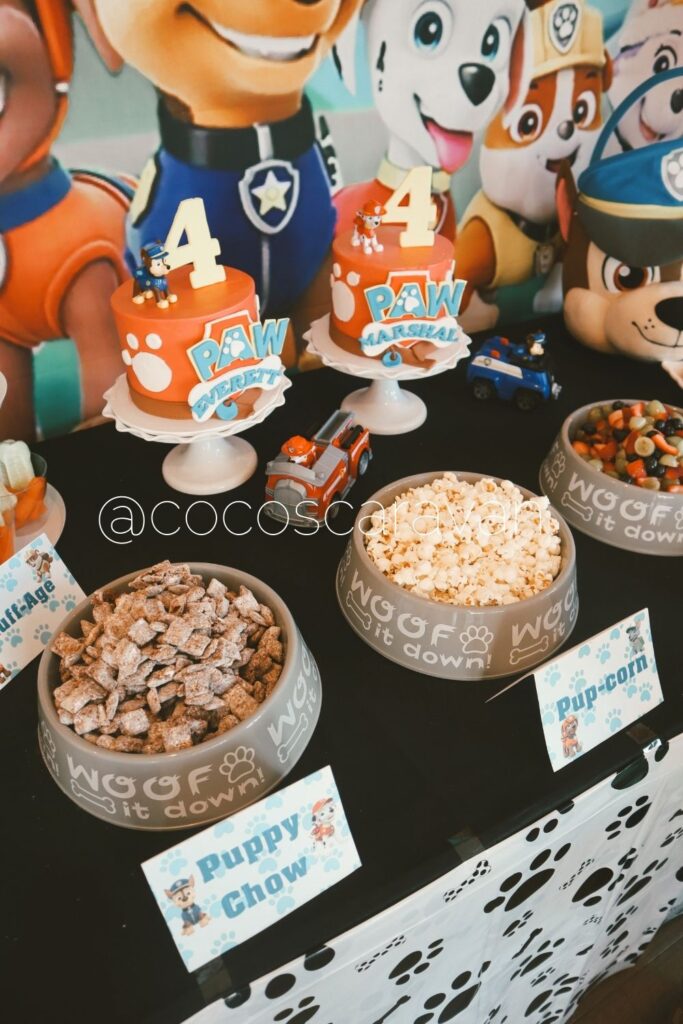 Print my food labels
Serving Stuff
You can find a lot of Paw Patrol party supplies at Walmart so make sure to check there as well. I got my plates and napkins there. The dog bowls was a super cute idea I got from searching on Pinterest. I found them at the dollar store, but I linked them below. See where I got all my Paw Patrol party decorations on my blog post HERE.
I found the tin buckets at the Dollar store and thought they would be perfect for holding utensils. You can print the labels over on my Paw Patrol birthday decorations blog post.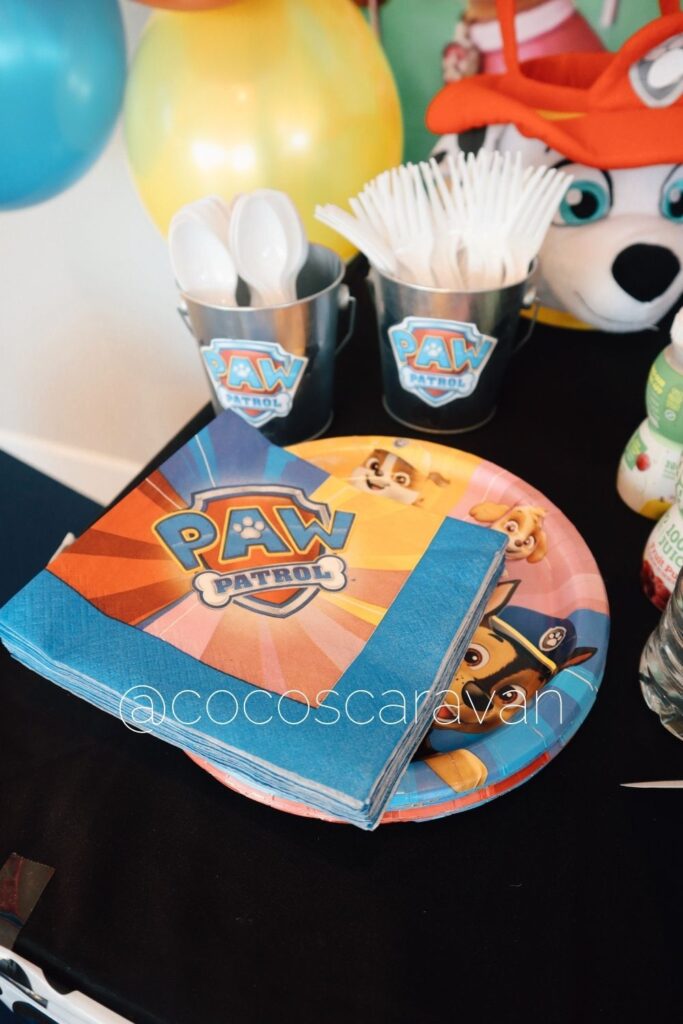 Links to serving products and utensils
DON'T FORGET TO PIN THIS TO YOUR FAVORITE PINTEREST BOARD FOR LATER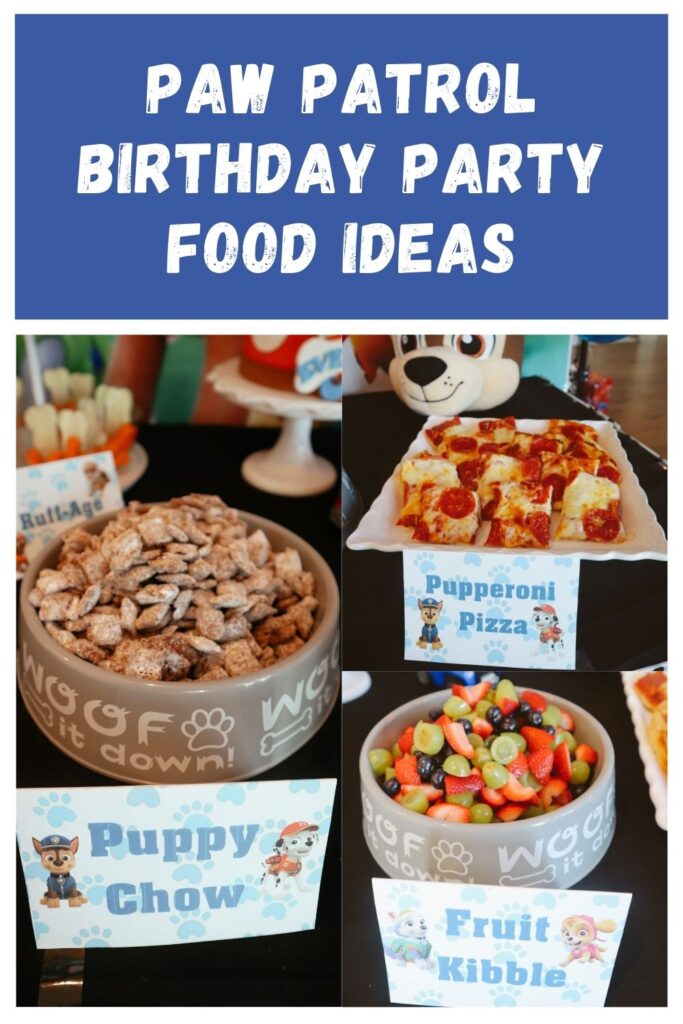 Similar blog post you might be interested in
Paw Patrol Birthday Party Ideas
This post may contain affiliate links. See my Full Disclosure for further details.