The best Spiderman birthday decorations
If you're looking for some great Spiderman birthday decorations, then you've come to the right place. I'll show you how to create this amazing superhero backdrop and table decorations. Continue reading for links to all the products below.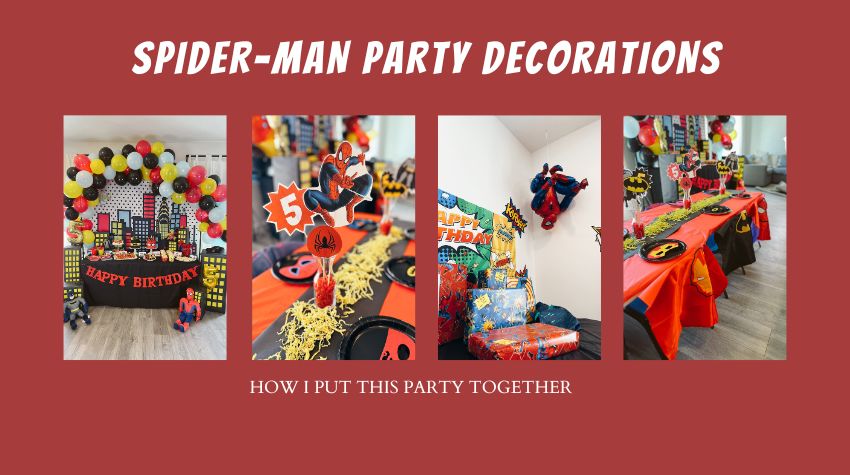 Use all of these same decorations to do your own Superhero photoshoot at home. You can use the pictures for your invites or hang up at the birthday party.
Spiderman Birthday Decorations
My twin boys are into superhero's right now. I have one that loves Batman and the other one that loves Spiderman. I'll show you the decorations for Spiderman, but you could add other superhero's as well. These Spiderman birthday decorations came together so well and my boys loved it! I will show you where I bought all these decorations and how I put them together! Hope this helps so you can have a fun Spiderman party for you kids!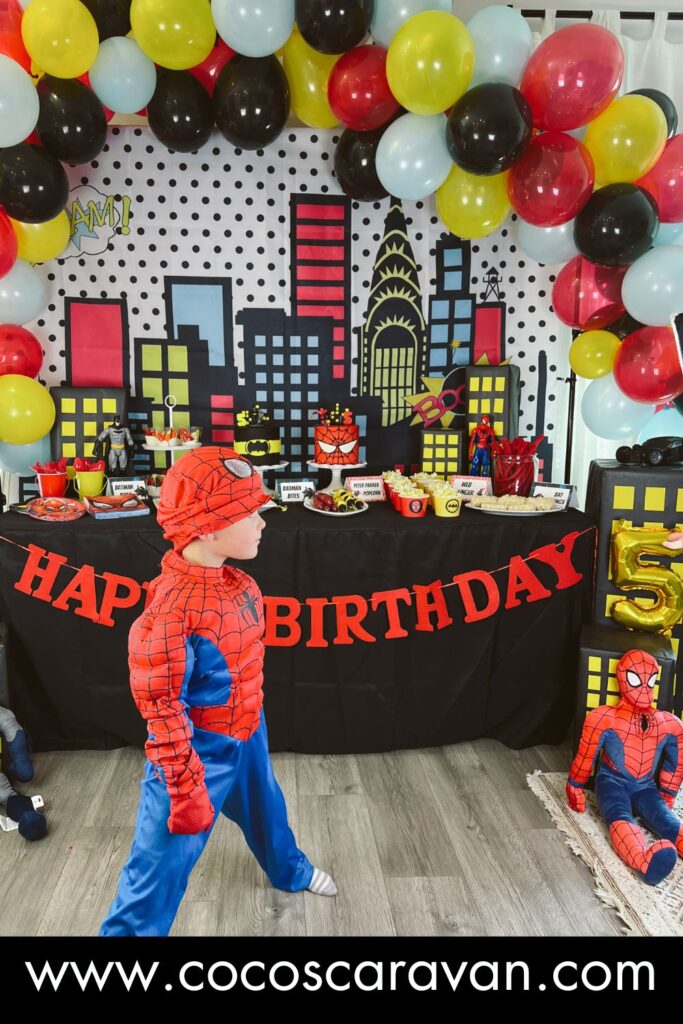 Table Backdrop Decorations
If you want your kids birthday party to go from average to professional looking just add to your food table with a backdrop and balloons and it will look amazing! See how I made this Spiderman birthday go from average to professional by adding a backdrop!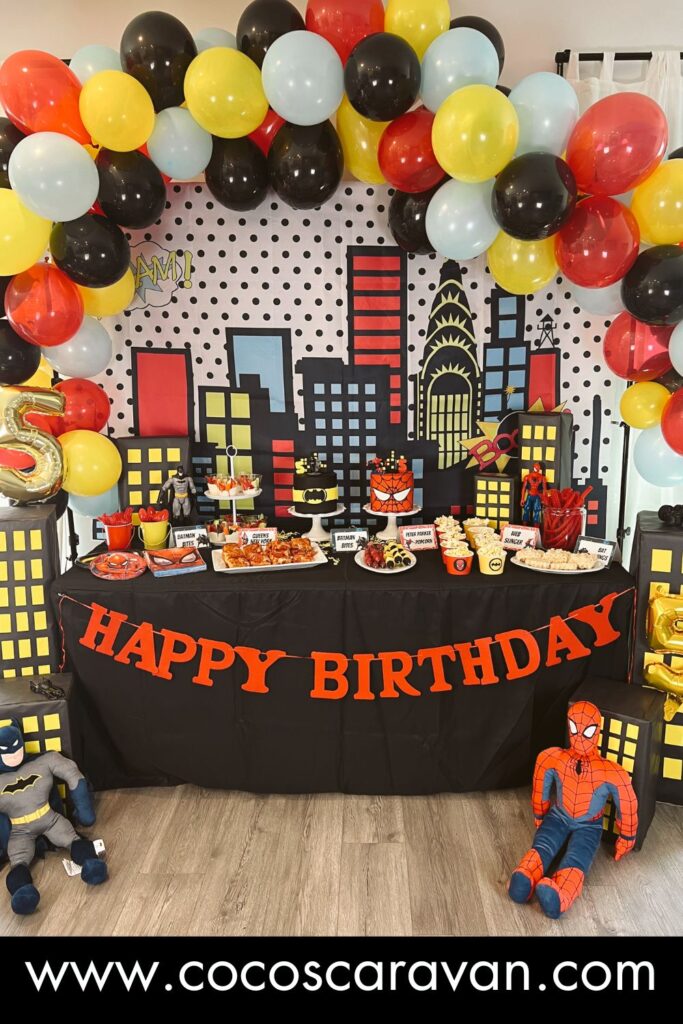 I searched for backdrops on Amazon and I used my photography backdrop stand to hang it up. If the one I attached below is not available try searching "Superhero photography backdrop" on Amazon to find others. It's also nice to have that stand to attach my balloon arch to as well. Links to all the products below. See more backdrop ideas on my Superhero Photoshoot blog post.
Link to backdrop
It's amazing what backdrops you can find on Amazon. I searched superhero photoshoot backdrop and so many fun ones came up. I liked this one because it was super colorful! I got a 7X5 and it was the perfect size. I use my backdrop stand to hang it. See below my photography equipment I use for my photoshoots.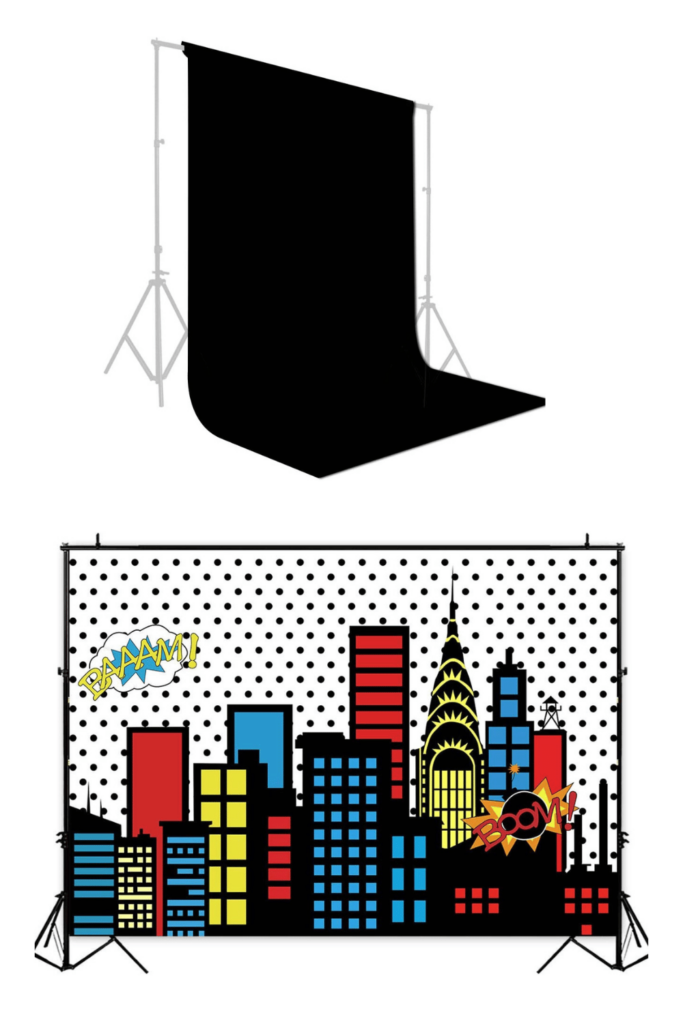 Balloon Arch
The balloon banner can make any party go from average to professional looking. I discovered the balloon garland kit and ballon pump which makes the process so much easier to accomplish. It does take some time, but so easy to put together. I used command hooks to attach to the wall and string from the strip to the command hook. Then I use string to attach the strip to the backdrop stand. Links to all the balloon banner products below.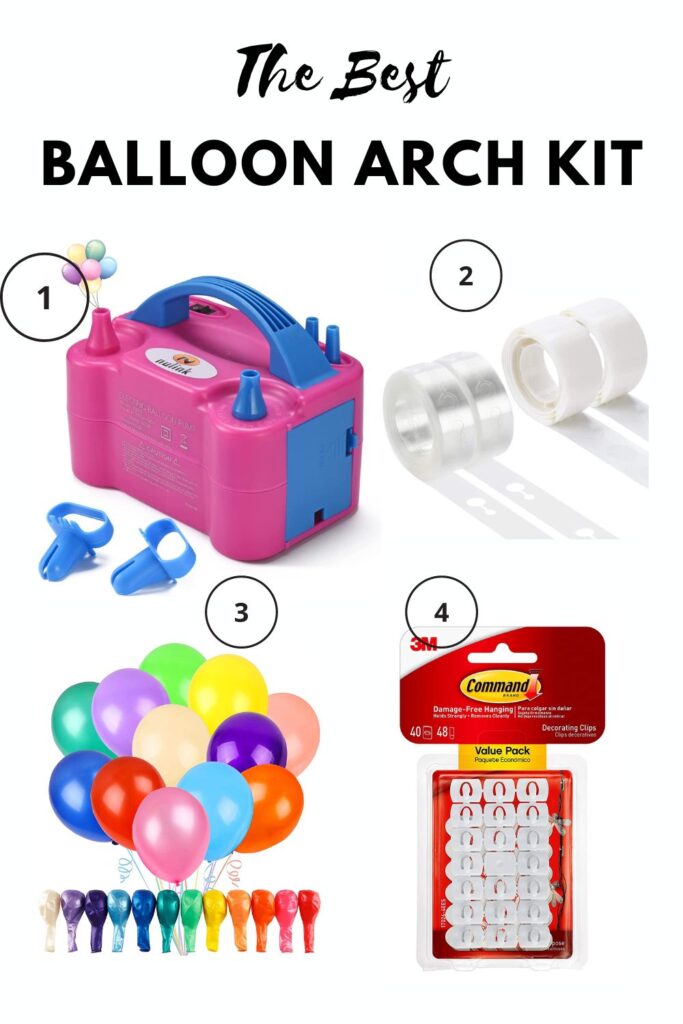 Food Table
For my food table I use a foldable table with a black tablecloth. I love when the tablecloth goes all the way to the floor. It looks more professional and nicer that way. I put the food table as part of the decoration blog post because it is the main focus of the party decoration.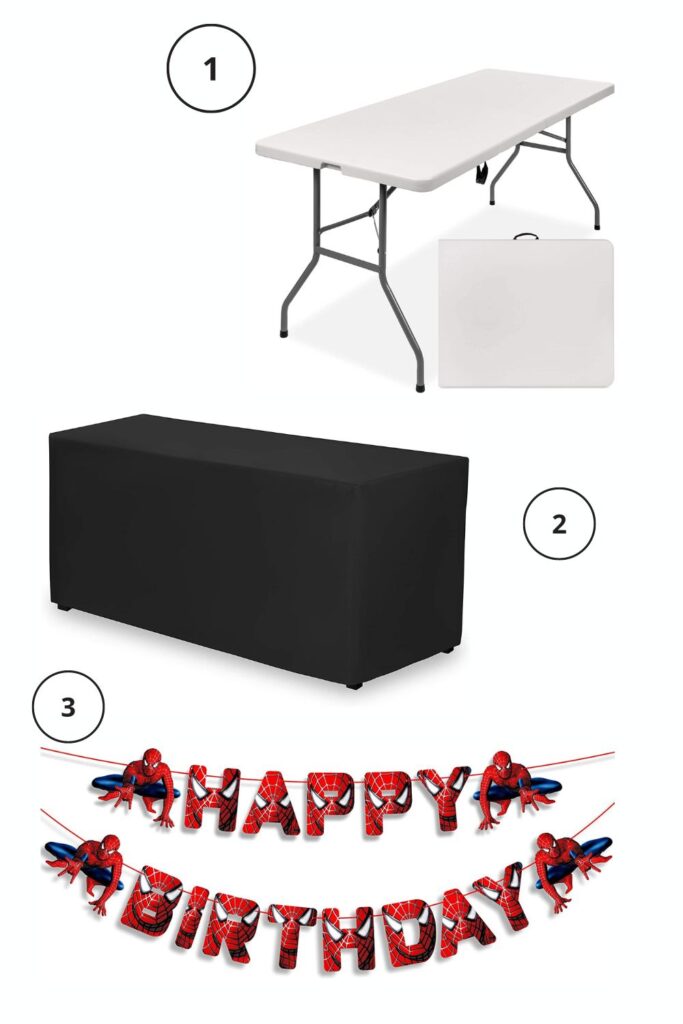 These were super easy and fun to do. I had left over cardboard boxes from my online purchases. I wrapped them with black construction paper and then I glued yellow cardstock on as windows. You can find links to the supplies to make these on my Superhero Photoshoot blog post here.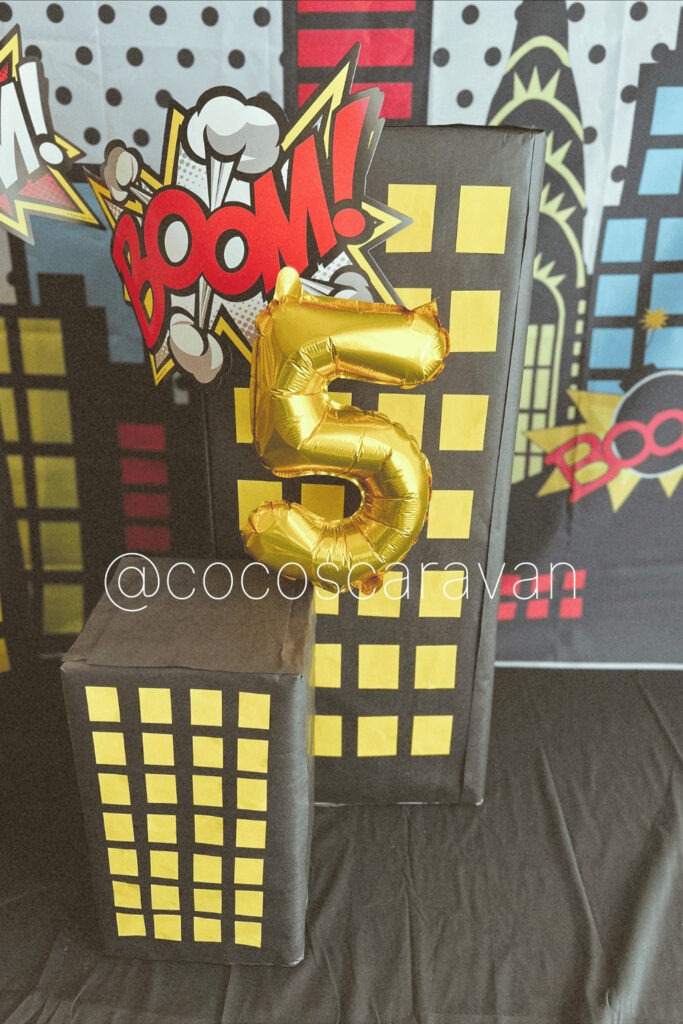 Kids Table Decorations
I love having a kids table for the birthday kid and their friends. I have a foldable kids table I used with the kids stackable chairs from Costco. I think its fun when they have a table their size to sit at. I used the plastic red tablecloth from the dollar store and the black construction paper down the middle. I thought it was really fun to add the cape and mask to each sit for the kids coming.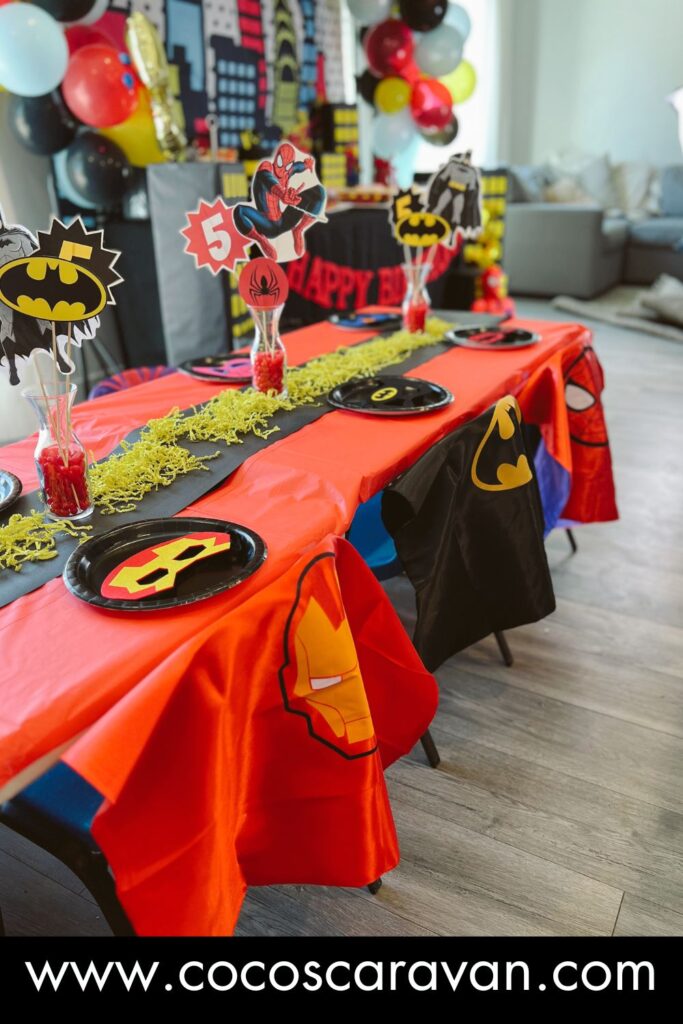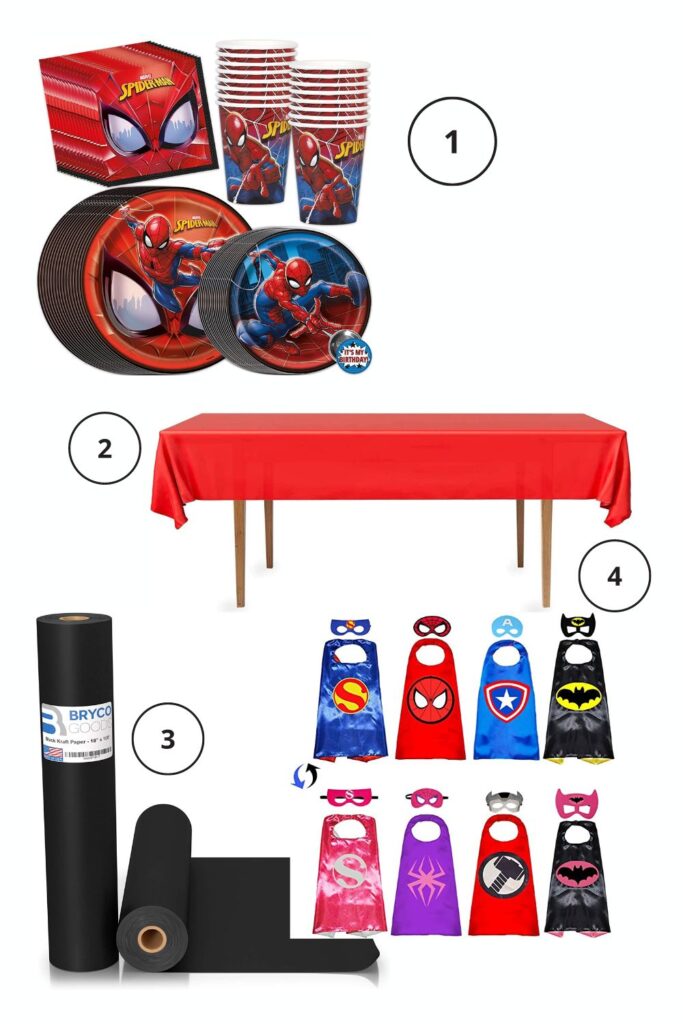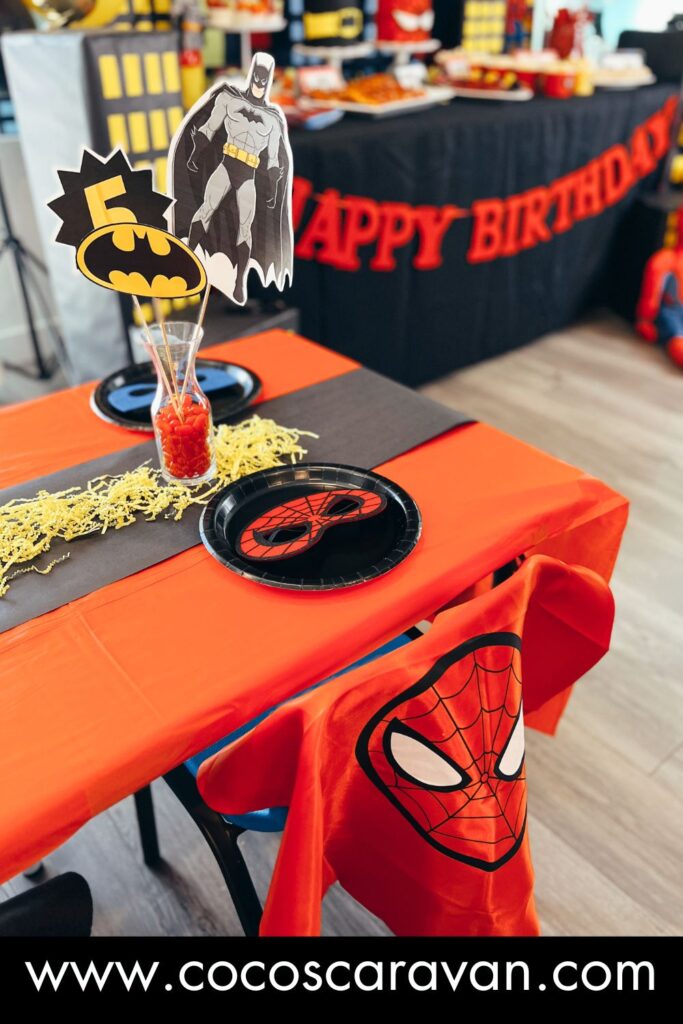 Centerpiece Printable
I made the centerpieces on Canva and they turned out so cute. These glass vases are from the dollar store and I use red Hot Tamales candies to fill them. I also bought skewer sticks to tape the pictures on and stick them in the glass vase. I included a free printable below if you want to print and use these for your kids party! Enjoy!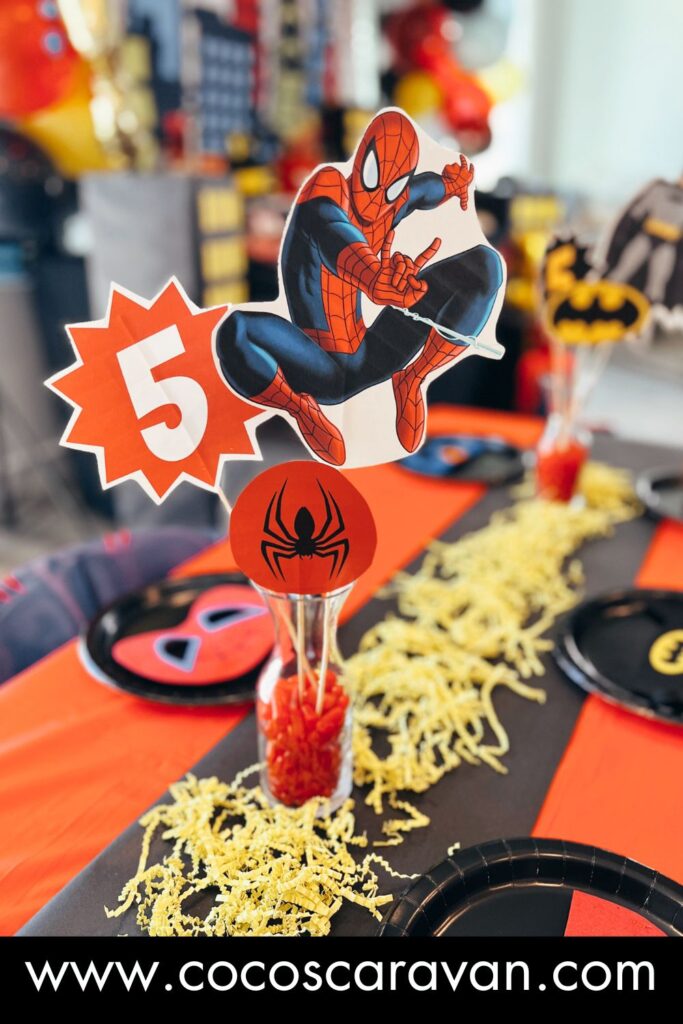 Link to kid table and chairs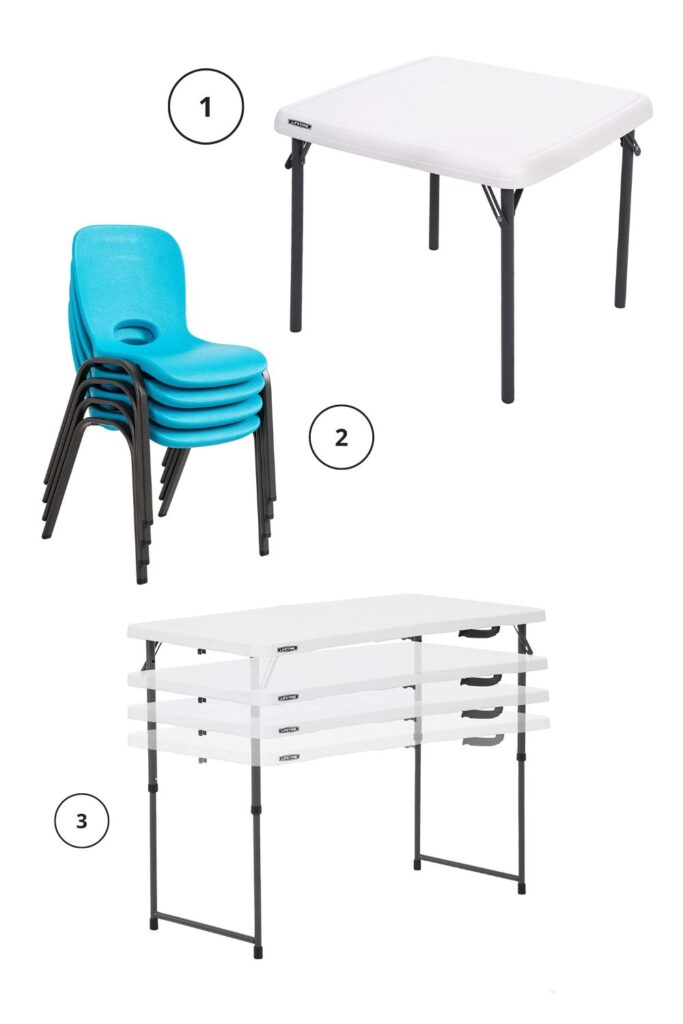 Gift Table
If you decide to do a gift corner its fun to decorate it as well. I bought this 5X3 superhero backdrop to put behind the table with a black plastic tablecloth for the table. I think the best part of the gift table corner was the spider-man balloon hanging upside down. You need that for your spiderman birthday decorations! I used a command hook and white string to make it look like he was hanging from his web. Then I tape a string to the hand and extended it across the room to make it look like he was shooting a web string. Links to everything below.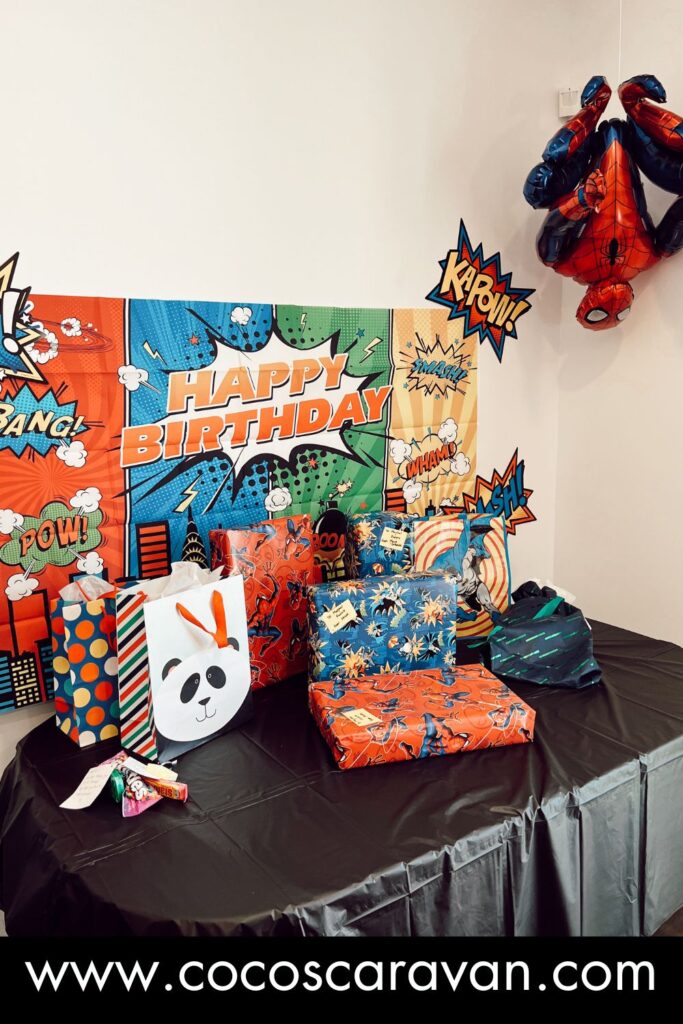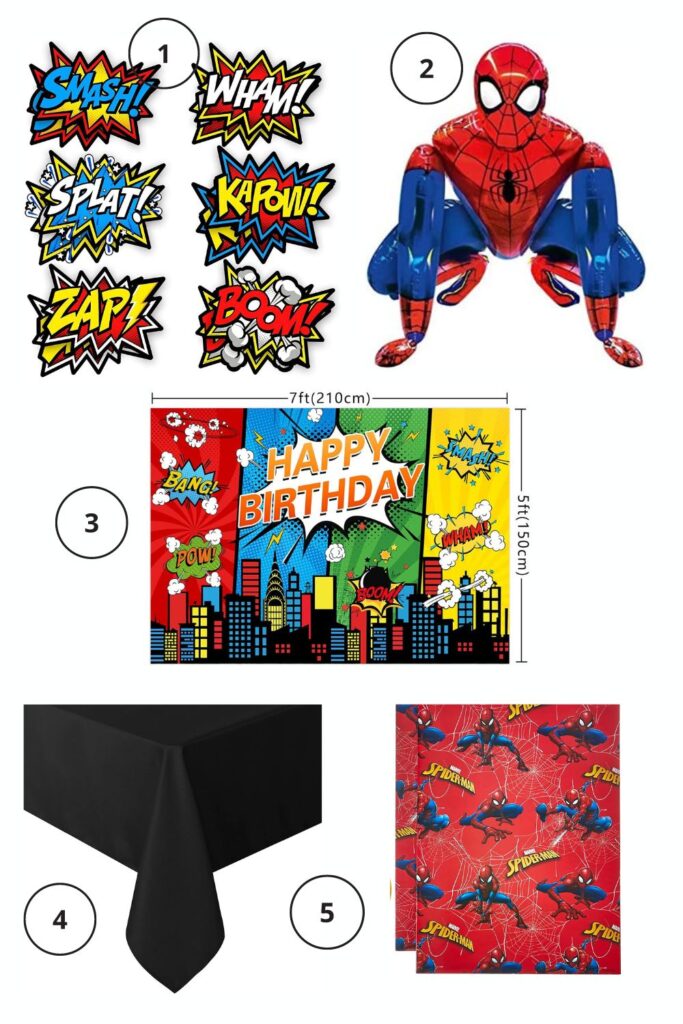 This post may contain affiliate links. See my Full Disclosure for further details.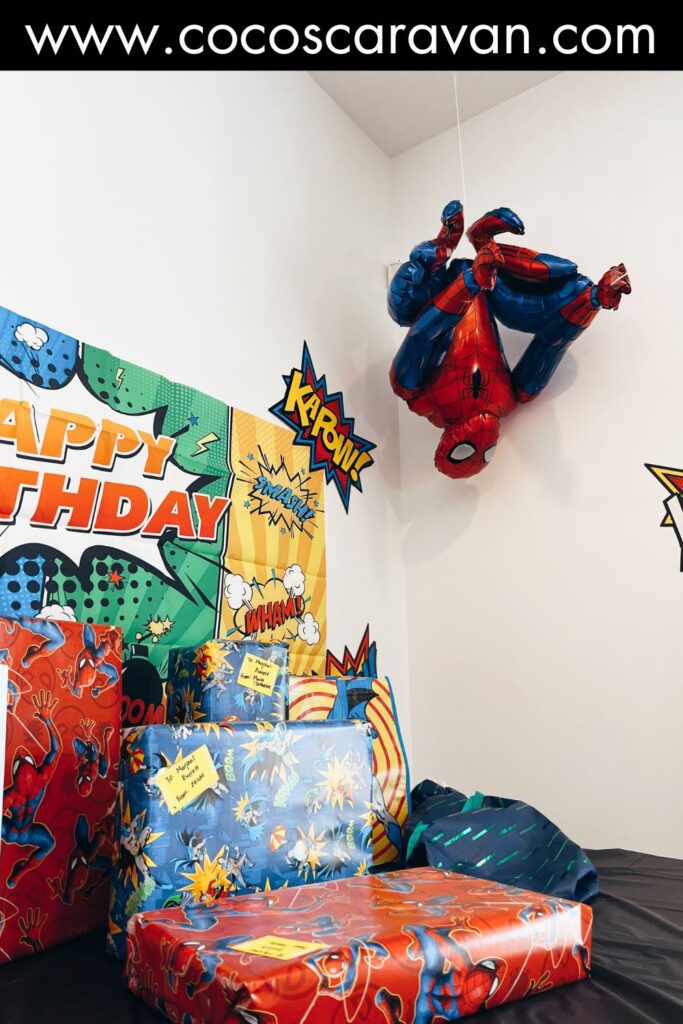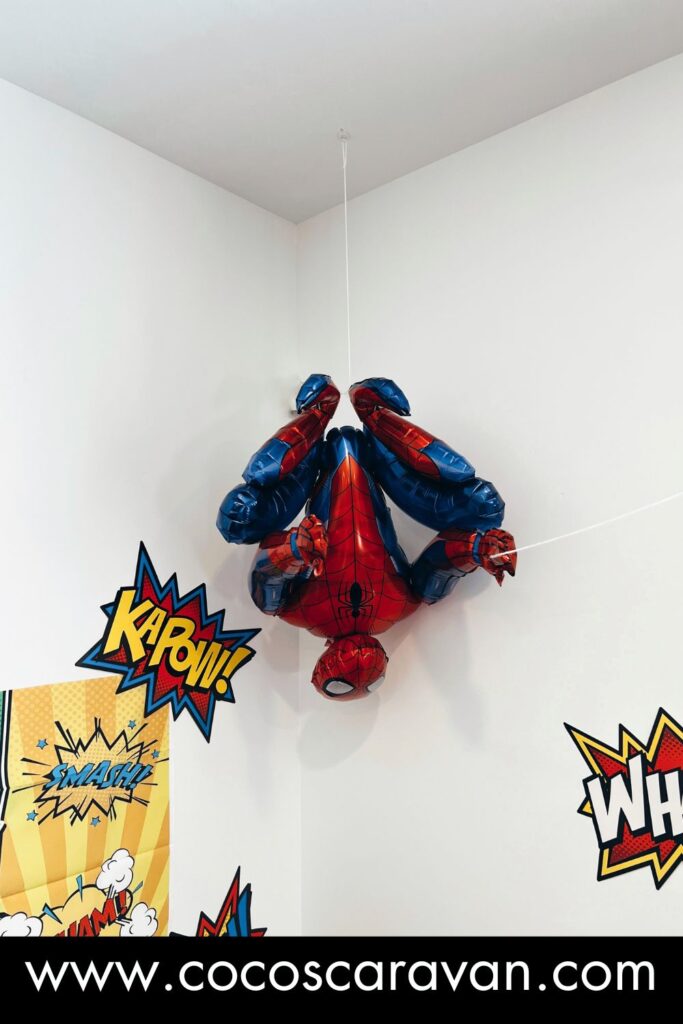 Toys and Props
I love finding toys to put around the food table to add to the theme. This was fun to have the spider-man action figure on the table. Looked like he was in the city. Link to toys below.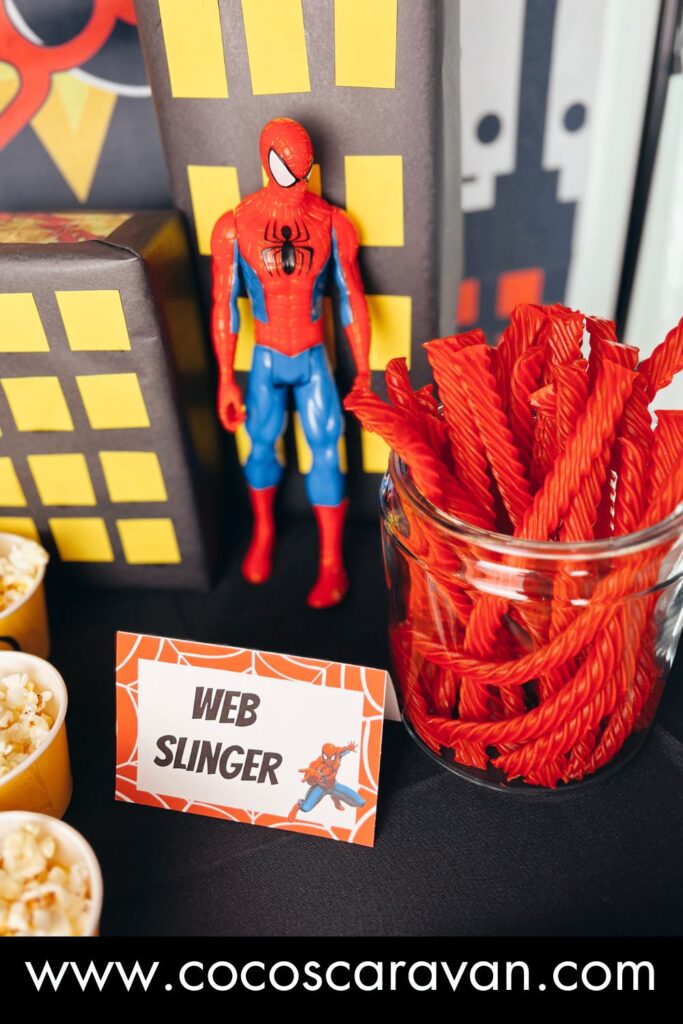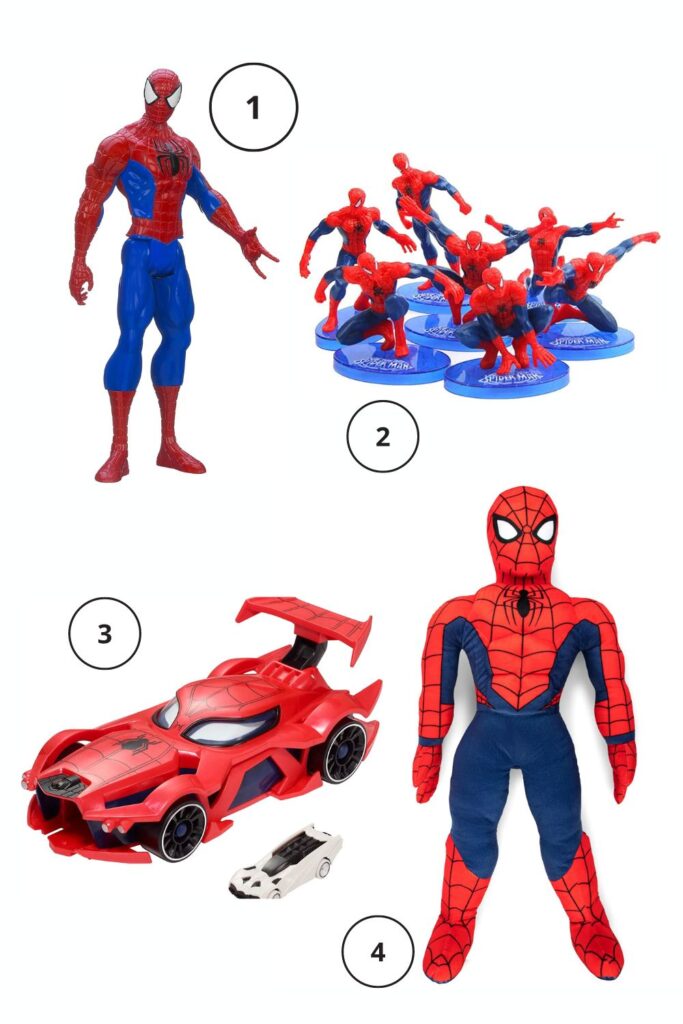 Pin this blog post to Pinterest to find later
The coolest Spiderman birthday decorations!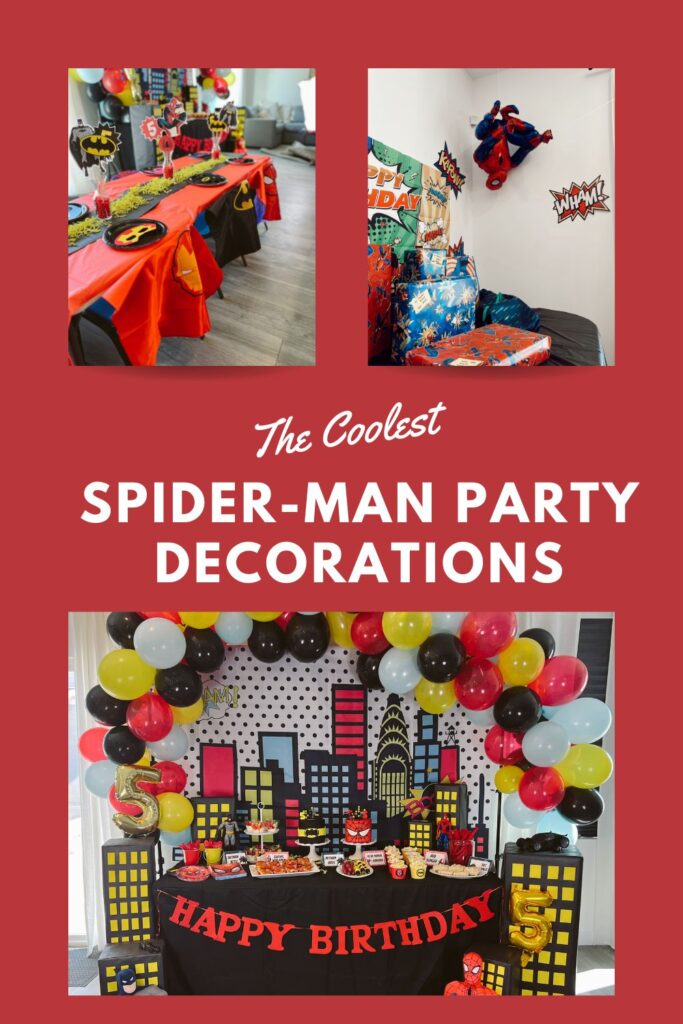 You might also be interested in: