The Best Easter Basket Ideas for Toddlers 2023
If you need Easter basket ideas for your toddler this year I'm here to help you out. I listed fun Easter books, toys, activities, and clothes that you can add to your little ones basket. Excited to see your baskets come together!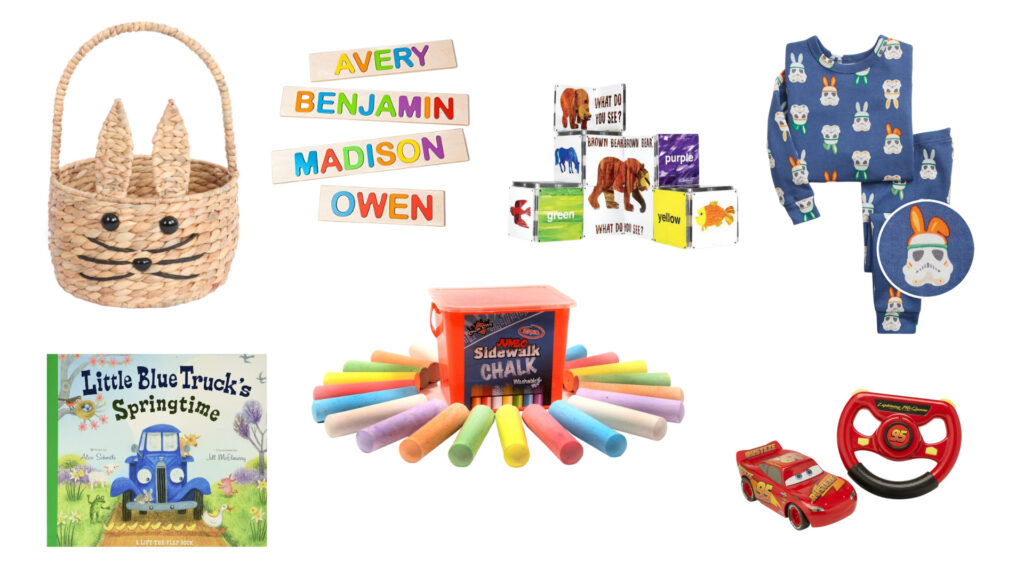 I love the Holidays so much and Easter is always such a fun with little kids. I love doing a photoshoot of the boys each year. If you want to save money and take your own Easter photoshoot at home check out my DIY Toddler Easter Photoshoot.
Easter Baskets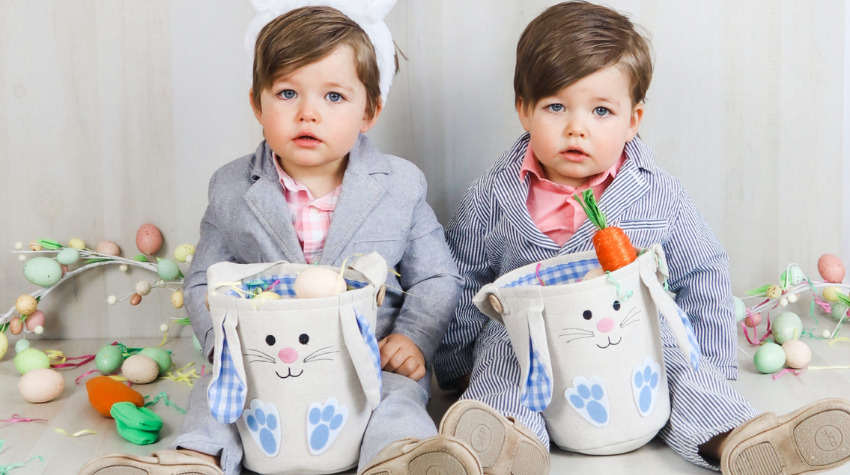 I found some really cute easter basket ideas for your toddler and listed them below. I bought the boys Easter baskets last year, but couldn't find them anymore online. These are some really cute ideas and at affordable prices. I like using the same baskets each year, but it's fun to change it up as well. Links to the baskets below the pictures.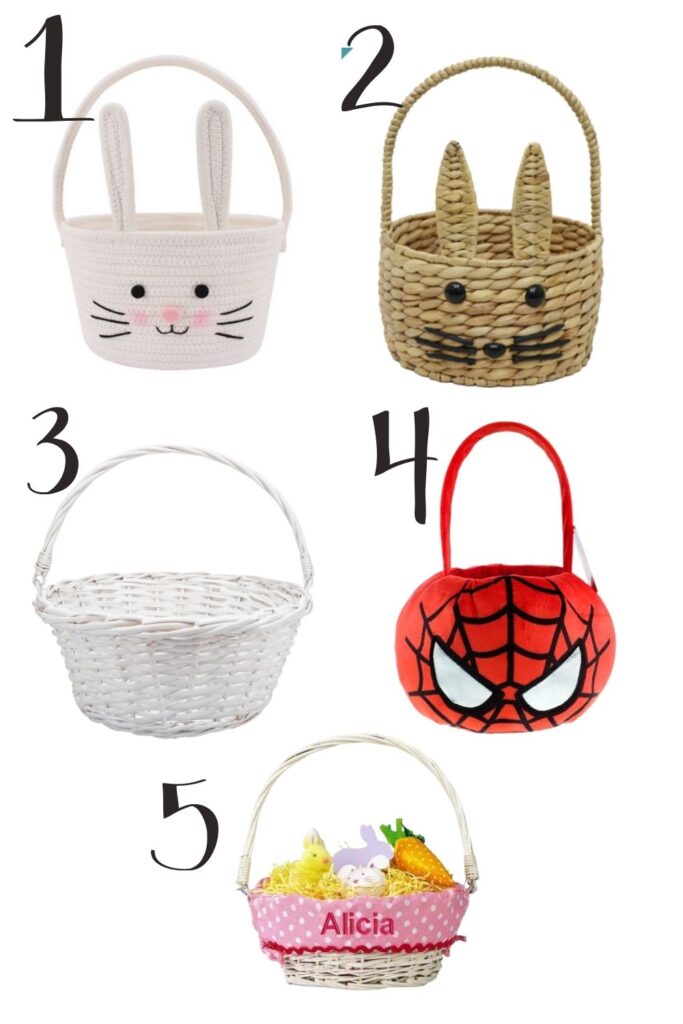 Easter Basket Ideas: Books
My mom always put a book in my Easter basket growing up and I always loved it. These are some really cute ideas for a book that you can add to your toddlers basket. If you haven't read the Little Blue Truck series before they are the cutest books. We have all of them and my boys absolutely love it. Links to the books below.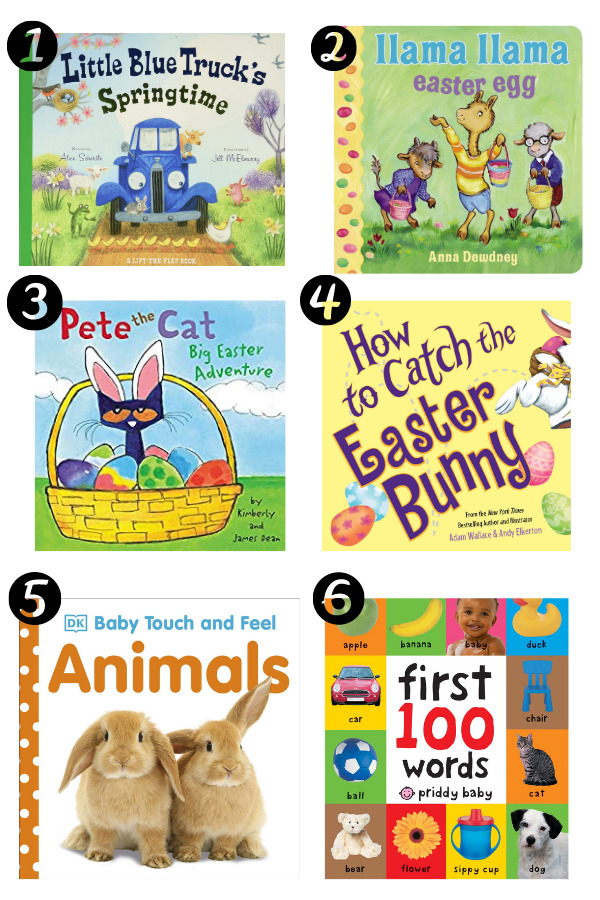 Easter Basket Ideas: Toys
Here are some toys for your Easter basket ideas. I tried to put a list together of smaller toys as well as medium size toys. My boys just love anything cars or trucks so I added their favorites. I also like to add learning toys in an Easter basket so I added some of my personal favorite learning toys. If you want to see more of my favorite learning toys check out my blog post HERE.
My boys spent the most time playing with the alphabet eggs and I thought it would be cute for Easter as well with the egg theme. My other top favorite toy is the Brown Bear Magna Tiles. They are so cute and fun and go along with the book!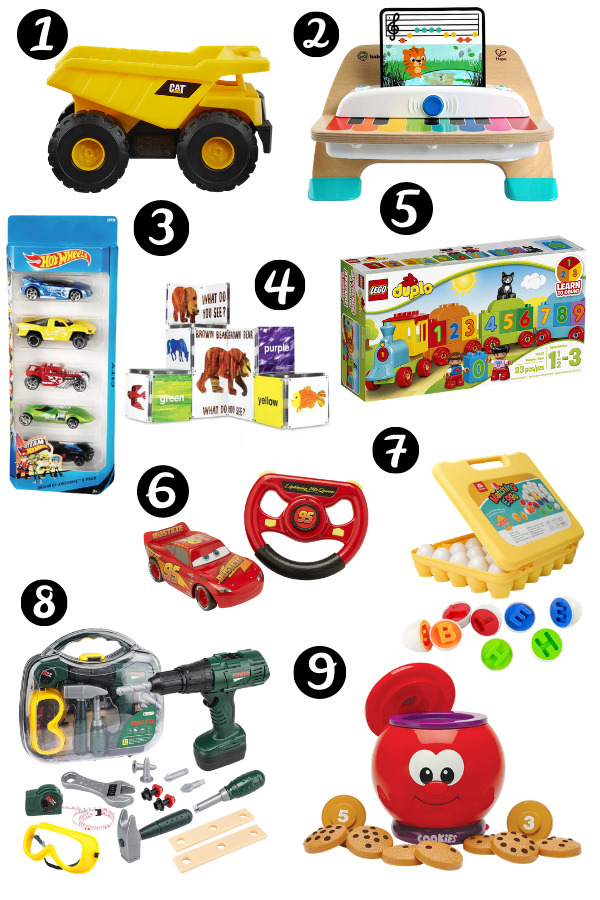 Dump Truck // 2. Toy Piano // 3. Hot Wheels // 4. Magna Tiles // 5. Lego Number Train // 6. Lightening McQueen Remote Control Car // 7. Alphabet Matching Eggs // 8. Toy Drill // 9. Cookie Number Jar
Easter Basket Ideas: Activities
I put together some hands on activities for your Easter basket ideas. You can never go wrong with chalk or bubbles and it gets your kids excited for spring weather. My boys also love the Kinetic sand and love driving their toy tractors through it. I keep them in big bins and pull them out every once in awhile for them to play with. I also love the name puzzles and its a great way to get them learning letters and how to spell their name. You can never go wrong with coloring books or the imagine ink booklets. So many great fun things to add to the basket that your toddler will love!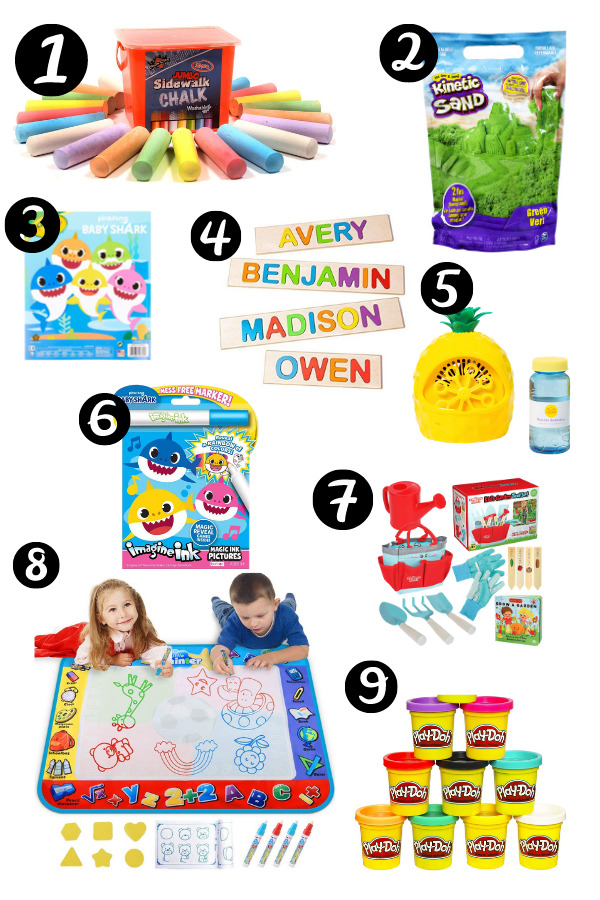 Chalk // 2. Kinetic Sand // 3. Coloring Book // 4. Name Puzzle // 5. Bubble Maker // 6. Imagine Ink // 7. Garden Kit For Kids // 8. Magic Water Paint Mat // 9. PlayDoh
The Yoto Player is my all time favorite purchase for my kids. Listen to songs or audiobooks for kids. I put a story on for them every night for them to fall asleep to. It has saved my sanity at bedtime. Learn more about the Yoto player here.
Clothes
I found some clothes for your Easter basket ideas. It's always fun to add clothes into the basket especially if you will be going to church that day. It's nice to have a new outfit for Easter Sunday service. I also found the cutest Easter pajamas that your toddler will love. So many cute options you can get the links below.
Head to my Like to know it page to see Easter Outfits this 2023 season.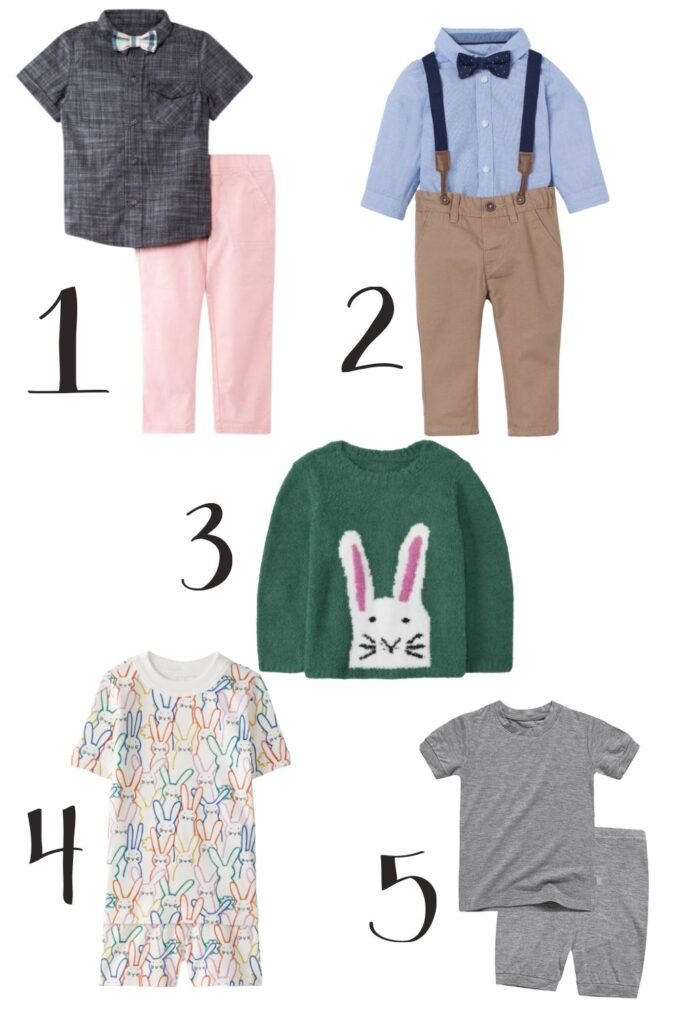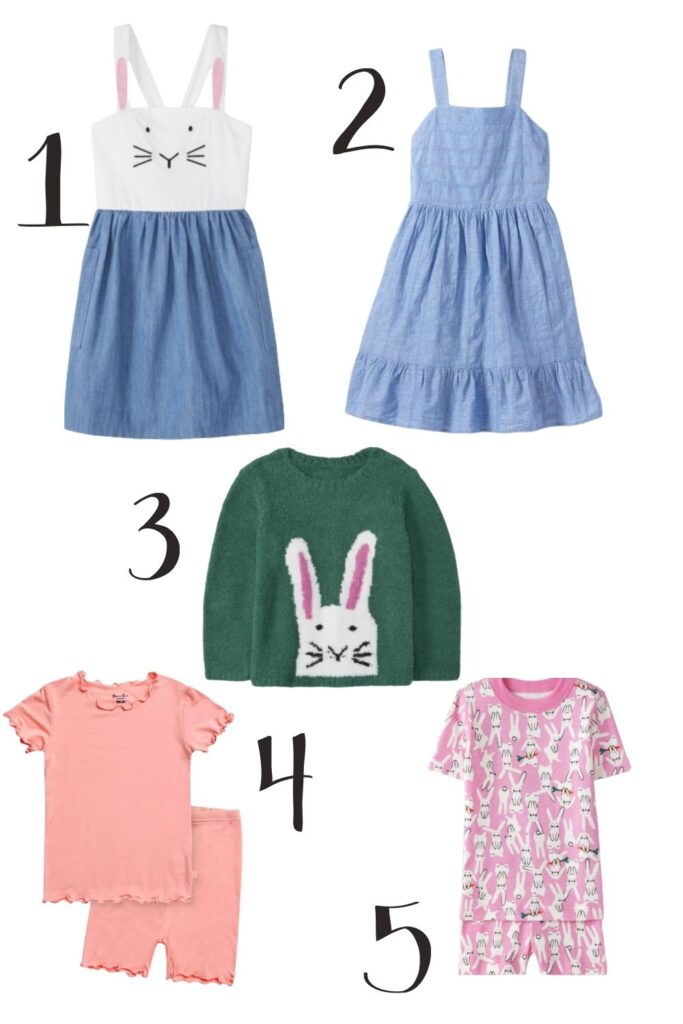 Shoes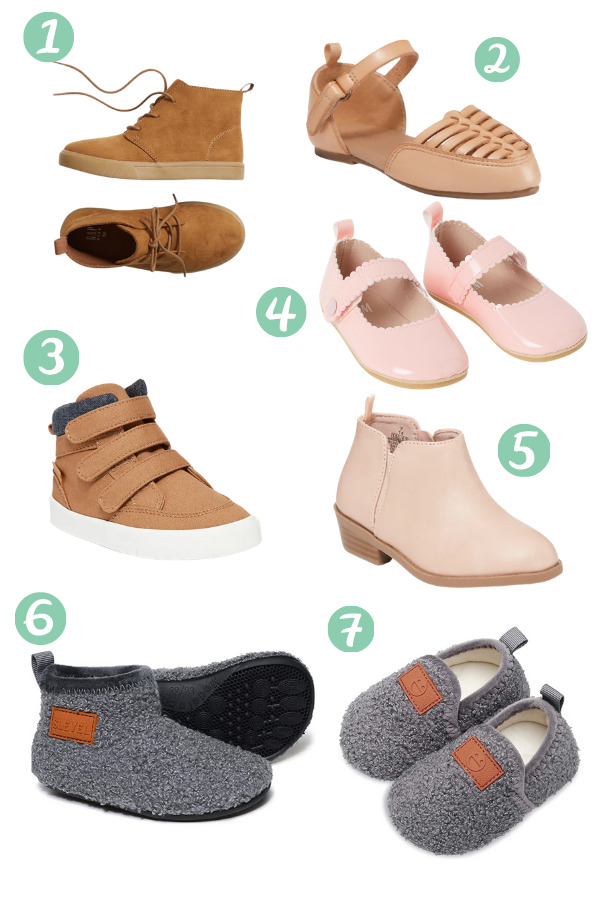 Tan tie up shoes // 2. Tan shoes // 3. Tan Velcro shoes // 4. Pink flats // 5. Pink Ankle boots // 6. Ankle slippers // 7. Gray slippers
Hope this helps get your Easter basket together and give you some fun new ideas! If you have anything to add please comment below!
DON'T FORGET TO PIN THIS TO YOUR FAVORITE PINTEREST BOARD FOR LATER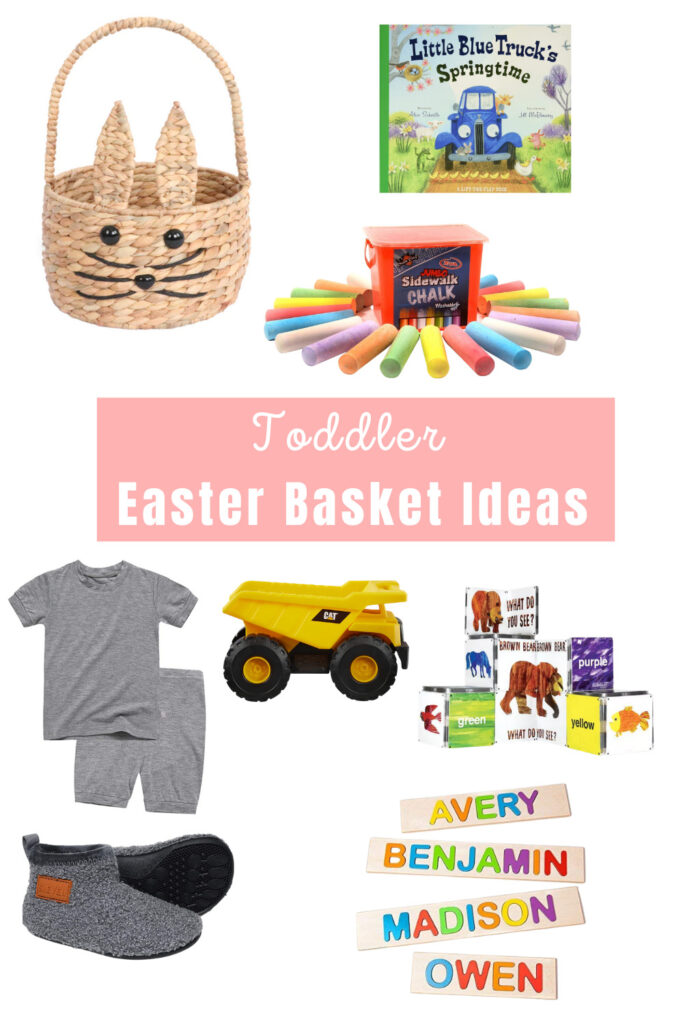 This post may contain affiliate links. See my Full Disclosure for further details.
Check out my Gift Guide blog posts to get more toy ideas