The Best Disneyland Planning Guide
Discover the ultimate Disneyland planning guide for an unforgettable adventure! Learn where to buy tickets and find the perfect accommodations for your magical stay. Explore a comprehensive two-day itinerary that covers must-see attractions and shows. Plus, learn about Disney Genie+ and optimize your park experience like never before. Get ready to make the most of your Disneyland journey with expert tips and tricks at your fingertips!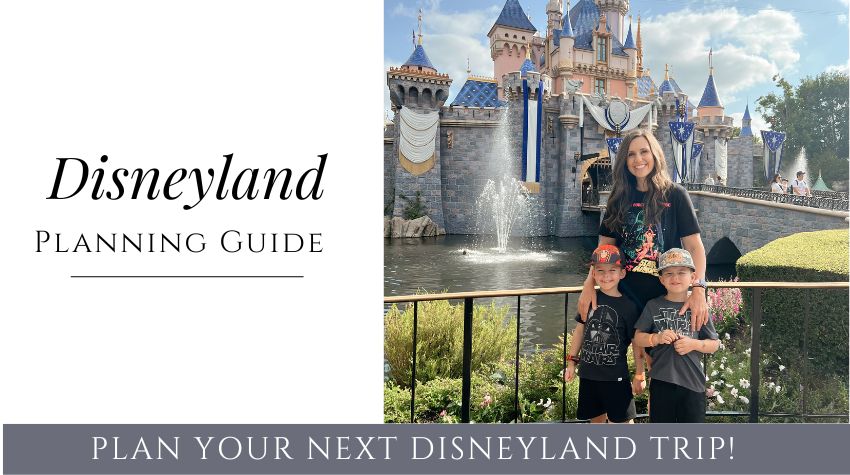 Disneyland Planning Guide
Welcome to the ultimate Disneyland planning guide! If you're dreaming of a magical adventure in the happiest place on earth, you've come to the right place. In this blog post, we'll cover everything you need to know to make your Disneyland trip truly unforgettable. From the best times to visit the park to where to get tickets and find the perfect accommodations, we've got you covered.
Whether you're a first-time visitor or a seasoned Disney enthusiast, we'll help you craft the perfect itinerary, ensuring you don't miss a single moment of the enchantment that awaits you. So, grab your Mickey ears and get ready to embark on a journey filled with wonder, joy, and cherished memories at Disneyland!
When should I visit Disneyland?
The first thing to do on your Disneyland planning guide is pick a time to go to Disneyland. The best times of the year to visit Disneyland are during the off-peak seasons, when the park experiences lower attendance and shorter wait times. Generally, this occurs in mid-January to mid-March, early May, mid-September to early November (excluding holidays and special events).
The mild weather during spring and fall adds to the allure of these times, making it an ideal period for exploring the enchanting attractions without the summer heat or winter crowds. Additionally, weekdays are generally less crowded than weekends, offering a more relaxed and enjoyable experience.
However, for those seeking the enchanting holiday festivities, the period between Thanksgiving and early December can be magical, with Disneyland adorned in sparkling lights and themed decorations. Regardless of the time chosen, Disneyland's timeless charm and captivating spirit ensure that every visit is brimming with cherished memories and moments of pure joy.
The Disneyland crowd calendar is a tool or resource that provides information about the expected crowd levels at Disneyland on specific dates. It helps visitors plan their trips by indicating peak and off-peak times, enabling them to make informed decisions about when to visit the park to avoid large crowds and long wait times.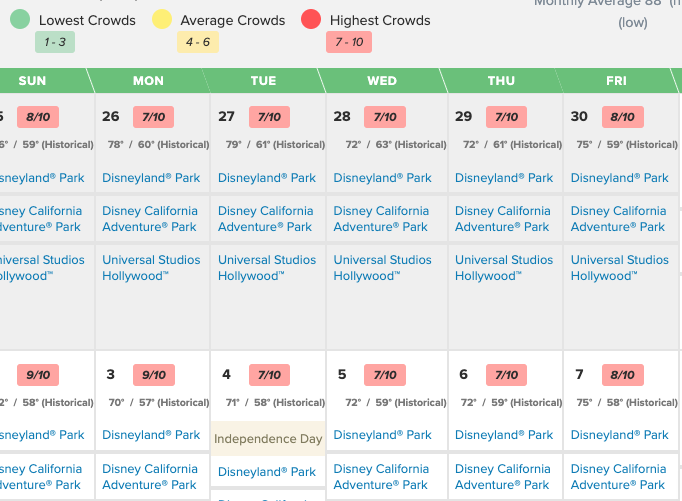 What tickets should I get for 2 days at Disneyland?
The next thing to do on your Disneyland planning guide is to buy tickets. For a delightful two-day experience at Disneyland I recommended getting the one-day tickets and opting out of the park hopper. With these tickets, guests can fully immerse themselves in the magic of Disneyland on the first day, enjoying the iconic attractions, parades, and enchanting atmosphere.
On the second day, they can venture into Disney California Adventure Park, discovering its unique themed lands, exhilarating rides, and captivating entertainment. By opting for single-park tickets you save money and have more time at each park.
What tickets should I get for 3 days at Disneyland?
For a fantastic 3-day Disneyland trip, consider opting for a strategic ticket combination. Purchase one-day park tickets for the first two days, allowing you to fully immerse yourself in the magic of each park without feeling rushed. This way, you can experience all the enchanting attractions and shows at Disneyland Park and Disney California Adventure Park separately.
Then, on the third day, upgrade to a Park Hopper ticket, which grants you the flexibility to bounce between both parks as you wish, maximizing your adventure and ensuring you don't miss any beloved experiences. With this ticket approach, you'll make the most of your Disneyland journey, capturing the essence of each park while savoring the joy of exploring both realms!
Where can I buy tickets to save money?
Undercover Tourist offers a fantastic option for purchasing Disneyland tickets, providing visitors with a reliable and trustworthy platform for securing their magical adventure. As an authorized ticket seller, they offer genuine tickets to Disneyland and other top attractions, ensuring peace of mind for guests. The best part is that through Undercover Tourist, visitors can save money on their ticket purchases.
They often provide discounted rates and exclusive deals, allowing families and travelers to enjoy the same enchanting experience at a more budget-friendly price. By choosing Undercover Tourist, guests can embark on their Disneyland journey with confidence, knowing they've made a savvy choice that brings both joy and savings!
How do I link my Disneyland tickets?
You must link your Disneyland theme park tickets to your Disney Account or Disneyland mobile app before park entry and making a Theme Park Reservation. To do so, please follow these steps:
Sign in to "My Disney Account" at https://disneyland.disney.go.com/ on a computer (We do not recommend using your phone or the app.)
Mouse over the MyDisneyland tab on the top right of the page under the search bar, and in the dropdown, select "Link Tickets".
Enter your Disneyland Order # from the email entitled "Your E-Ticket is Ready – Undercover Tourist" and click "continue".
Once you've linked your tickets, you can make your Theme Park Reservation https://disneyland.disney.go.com/experience-updates/park-reservations/
The third thing to do on your Disneyland planning guide is to pick a hotel. I stayed at Howard Johnson Anaheim and loved it! See more reasons why I loved staying there and get 15% off your stay when you use my discount code!
Once you have completed the first three steps on the Disneyland planning guide you can think about what you are going to do at the parks. You can get so much done at Disneyland in two days and I'll show you how. I always pick California Adventure on the day the park closes earlier and I do Disneyland on the day the park closes later. There is more to do and see at Disneyland, so you will want more hours for that day.
If you want the full guide to each day check out my two day Disneyland itinerary. Its a helpful guide to Disneyland and California Adventure Park with little kids! Learn about Genie+ and how to use it on the Disneyland app. I'll give you a full day itinerary for Disneyland and California Adventure Park Day. I'll also give you ideas on what to do on your rest day when you're not at the parks. Everything in one place to help plan and have the most magical day!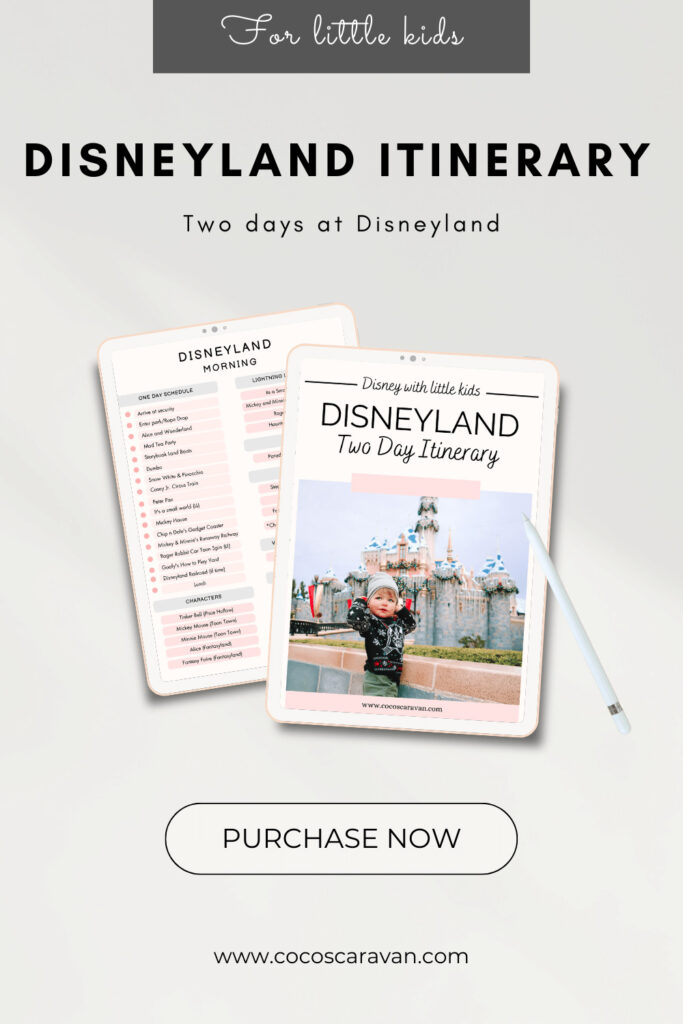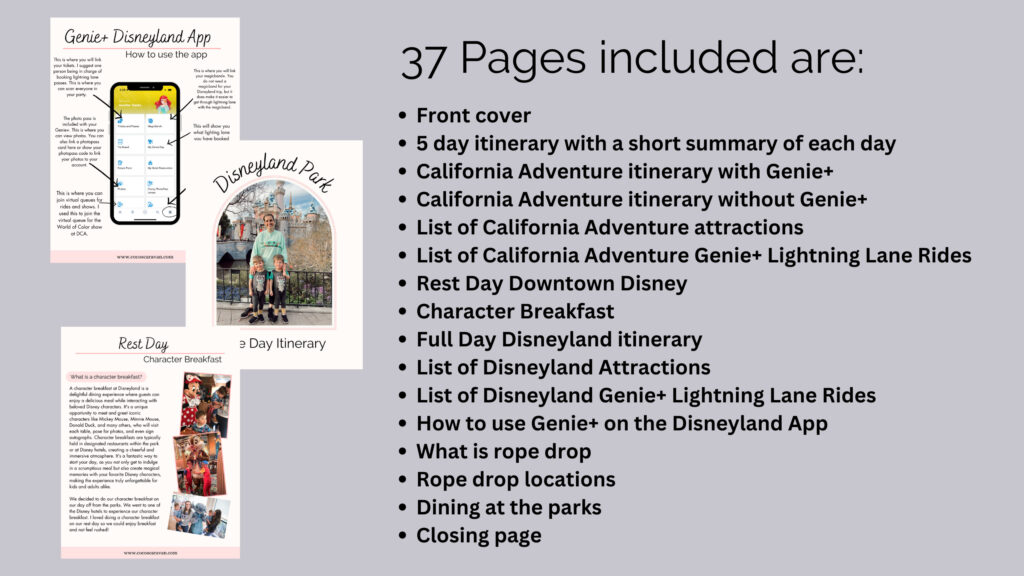 Disneyland App
The Disneyland app is a powerful companion for guests visiting the Disneyland Resort. It serves as a one-stop-shop for all things Disney, offering an array of features and information at your fingertips. To use the app, visitors can download it from the app store, sign in or create a Disney account, and link their tickets or annual passes.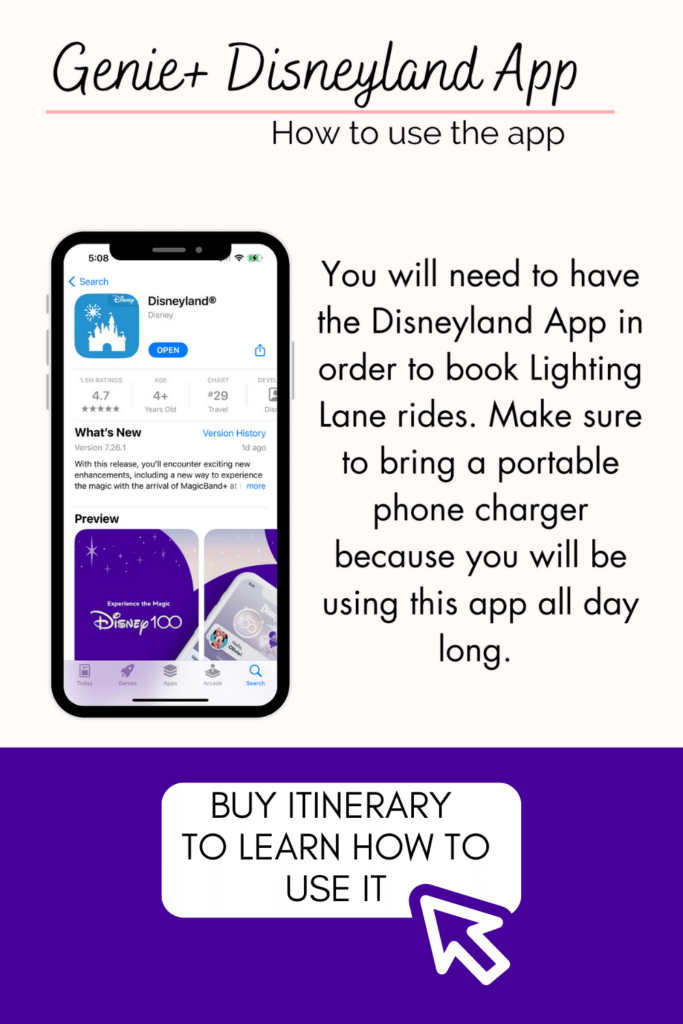 Once inside the park, the app becomes an invaluable tool for navigating the magic. Guests can access real-time wait times for attractions, make dining reservations, locate their favorite characters, and check showtimes for parades and entertainment.
The app's interactive map helps users find restrooms, dining options, and other amenities, while also providing details about attractions, including height requirements and accessibility information. With personalized schedules, virtual mobile food ordering, and a digital guide to all things Disney, the Disneyland app ensures a seamless and enchanting experience for every guest.
What is Genie Plus?
Genie+ and Individual Lightning Lane are two services at Disneyland that offer different ways to enhance the park experience. Genie+ is a paid service allowing guests to access Lightning Lane entrances for select attractions, reducing wait times. It offers the ability to make Lightning Lane selections throughout the day.
In contrast, Individual Lightning Lane allows guests to purchase access to specific attractions without needing to purchase Genie+. It provides flexibility for choosing specific attractions without a separate paid service. Both services aim to improve guest experience by reducing wait times and providing convenience, but they vary in offerings and pricing structures.
Buy my two day Disneyland itinerary to see how to book a lightning lane ride and more about how to use Genie Plus on the Disneyland app.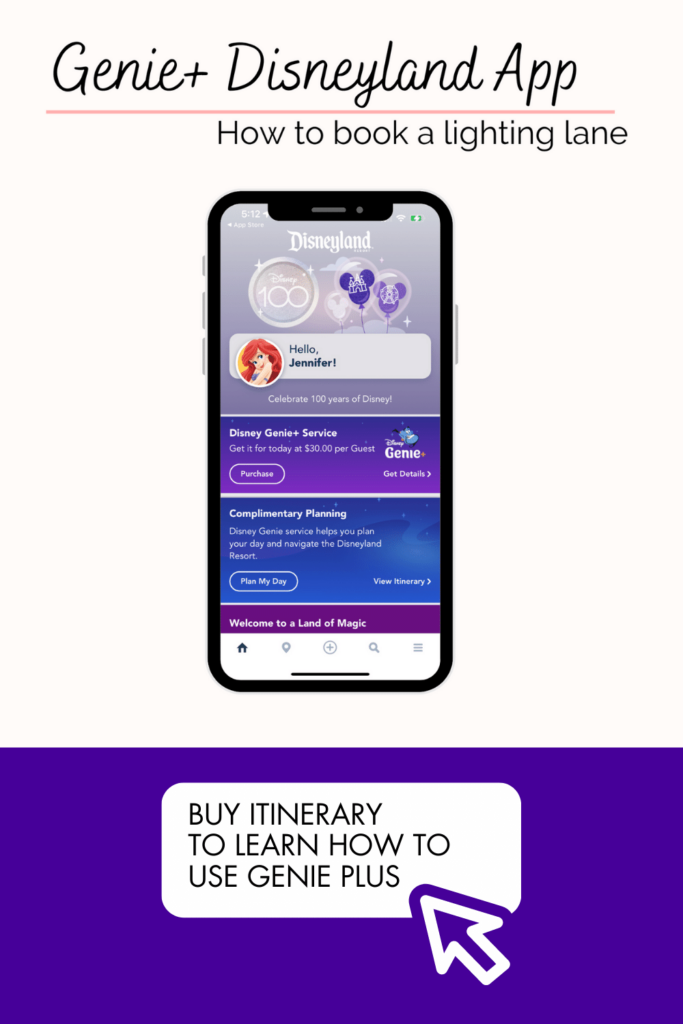 What is Disneyland Rope Drop?
Every morning both Disneyland and California Adventure start allowing guests inside 30 minutes before the park opening time. You can finish bag check, security, ticket scanning, and park entry before the park officially opens and be inside the park. There are several rope drop areas within each park (see next page for locations), and guests are allowed to wander up to the rope drop area.
At park opening time (which is currently 8 AM), the cast members literally "drop the rope" that is tied at several entry points and allow people in. This gives you the advantage of being first in line for popular rides. I highly recommend rope drop especially if you only have one day at the park. I get the majority of my rides done in that first hour after rope drop.
In my two day Disneyland itinerary I share my rope drop strategy for Disneyland and California adventure. I show you exactly where to stand depending on what ride you want to go to. I highly suggest taking advantage of rope drop and know what to do. If you only have one day at a park you really need to take advantage of rope drop.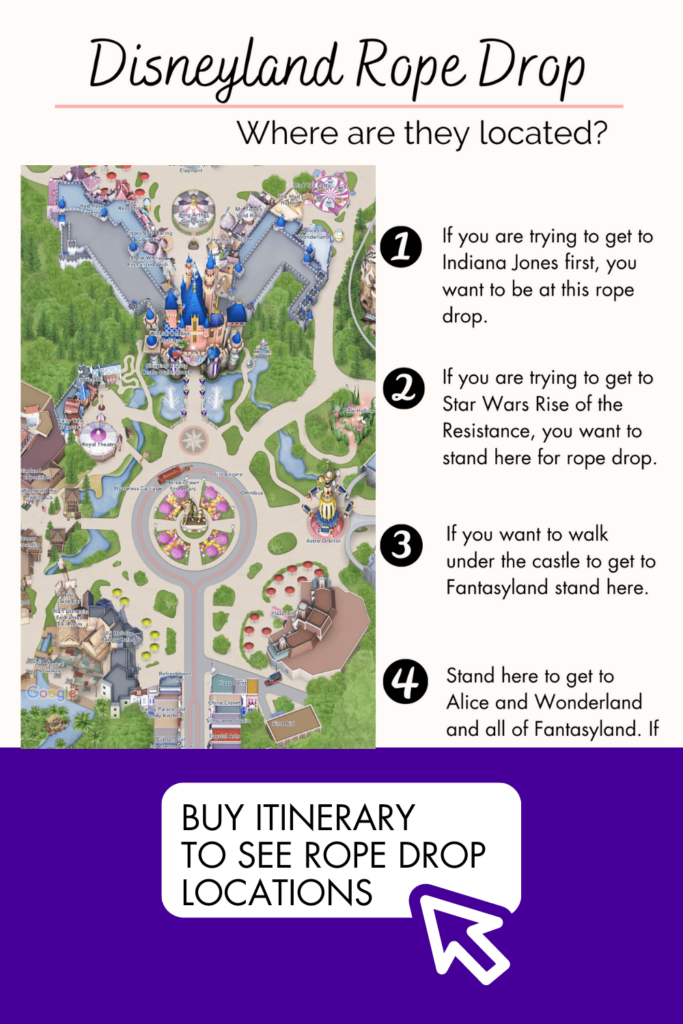 Character Breakfast
Another reminder on this Disneyland planning guide is to think about a character breakfast. A character breakfast at Disneyland is a delightful dining experience where guests can enjoy a delicious meal while interacting with beloved Disney characters. It's a unique opportunity to meet and greet iconic characters like Mickey Mouse, Minnie Mouse, Donald Duck, and many others, who will visit each table, pose for photos, and even sign autographs.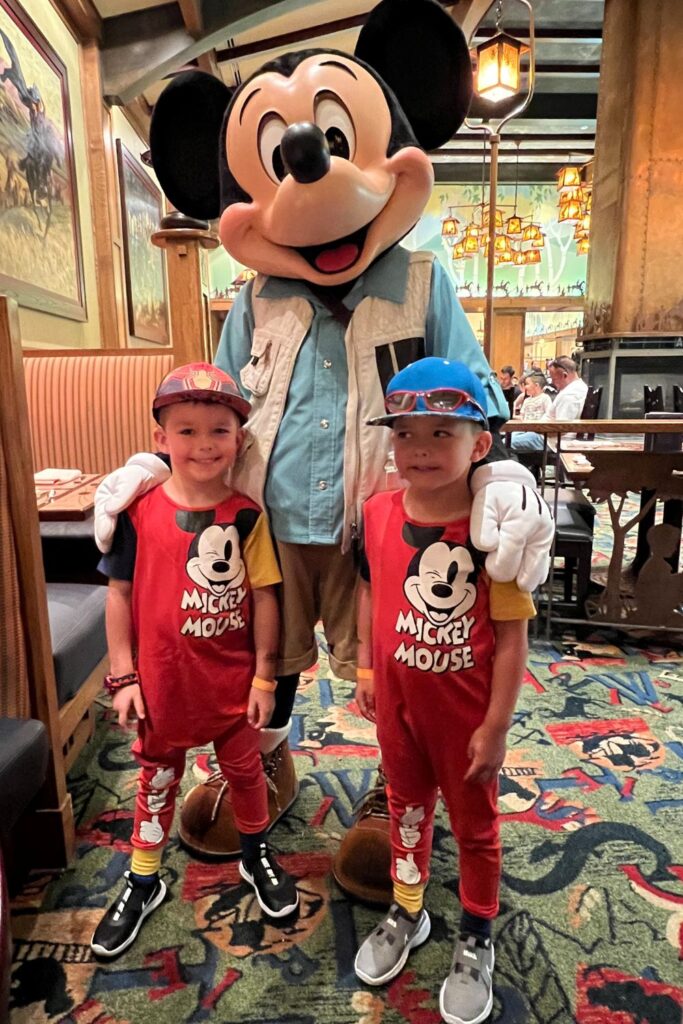 Character breakfasts are typically held in designated restaurants within the park or at Disney hotels, creating a cheerful and immersive atmosphere. It's a fantastic way to start your day, as you not only get to indulge in a scrumptious meal but also create magical memories with your favorite Disney characters, making the experience truly unforgettable for kids and adults alike.
I list all the restaurants for Character breakfast and how to book one on my two day Disneyland itinerary HERE.
Discover the ultimate Disneyland stroller guide, featuring essential information on stroller rules and size requirements, Disney-approved stroller models, convenient stroller rentals, and expert tips for navigating the park with ease. Make the most of your magical adventure as I help you choose the perfect stroller for your little ones, ensuring comfort, convenience, and compliance with Disneyland regulations.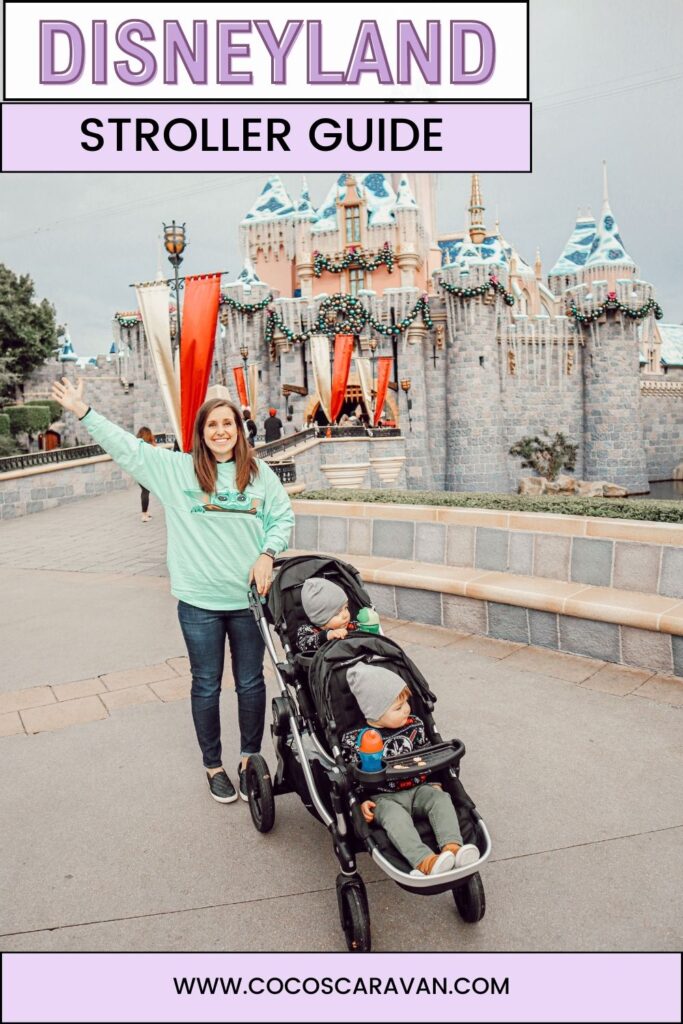 Disneyland Packing List
The last thing to help on the Disneyland planning guide is a packing checklist for your upcoming trip. Purchase and print these so you don't miss a thing! Here is everything I bring to the parks to make life easier and more magical!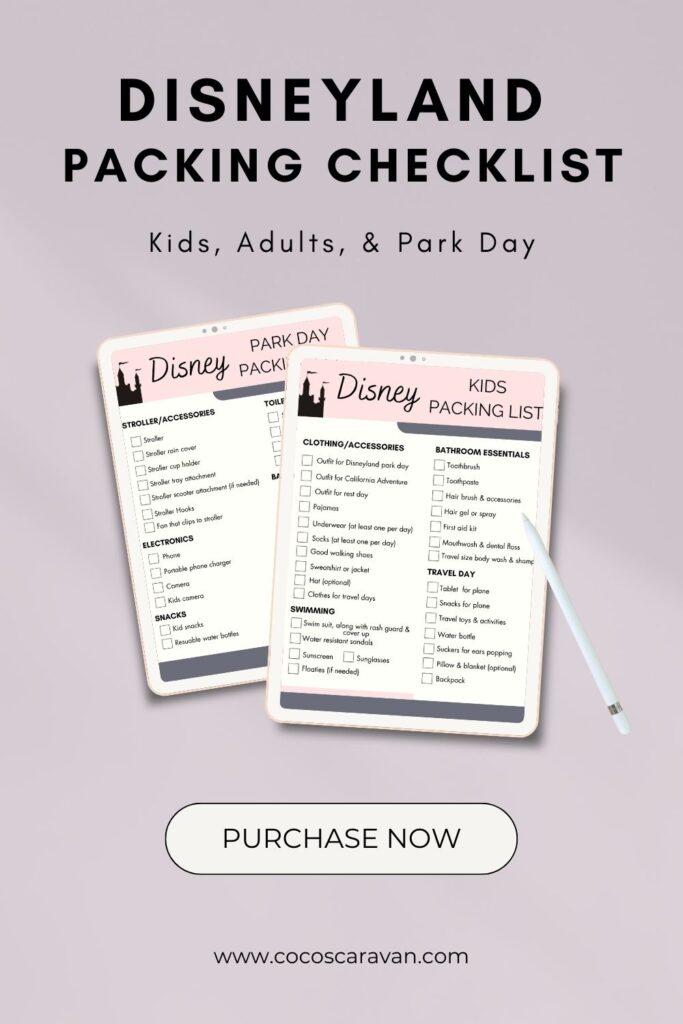 See our previous Disneyland trips
If you don't need anymore help with the Disneyland planning guide check out my previous trips to Disneyland with my kids.