The best Disney packing list: Park essentials
I put together the ultimate Disney packing list for your next trip to Disneyland or Disney World. This list is for those of you going with younger kids to the Disney parks. Everything here will help make your trip run smoother and be more magical.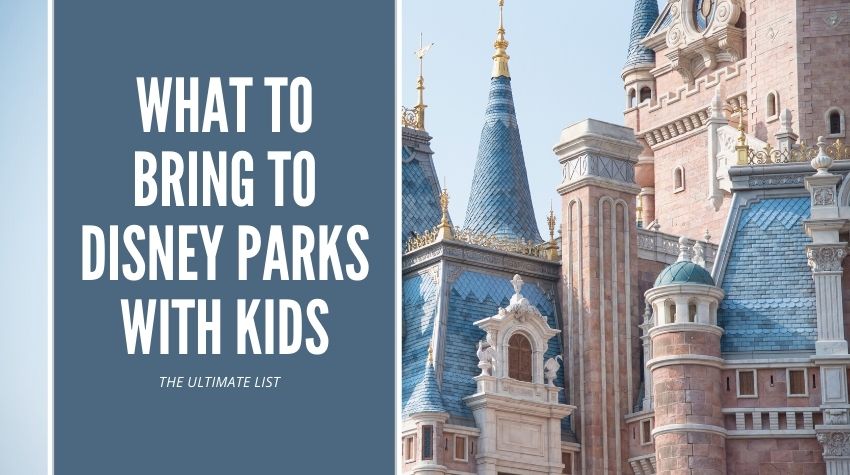 I just took my three year old boys to Disneyland and it was so much fun. I answer some common questions about the new Genie plus and if it is worth it, if it's worth bringing younger kids and how many days I prefer at Disneyland. You can see the answers to those questions HERE.
Disney Packing List
I've been to Disneyland many of times with my kids and without my kids. This Disney packing list is geared more for your trip with kids and what you will want to bring. Hope this list helps make your trip a little less stressful and more magical.
Discover the ultimate Disneyland planning guide for an unforgettable adventure! Learn where to buy tickets and find the perfect accommodations for your magical stay. Explore a comprehensive two-day itinerary that covers must-see attractions and shows. Plus, learn about Disney Genie+ and optimize your park experience like never before. Get ready to make the most of your Disneyland journey with expert tips and tricks at your fingertips!
Stroller rain cover
The first item on the Disney packing list is a rain cover for your stroller. If you are going to Disney World expect it to rain one of the days you are there. June is their rainiest month of the year, but I've been there in October when it has rained as well. You can never be too cautious and might be worth purchasing a rain cover for your stroller.
Rain Poncho
If you buy a rain cover for your stroller you might as well buy rain ponchos as well. You can buy ponchos in the park, but they will be more expensive. Some people also like to have ponchos for the water rides as well so they are not wet for the rest of the afternoon.
This is not necessary, but I found these clips to be very helpful. I took my boys to Disneyland when they were 20 months old. They still napped in the stroller and I found it so annoying when the blanket covering them would blow off or fall off. I use these clips to make sure the blanket stayed in place.
It's nice when you have a stroller because you can store everything in the bottom so you don't have to wear a big backpack all day. I like to organize my stuff into pouches and these waterproof washable ones are my favorite. I'll put snacks in one back and wipes in another.
These clear pouches are helpful when going through security. It's nice when you can see everything inside.
Snack bags and coolers
If you bring your own snacks and food into the park these cooler bags are perfect. I love Petunia Pickle Bottom so make sure to check out more of their stuff.
Stroller Cup Holder
You need a cup holder for your stroller for sure.
These stroller trays for my Baby Jogger City select saved me during our Disneyland trip. I would pull the stroller up to our table and just feed them dinner in the stroller.
Stroller Scooter Attachment
You obviously do a lot of walking at the Disney parks and it can be hard for the older kids who don't use the stroller. This scooter attachment is brilliant and helps give your older kiddos a break from walking.
Fan for stroller
If you are going to the Disney parks during the summer this stroller fan is a must have. You can clip it to the stroller for easy use and it will help your kiddos while they are sitting in their stroller.
Stroller Hook
I love bringing a stroller hook for extra bags that you don't want to carry. We love to buy Disney merch and its always so annoying to carry them all day. Its nice to have the hook to hold extra bags.
For sure bring your own water bottles for your kids. Disney parks have the paper straws and with kids those don't last long. It was so much easier to fill up their water bottles and have them drink from those all day. I will bring my own big Nalgene water bottle for back up water to fill up theirs through out the day.
If there is one thing on this Disney packing list you don't want to forget, it's a portable phone charger. You use the Disneyland app all day long to look a the park map, to order food, ride wait times, and to use Disney Genie plus. You don't want your phone to die because of how much you are using the Disneyland app.
This Anker portable charger is the one I personally use and I think is by far the best. I can use it for days without having to re charge it. You can also charge multiple phones at once!
I'm using wipes all day long with my kids. You will want them for your kids hands and surfaces when you eat out.
This is the only hand sanitizer you need for little kids. It comes out as foam which is a game changer. I hate the normal hand sanitizer and how much it drips. My kids love the foam and making it disappear.
I love wearing everything and anything Disney when I go to the parks. These are the cutest backpacks with the Disney theme and I wanted to link some of my favorites below. A good backpack is a must to add to your Disney packing list.
Fanny Pack
I'm out of the diaper bag stage and this last time I just used a fanny pack and it was a game changer. I love how it was so easy to access my phone and money. The one I have is from Petunia Pickle Bottom. They have so many cute designs.
I had to add this to the Disney packing list because its so brilliant. My friend does this with her kids when she goes to the Disney parks and thats how I heard of this idea. I found this adorable Etsy shop that sells these temporary tattoos that you can put on your kids for the park. You can never be too careful and the kids thought it was so fun to have their own little Disney tattoo.
Toys for kids while waiting in line
With young toddlers it can be hard for them to wait in lines. I brought hot wheels for my boys and that was enough to entertain them while waiting. I linked some other fun ideas your toddler could play with while waiting in lines.
They have recently lifted the face mask mandate and you do not need them anymore in the parks. If you still want your kids to wear them here are some suggestions below. I bought these mask for my boys and they loved them. You can adjust the straps. You can also bring a lanyard so your kids won't lose their mask.
Similar Blog Post