What have you learned looking back on 2022?
What have you learned looking back on 2022? I asked myself and my followers this question and thought it would be interesting to see what others had to say. You might be able to relate and not feel so alone.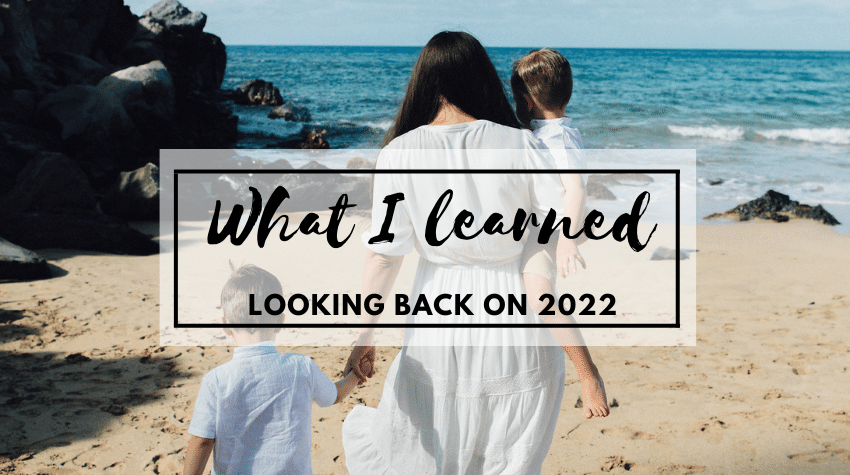 What I learned looking back on 2022?
This past year was extremely difficult as it was the year I moved out on my own. What I learned this year is that I can do hard things.
Now I already know I can do hard things given my past with going through my husbands cancer, doing in-vitro fertilization, my husband passing away, and then raising my boys alone. I've been through hard things and find myself still moving forward. But my cup of "hard things" was full and I wasn't sure I could take on anything more. After I found out that my parents were leaving I felt as helpless as I did the day Justin died. I wasn't sure how I would make it through this time.
Sometimes we don't have a choice and its ether keep going or give up completely. I think I learned that even at my lowest of lows I'll never give up. Somehow I find myself still waking up each morning and putting one foot in front of the other. So this year I learned I could do hard things even when I didn't think I could possible add anything more.
What my followers learned
I asked my followers on Instagram and Tik Tok the same question. Looking back on the year 2022 what have you learned? I hope that by reading some of their responses you won't feel so alone. Maybe someone out there also feels the way you do.
"I learned that it's ok to let go of toxic family members. It's incredibly freeing and can finally allow healing"
"I learned that if someone doesn't bring joy to your life you don't need them in it. Family included"
"I learned that Grief is a roller coaster that never ends and you can't get off of it"
"I learned that I can do hard things and that I have friends who will support my family when the hard comes"
"I learned that toxic people in your life aren't worth it and sometimes you have to cut ties in order to be free"
"I broke my ankle this summer and recovery is still ongoing. I learned the value of rest and how to let go"
"Prioritizing myself!"
"My toddlers are much more resilient and adaptable then I give them credit for"
"Learning that we are 100% in control of how we react to situations out of our control"
"How precious family time is"
"That I am never going to be the same person I was before my husband died"
"Life is too short. Live it!"
"That every person is fighting a hard battle in their life. Always be kind and reach out."
"I've learned that it's ok to ask for help and it doesn't mean I am not capable, it means I can't do it all"
"I learned to live PRESENT. Time goes by so fast, in a blink of an eye"
"Life changes in an instant.. so make each day and moment count. Especially with loved ones. Take pic"
"Grief is different for everyone!"
"It's okay to say no. That doing so helps your mental and physical health."
"Family time is priceless, be present in the moment with your love ones."
"Put myself first more! My needs and dreams are just as important as everyone else's"
Comment below if you would like to add to this. What have you learned this year?
You might also be interested in reading