The best tv stand organization ideas
If you need tv stand organization ideas I've got your back. I love organizing and just recently did my tv stand so that everything had a place. Continue reading to see how I organized it and links to products.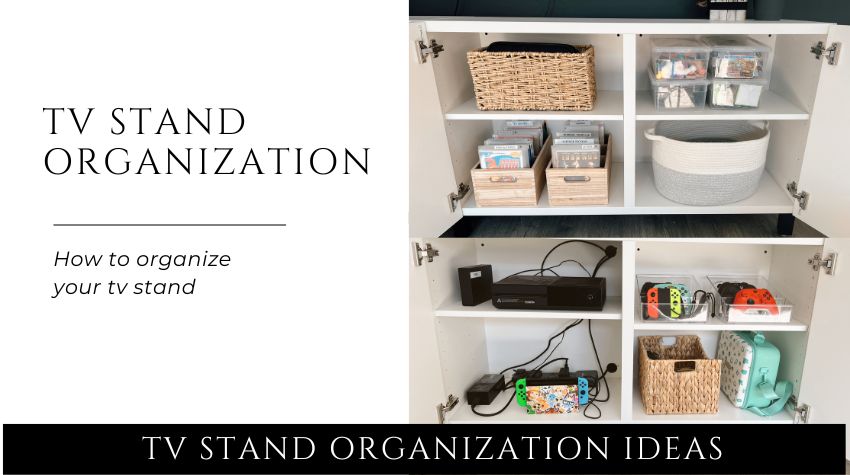 I made this tv stand myself using the design program at Ikea. You can see more about the design and how I made it on my blog post HERE.
Tv Stand Organization ideas
I'm here to help give you tv stand organization ideas. With most living rooms you don't have a lot of storage and you want to get the best use out of your tv stand. I organize my tv stand into three categories Video games, Dvd's, and toys. I organize everything into sections to make it easy to find what I need and clean up afterwards. Continue reading to see how I organize each category.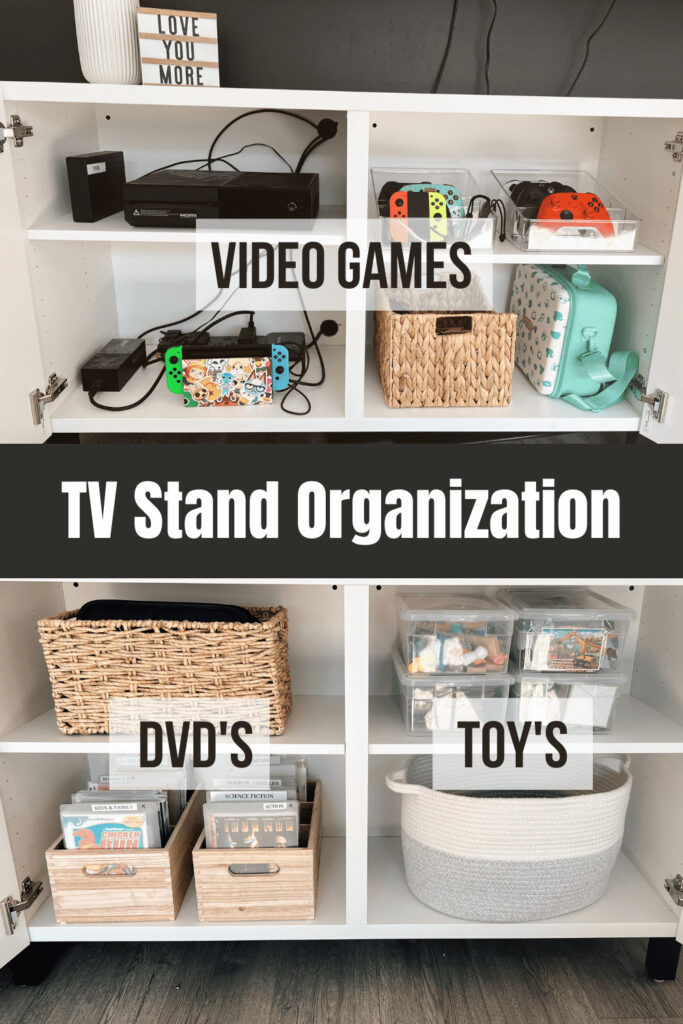 Video Game Organization
Here are my video game tv stand organization ideas. I am a huge gamer and I love to organize so I was excited to come up with ideas for my controllers. I like to keep a basket with my extra gaming accessories like my headphones and cd case with my extra video games. You could also add a basket with your video games in cases if you like to keep them in cases.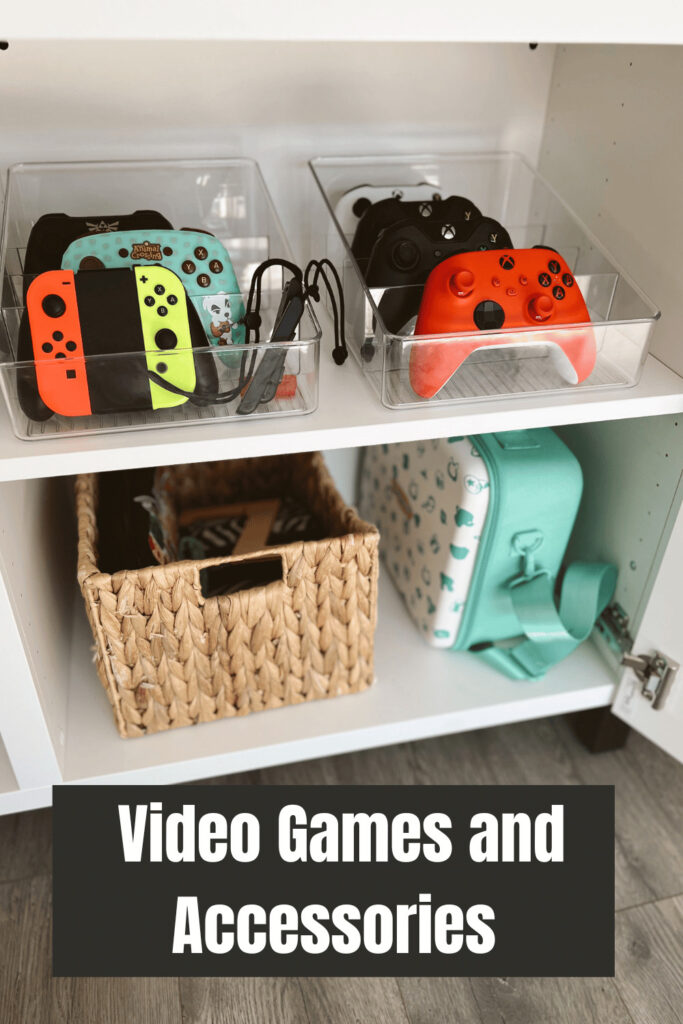 Gaming Controller Organization
Controllers can be expensive so you don't want to be throwing them into a bin on top of other items. I found these food packet organizer and use them to keep my controllers from touching one another. It works great for my switch and my xbox controllers.
The organizer I got below was a food packet organize 9X12X5 from Amazon. You can search food packet organizers on Amazon and see what you like and what would fit in your tv stand. Just make sure to measure so that it will fit your space and your controllers.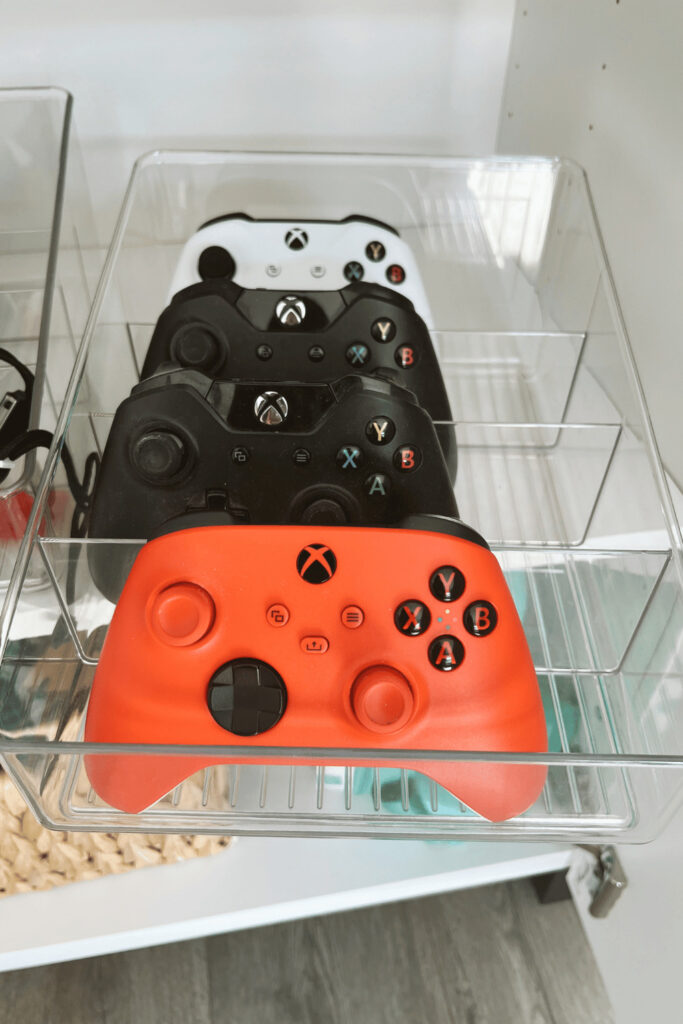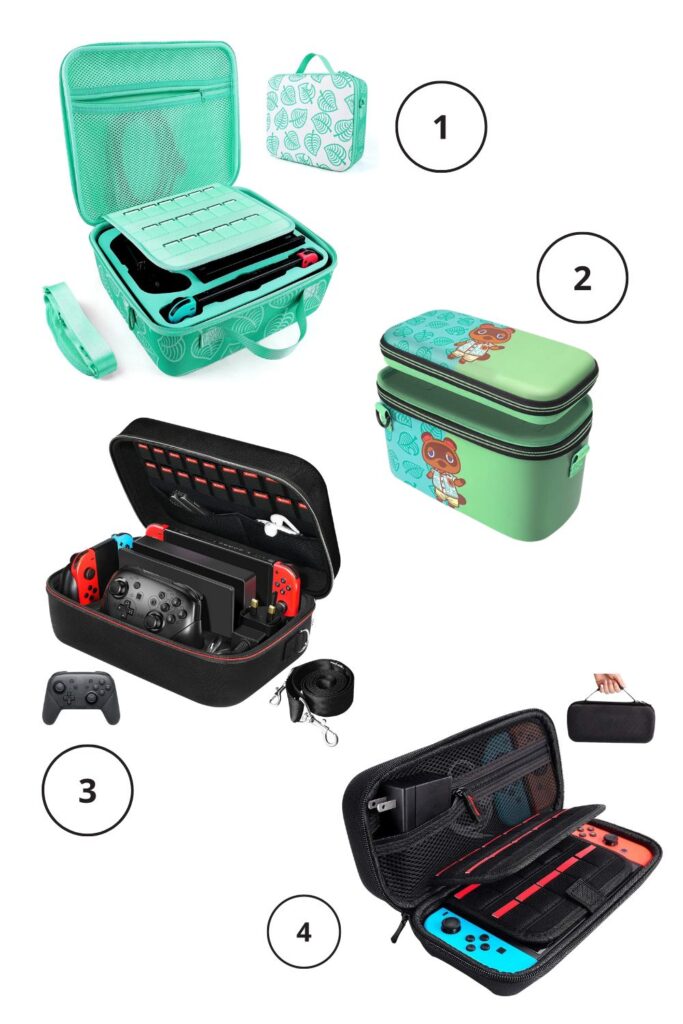 Dvd Organization
I love this way of organizing DVD's because it can save so much space by converting them to the plastic sleeves. I wrote a whole blog post showing you how to convert your DVD's to the plastic sleeves and how to organize them. See the link to that blog post below. I also share reasons why you would still want to keep your DVD's. Check out the blog post!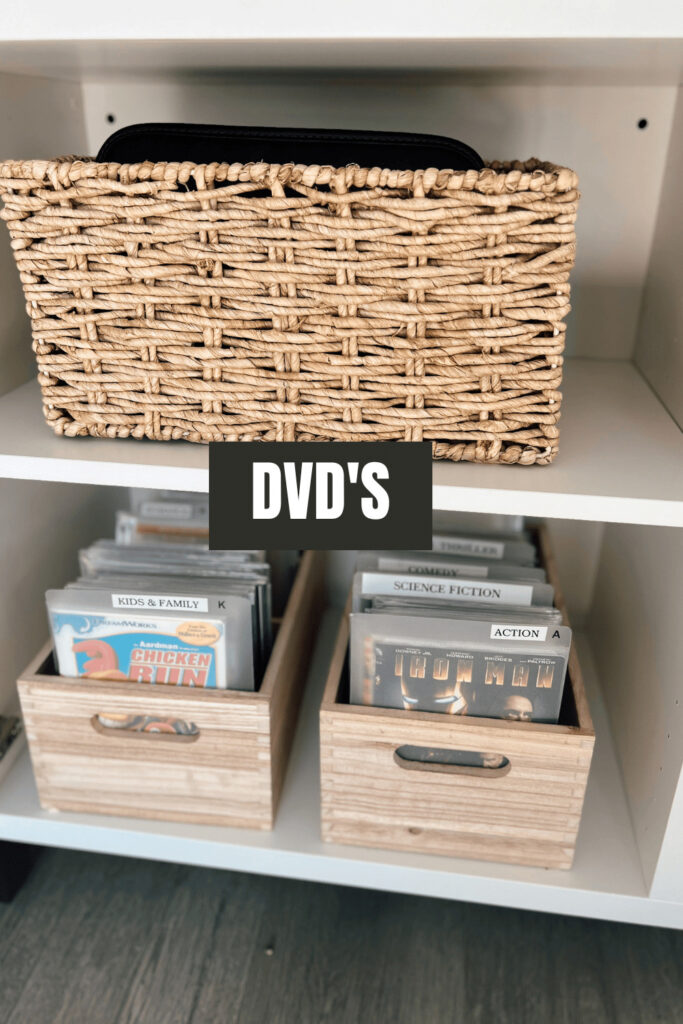 Once you convert your DVD's into your sleeves you will want easy access to them, so I got these wooden organizing bins that help do just that. They are sturdy and perfect to put all your DVD sleeves. I can find a DVD so fast now.
I also have an extra bin above for my DVD cases. These are DVD's that didn't have a cover or I didn't feel like putting in the sleeves. If you need extra storage it helps to get a basket.
Kid toy organization
I keep one section of our TV stand for toys. I tell my kids these are the only toys allowed in the living room and we keep them there. This allows for less toys in the living room space and an easy clean up and the kids know exactly where they go.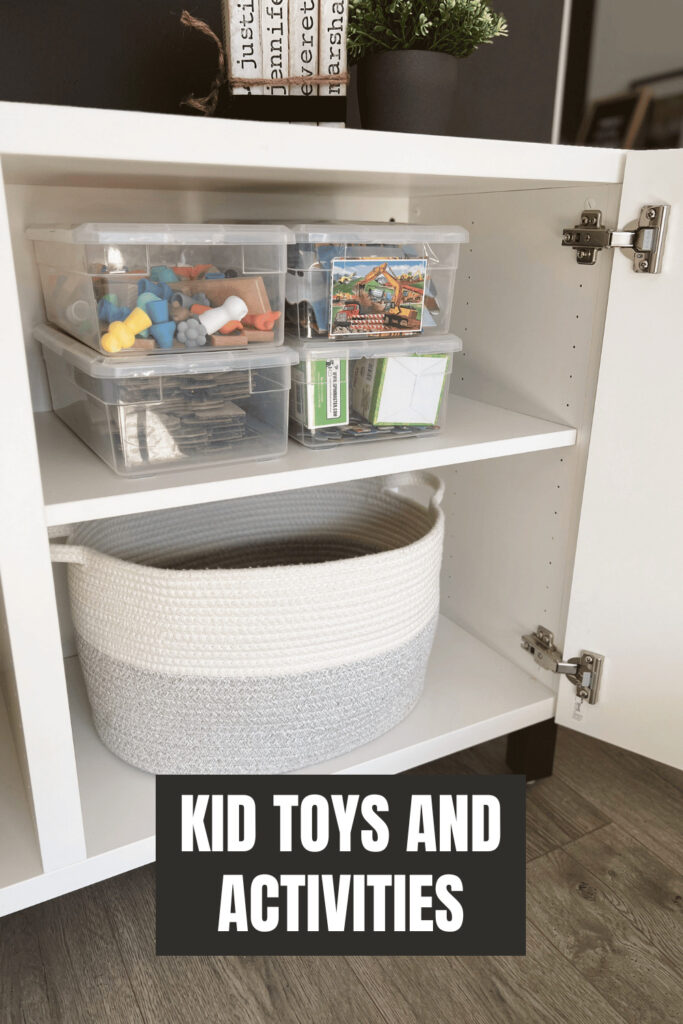 I love clear bins for everything, but especially for kid toys. They can easily see what is in the bin and know what they want to play with. I like to have learning toys and puzzles in the living room. Each bin is a puzzle or a one toy that comes with little pieces. This way it all stays together in the bin. Check out my blog post about what clear bins I use if you are interested in knowing more about these clear bins.
I also love keeping one big bin for miscellanies toys that are left over. I usually keep all my boys toy cars in the bin. You can search at Target for baskets and they have a lot of options for toy storage. I linked some cute ones below.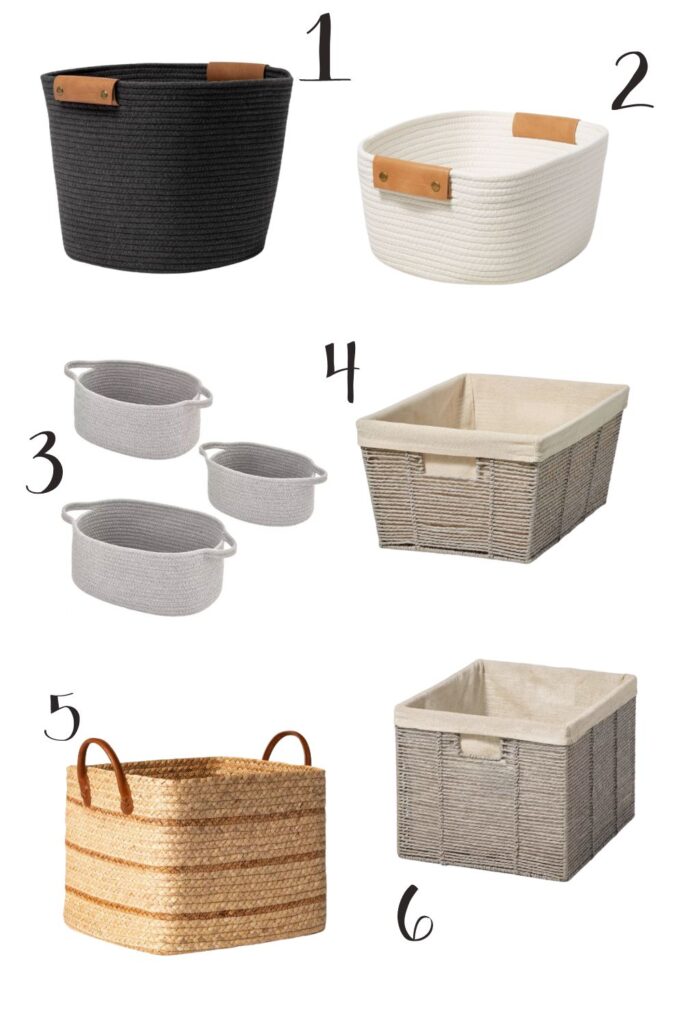 This post may contain affiliate links. See my Full Disclosure for further details.
Pin this to your favorite Pinterest Board to find later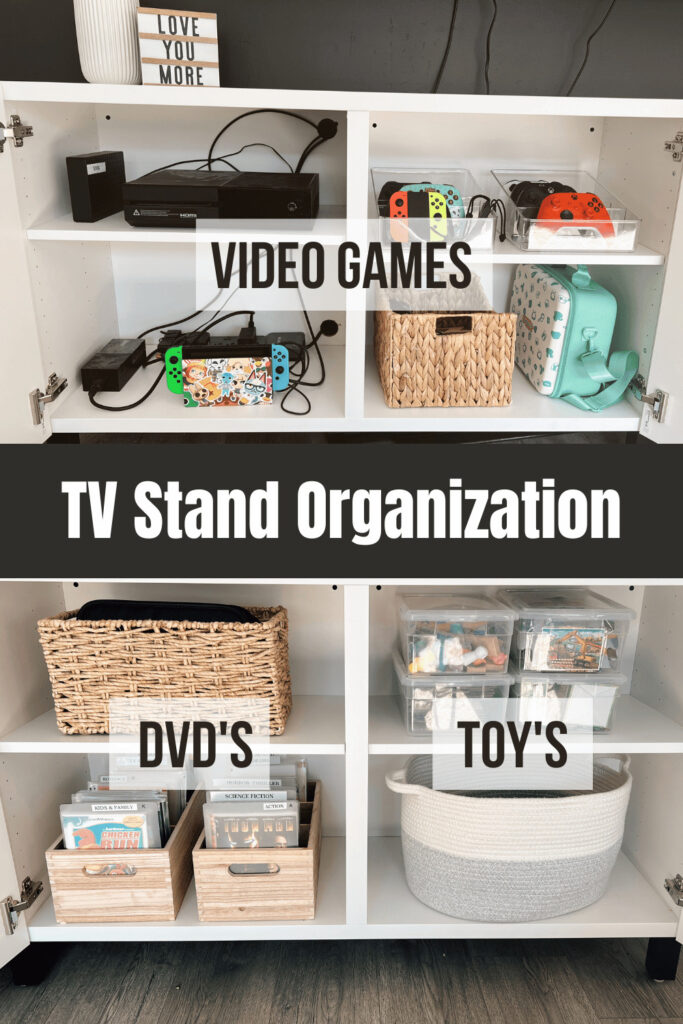 You might also be interested in: