The best way to organize your DVDs
Anyone else drowning in DVDs and not sure what to do with them? Well I'm going to show you how to organize them to save space and make it easier to find them when you want to watch a movie!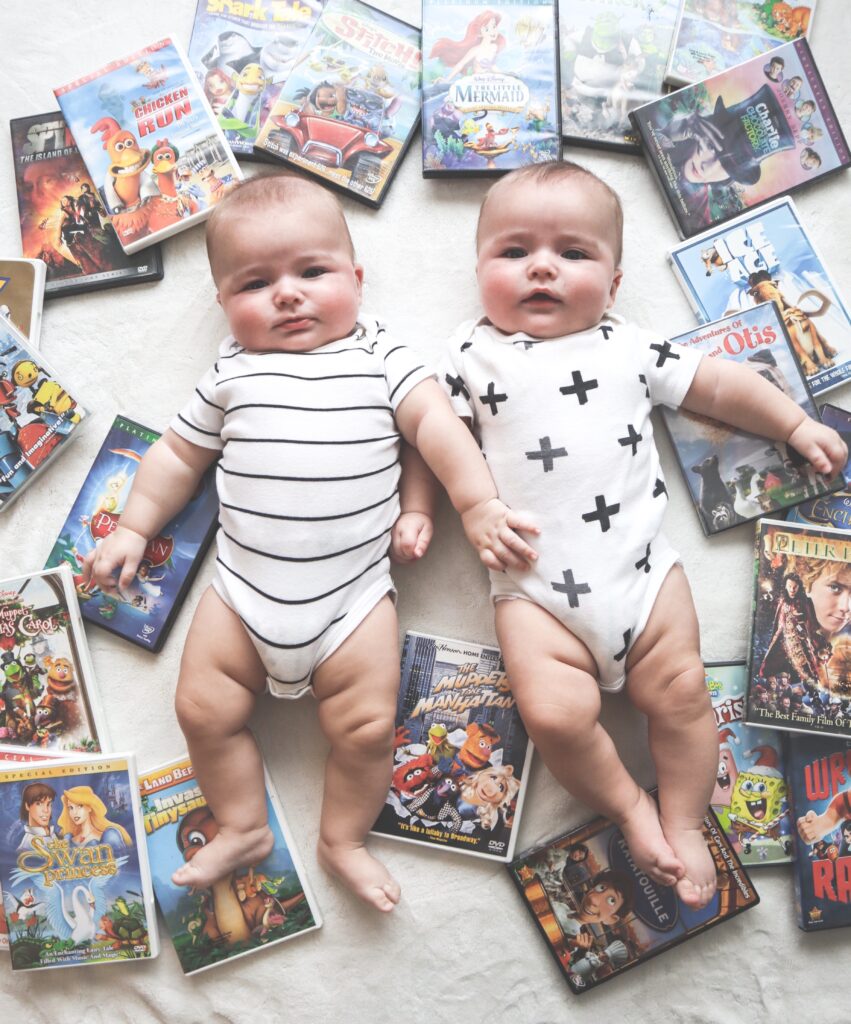 Reasons to keep your DVDs
Its true that the world is moving towards the digital life. We now have Netflix, Hulu, and many digital streaming services that have a lot of the content we want to watch, but sometimes its nice to have the physical copy. Here are some reason you might want to keep your DVDs.
Most cars now a days come with a DVD player which is one reason you might want to keep them. They are perfect for road trips!
I had a follower say she keeps her DVDs in her camping trailer for vacations. When you don't have wifi this is a great reason to use your DVDs to watch a movie.
When my boys get older I don't want them to have access to unlimited movies and shows on streaming services. I can control what they are watching a lot easier with the DVDs I leave out for them. This way they can watch what they want on their own. Its a lot easier for a kid to pop in DVD than log into a streaming service.
If your wifi goes out or something digitally isn't working you can always put a DVD in! Also how many times have you started a movie on TV and sat through the commercials and realized you owned that movie. I do this all the time and end up putting the dvd in halfway through the movie. lol
Why you should switch to clear sleeves!
The biggest reason to switch your DVD cases to clear sleeves is to save space! I took this picture below to show you the comparison of the DVD cases next to the sleeves. It really is shocking how much space you can save!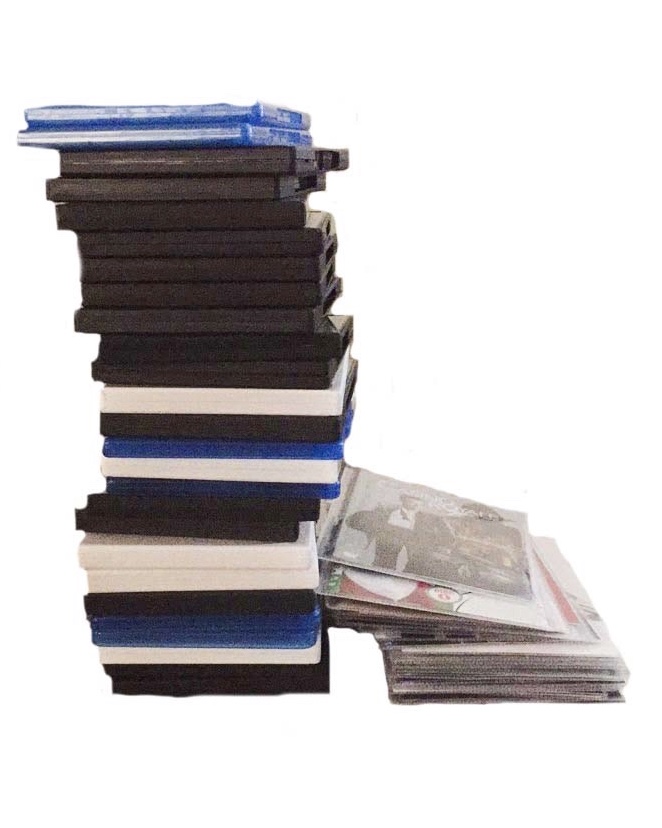 It was nice to have more shelf space after I converted all my DVDs to the clear sleeves. It used to fill up this whole space and now I can put bins of the kids toys down below!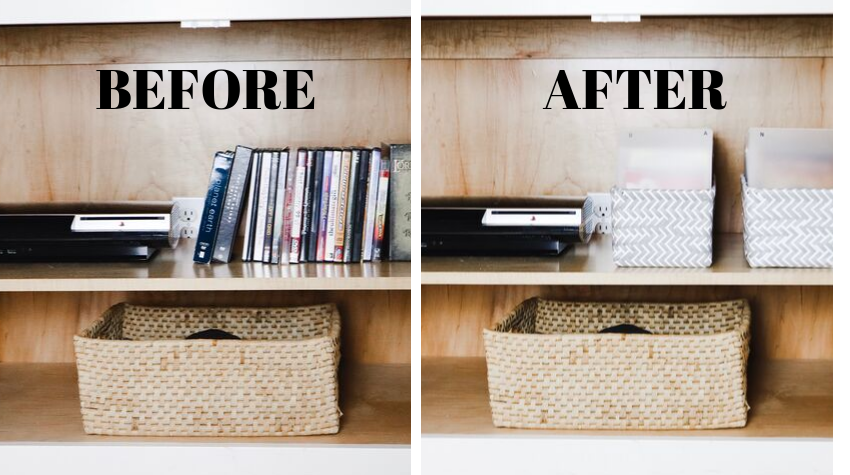 Where to buy your clear sleeves?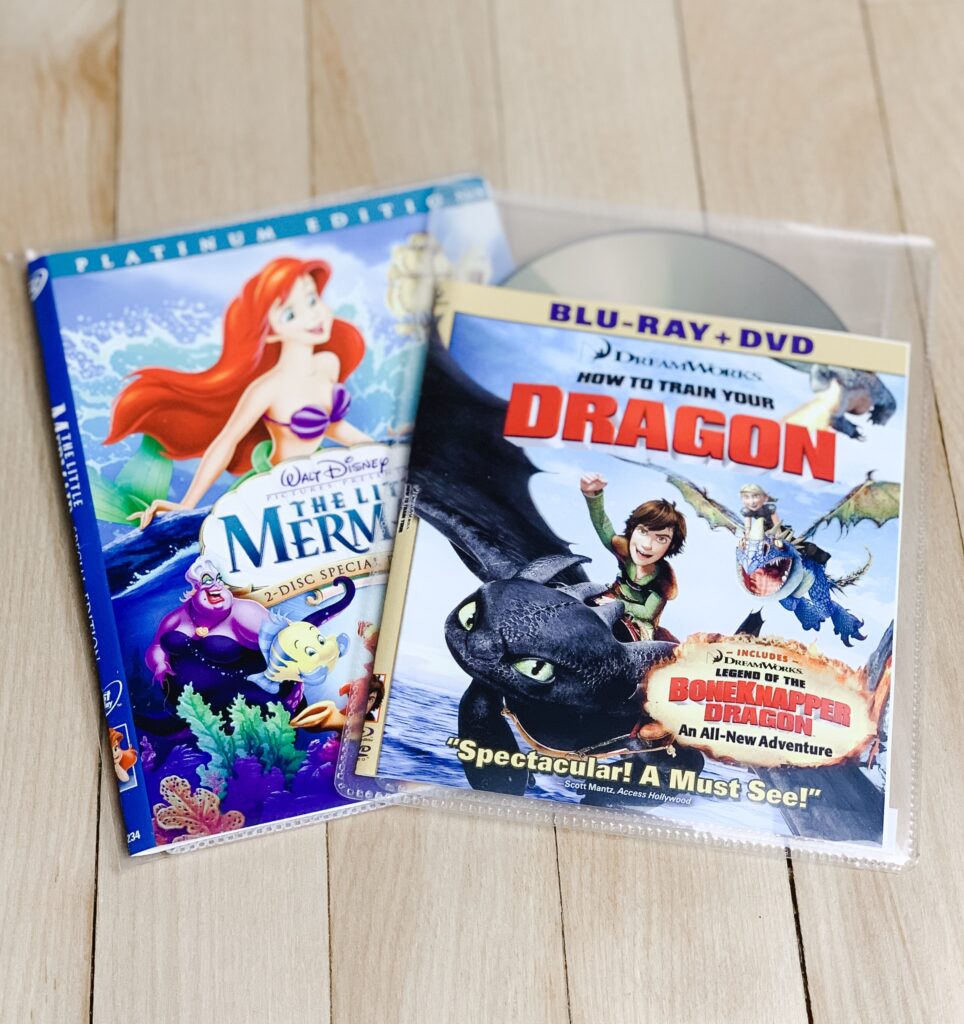 I tried a couple different clear sleeves from amazon and I came to the conclusion that the Non Wooven sleeves are my favorite. You get 50 clear sleeves for $14.99 and each sleeve can hold two disc. I like these ones because the disc slides in easy and the fold at the top stays closed.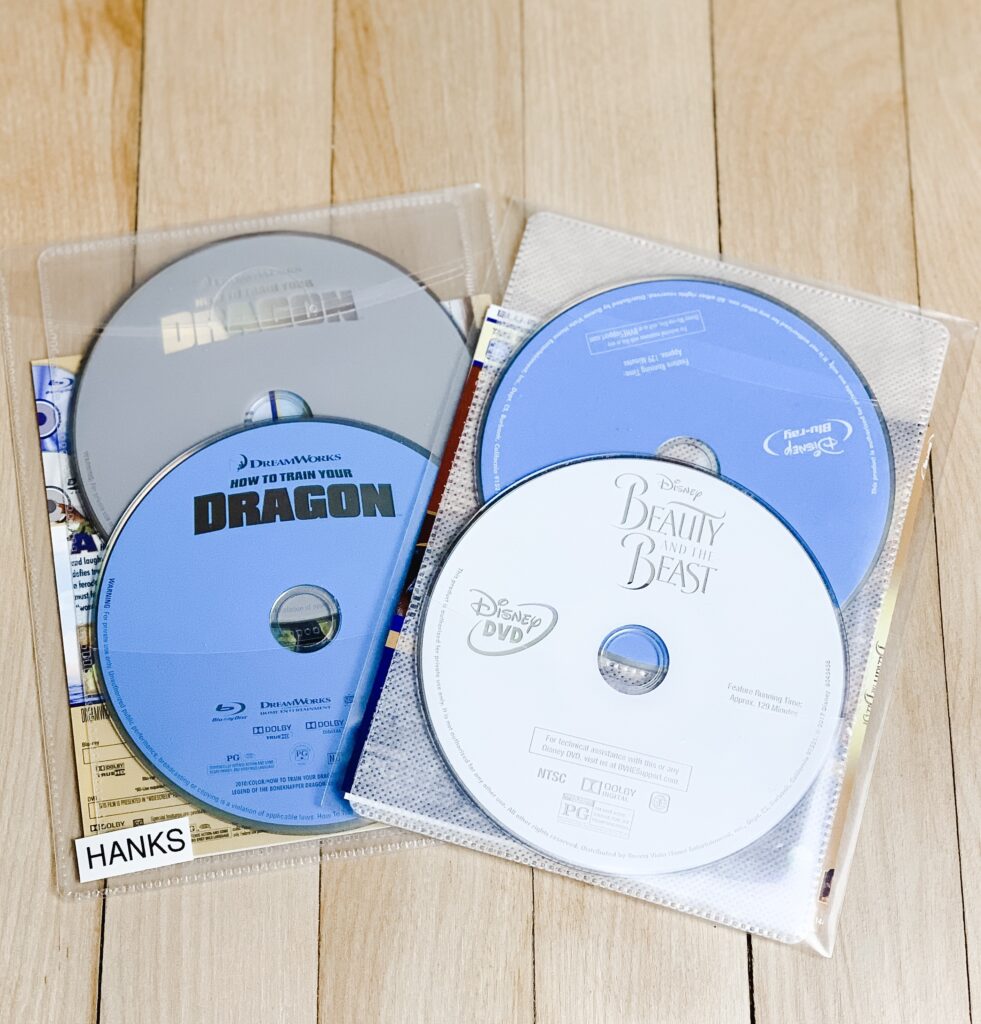 How to put your DVD disc and artwork in the case:
Its really easy to put the DVD and artwork into the case. Just make sure the DVD case is laying flat when you pull the artwork out, this way it won't tear.
I love that you can fit two disc into one sleeve! It leaves room for the DVD version and the blue ray version.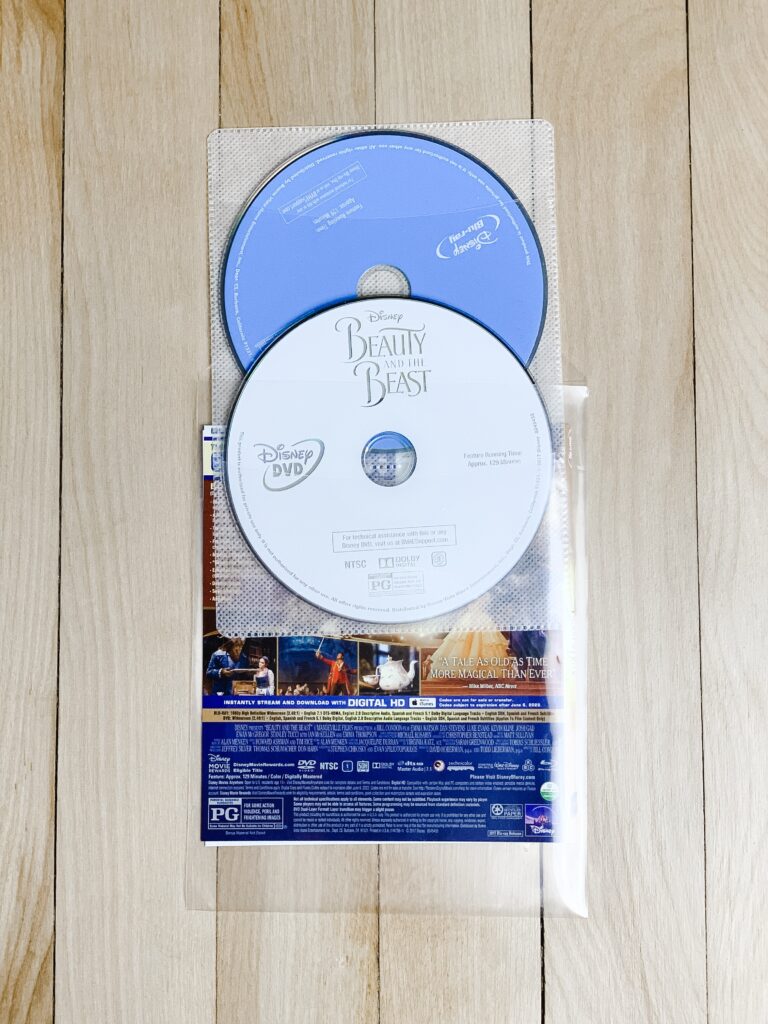 How to store your clear DVD sleeves
I searched a long time for bins or baskets to put my DVDs and I finally found the perfect basket! Its the perfect width to fit the DVDs and I loved that it had three separate sections. The three sections make it so you can divide your DVDs by a category or it just makes it easier to find the DVD you want.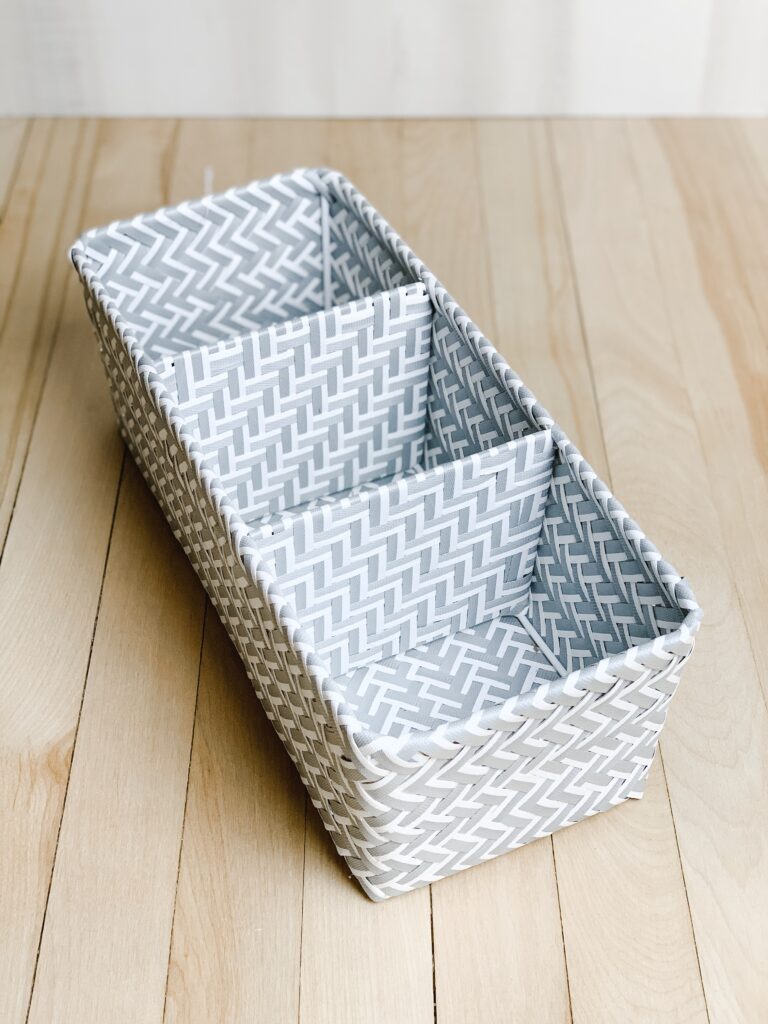 The basket is from target for $8.99 and you find the link to buy it HERE. The dimensions are 5 inches (H) x 6.5 inches (W) x 16 inches (D). I loved the way it looked in my TV stand!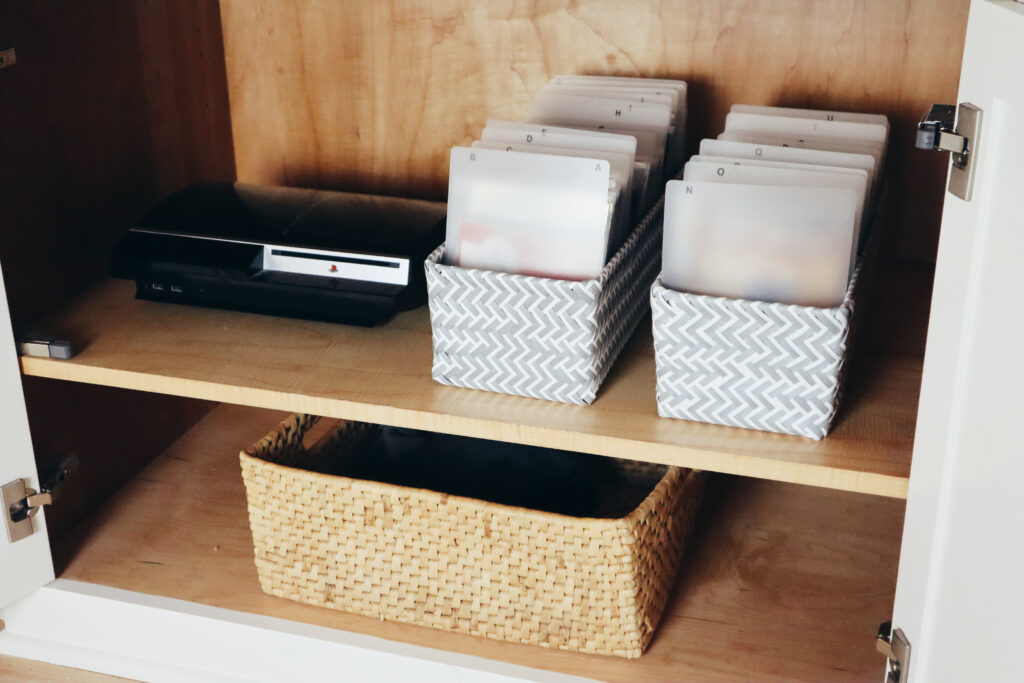 How to organize your clear DVD sleeves
You can organize the DVDs a couple different ways. I bought DVD dividers from the container store to make it easier when finding a movie. You can ether organize them alphabetically or by genre. I did trim the sides of the dividers a little so it would fit in the basket better.
If you can't order them from the container store I found some dividers on amazon, but they cost a little more and I've never actually purchased them before. I wanted to give you a second option just in case.
Alphabetically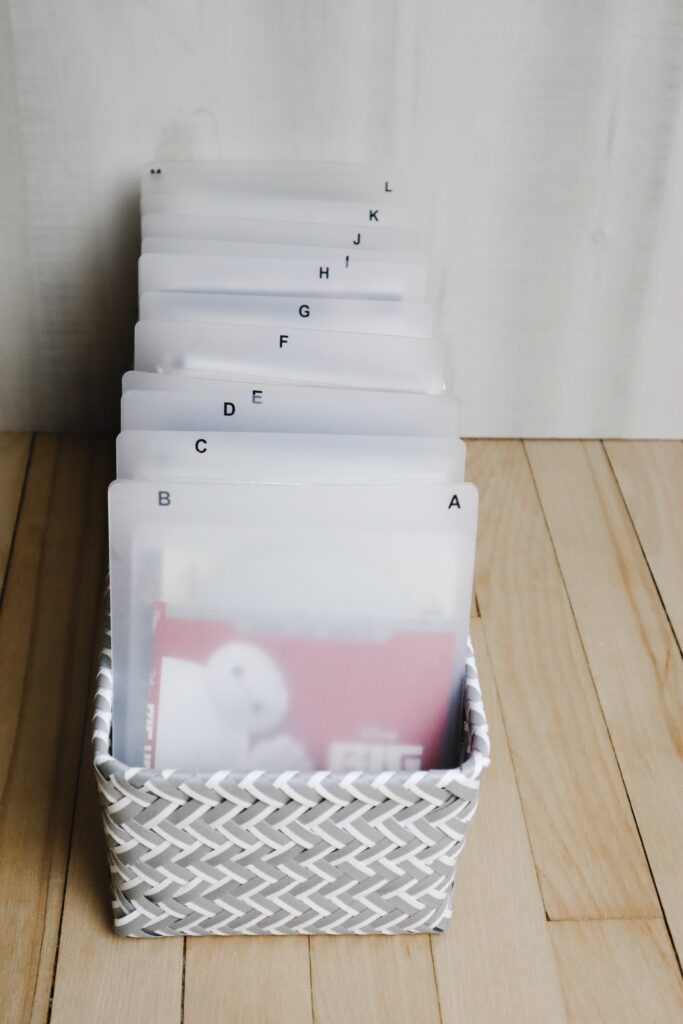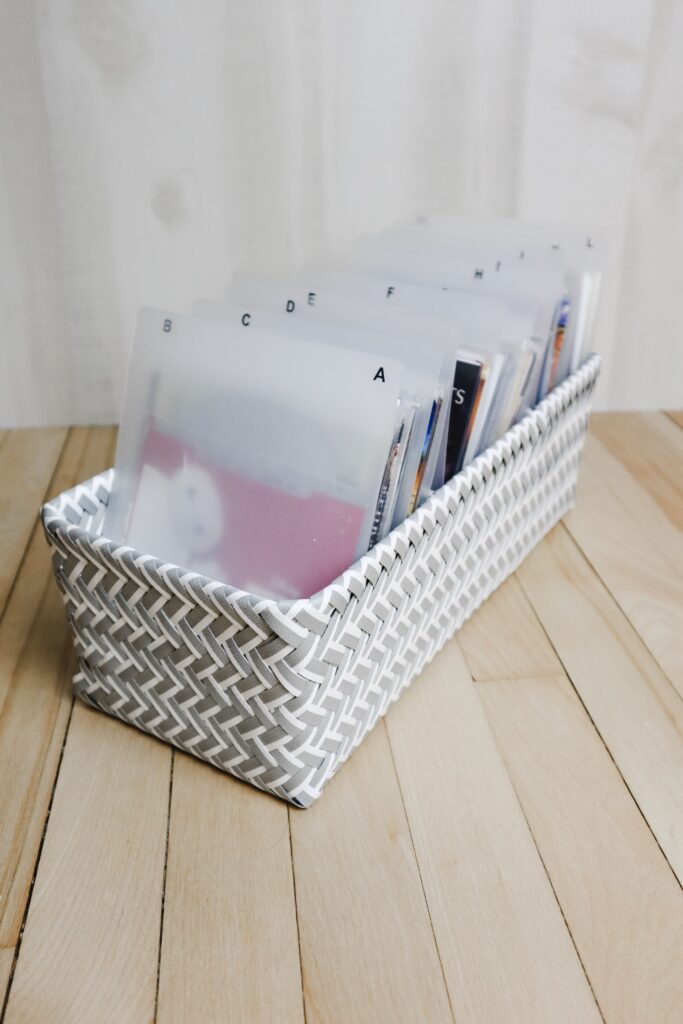 Genre (Category)
One of the reasons I liked this basket was because of the three dividers. It makes it easier to organize the movies by genre if you want to do that instead of organizing alphabetically.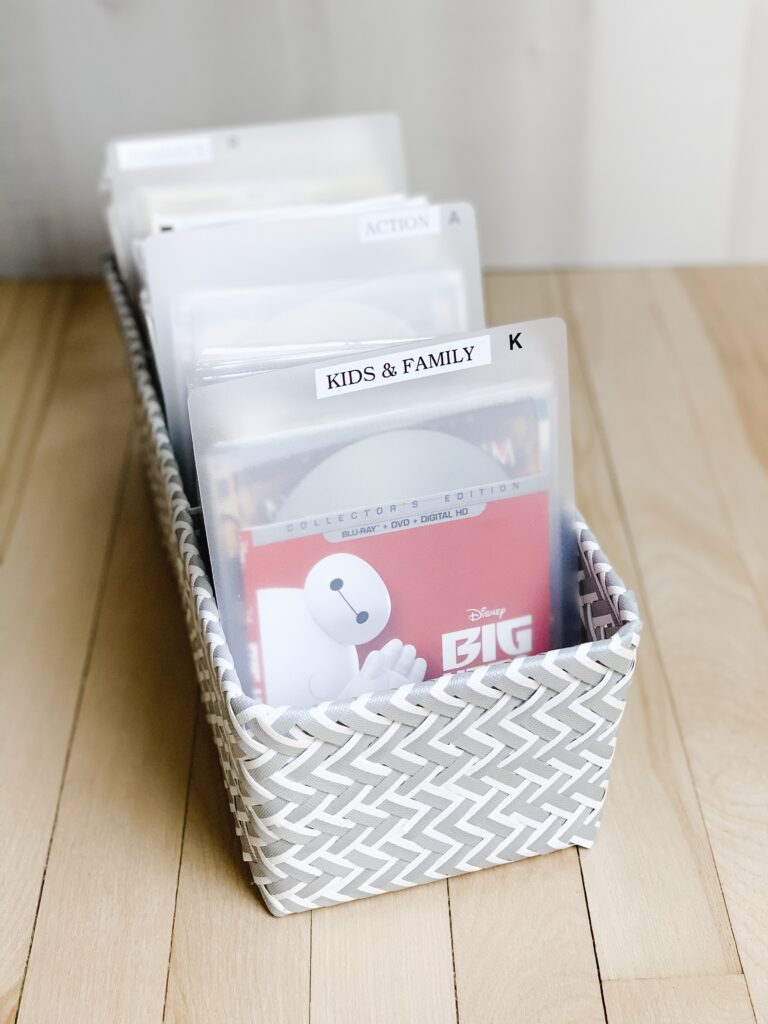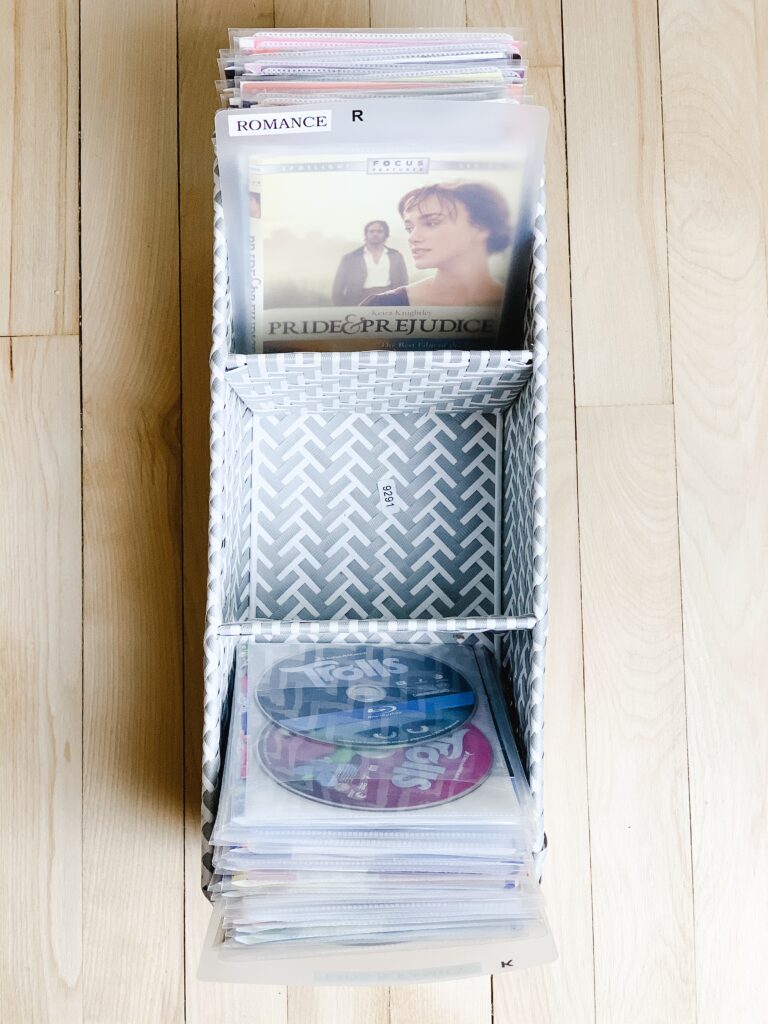 Movie Organizer App
Have you ever been at the store ready to buy a movie, but can't remember if you already own it or not. I've done this so many times and thats why I thought it would be worth it to buy this app. Its an app where you can scan all your own movies and keep track of what dvd's you own. The app is called "My Movies 3 Pro Movie & TV" and you can find it in the app store on your phone.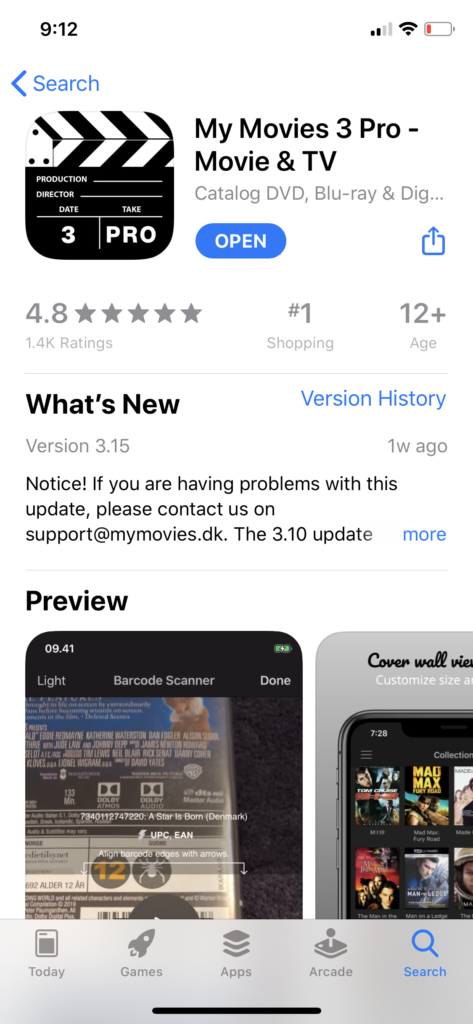 Each DVD cover has a bar code on the back of it. The app lets you easily scan the bar code and it will be added to your own personal list. If for some reason you lost it or it doesn't have a barcode, they have an option where you can enter the movie manually.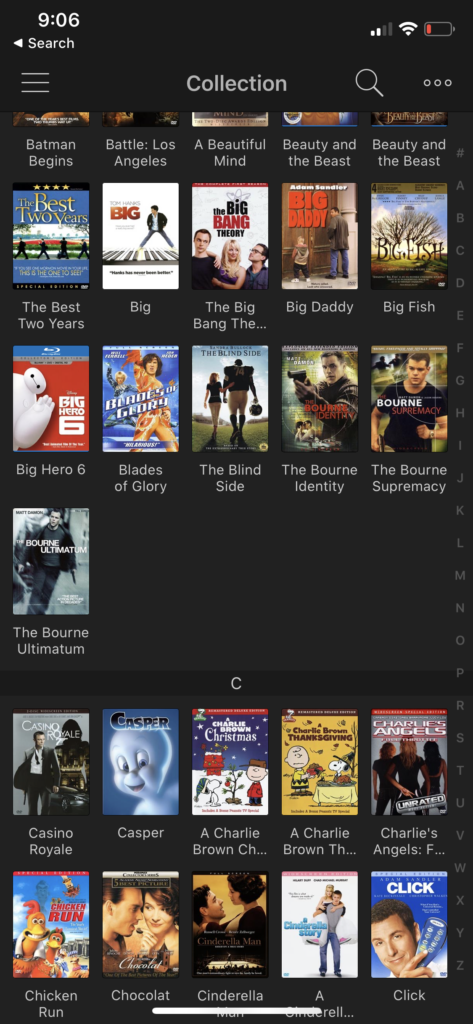 This is why I like organizing my movies alphabetically because it goes along with my app. When I want to watch a movie I look through my app and then I can go over to my organized movies and I can easily find it! I feel like I use my DVDs more often after I got this app. Its easier to scroll through my phone than look through my DVDs.
I hope this was helpful and I can't wait to hear how your organizing goes! Let me know if you have any further questions in the comments below!
This post may contain affiliate links. See my Full Disclosure for further details.