The best gift ideas for her
If you need gift ideas for her, you have come to the right place. These are fun gifts for a friend, sister, mother, or spouse. Hope these ideas help!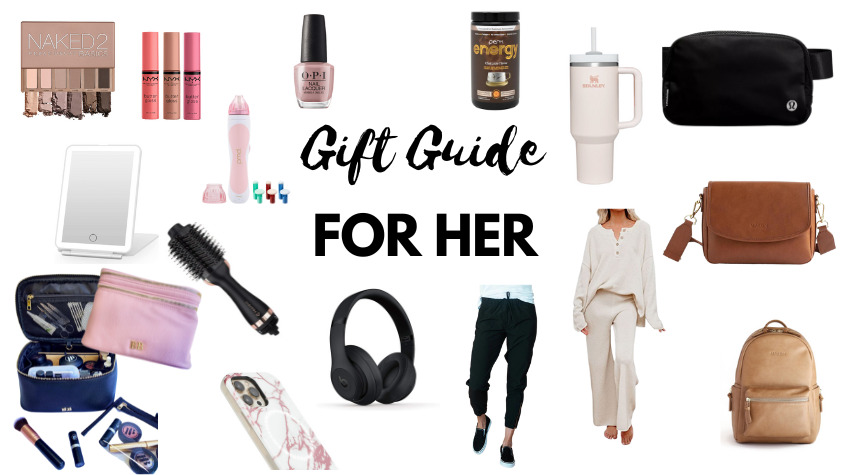 Gift Ideas For Her
I put together a list of gift ideas for her. These are some of my favorite products I personally own and love to use. Wanted to put them in a blog post and share because I know others will love them as well. It's also helpful to get new ideas, so I hope this helps!
This is probably one of the best gift ideas for her. I'm sure you have heard of the Stanley cup and wonder if it lives up to all the hype, well I'm here to say yes it does. I was skeptic thinking it was just a water bottle, but I was gifted one and I understand the hype now. I love this water bottle and you can't go wrong gifting this to her!
The big hype right now is the fanny pack and I love it. I asked for this for Christmas and really want one! The Lululemon is most popular, but I also included the dupe from Amazon below. Links to bags below pictures. Maedn crossbody bag is my most used bag. You will never need another bag again. Use my code COCO15 to get 15% OFF. *Never expires
BLACK FRIDAY SALE: 30% OFF SITE CLICK HERE
This crossbody bag is perfect for that everyday look or travel bag. I have one and its the only one I'll ever use again. It has so much space to fit lots of things and its so comfortable. You will never need another bag again. Use my code COCO15 to get 15% OFF. *Never expires
I use this for all my travel and its all I'll ever need again. I can fit so much in with all the pockets and inserted zipper pouches. So cute with all the different colors. USE CODE COCO10
A pricer gift, but something that would last forever and hold special meaning. I love Life and Jewels because they create custom jewelry that tell a story and have meaning. I have the the ring in the top left corner of the picture below. It's rose gold and I put three diamonds to represent my twin boys and I. I wanted something to represent what we have been through and how far we have come. The idea is to make jewelry that you can eventually pass down from generation to generation. A lovely sentimental gift idea.
Christmas deadline for FULL CUSTOM order Nov 28th
Christmas deadline for semi custom rings: Dec 16
Christmas deadline for everyday collection: Dec 16th
These are my favorite joggers! I love them for traveling and everyday use! One of my most used item of clothing.
I got the Foxybae in a Fab fit fun box and I am so glad I did. I had used my moms Revlon blowout dryer but didn't like it all. I started using Foxybae thinking I would have the same experience, but it worked so much better. I don't even use my straightener anymore I use this now.
This is the phone case I have used for years now. If I get a new iPhone I buy this same exact phone case in a new size. What makes it so different is how it lights up around the rim of the phone case and a ring light on the back of the phone. It gives studio lighting when you are out with friends or when you need light in a darker room. It is heavier than a normal phone case, but I don't mind it. I put a pop socket on the back and it works great. I've never had a phone break with this phone case.
These are all on my wish list this year for the holidays. I've heard nothing but great things about all of these. Use my code to get 40% off selected collections: Coupons Apply-Discounts 30% and OVER Limited to one use per customer
My favorite face serum
Make up
I love any of the Naked palletes and you cant ever go wrong with them. Always fun to add makeup to a gift.
If you are looking for a coffee alternative or you like hot drinks with caffeine check out Perk. They have energy, chill to relax before bed, and pre workout. The flavors are so good and it gets me excited to start the day when I drink my Perk. It has protein, no added sugars, and only 80 calories. I always have a 10% off discount if you use my link. Click HERE to get 10% OFF your order
BLACK FRIDAY: CODE BF20 20% OFF
Coloring books are so relaxing and such a fun and unique gift to give. Head over to my coloring books blog post to see my top favorite books.
This post may contain affiliate links. See my Full Disclosure for further details.