I am a huge Star Wars fan and I have loved finding cute Star Wars clothes for my boys. A fun part of being a mom is being able to share the things you love with your kids. It has been fun to share my love for Star Wars with them. They know all the characters names and love to point at them on their clothes. I thought it would be fun to share some of my favorite places to find Star Wars clothes for my boys.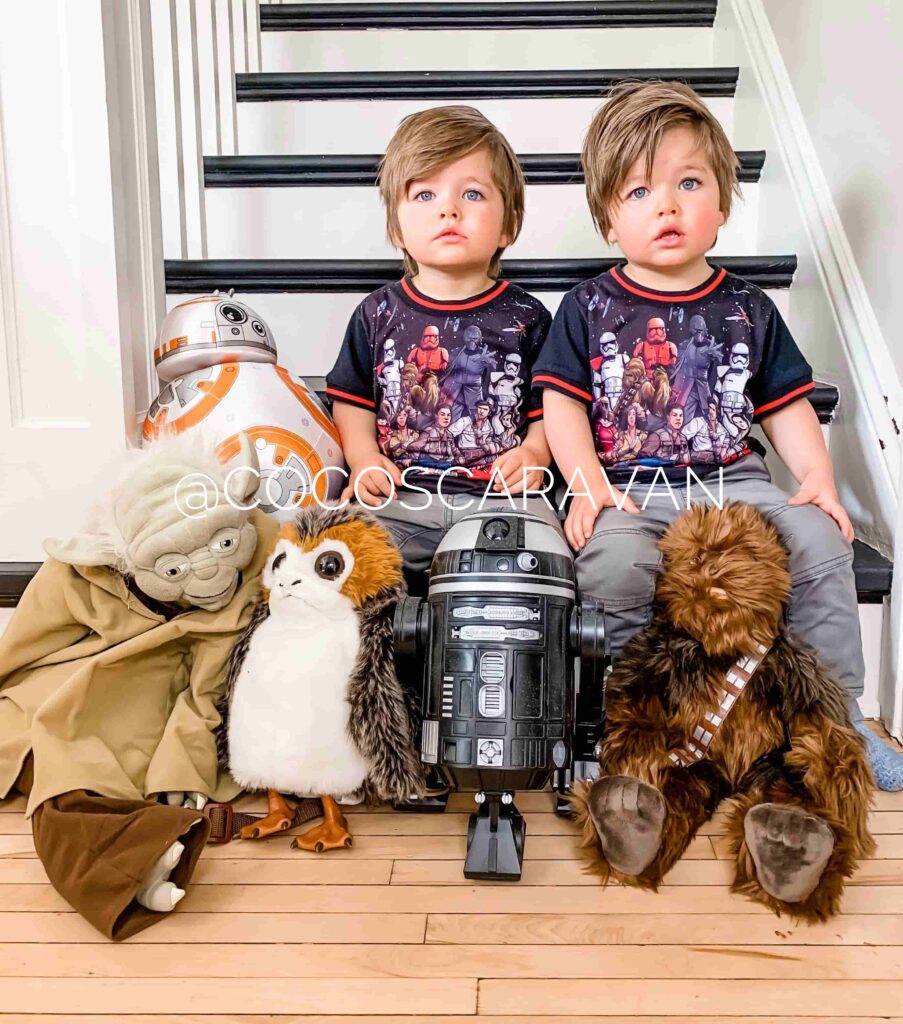 I also put together a blog post where I share my favorite stores to buy toddler clothes. You can read that HERE.
My favorite stores to buy Star Wars clothes for kids
May the fourth is coming up and thought it would be fun to share this blog post so your kids can have some cute Star Wars clothes for the fourth. I was able to find cute Star Wars clothes from some of my favorite stores and linked them below.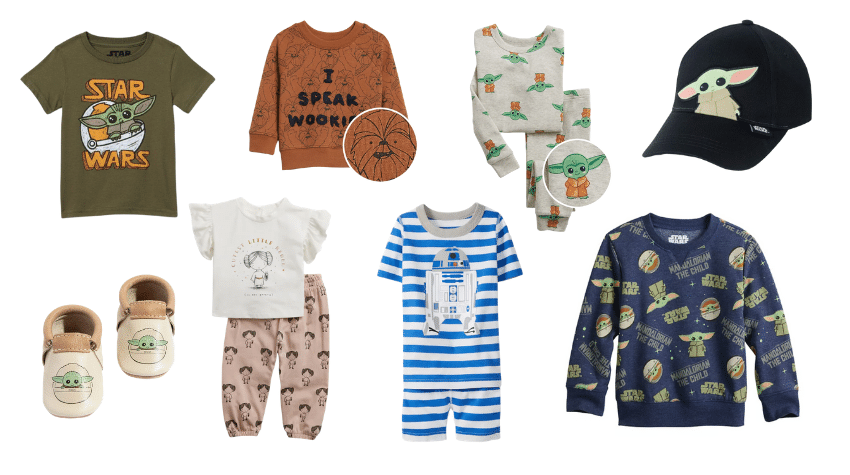 Gap kids have really cute Star Wars clothes! One of my favorite clothing items to get from Gap are their pajamas. Gap also has sales often so make sure to check for deals before you buy something.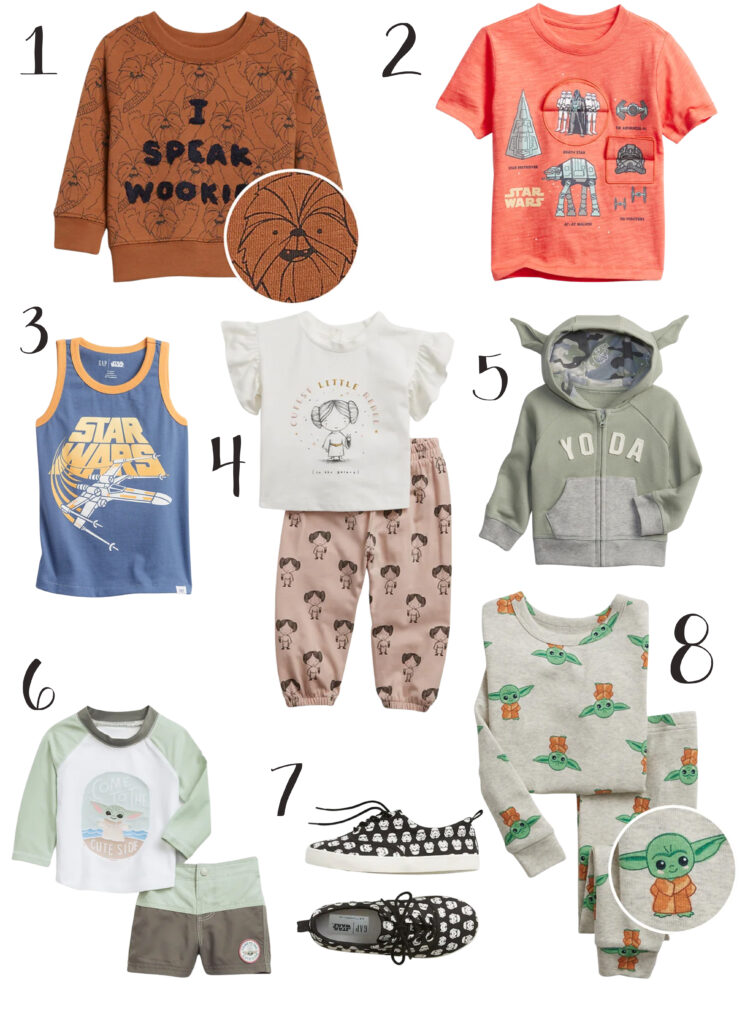 I speak Wookie Sweatshirt // 2. Flippy Graphic Shirt // 3. Star Wars Tank // 4. Princess Leia Shirt and Pants // 5. Yoda Sweatshirt // 6. Baby Yoda Swimsuit // 7. Storm Trooper Shoes // 8. Baby Yoda Pajamas
I love Gap Factory because the prices are so good and they usually have a lot of options for Star Wars clothes.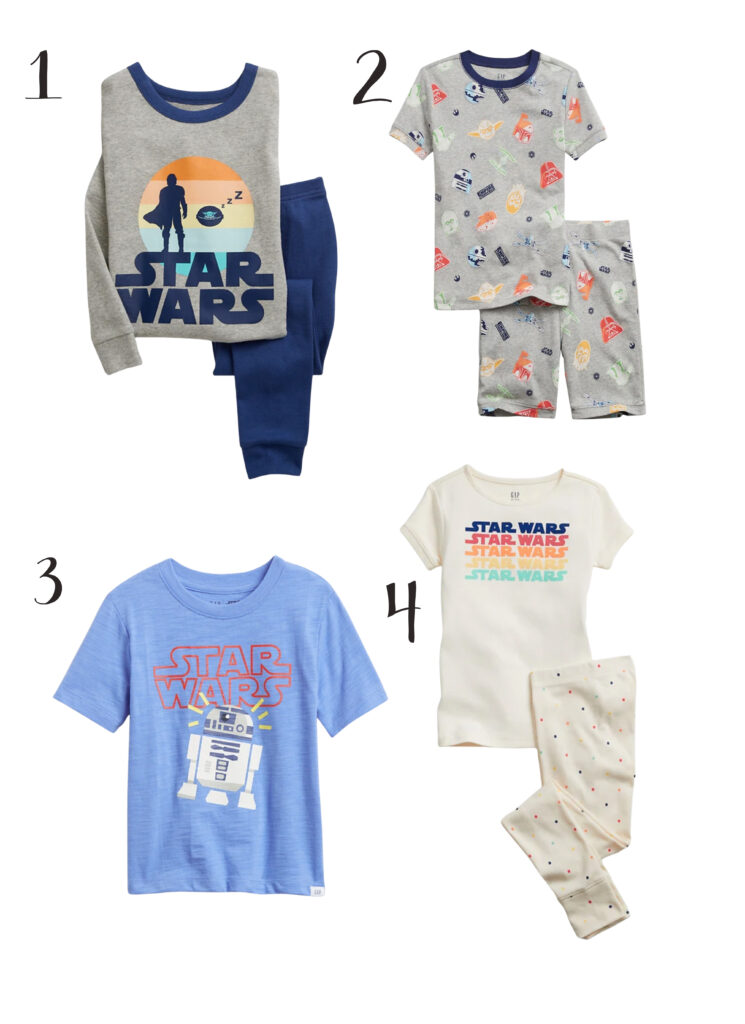 Mandalorian Pajamas // 2. Colorful Star wars pajamas // 3. R2D2 shirt // 4. Star wars rainbow pajamas
Target has been selling the cutest Star Wars clothes lately. I recently got this army green baby Yoda shirt at Target and my boys love it! I linked this shirt below.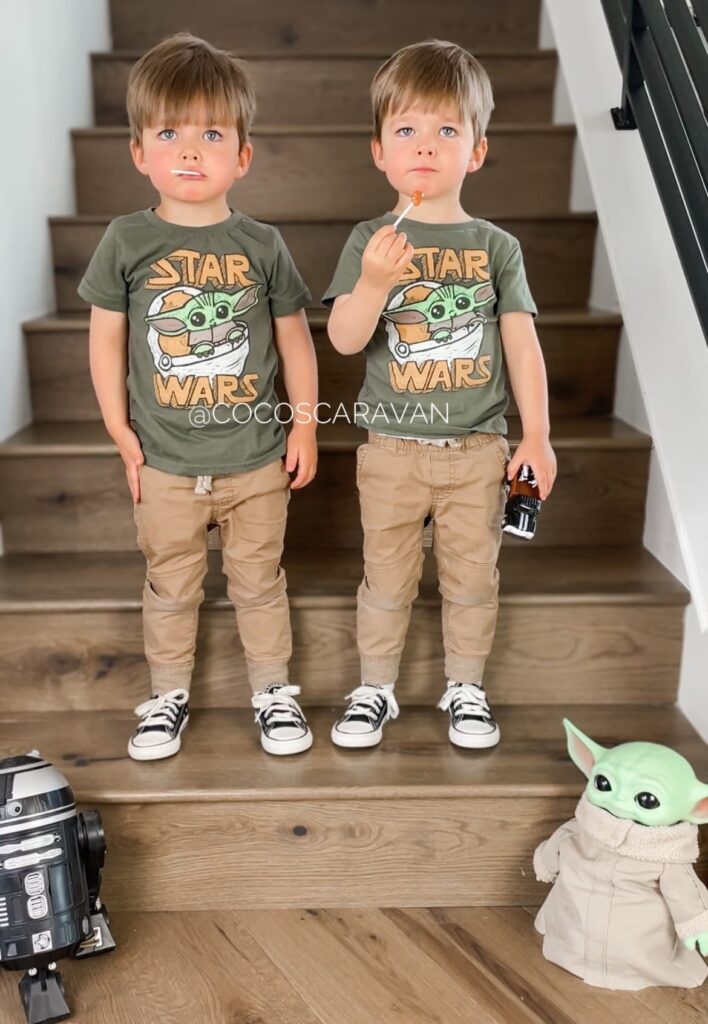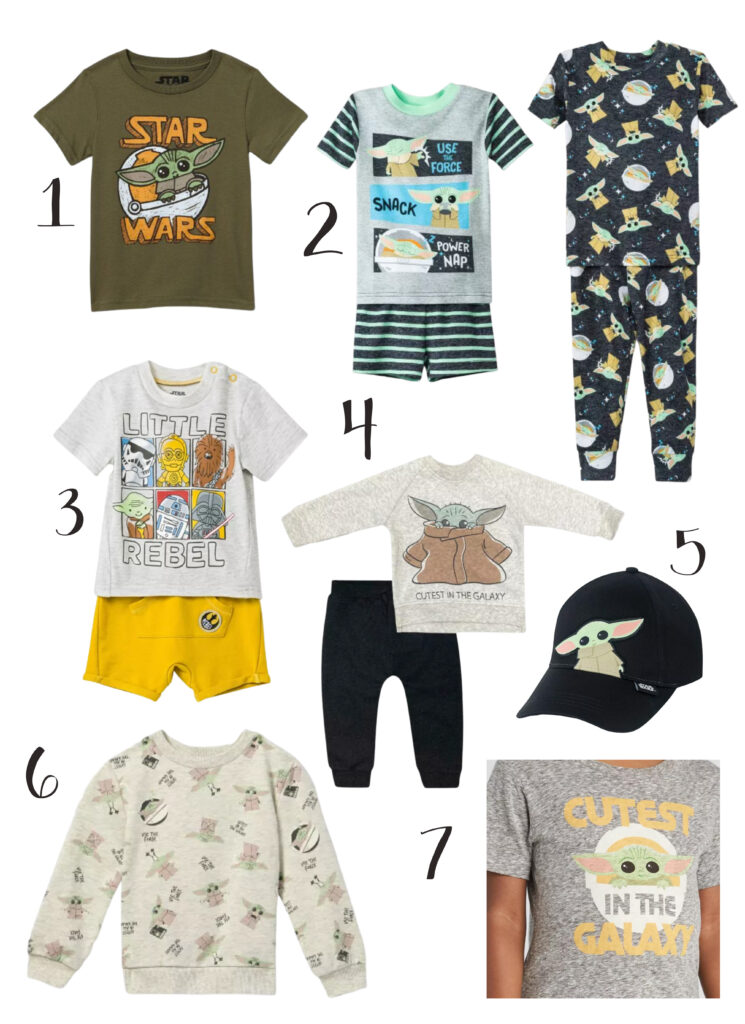 Army Green Baby Yoda // 2. Baby Yoda Pajamas // 3. Rebel shirt and short set // 4. Baby Yoda shirt and pants // 5. Baby Yoda Hat // 6. Baby Yoda sweatshirt // 7. Cutest in the Galaxy
Hanna Andersson is hands down the best place to buy pajamas for kids. The quality of their fabric is amazing and they last a long time. I love to buy Christmas pajamas from here each year. They have sales often so check during Holidays to see what sales they have going on. They have a great Star Wars section and these were some of my favorites that I linked below.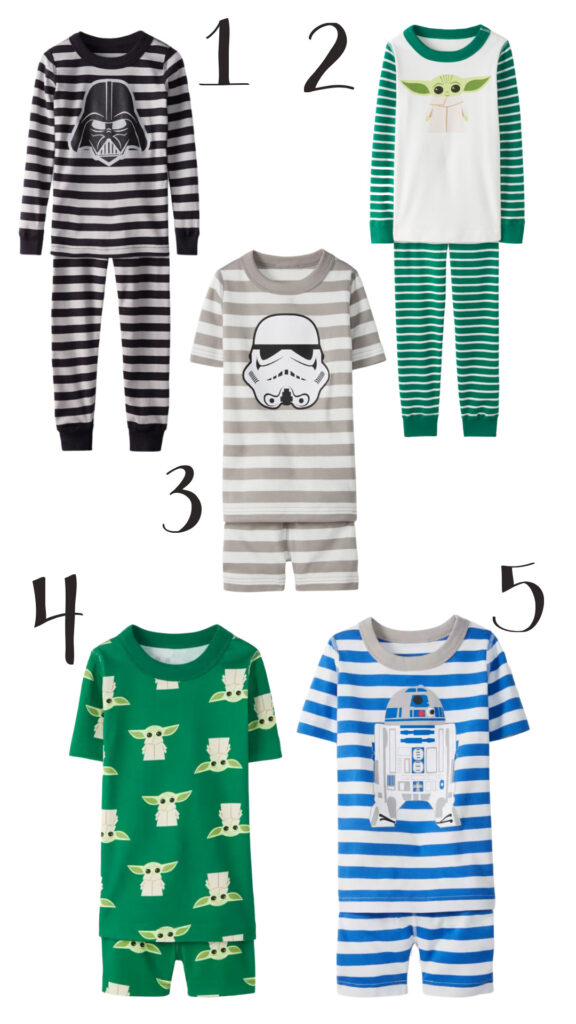 Black Stripe Dark Vader // 2. Baby Yoda Stripe // 3. Gray Stripe Stormtrooper // 4. Baby Yoda Green // 5. Blue Stripe R2D2
I don't shop at Kohls often, but sometimes they have really cute clothes at very cheap prices. I got this sweater they are wearing in the picture below from Kohls during Christmas time. They have a lot of cute t-shirts and sweaters. I found some cute clothes they have right now and linked them below.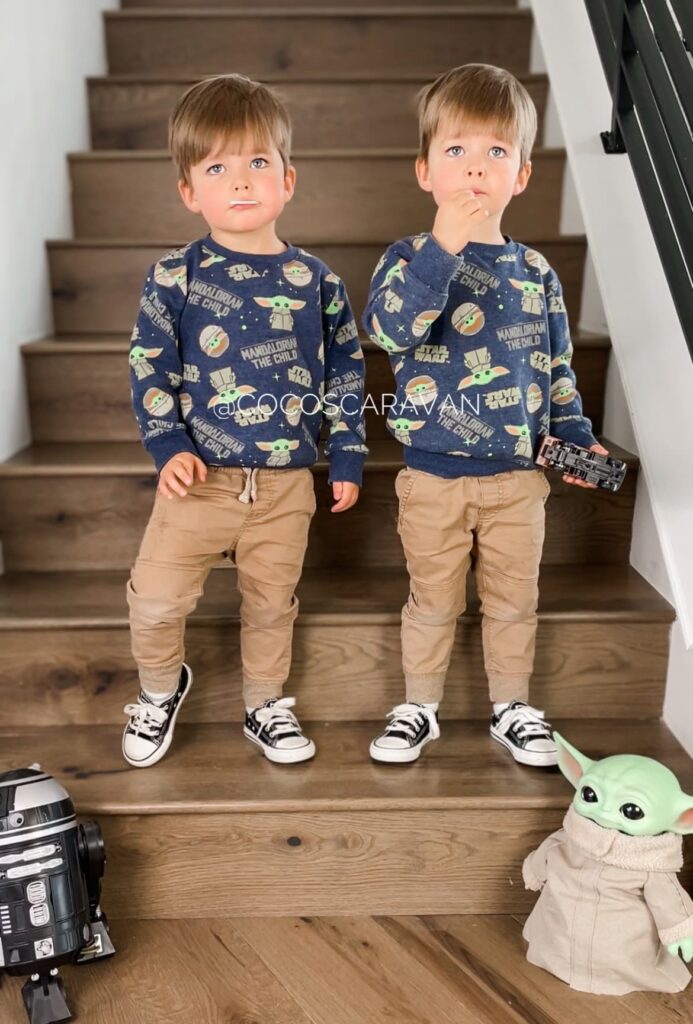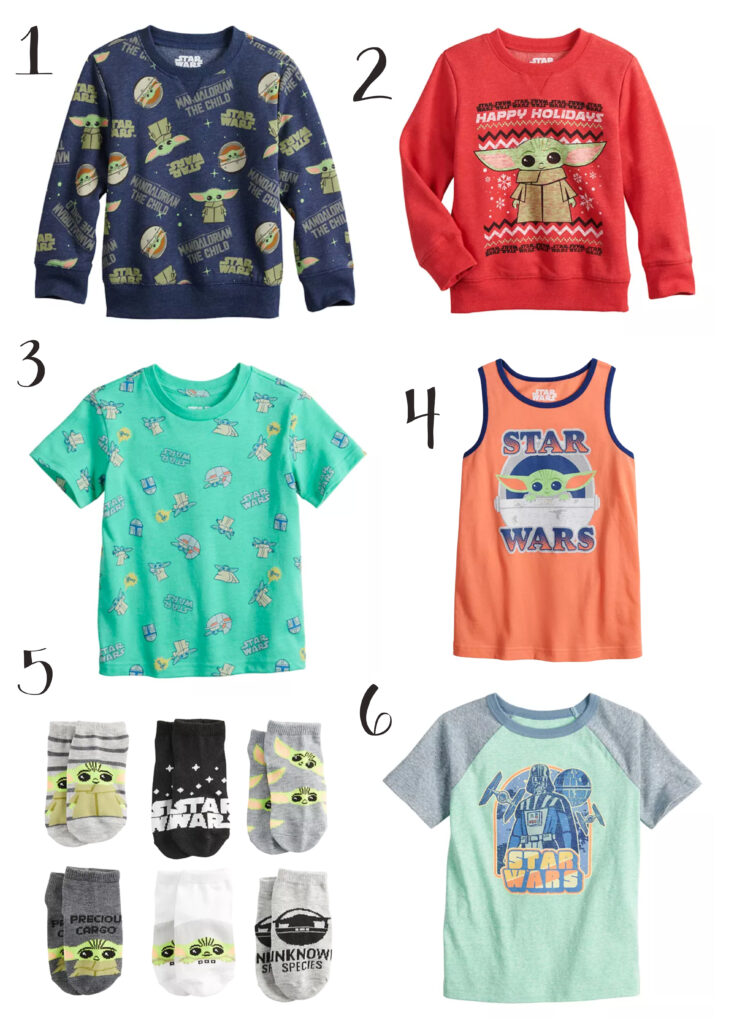 Baby Yoda Sweatshirt // 2. Baby Yoda Christmas Sweatshirt // 3. Mandalorian Shirt // 4. Baby Yoda Tank // 5. Socks // 6. Darth Vader Star Wars shirt
Freshly Picked has some of the cutest Moccasin shoes for kids. I had a pair of their moccasins for the boys when they were first walking and I loved them. Their Star Wars collection is so cute and I had to share some of their cute designs they have out right now. I linked everything below the picture. Check out more of my favorite children's clothing boutique's HERE.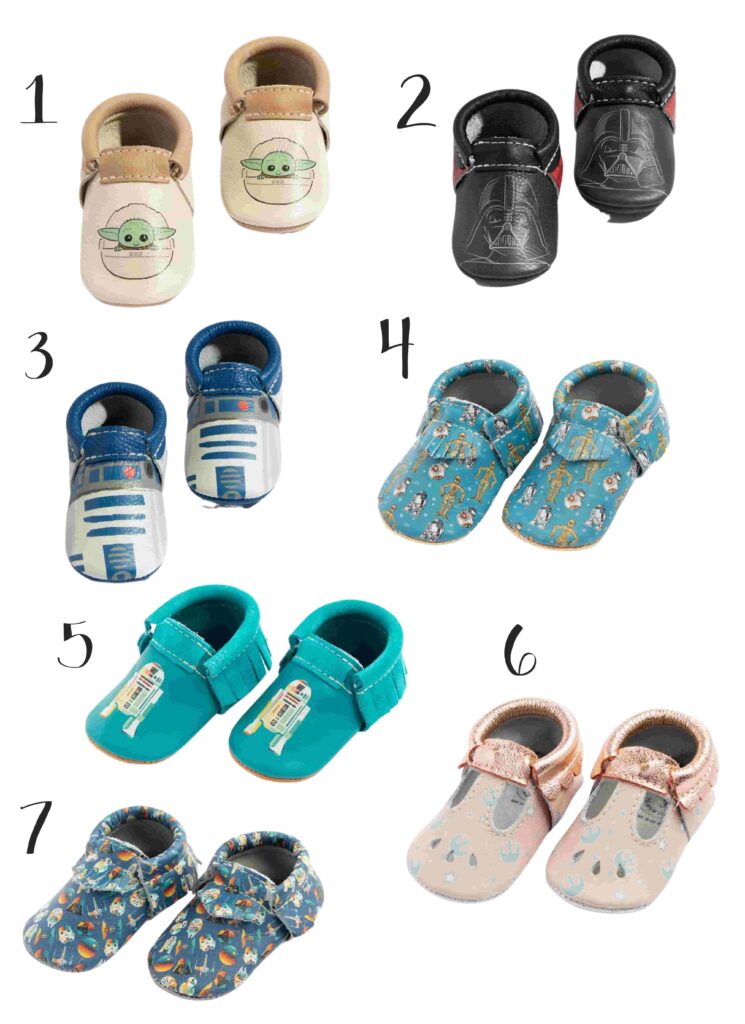 Baby Yoda Moccasin // 2. Darth Vader // 3. R2D2 // 4. Droids // 5. Retro R2D2 // 6. Pink // 7. Retro Stormtrooper and Darth Vader
Can't wait to see some of your kiddos May the fourth Star Wars clothes!
DON'T FORGET TO PIN THIS TO YOUR FAVORITE PINTEREST BOARD FOR LATER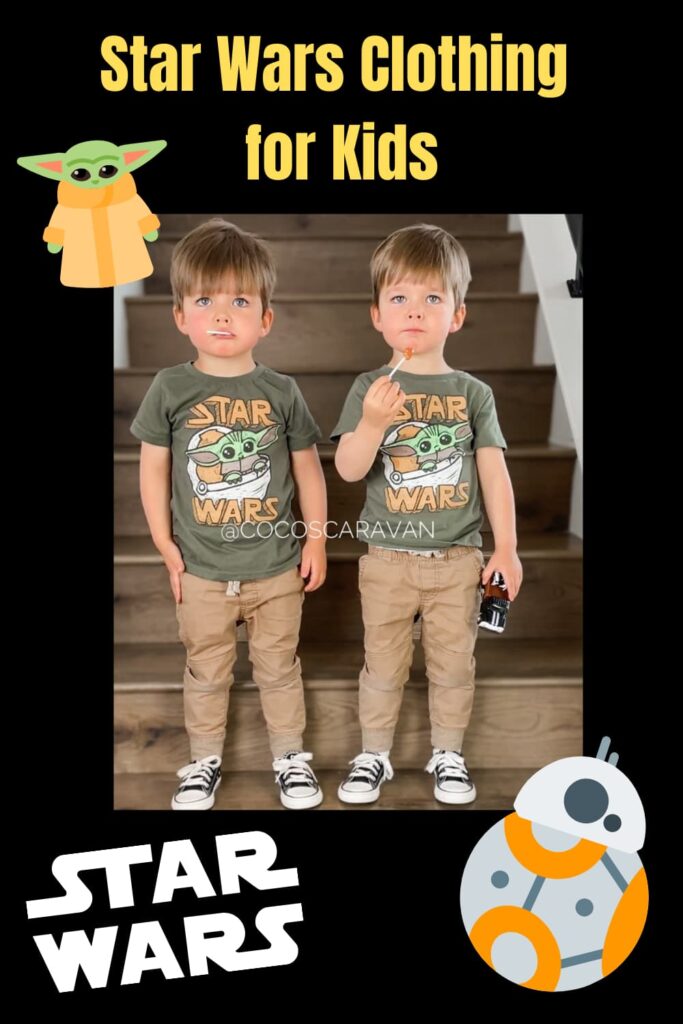 This post may contain affiliate links. See my Full Disclosure for further details.
You might also be interested in: