How to make a counting Halloween sensory bin
How to make a fun counting Halloween sensory bin for your toddlers this Halloween. Print off my PDF Halloween counting cards for your kids to make it more fun. It's always fun to learn with Holiday themed sensory bins.
I have a Bachelor degree in elementary education and taught school for three years. I have loved putting together these learning activities for my boys. I know they will help prepare them for when they start school. You might also want to check out my other blog post Counting bears sensory table for more learning sensory bin ideas.
Counting Halloween Sensory Bin
I'm so excited to share this counting Halloween sensory bin with you. It's a great way for your child to learn how to count as well as learning their fine motor skills. I love Holidays and it always makes learning fun when you can incorporate the Holiday into an activity. I hope your kids enjoy it as much as my boys did!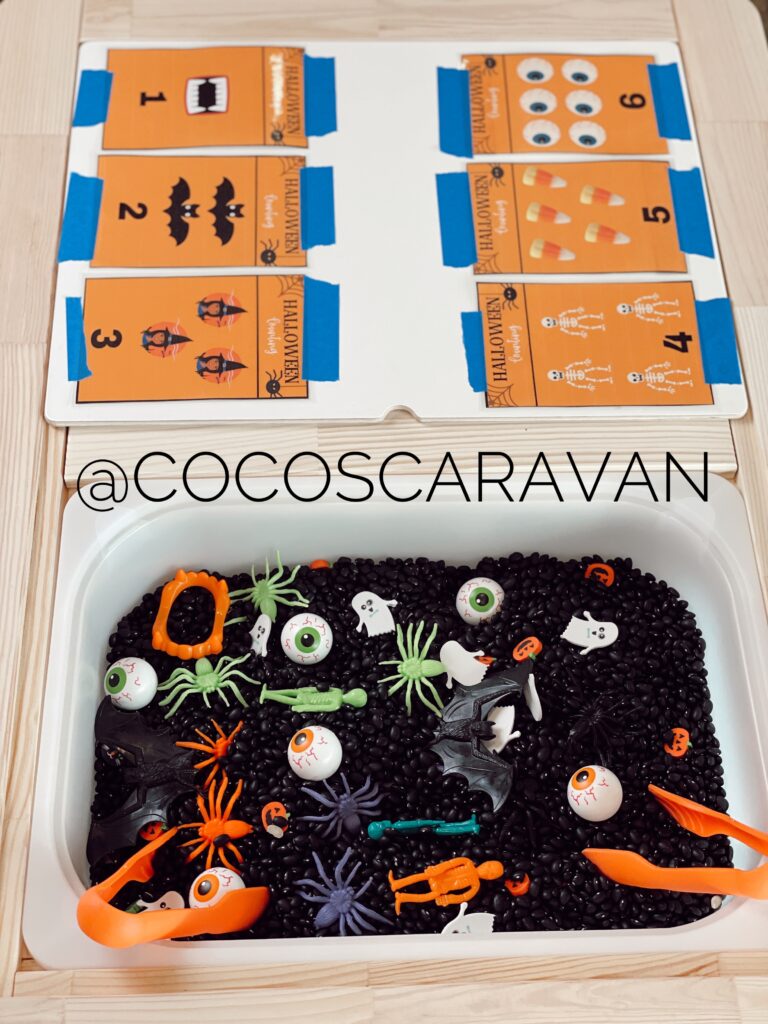 WHY COUNTING IS IMPORTANT
It's great if your child can count to 10, but that doesn't necessarily mean they could bring you 10 bears if you asked them. The first step is learning to count from memory and then understanding the quantity that each number represents. It's an important step in teaching your child to learn about numbers by having them physically move objects to count. Thats why this activity is so great. When they place the Halloween objects with each number they start to learn that 1:1 correspondence which means they start understanding that every object can only be counted once. This is a great activity for learning how to count.
What you will need for this Halloween sensory bin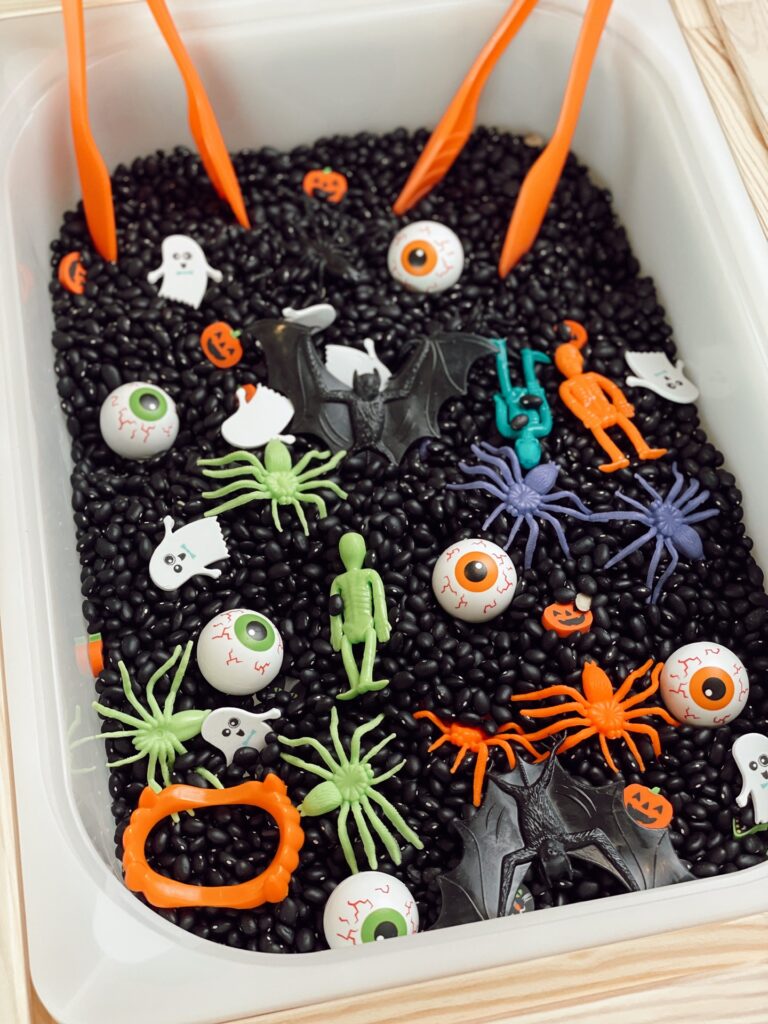 Checklist of items you will need:
Here is all the items you will need for this adorable Halloween sensory bin.
Bin or Ikea sensory table (link below)
Black Beans (I bought mine at Walmart)
Halloween party favors (for the counting)
Halloween counting cards (free printable below)
blue tape (tape cards down)
You definitely do not need to laminate your cards, but I had a laminator and thought it would be nice. When paper is laminated it last longer so I can use it again next year.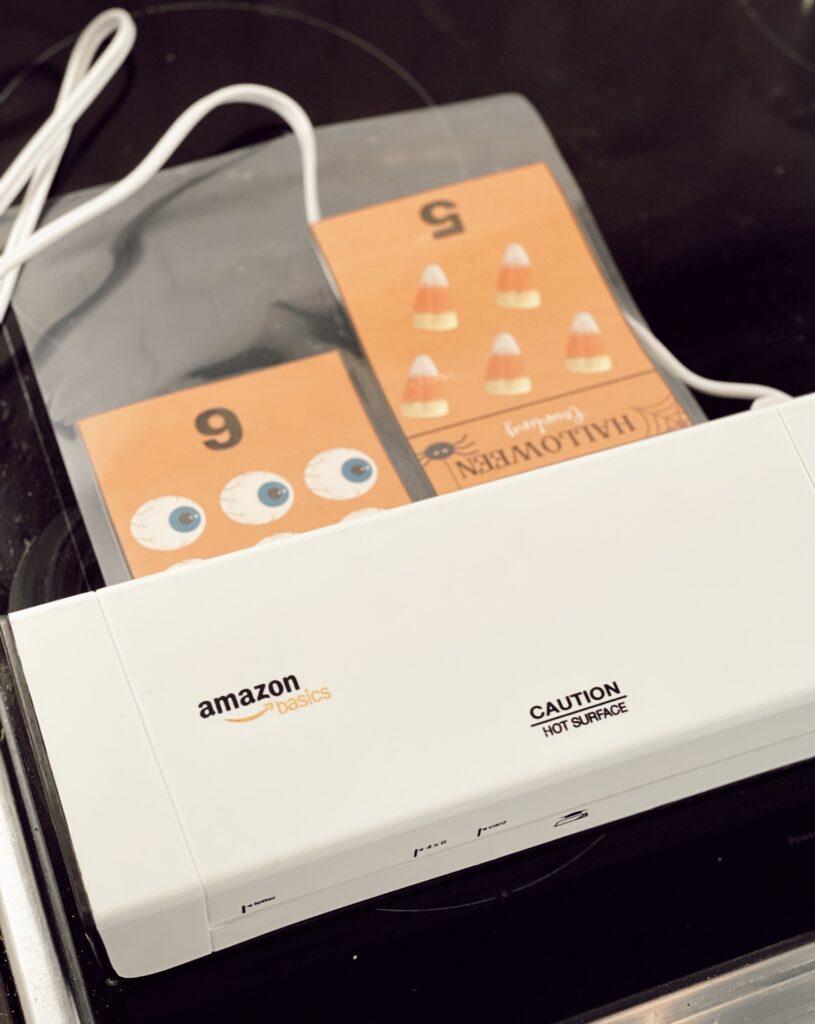 The most important part of the Halloween sensory bin is the party favors. I just went to the Halloween section at Target and the party favor section at Walmart. They have a lot of different options for cheap prices and I bought a bunch of different ones. I liked the variety pack of erasers because I could get multiple Halloween items in one pack. You can also buy a bundle of party favors on Amazon as well.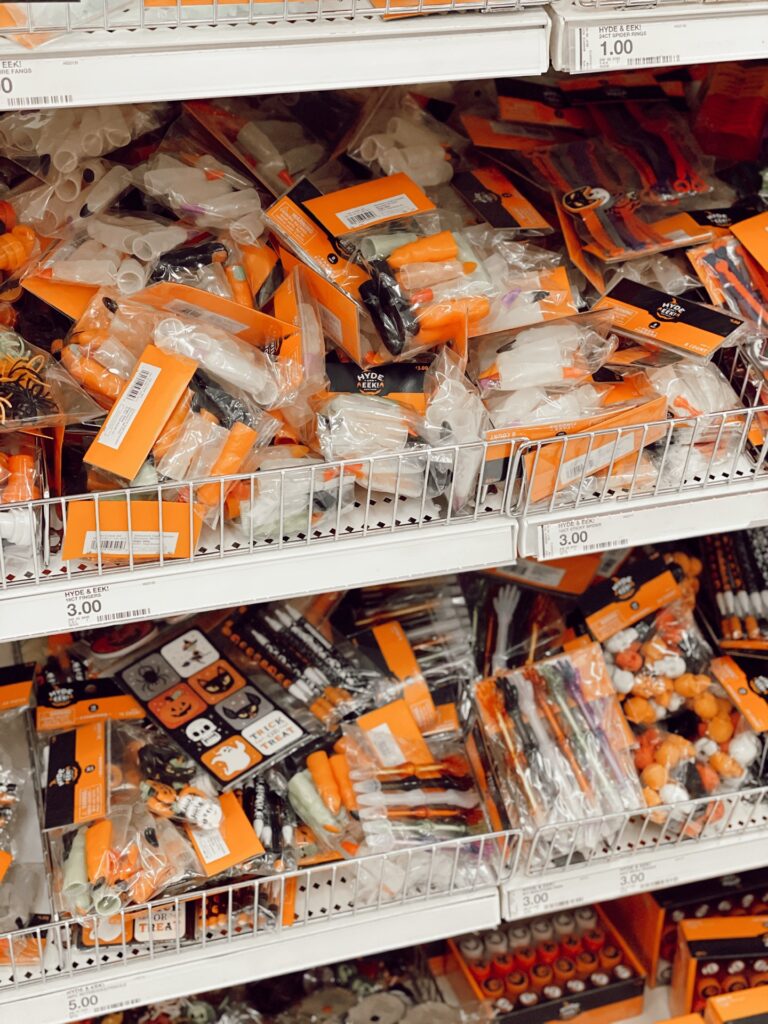 This post may contain affiliate links. See my Full Disclosure for further details
I made these free Halloween printable counting cards so you can print at home and enjoy with your kids. Just print them off and tape them on a table with the bin of party favors next to it.
Halloween Counting pictures
I also put together this sheet with all the Halloween party favor pictures that match the counting cards. If for some reason you can't buy or find the items you can print this sheet out. I suggest printing it on card stock so the paper is more sturdy. Cut all the different pictures out and put them in the black beans. They will be able to find the pictures in the bin of beans and match with the counting cards.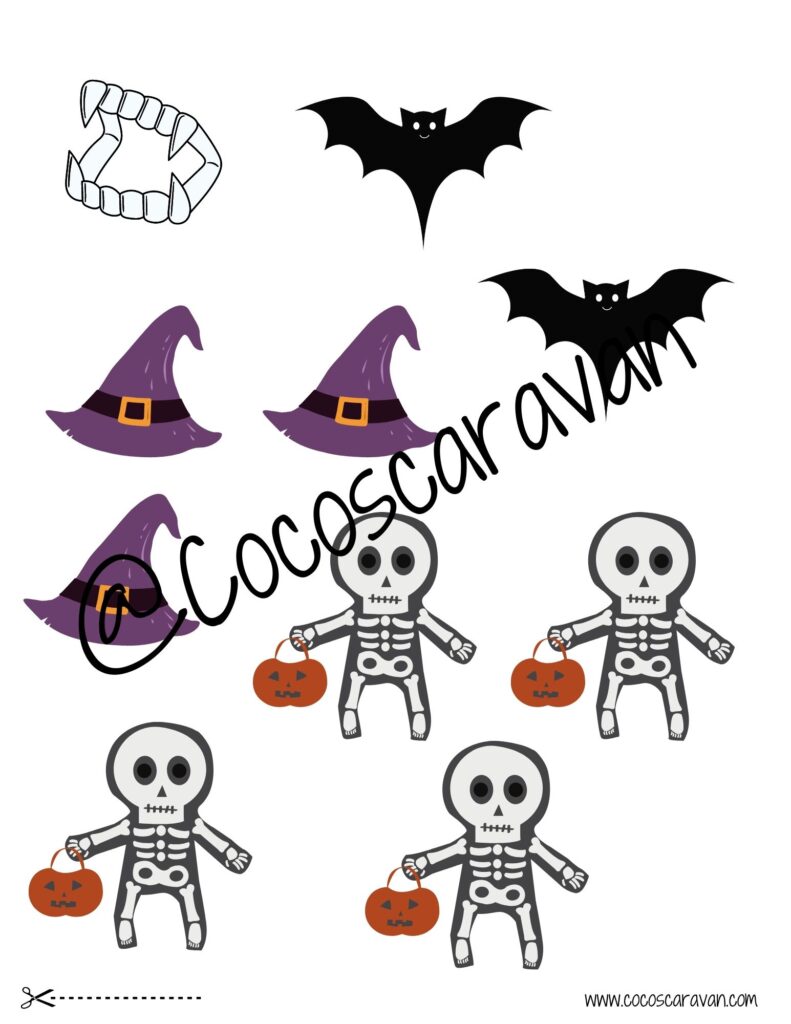 How to do the activity
This is a fun way to get your toddlers excited to count by adding Holiday theme to the activity. I put black beans in a bin mixed with all the Halloween party favors. Make sure you have the right amount of each item so it will match with the Halloween counting cards I made. Mix everything together and then your toddler will have to search for the items to place them on the counting card. My boys had so much fun searching for specific Halloween items like the bats and pumpkins.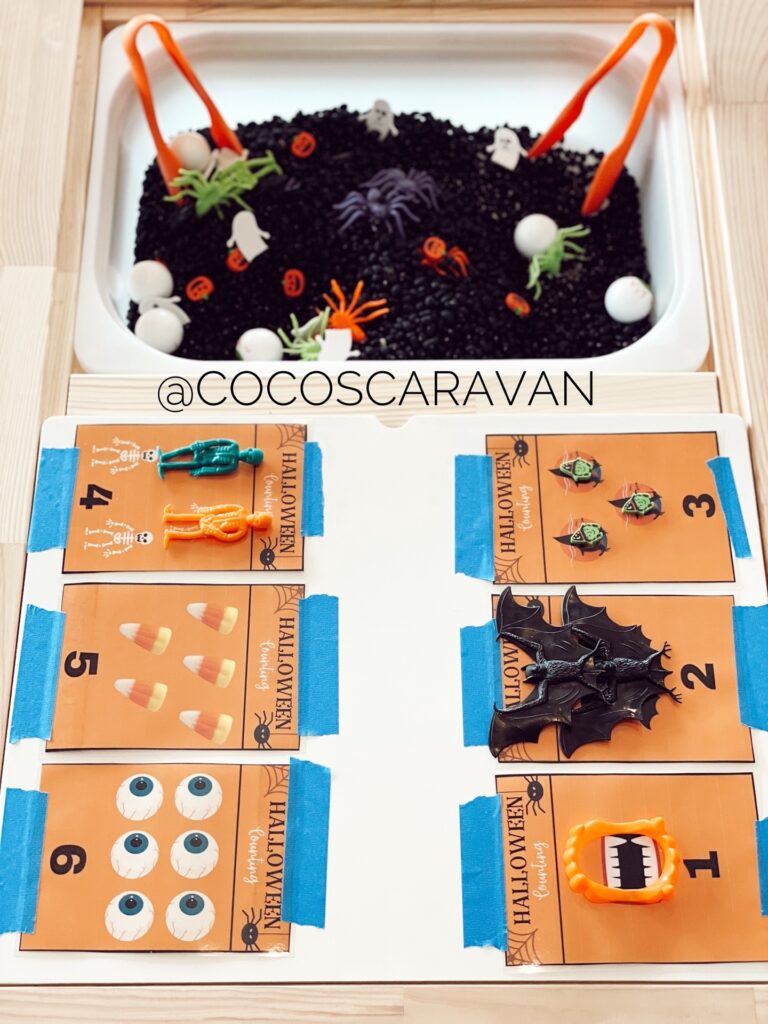 I try and sit next to them as they start the activity and count aloud as they find the items. You can show them how to do it at first by searching for the items and placing them on the counting cards. If you have the Ikea sensory table you can tape 6 of the cards one one side and the other 4 on the opposite side. Once they have compelted the first 6 counting cards you can flip it over and finish the last 4. Your toddlers will have os much fun seraching for all the different Halloween items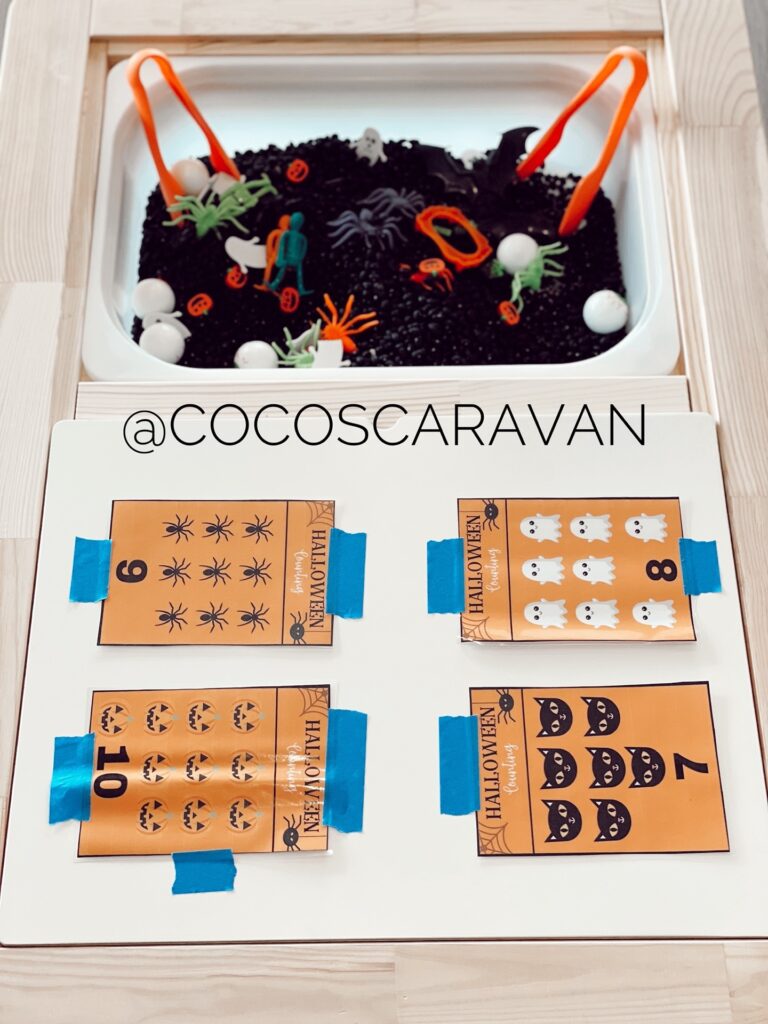 WHERE MY SENSORY TABLE IS FROM
The sensory table is from Ikea and its called Flisat. The bins that fit inside are also from Ikea and they are called Trofast storage box. The bins and stools that go with the table are sold separately. If you want to buy just the table it's $49.99. This table is always out of stock and it took me a couple months of checking often to finally get it. I made sure to sign up for the email notification so when it came back in stock I would get an alert on my phone. This was the only way I was able to finally buy one. Make sure to check in often with your local Ikea store.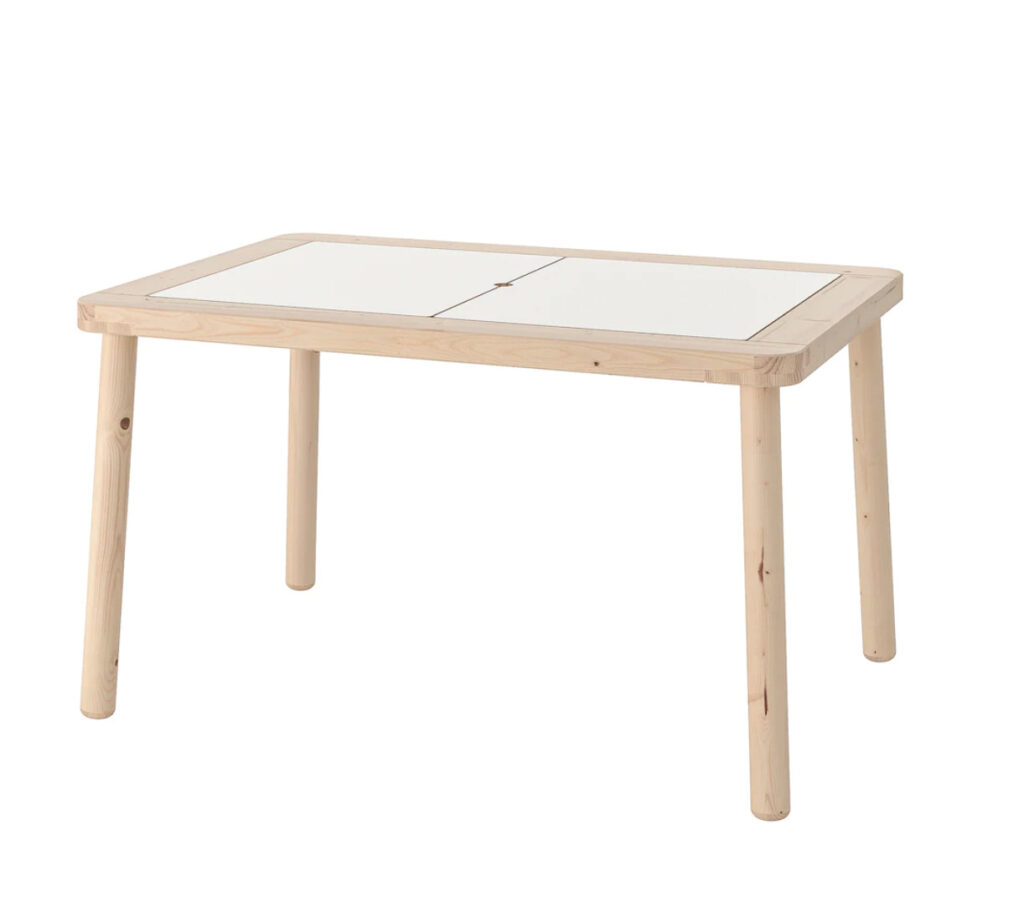 Counting Clip Cards
If you aren't up for putting together a sensory bin you can also purchase these counting clip cards. They are Halloween themed and fun for learning how to count!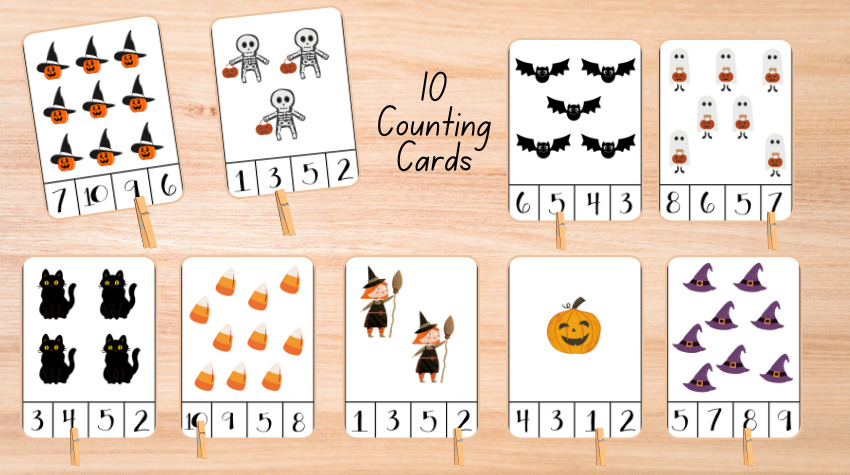 DON'T FORGET TO SAVE THIS PIN TO ONE OF YOUR BOARDS ON PINTEREST SO YOU KNOW WHERE TO FIND IT FOR LATER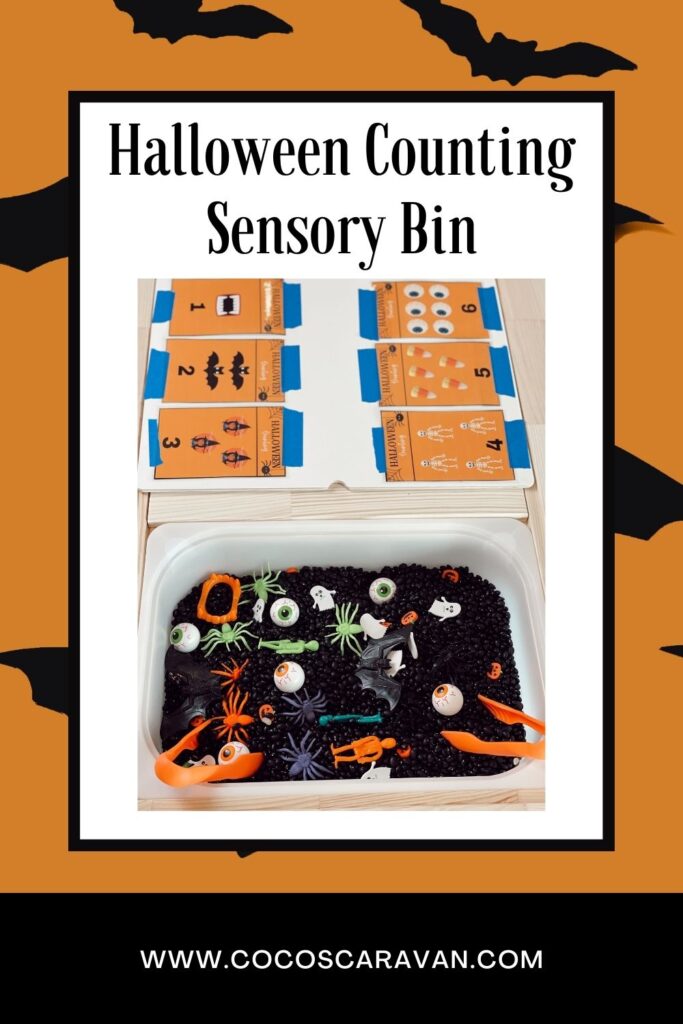 More sensory bin blog post: