Sweat App is my favorite workout: My full review
My full review all about the Sweat app and how its my favorite workout. This is not sponsored just wanted to share what I do for my workout each day and how much I love using this app to stay healthy.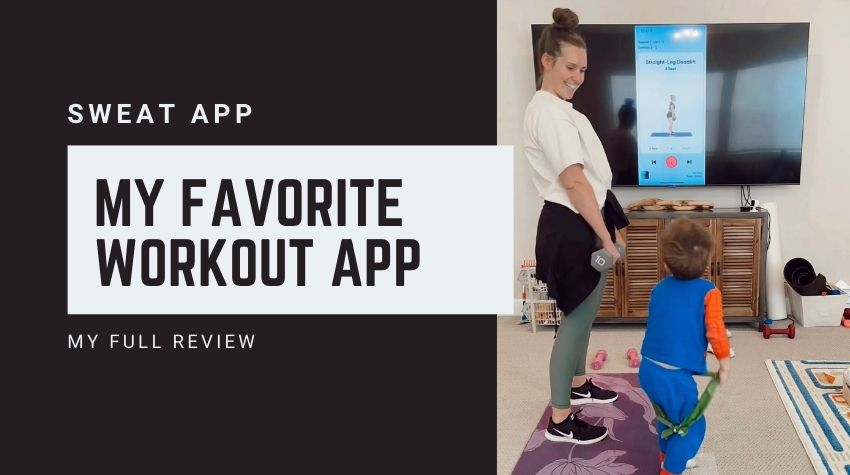 What is the Sweat App?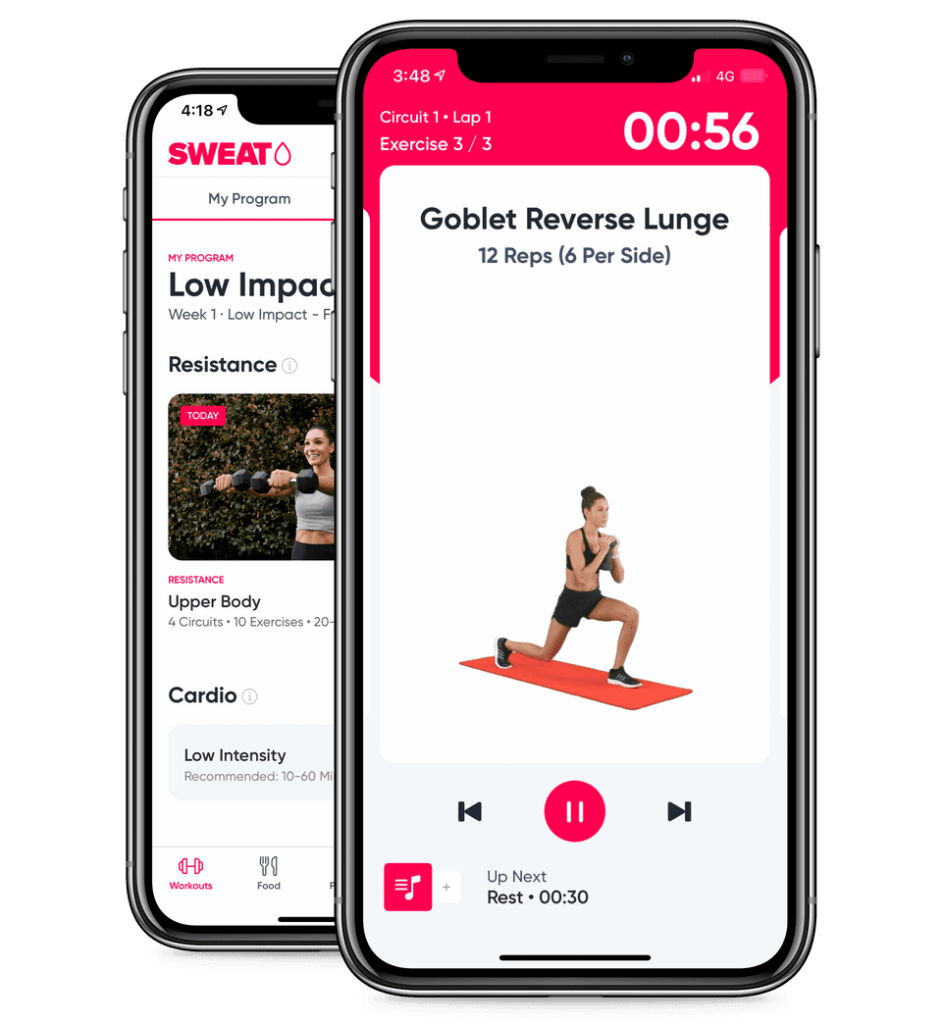 The Sweat app is a personal training app that offers broad suite of challenging, yet achievable programs with workouts you can do anywhere, anytime to build your fitness.
The co founder and head trainer Kayla Itsines started her workout programs long before it became an app. She use to have a printable PDF form with a 12 week workout program called BBG. I did the BBG for years and even used the same PDF workout to lose weight after my pregnancy. Last year I committed to getting the app and I'm so glad I did.
The Sweat app currently has 14 different sweat trainers that focus on different types of workouts. You can find a trainer the specifically teaches yoga, barre, pilates, cardio, post pregnancy, high intensity, strength, and more. No matter what you are wanting, they have a trainer for it. The Sweat app also has food plans, recipes, and meal ideas. They have an amazing community and always have some type of challenge going on that you can join. This app is great for home workouts. I will answer more questions about how much it cost, workouts, and the trainers below. Continue reading to the bottom to see my full review and if the Sweat app is worth it.
How much does it cost?
You can start by trying the 7 day free trial and get a feel for the app to see if you like it. At the end of your trial your subscription will automatically rollover to a $19.99 monthly subscription unless cancelled prior. (There is no lock in contract. After the 7 day trial, subscriptions are changed monthly at $19.99)
Another option is to pay annually which will decrease your monthly price to $9.99 per month. I love this app and I use it two to three times per week, so I felt comfortable committing to a year. If you go with the annual plan you will pay $119.94 for the year which is pretty good since most gym prices are that amount a month.
You can pay $19.99 a month and try it out and if you end up loving it commit to the annual payment later.
They have a ton of different workout programs you can choose from depending on what you want. You can choose the one that best suits your fitness goals and lifestyle. I listed some of their most popular workout programs below, but you can see the full list of programs on their website HERE. I love that they have a wide range from beginner programs to heavy lifting.
Some of their most popular workout programs
Low impact with Kayla
High Intensity Zero Equipment
Power with Zero Equipment
Power at home
Power post pregnancy
Lifting at home
Boxing fit challenge
Barre
Pilates
Yoga
Low impact HIT
Low impact strength
How many instructors?
They currently have 14 trainers on the app, but they are always adding new trainers. Each trainer specializes in a different a type of workout. One will focus just on yoga and another will focus on lifting. You will totally be able to find someone you are excited to work with.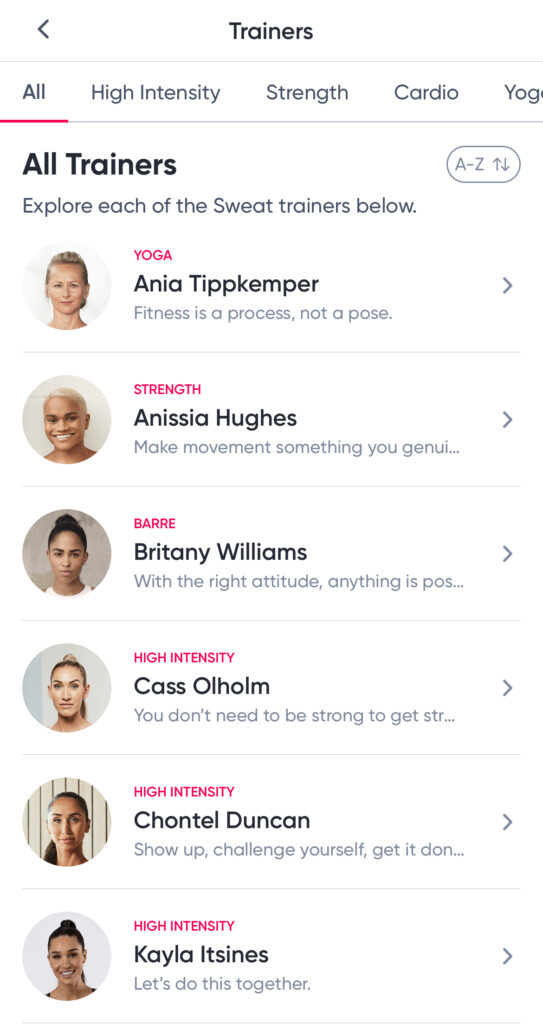 Can you stream to TV?
Yes you can stream your app to your tv or chrome device. I love to stream my app to my tv and workout in my living room. You can even pick one of their music playlist or one of your own to listen to during the workout. I love that they have a video of the trainer doing the workout so you know exactly what to do. The also have a timer which is great so I can focus on working out and they count for me. You can see a video of my working out below and how I watch it on my tv.
How the workout looks on your phone
You first pick your trainer and workout program. I'm currently doing Lifting at home program. You can see i'm on week 4 and it lets you know how long the program will take you. You can even scroll down and see what exercises you will be doing and how to do them. I love that it has a timer for you. Just follow along!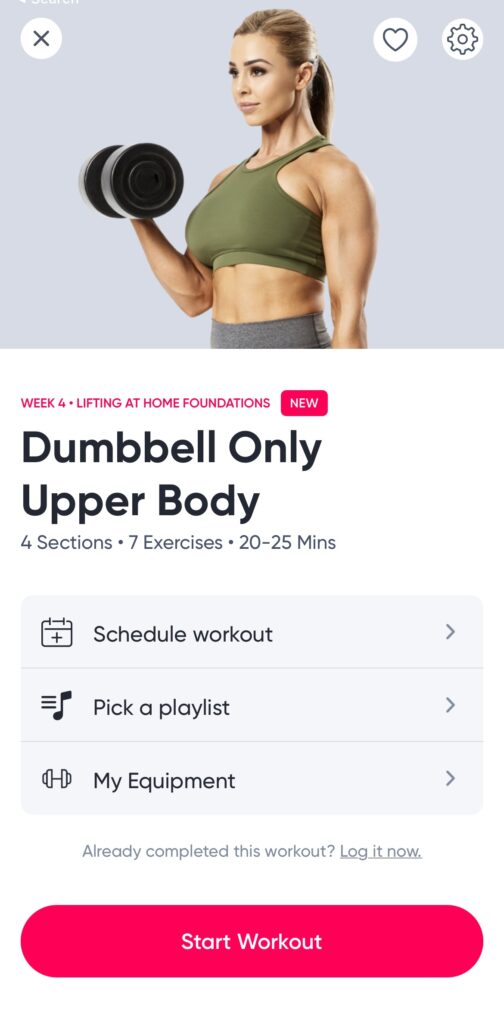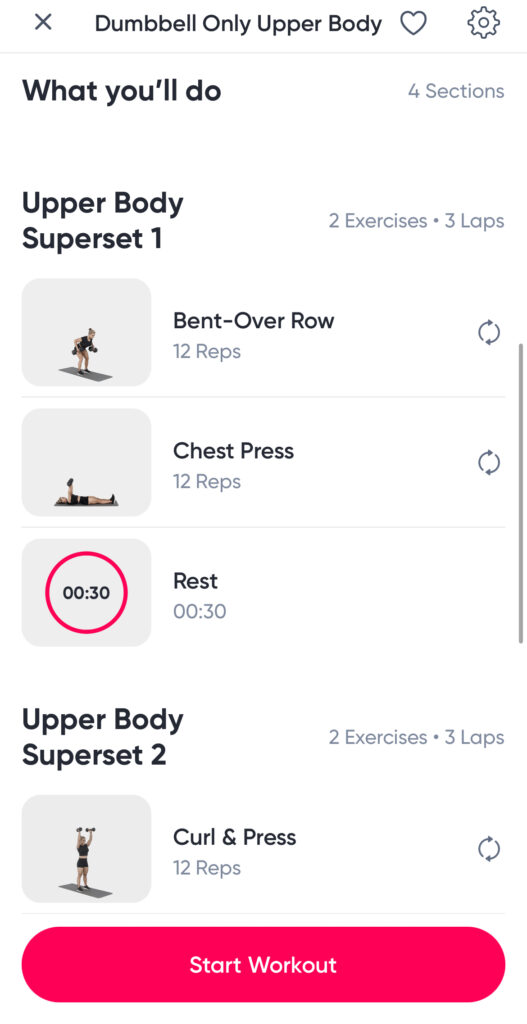 If you are not sure how to do a certain exercise you can click on the picture and they will explain in more detail and show you. I took a screenshot so you can't see the video, but it is a video of her doing the actual exercise.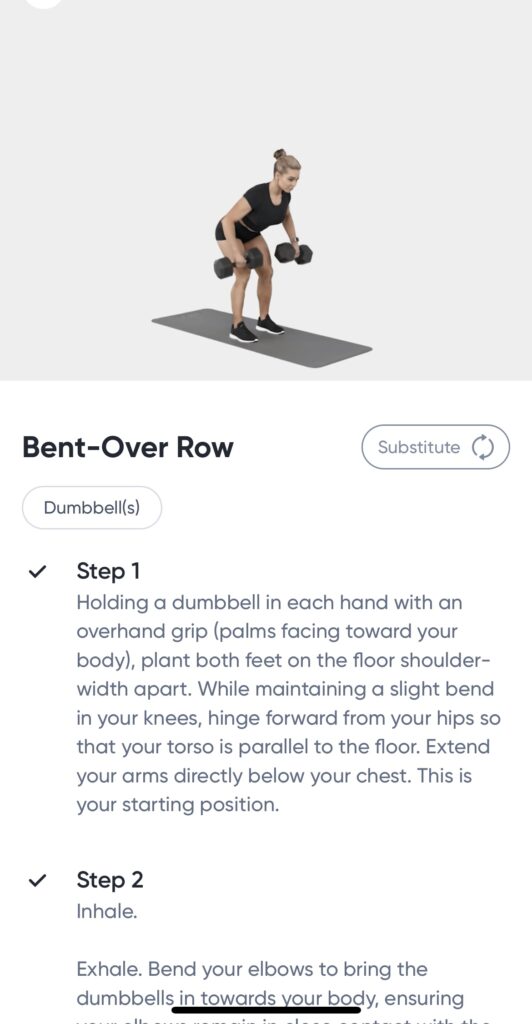 Meal plans and recipes
The meal plan has been created by nutrition experts to be flexible. They offer different types of diets available whether you are vegan, vegetarian, etc. You get weekly and daily recipes, and a shopping list can be found with each one.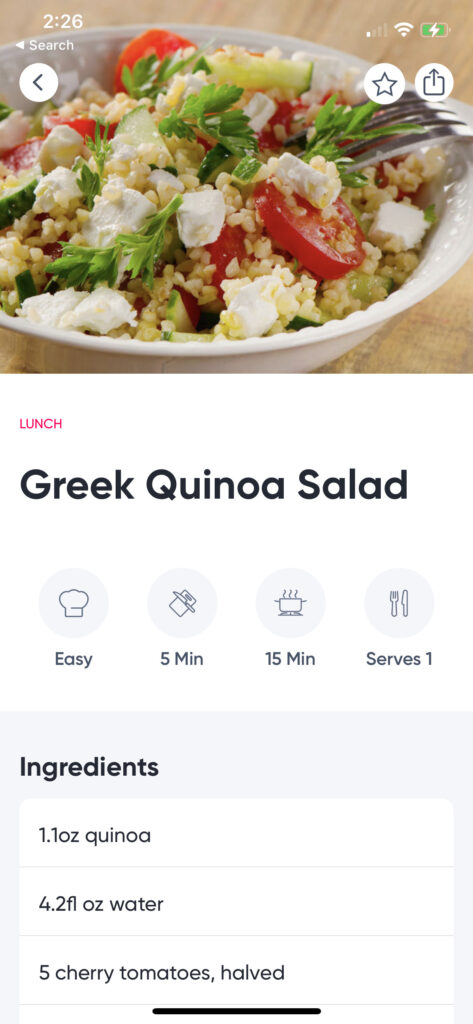 Do they have post postpartum workouts?
Yes, they have great postpartum workout. Sweat app trainer Kayla Itsines own journey inspired the development of her post pregnancy program in the Sweat app. It wasn't until she returned to training after giving birth to her daughter that she realized how much core strength she had lost during pregnancy and from having a C-section.
Kayla's Post-Pregnancy program provides 16-weeks of exercises, with four foundational weeks that account for the different experiences a woman may go through during her pregnancy and postpartum journey. It is designed to use minimal equipment, with resistance sessions from 15-25 minutes in length that can be completed in the comfort of your own home and at your own pace.
My favorite trainers and workout programs
Right now I have been loving Stephanie Sanzo Lifting at home program on the Sweat app. I don't know much about lifting so it's nice to have a program to follow. Kelsey Wells is another one of my favorite trainers. I did her Low impact strength program when I started working out again. It's a perfect program to start if you are just working out for the first time in awhile. Kayla Itsines High intensity zero equipment program is such a good one as well. Its honestly the only way I have been able to lose weight.
My full and honest review
If you enjoy working out at home I recommend this app. It comes with so many amazing features like meal plans, multiple workout programs, different trainers, and more. I've been using it for a year now and still find it helpful and enjoyable. Some programs are 12 weeks or 8 weeks long and once you finish you can start over or try a new one. If you don't mind repeating programs. If you pay the annual fee of $10 a month its really not that much compared to the price of a gym.
I'm a busy single mom and I find it so hard to get to the gym. It takes two hours of my day that I could be doing something else. I like that I can open the app and quickly do my workout for 30 minutes and be done. I don't have to think about what i'm doing that day because the schedule it all out for me. I suggest trying the free 7 day trial and see what you think for yourself.